agnoStack™ Omni-Channel Commerce
The agnoStack™ Omni-Channel Support plugin makes it possible to view and manage Order data from your eCommerce Store directly within Zendesk.
Now available for Magento 2/Adobe Commerce Cloud (as well as existing support for BigCommerce, Magento 1 and Moltin)!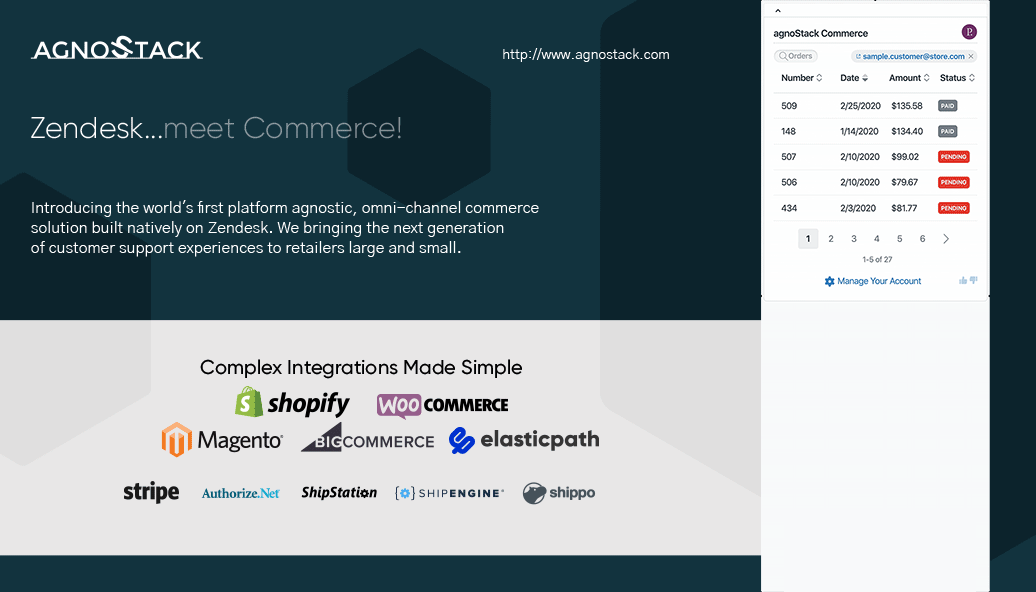 We bring rich, transactional commerce support natively into Zendesk to improve agent efficiency and stay with you as your business grows.
For step-by-step instructions on how to configure the application for your eCommerce platform, please see our Onboarding FAQs.
CORE FEATURES
To illustrate how the agnoStack™ Omni-Channel Support solution can help your agents achieve a more efficient workflow, below is list of some of the core features:
Customer order history (paid feature by provider/tier)
Allow agents to quickly view customer order history based on the User or Ticket Requester's email address.
Order basics/details (paid feature by provider/tier)
Get basic order overview details including the total as well as shipping information for the Customer's account (plus detailed order line items and real-time shipping updates and payment status - paid features).
Order search/filter/sort (paid feature)
Your agents will have the ability to do incredibly fast, real-time searching, sorting and filtering of order history to rapidly locate any order a Customer needs support with.
Pin ticket order (paid feature)
Your agents can save/pin an Order to a Ticket to ensure as it moved between agents or is re-opened that the order details are quickly available.
Customer search (paid feature)
Your agents will be able to look up Orders created by a Customer other than the one submitting the ticket.
---
"MAGENTO M1 - by Particular."
If you're looking for the "MAGENTO M1 - by Particular." plugin, you're in the right place; we've recently rebranded the application under agnoStack™. If you do not have the Magento 1 Zendesk Extension in place, please follow the installation instructions at: https://support.zendesk.com/hc/en-us/articles/203660046-Magento-Installing-the-Zendesk-extension-for-Magento.
---
Input/Feedback
Customers first - every time, all the time. If something is broken, you're missing a feature or something could be improved, we'd love to hear from you! Contact us any time at support@agnostack.com.
Note on future changes
We've got a long laundry list of features to come on our roadmap and look forward to continuing to improve your omni-channel support experience as we grow!

---
agnoStack™ Omni-Channel Support
Learn more about our agnoStack™ Omni-Channel Support solution at agnostack.com. We will continue to add additional eCommerce platforms (Adobe Magento 2, Shopify, Salesforce Commerce Cloud and more) as well as additional shipping and payment integrations (Braintree, AfterPay, etc.) in coming months...stay tuned!
NOTE: This is primarily a paid app with available pricing tiers and functionality that vary based on commerce Platform. Our current features include order status, shipping status, payment status, issue refunds, payment capture, rapid re-order, order on-behalf of/new order capture and more.
If you have an existing Zendesk field used to store Order IDs, please enter it in the Order ID Field (not required).
Once you install the base application, open any ticket where you will then go through several screens to complete and activate your Configuration.
You will first select your platform Providers (Magento, Moltin, Shopify, etc.) and will be prompted to enter corresponding configuration fields required for each platform.
After entering your Provider data, you will be able to select your Subscription Tier. As an Administrator, you can upgrade/downgrade your tier any time.
You'll get a confirmation screen before you Activate and then should be all set (please note, activation can take a few moments)!
NOTE: This plugin requires an existing installation of Zendesk's M1 Magento Extension.
If you do not have the existing Extension or have any issues/questions, please contact us at support@agnostack.com.
Get your app in The Marketplace
Find out what it takes to get your app on the digital shelves.