Sync your customer data from your warehouse to Zendesk
Census is an integration platform that allows you to bring the customer data that is locked in your other tools or databases into Zendesk. With Census, you can bring that information to your fingertips without relying on engineering help.
No Engineering Favors Required : No more relying on engineers to generate data that you have to manually import and merge in Zendesk. By automating the entire data pipeline, Census puts the right data directly in your hands in Zendesk.
Automate Your Data Processes: Map fields and write queries to transform and unify your data, so it's ready to be used in Zendesk.
Work With Your Existing Warehouse: No need to migrate your data into Census and keep yet another system in sync. Census works on top of your existing warehouse, so you have all of your data in one place.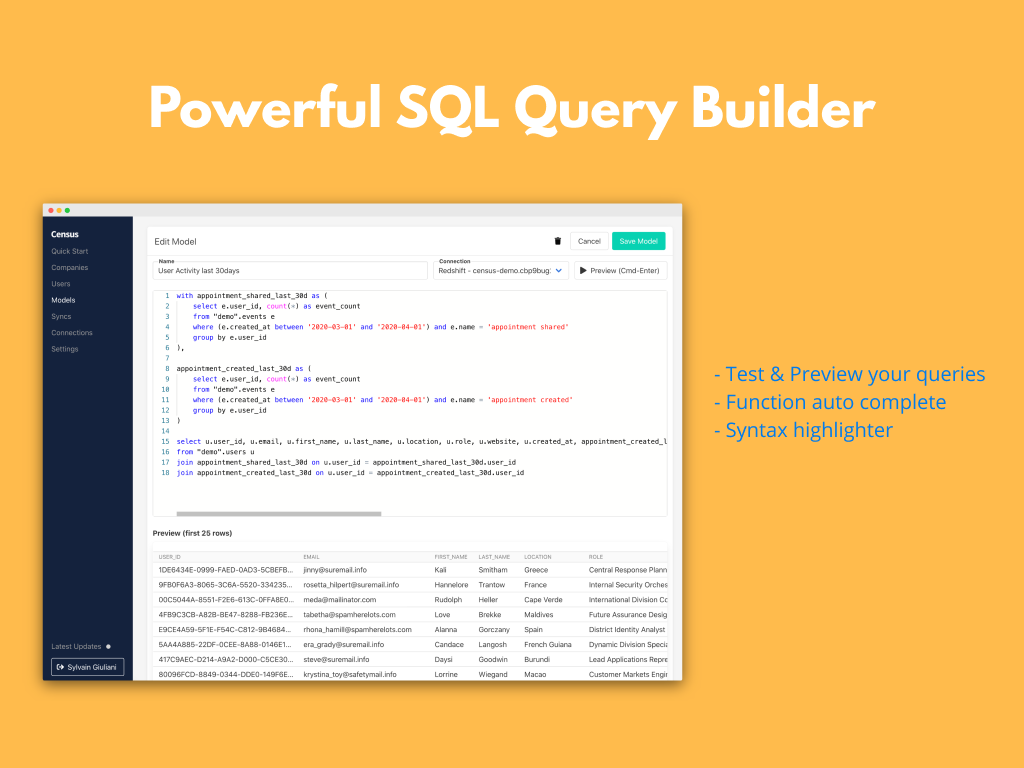 Get More out of your existing customer & product data
With more product & customer data in Zendesk, you can:
Decrease average time to resolution: With product data at their fingertips, your agents can resolve customer faster without having to switch between multiple apps to get a complete picture of customer activity.
Enhanced Reporting: With product data in Zendesk, you can create better reporting by segmenting your users by what product features they use (or don't) and identify patterns that help your prioritize knowledge base articles to write.
Improve ticket routing: Don't just rely on revenue to prioritize your ticket. Use product data to identify your most valuable customers and route them to the top of queue or escalate their issues.
Getting started is easy
Visit our website to start your free 30-day trial
Connect your warehouse. We support Redshift, Bigquery, Snowflake, and Postgres
Add Zendesk as a destination. Simply follow the secure OAuth process.
Create a new sync and select the data you want to have in Zendesk
Enable the sync and pick a schedule
Done!
Or if you want to see what Census can do for you, book a demo with us.
Easy to get up & running with our free trial
Sign up for Census and connect a data warehouse: Before getting started, create a free Census trial account by going to https://www.getcensus.com, and follow the instructions in the app to test and configure your data warehouse credentials.
Connect Census to Zendesk: Once you have a working data warehouse connection, the next step is to connect Zendesk. From the Connections tab, click Add Service and choose Zendesk. Zendesk will ask you to authorize Census via Oauth, so everything is secure.
Create your first sync: Once Zendesk is connected to Census, click Syncs then Add Sync to start exploring what objects and fields Census can sync. You'll need to select a source data table from your warehouse first, then choose Zendesk as your destination. Census can sync data to either Zendesk Users or Organizations – you can have multiple syncs to each object if you have various sources of data.
Decide how you will match data: All Census syncs require a matching key – some identifier that is held in common between your data warehouse and your Zendesk objects. For Users, you can use an email address or external id as a matching key, and for Organizations, you can use external id. If you have Zendesk internal IDs in your data set (via ingested data from another ETL tool), you can also use those for matching.
Map columns in your warehouse to Zendesk fields: Now that you've identified and matched data, you can choose which Zendesk fields you want to create or enrich. Census can map to built-in and custom fields and will help you ensure compatible data types across the two systems. You can always edit these mappings later as you add more data.
Run your first sync: After saving your mappings, Census will show you a preview of the sync and ask if you want to run it immediately. You can kick off the sync right away or save it for later. Census will tell you how many records have been synced and will warn you if any data was skipped with helpful messages so you can diagnose and fix data issues.
There's a lot more to explore in Census (scheduled syncs, the model builder, and connections with the other tools you use), but this should get you started.
If you have questions or if you'd like some help in getting your first sync going, please reach out to the Census team by email, use the live chat in our dashboard or website
Get your app in The Marketplace
Find out what it takes to get your app on the digital shelves.