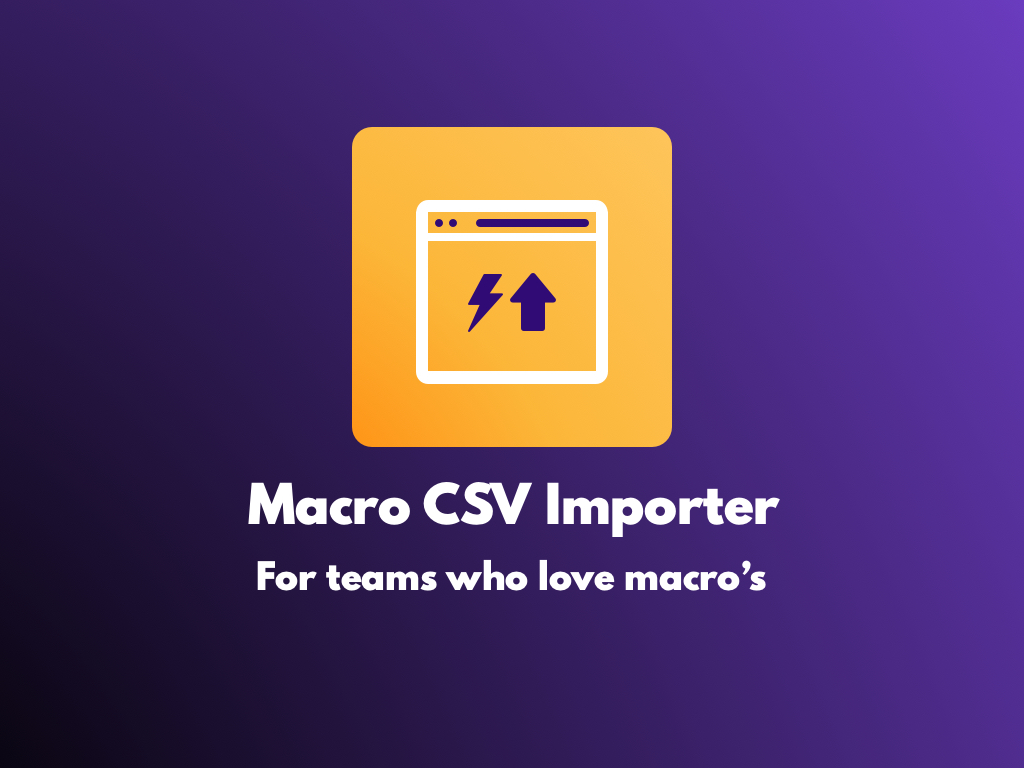 Import CSVs to Macros and replace values (mail-merge)
Macro CSV Importer helps you send better replies that contains a lot of data to your customers. Works really well for campaign driven companies.
Easy to use
Create some template macro's, these are your starting point for the import. Then export a CSV, where each variable (shortcode) is automatically set as a column title. Fill your CSV, and upload. BAM, there are your macros.
Usecase: Upload Macro's
A Zendesk Admin needs to add a lot of macros, that all look a like, just different body content. The Admin creates a template macro with a variable in the body of the macro, and then exports the CSV. The CSV is filled with all the different responses and uploaded in the app. The admin is now happy ;-)
Usecase: Campaign Driven Macro's
A bed-and-breakfast platform wants to remind customers in 6 months, with a specific offer for them. The platform servers 12 cities, in 4 regions, and 24 apartments in total. Each of these has their own availability and link to the website to book. The Zendesk Admin needs a campaign of 26 weeks, where each week has a unique offer per city. The admin creates a template macro, with these variables, exports the CSV, fills in the specifics and uploads the CSV.
Ideal for organizations who use Macros a lot
Ideal for organizations who use macros and want to add a lot of macros at once
Built by Sparkly. 14 day free trial included. Free for sandbox accounts. Sparkly, Amsterdam, the Netherlands.

To activate your 14 day free trial, install the app and enter your payment information. We won't charge your card until the end of your trial.
Zendesk Support Macro CSV Importer Instructions
Install the app
Open the Macro CSV Importer app in the menu on the left.
Edit your first template and save
Export your template and start filling the CSV and Save
Upload your first CSV, voila. The macro's should be created.
Macro CSV Shortcode Options
Using shortcodes
Shortcodes are used to replace the values during the import. A shortcode looks like this [city] the text between [ ] will be used as the column title in the CSV export.
These shortcodes can be used inside hyperlinks/urls as well (name and link). Simply use the helper on the macro to add a link and make a link like this: https://[ourwebsitelink] and for the name just do [our_website_name]
Each unique shortcode results in a column in the exported CSV.
Examples:
https://[our_website_link] [city] [our_website_name]
Note: These shortcodes should contain no spaces and just A-z and _.
Check out our Help Center.
Get your app in The Marketplace
Find out what it takes to get your app on the digital shelves.