Miuros Assist is the ideal AI-based assistant for large Customer Service teams handling thousands of cases every month. With Automatic Categorization and Macro Recommendation, Miuros Assist boosts your team productivity, speeds up agent onboarding and ensures faster and better replies to customers.
Miuros AI learns from past cases and keeps improving over time. It runs autonomously and can be quickly deployed, without involving your IT team. It works across all text-based communication channels (chat, emails, social media, texts) and is compatible with most languages.
Macro Recommendation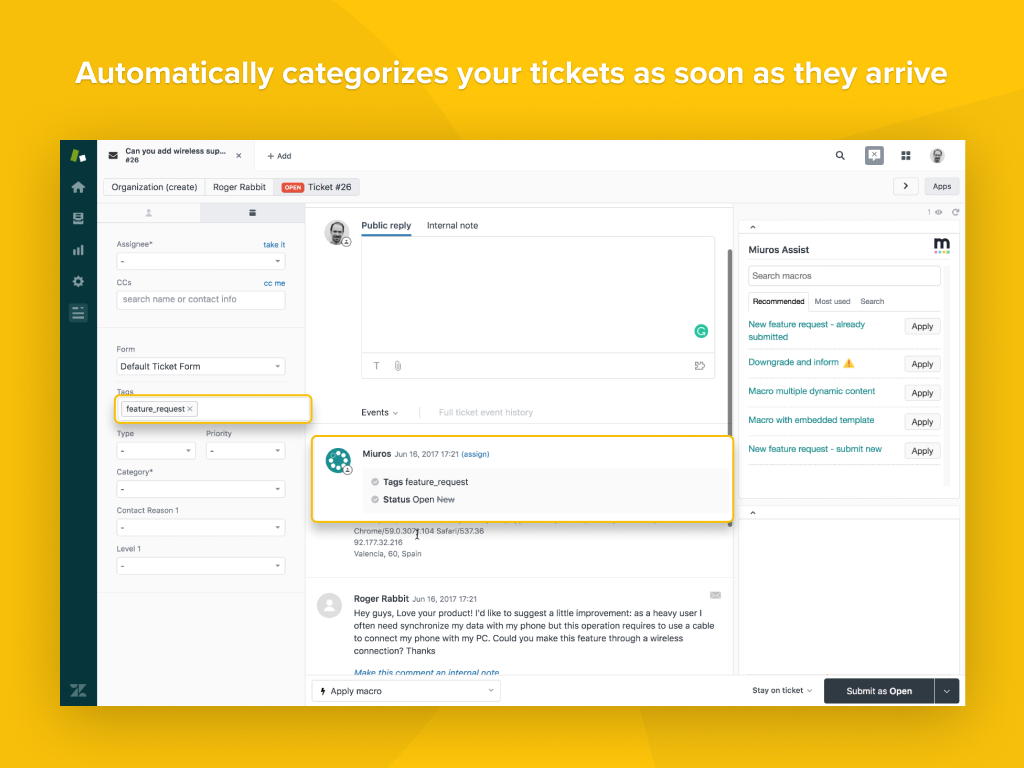 Every time a case is created or updated, Miuros Assist recommends ranked macros that best match the customer request, directly in your Zendesk. When mousing over recommendations, agents can quickly review the text of the recommended macros, including the ones based on dynamic content. With just one click, they can then apply the macro to the case.
Cannot find the right macro from the list of recommendations? Miuros Assist learns from your actions and improves its recommendations over time. Additionally, it offers a powerful search engine that scans macros per title and content, allowing for typos in search strings.
Want to take it one step further and automate replies? Miuros Assist also offers to automate replies to tickets when its confidence level is high enough.
Immediate benefits:
Reduced learning curves for new agents: they are recommended macros they may not even be aware of
Faster replies and reduced handling times: no more time wasted searching for the right macro among hundreds
Unified communication tone through a broader adoption of macros
Automatic Categorization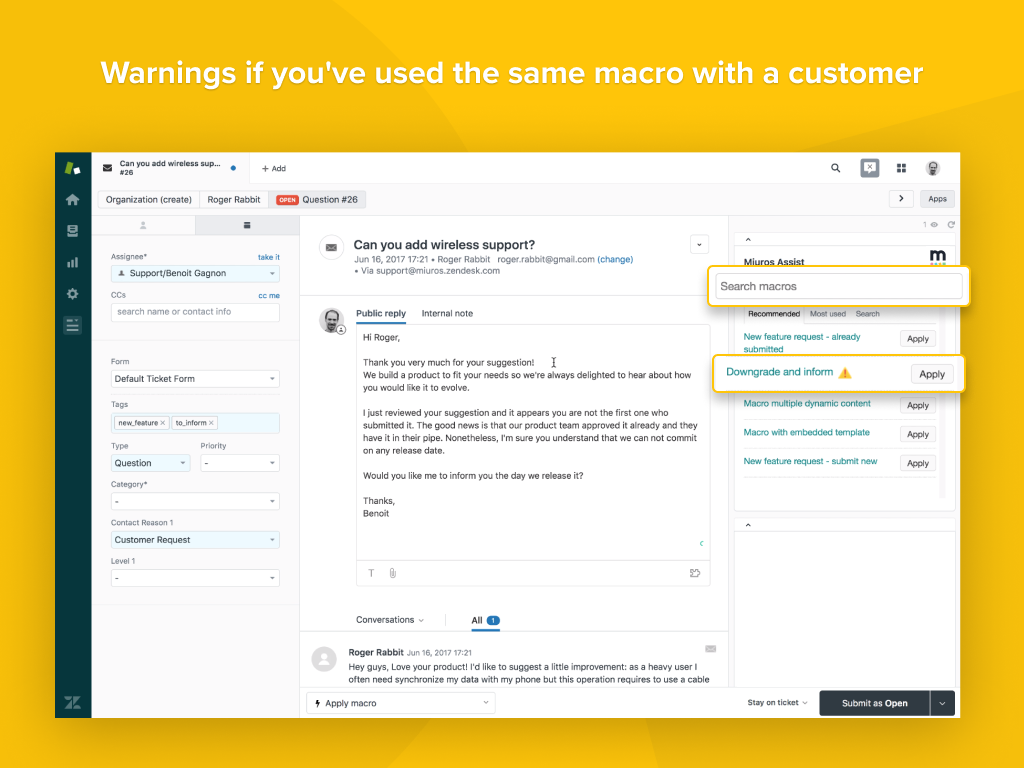 Within a few seconds on arrival, update or closure of a case, Miuros Assist automatically categorizes it, using your own set of ta gs and custom fields. Triaging and routing operations are boosted to significantly cut first reply and handling times, while ensuring a constant and consistent reporting on cases.
Immediate benefits:
Faster routing and triaging of new cases
Better reporting on issues reported by customers
Reduced handling times per case
---
Hungry for more? Check out Miuros Insights, and start revealing new insights on your Customer Service processes for better decision making.
Would you like to see Miuros Assist in action or learn more about it? Simply schedule a call with us.
The setup is straightforward: a few questions will help us understand your processes and set up everything for you. You will be ready to benefit from Miuros within a few days, without any intervention on your side.
Ready to cut reply times, reduce your backlog, and at the time increase your customer satisfaction? Miuros is ready to help.
Get your app in The Marketplace
Find out what it takes to get your app on the digital shelves.