Read Receipts for Zendesk
Instantly see when an email was sent, opened and which comment was read!
Increase sales, decrease ticket resolution times and increase NPS scores.

Create custom views of unread tickets to increase agent productivity and sales.

Easily identify which comment was read with Sending Agent and Comment Read Summary (Exclusive)

+ Create automatic follow ups or notifications on unread tickets to increase sales and decrease ticket resolution times!
Custom Read Receipt Author (Exclusive)
Create a custom Read Receipt from an author your specify. e.g.
readreceipt@yourcompany.com.
Sending Agent (Exclusive)
The Read Receipts contain the sending agent or name of the agent who created the comment easily allowing your agent to determine which comment was read!
Comment Read Summary (Exclusive)
Each Read Receipt contains the first line of the comment that was read allowing your agent to easily identify which comment was read.
Views & Automations (Exclusive)
Easily tag unread tickets to create powerful views & automations. Create a view to identify unread tickets or automatically send a reminder or follow up email for unread tickets to reduce ticket resolution times!
Enhanced Read Receipt Data
Quickly & easily diagnose technical issues by knowing the browser type and operating system. We automatically add this information to the read receipt!
Enhanced Blacklist / Whitelisting
We seamlessly blacklist agents in order to prevent them from accidentally creating a read receipt. You can also whitelist IP addresses when you are working with agents at a clients site.
GDPR & Privacy Shield
We support your GDPR compliance efforts & participate in the EU-US Privacy Shield Program (Exclusive)
Ticket Portal.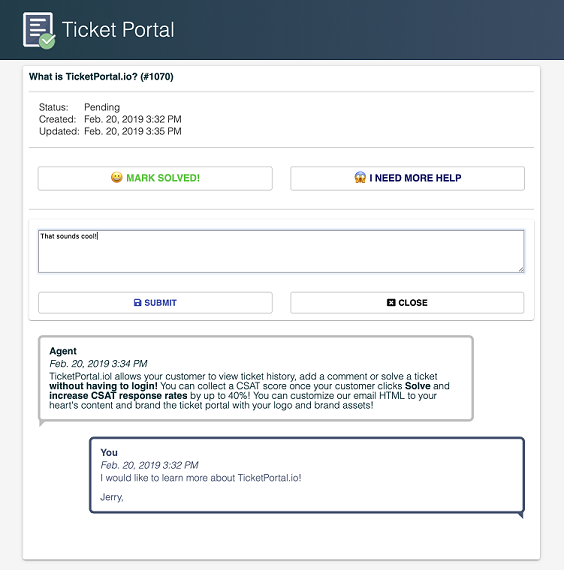 Our Public Ticket Portal allows your customer to view, solve and update tickets without having to login. Don't worry we designed it to be extremely secure at the same time.
Customizable HTML Email Headers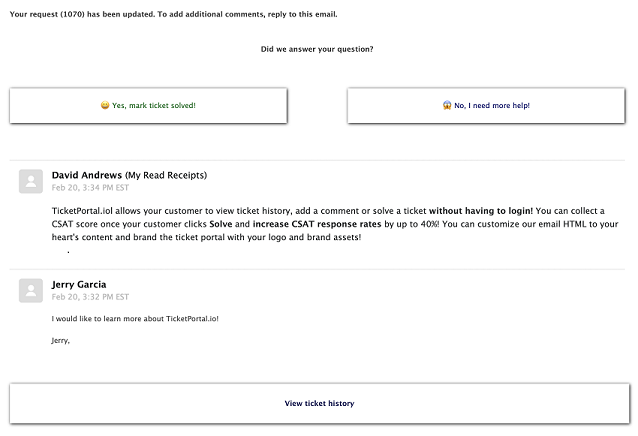 Instant CSAT Response
Once the user clicks on solve, you have the option to present a CSAT survey that we can import directly into your Zendesk instance. This will increase CSAT response rates since it requires only one additional click.

About Us
---
My Read Receipts was created to add features Zendesk forgot. Over 1,000 companies and 100,000+ agents trust us on a daily basis. We are the only Read Receipt company that supports your GDPR compliance efforts & participate in the EU-US Privacy Shield program.
It is easy to install Read Receipts & Email Tracking for Zendesk. If you are uncomfortable with the more technical of Zendesk we will not only walk you through the install. We will help you customize it for your Email Tracking & Read Receipts for your business needs!
Please check out our Getting Started guide for installation instructions!
Get your app in The Marketplace
Find out what it takes to get your app on the digital shelves.