TypeGenie - Sentence completions powered by True AI.
Our research shows that agents solving tickets and chats spend twice the time on TYPING out their answers compared to FIGURING OUT the correct response. It shouldn't be that way.
TypeGenie helps agents be more productive and accurate by suggesting sentence completions so agents no longer have to type out repetitive sentences.
With TypeGenie, agents finish their sentences in a 'Tab'.
Checkout the below video to know how agents can save time by using TypeGenie.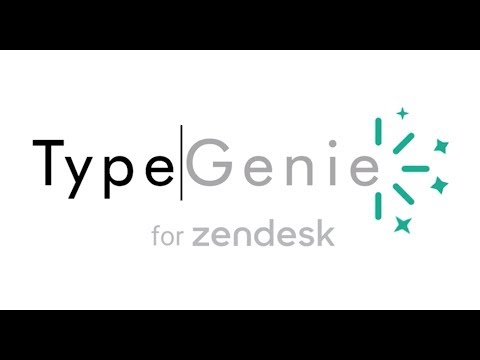 Use TypeGenie to save time and increase message quality:
Free up agent time. Our clients report between 5-20% productivity increases. This is time saved that agents can now spend solving complex customer queries and providing an extraordinary experience.
Improve quality and consistency. TypeGenie makes the most effective sentences written by your best agents available to all your agents at the right time.
Get new agents up to speed faster. Writing with TypeGenie is like having your most experienced agent sitting next to your new agents providing useful suggestions that helps them learn faster.
Start your 2-week free trial now:
Learn how TypeGenie can transform your team's productivity.
No up-front investment.
Works automatically in most languages.
Don't take our word for it. Hear it from two of our amazing customers:
TypeGenie effortlessly integrates with our current CRM platform, enabling agents to access standardized, time-tested conversational snippets with the tap of a button, enabling faster communication and more consistency in tone and content. - Colin Crowley, VP Customer Experience, Freshly

We see a very clear relationship in the usage of TypeGenie and our agents' productivity, with each being 5-15% more productive. - Bram Greijmans, Business Operations Specialist, Sendcloud
What's the secret sauce?
TypeGenie is powered by an AI (neural network) that imitates the human brain and learns how to provide relevant completions from your historic tickets. The learning happens automatically over a couple of days, so when you have installed, you can kick back and wait for TypeGenie to activate. Also, when you use TypeGenie the algorithm constantly learns from your feedback and improves with time.
If you have any questions please read more at www.typegenie.net or email info@trueai.io
How to install TypeGenie
Follow these steps:
Install the TypeGenie app here on the Zendesk Marketplace.
Then install the companion CHROME EXTENSION(click here).
If you have questions regarding the service or installation, please reach out to us at info@typegenie.net
Looking forward to welcoming you aboard!
Get your app in The Marketplace
Find out what it takes to get your app on the digital shelves.