Some of the most amazing innovations that come out of Zendesk happen when folks outside our product development team take the reins and build on top of our platform. The challenge is finding a way to rapidly iterate and ship these new ideas without waiting for a full feature release cycle.
Today we're happy to introduce Zendesk Labs to the Apps Marketplace: a way to more quickly extend and improve the Zendesk product. Zendesk Labs is a testing ground where customers can find and enable experimental apps.
Zendesk Labs allows any engineer (or heck, any Zendesk employee) to come up with a cool idea, code it, and ship it as a Zendesk Labs feature without any design reviews, product analysis, or, to be honest, much testing. This means rapid feature innovation built on top of Zendesk.
Hoping to inspire our own Zendesk employees to extend the Zendesk platform, we hosted our first ever Zendevian Cup: a 24-hour hackathon that spanned the globe across five offices. From our front-office administrator to our VP of People Ops, 375 employees came together to compete by building something—anything—on top of Zendesk. In a single day, the 375 Zendevian athletes built 61 apps and integrations. We voted, and the best apps created by our employees are now featured in Zendesk Labs.
We hope this also inspires you to build and innovate on top of your Zendesk using our API and app framework.
Let's check out what you can do with some of the apps now featured in Zendesk Labs:
1. Proactively communicate with your customers 
Customer support can often be a very reactive process. A customer has a question and submits a ticket. Your support agent responds to that ticket. But what if you stopped reacting and started getting ahead of potential issues? Integrated with customer lists, the Proactive Tickets app lets you automatically create tickets on behalf of your customers.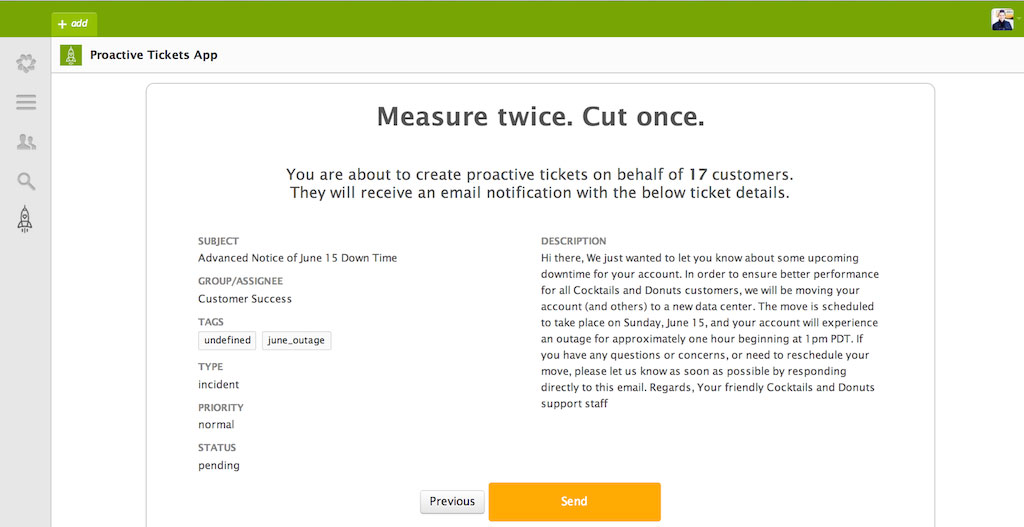 2. Manage tags and keep them clean 
Tags are hidden heroes in your Zendesk. They help shape business rules and reporting—two critical functions of your customer support platform. But the trouble with tags is keeping them clean and consistent. With the Tag Locker app, you can easily manage which tags are used in your Zendesk. By creating a tag library, you can control which tags your agents can apply to support tickets.
Stay organized with Tag Locker
3. Add a GIF to your ticket
Who doesn't like animated GIFs? With the Giphy app, you can add an animated GIF to your Zendesk tickets. Search through millions of GIFs, find the one that speaks to you, and drop it into your public reply or internal note.
Enjoy a GIF with the Giphy app
These three apps, along with nine others, are available today in Zendesk Labs. As these are experimental apps, they have not been tested and are not supported by the Zendesk team.
But this is where you come in to the picture. Be bold. Test drive these apps. Give us your feedback. Your input will decide whether or not a Zendesk Labs app graduates to an official app in our Zendesk Apps Marketplace.
The power is in your hands.