"Zendesk Support is one of the best infrastructure investments we've made."
- Kent Gale
Senior Director Global Support Innovations at Acquia
40%
Improvement in SLA Adherence
On the eve of Valentine's Day, in 2014, a storm closed in around Boston, blanketing the city in snow. The customer support and engineering teams at Acquia were hunkered down, working a late night and preparing to switch on Zendesk Support.
Acquia, a digital experience company, wraps everything they do around an open source web content management platform called Drupal that helps organizations achieve their most aspirational digital initiatives. Acquia's own digital experience recognizes that support isn't an outlier in the overall customer experience.
Only two months prior, Acquia's leadership made the official decision, following an in-depth vendor selection process, to switch from their old system, Parature, to Zendesk Support after vetting more than 12 solutions.
"We were looking for a true partner that was not only going to grow with us, but also lead us to adopt new customer success best practices that we weren't considering before," said Will O'Keeffe, VP of Customer Success. "Zendesk Support really stood out to me from the crowd because innovation is ingrained into its DNA. We have been able to absorb many new ideas and products as we scale our support to new channels and platforms."
But Acquia hadn't counted on having to go live so soon. Spurred by an inflexible contract situation with their existing vendor, the team had just 20 days to implement Support and migrate over customer data. "When we realized we didn't have a future with our previous customer support vendor, we planned a 4-5 month transition to Zendesk Support that we ultimately had to cut down to only three weeks," said Jeannie Finks, Director of Global Support Systems and Programs. "It was as seamless a transition, from a customer's perspective, as you could hope for."
As luck would have it, all of Acquia's engineers had traveled to Acquia's headquarters for their annual onsite that includes a hackathon competition. Nine engineers applied themselves for the week to what was called "Project Houdini" and, together with a core team, set to work building custom integrations between Support and Drupal. For the short term, they worked on their highest (or "most lovable") priorities and requirements, and slated other features for a later deployment. By deploying in phases, the team was able to work rapidly and iteratively to understand how Support worked at Acquia, and to create new tools to support their implementation.
Source: Rebecca Strong, BostInno
"It was like making magic out of the impossible," Finks said in explanation of the project's code name. "The idea of taking a heavily-used system, transitioning everyone out of it, and making everyone adopt and learn a new system so quickly was a major feat." To support the launch, Finks and other leadership created a go-live playbook, and equipped the staff with multiple training sessions and documentation.
In the hours leading up to 10pm that February 13, the Acquia teams remained on hand to handle whatever issues might crop up and assist the incoming Asia Pacific Japan support team using Support for the first time. People played cards, opened a few beers, and waited. Yet it was very quiet, reminisced Kent Gale, Senior Director Global Support Innovations. "It was unnervingly quiet that night and the next day. We expected there to be problems, but we didn't encounter any. It all worked!"
And that hackathon competition? Project Houdini took first place the following day.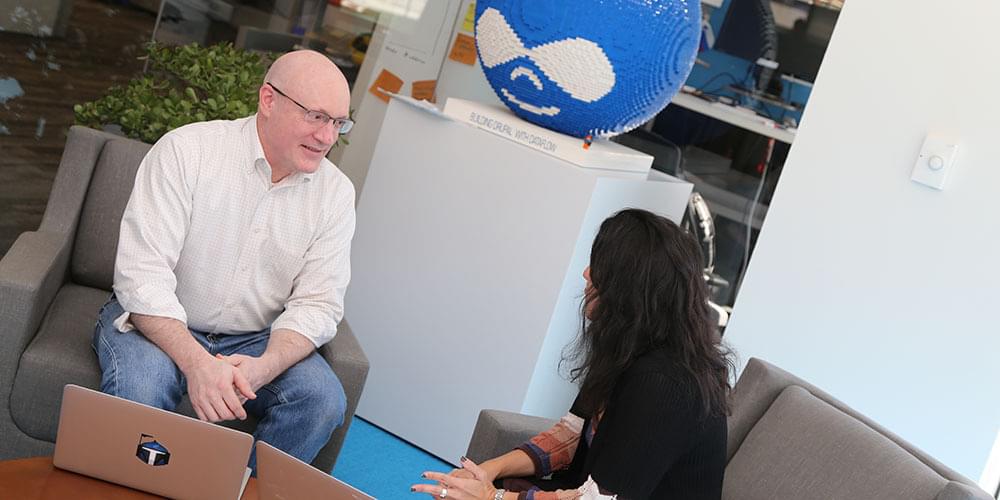 Kent Gale and Jeannie Finks
The hackathon project-turned-Zendesk-implementation was not the engineering team's first exposure to Zendesk Support. Finks had included engineering during the vendor selection process, specifically to evaluate Zendesk's API.
"We want to provide customers with the best experience possible, no matter which channel they come through or which product they're engaging with us on. One reason we chose Support is because we knew that the strength of the API was going to be vitally important for us to do that," Gale said.
Both the engineering and customer success teams agreed that Support could satisfy Acquia's core support needs and that the API was flexible enough to build out additional, customized functionality. While their previous system had once boasted a feature set that met their needs, the product had failed to evolve. In particular, the API was "clunky" and might involve 20-40 calls for a single task, and they often hit the API rate limit. The UI was inflexible, and reporting was difficult and forced them to build an alternate reporting system on Drupal.
"Zendesk's robust API has enabled us to customize our customers' and teams' experiences. It easily integrated with the powerful systems we already had in place," O'Keeffe said.
The other major reason Acquia chose Support was for the vendor-customer relationship. "When you're adopting an important, visible system, the ability to have a close relationship with your vendor is key," Finks emphasized. "The human aspect is important and the marriage has to be strong. We're a fast-moving company, and we saw Zendesk as a fast-moving company. Zendesk Support was just a much better match, compared to Parature, for what we're doing."
O'Keeffe added that Acquia's relationship with Zendesk is strong due to the sense of community he has from participating in Zendesk's Support Leadership Forums. "I'm able to exchange ideas with other industry peers who are facing the same challenges I am, and I'm able to bring that thought leadership in the market back to our business."
In the time since launch, Acquia's relationship with Zendesk is going strong. The global support team, numbering approximately 65 people, and the extended customer success organization, about 150 total, all use Support for a single, integrated, and comprehensive view of Acquia's customers.
"This heightened customer visibility allows diverse members of our customer success teams to best support the customer," Finks said. "The supplementary ticket data is a necessity for Acquia to provide customers with the personalized assistance they need and now expect."
Support has helped support leadership to streamline internal processes and to improve the customer-agent experience, resulting in a 25 percent increase in CSAT, and a 25 to 30 percent increase in agent productivity.
The real-time reporting with Support's analytics has also helped Acquia to identify critical business issues and to take action. The support team relies on "an extensive amount of reporting," as Gale put it. They have a dedicated resource to slice and dice the data in a variety of ways, from reporting on response time SLAs to customer segments to agent time-tracking to really granular reporting on SLAs across urgency levels, region, time of day, and so on.
Put another way, Gale explained, they look at reporting from a couple different dimensions: "How are people performing?" and "What are customers asking us about?" They look at volume, customer impact, root cause, and time spent—and are now able to identify trends.
"We use this information to drive engineering priorities and to send feedback from customers straight through to engineering," Gale explained. "Zendesk has allowed us to transform how we make decisions in terms of identifying work for engineering that has a customer impact."
Another organizational change driven by data from Support was the addition of a new tier of Support Coordinators that focuses on more general, non-technical questions. "We intuitively knew we needed that," Gale said, "but it's great to have the numbers to back it up and say, 'Here's the business case for adding people at this level, and here's the impact.' Zendesk Support has changed how we manage the business."