Chatbot
Complete guide on AI chatbots
AI Chatbots provide a helping hand for agents and 24/7 support for customers. Deliver better customer service with a chatbot.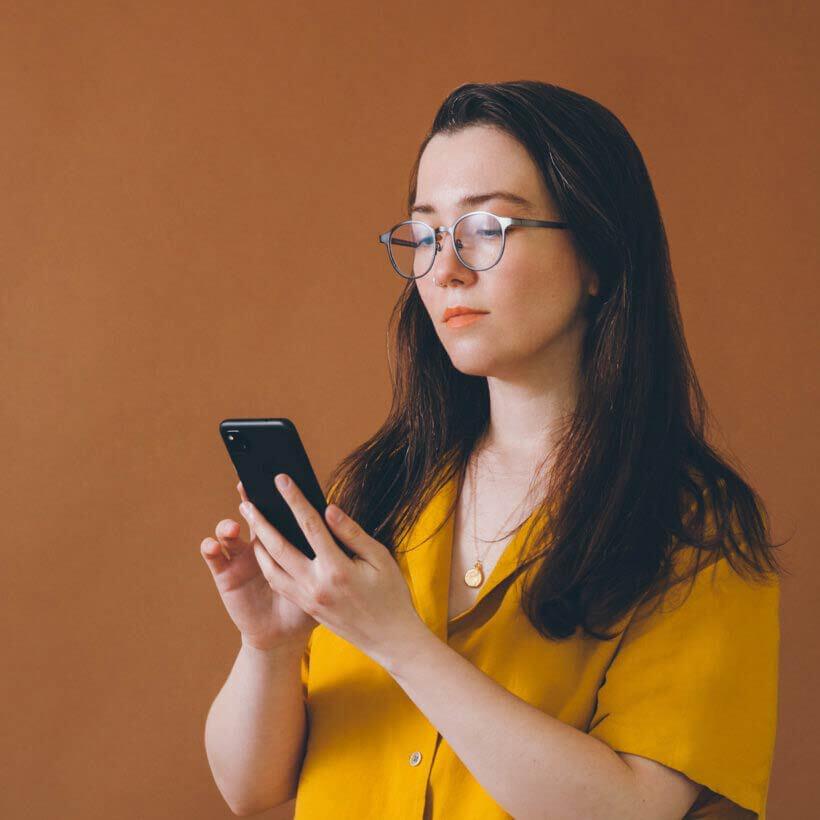 A guide to the best AI chatbot
Thanks in large part to advances in artificial intelligence technology, chatbots have become a key component of any support strategy. AI chatbots enable teams to scale their efforts and provide support around the clock while freeing agents to focus on conversations that truly need a human touch.
Of course, while customers trust bots for simple interactions, they still want the ability to speak to a human agent to resolve sensitive or complex issues. And by processing natural language and responding conversationally, chatbots make that possible.
But even with AI, chatbots aren't a set-it-and-forget-it proposition. Businesses need to understand how to leverage and combine the strengths of both bots and humans. With Zendesk, you can design chatbot conversations across your customers' favorite channels with absolutely no coding skills and ensure seamless bot-human handoffs.
Why add an AI chatbot to your website?
When businesses add an AI chatbot to their support offerings, they're able to serve more customers, improve first response time, and increase agent efficiency. Chatbots help mitigate the high volume of rote questions that come through via email, messaging, and other channels by empowering customers to find answers on their own and guiding them to quick solutions.
When chatbots take simple, repetitive questions off a support team's plate, they give agents time back to provide more meaningful support—nothing kills team productivity like forcing employees to do work that could be automated. Bots can also integrate into global support efforts and ease the need for international hiring and training. They're a cost-effective way to deliver instant support that never sleeps—over the weekends, on holidays, and in every time zone.
Want to improve your support experience with a chatbot? Here's what you need to know to get started.
What are AI chatbots?
An AI chatbot is a first-response tool that greets, engages, and serves customers in a friendly and familiar way. This technology can provide customized, immediate responses and help center article suggestions and collect customer information with in-chat forms. Using natural language processing (NLP) chatbots, like Zendesk's Answer Bot, can recognize and react to conversation. That means AI chatbots can escalate conversations to a live agent when necessary and intelligently route tickets to the right support representative for the task with all the context they need to jump in and troubleshoot. Chatbots can also use AI to provide personalized suggestions to agents on how to deal with a given inquiry. AI bots can be deployed over various messaging apps or channels to ensure customers get instant responses 24/7.
How does a chatbot work?
Bots use predefined conversation flows or artificial intelligence (AI) to answer questions and guide customers through different scenarios, such as login issues, payment problems, or booking instructions–to name a few. AI bots can also learn from each interaction and adjust their actions to provide better support.
Chatbots work best with straightforward, frequently-asked questions. Unless their underlying technology is especially sophisticated, bots typically can't handle difficult, multi-part questions like a support agent can.
How can an AI chatbot help your business?
An AI chatbot can help your business scale customer support, improve customer engagement, and provide an overall better customer experience. Here are a few things your business can accomplish with the help of a bot.
Help more customers in less time and boost customer satisfaction

According to Gartner research, organizations report a reduction of up to 70 percent in call, chat and/or email inquiries after implementing a virtual customer assistant. Many companies have a small variation of questions representing a large portion of total support volume, and therefore cost. These high-frequency questions tend to be low in value and simple to solve without human intervention, making them the perfect questions for a bot.

By taking over these basic, repetitive inquiries, chatbots enable support teams to help more customers in less time while also giving agents time back to focus on higher-stake issues. Customers benefit from reduced wait times, which increases satisfaction. In fact, an MIT technology review found that 90 percent of businesses report recording large improvements in the speed of complaint resolution after deploying a chatbot. And it's not just support teams that benefit from chatbots; sales and marketing teams do too. In fact, according to Gartner, by 2025, "75% of B2B sales organizations will augment traditional sales playbooks with artificial intelligence (AI) guided selling solutions."

Offer help as soon as customers need it and anticipate their needs

Providing always-on support is no longer a stand-out feature; it's something customers have come to expect. In fact, 43 percent of consumers expect 24/7 customer service, according to an e-commerce study. And as customers' expectations continue to rise, this figure is only expected to increase.

Customers don't always want to take the extra step of making a phone call or keep up with the back-and-forth of an email thread. The most adaptable businesses are going where their customers are, adding new channels, so customers have convenient options to get help as soon as they need it.

With the machine learning that powers many chatbots, AI can help you anticipate customer needs and surface personalized answers to their questions before they even have to ask. And according to Gartner, proactive customer service results in a full percentage point increase in the net promoter score, customer satisfaction score, customer effort score, and value enhancement score.

Improve the bottom line

Juniper Research predicts that by 2023, chatbots will save banking, healthcare, and retail sectors up to $11 billion annually. That's ​​the difference between a business being in the red vs. the black. In other words, a chatbot can mean the difference between turning a profit and having to explain to stakeholders why the company fell short.

What's more, resolving support issues via social media can be up to six times cheaper than a voice interaction. That's because messaging and chat channels allow agents to help more customers at once, which increases their overall throughput. Also, AI chatbots can automate and resolve many of the more routine, repetitive service operations, such as answering frequently asked questions. This allows agents to focus on more complex, high-value conversations.
How do chatbots use AI?
Chatbots use two main types of AI: natural language processing and machine learning. Natural language processing enables bots to interpret customer requests, including slang, typos, and abbreviations, and machine learning allows them to improve over time. A great example is our own Answer Bot, which incorporates a deep learning model to understand the context of a support ticket, associate questions with answers, and learn which help center articles it should suggest to a customer. It's also learning from each customer interaction and training itself to deliver more relevant and customized content with each solved ticket. AI chatbots are most successful when they can learn from thousands of service interactions, like those already saved in enterprise CRMs.
A comparison chart of the top AI chatbots
Software

Starting price (/user/month)

Free trial/plan

Features

Zendesk

$49

Unified agent workspace for all channels
Advance ticket routing & queuing
Real-time dashboards & reporting
Easy-to-use interface & powerful integrations
Out-of-the-box email integration
Conditional ticket fields
Skills-based conversation routing
Pre-built analytics dashboards

Ada

Not available

No

Dedicated account manager
CX software & data systems integrations
Customizable branding
Proactive chat
Rules-based drip sequences

Netomi

Not available

No

Real-time analytics and reporting
AI-powered recommendations
Entity understanding
Self-learning
Omnichannel

Certainly

Not available

User intent analysis
No-code chatbot builder
Chatbot-to-agent routing
Pre-made templates and integrations

DeepConverse

Not available

Drag-and-drop conversation builder
Multi-step conversations
Search-as-you-type FAQs
Chatbot performance analytics

Mindsay

Not available

No

Low-code interface
Service process automation
Support for 110 languages
Dynamic, multimedia responses

Solvemate Chatbot

€350/month

Omnichannel compatibility
Natural language processing (NLP)
Dynamic decision trees (DDT)
Universal language support

Zowie

Not available

No

Seamless Zendesk integration
Intelligent ticket distribution
A/B testing and service analytics
AI-powered learning

Ultimate

Not available

No

Conversation flow builder
AI-powered, real-time reply suggestions
Process automation
Easy-to-deploy Zendesk integration

Meya

$799/month

Bot building studio
Scalable hosting
Production and sandbox apps
Visual conversation flow builder

Thankful

Not available

No

Automatic ticket tagging, routing, and resolution
Real-time reporting
Customer sentiment analysis
Customer profiles

Haptik

Not available

No

24/7 support
One-click customer handoff
Ticket automation
Smart interactive elements

Yosh.AI

Not available

No

Product and store search
Multi-channel support
Voice and text-based chatbots

Intercom

Not available

Ticketing workflows
Predictive answers based on what customers are typing
Support for 32 languages
Brand voice and tone customization

Proprofs chatbot

$10

Ready-to-use chatbot templates
Customizable chat windows
Chatbot customization dashboard
Advanced reporting and analytics
Canned responses
Access chat via desktop, smartphone, or tablet

HubSpot Chatbot Builder

$45

Meeting booking bots
Custom branching logic
Advanced targeting
Native HubSpot CRM, marketing software, and service software integrations
5000 templates

Solvvy

Not available

Self-learning AI
Automated multi-step workflows
Advanced reporting and analytics
Knowledge base self-service

Boost.ai

Not available

No-code conversation builder
NLU and NLP
Virtual Agent Network
Conversational AI
Best AI chatbot software & apps
Zendesk




Ada




Netomi




Certainly




DeepConverse




Mindsay




Solvemate Chatbot




Zowie




ultimate.AI



Meya




Thankful




Haptik




Yosh.AI




IntercomI




Proprofs Chatbot




Hubspot Chatbot builder




Solvvy




Boost.ai



1. Zendesk
An AI chatbot's ability to be aware of and repond to user needs is a benchmark for determining its intelligence, and Zendesk's Answer Bot was designed specifically to help businesses deliver better customer support.
For Zendesk users that already have a help center and are looking to get up and running quickly, Answer Bot seamlessly pulls information directly from your knowledge base to answer customer questions with the most up-to-date information, making it a powerful extension of your team and support system for your customer. And if companies want more control, our click-to-build bot creator provides a visual interface to empower you to build rich, interactive, and customized conversation flows with absolutely no coding required. This makes it a great option for companies implementing their first bot.
The support, sales and marketing teammate you need
Zendesk Answer Bot's artificial intelligence is smart enough to handle common customer inquiries from numerous channels all at once. In addition to handling common requests, Answer Bot can hand over conversations to live agents when necessary. And since AI never sleeps, Answer Bot is always on duty which means your customers always have somewhere to go with questions.
Any channel you need
Even the smartest AI on the market can't help you if it's not compatible with all the channels in which you converse with customers. Fortunately, Answer Bot has you covered whether you're looking to chat with your customer over email, through a chatbox on your website, or via messaging channels like Facebook Messenger or WhatsApp—giving your business the 24/7 customer service superhero it needs. Also, Zendesk's Marketplace makes it easy to connect a variety of industry-leading AI chatbots.
Pricing Plans:
Suite Team: $49 user/month
Suite Growth: $79 user/month
Suite Professional: $99 user/month
Suite Enterprise: $150 user/month
Free trial: 14 days
Features:
Applicable across many channels, such as chat, messaging, email, and Slack
New language model allows Answer Bot to handle slang
OOTB (no code) bot builder
Information capture
Seamless bot-to-human handoffs
Omnichannel conversation (case) management
Reporting and analytics
Article suggestions for self-service
Launch in minutes
Customize to the look and feel of your brand
Offer support in 17 languages including Chinese, Japanese, Korean, and Russian
Provide agents with context and conversation history
Map and pre-populate information from customers into existing ticket fields
Support more customers, eliminate wait times, and watch customer satisfaction soar
Learn about Zendesk partners
If you need a bot that's more specialized because of your niche, our bot partners have built integrations that make it easy to connect a variety of bot solutions to Zendesk. They cover a wide range of industries, cater to small to enterprise level companies, and support multiple languages around the globe. These partners make it easier to integrate with third party business software and build interactive, personalized self-service experiences. Browse our marketplace to learn more.
Learn about the Zendesk platform
Our open and flexible CRM platform enables you to connect any bot to Zendesk, even those you build yourself. It enables you to connect all your customer data—wherever it lives—for more personalized chatbot interactions. Learn more.
Ada is an automated chatbot powered by AI and Natural Language Processing (NLP) that deflects repetitive tickets with a self-serve solution that lets customers change their information, upgrade their accounts, schedule appointments, and make payments on their own. Ada's automation platform acts on each customer's information, intent, and interests with tailored answers, proactive discounts, and relevant recommendations in over 100 languages.
Ada seamlessly integrates with Zendesk to make it easy to deploy Ada inside popular social channels like WhatsApp, Facebook Messenger, and more. With the Zendesk and Ada integration, teams can hand off customers from automated conversations directly to a live agent within the same user experience. This diminishes customer frustration by allowing them on-demand, self-service support, and frictionless access to human beings when needed.
Among the negative reviews for Ada on G2, many users found it difficult to measure success with analytics and A/B testing. However the solution is mostly well-reviewed, with an average review score of 4.6 out of 5 stars.
Free trial: not available
Pricing not available
Features:
A dedicated account manager and automated customer experience (ACX) consultant.
Launch a bot in 30 days.
Best in class NLP and natural language understanding (NLU) tuned for customer experience.
Actionable insights.
24/7 personalized support in 100+ languages.
Platform integrations with customer experience software and data systems.
Personalized messaging using authentication and conditional-based logic.
Personalized branding and proactive chat.
Seamless integration into Zendesk's ticketing system.
Knowledge base with searchable articles and community forums.
Mobile optimization of the self-service experience.
Configurable, rules-based drip sequences with automated messages.
Learn more about Zendesk for Ada.
The Netomi Virtual Agent empowers you to resolve customer service tickets within seconds. It easily integrates with your existing backend systems to support full resolution of issues. For instance, the platform can access customer and order information within your CRM system to determine and communicate the status of an order to your customer.
Netomi's platform supports full ticket resolution across all Zendesk channels. But it also resolves email inquiries, something that few vendors do. It operates just as if it were a live agent. With the Zendesk and Netomi integration, any issue that can't be autonomously resolved by the AI will be smoothly handed off to a live agent with full context within the ticket.
Netomi is a powerful platform in its own right too, with top-tier NLP and both customer service and email-based chatbots. Leverage Netomi to automate specific workflows, guide agents in their responses, and fully resolve tickets within the tools your team already knows and loves.
Free trial: not available
Pricing not available
Features:
Comprehensive intent, entity, and sentiment understanding.
Self-learning AI that continues to automatically grow smarter as time goes on.
Seamless integration into Zendesk's ticketing system and support for all Zendesk channels and email.
Support for 30+ languages.
Real-time analytics and reporting within the Netomi AI Studio dashboard.
AI-powered recommended replies to help your agents work faster.
Integration with core business systems including Order Management Systems, CRM platforms, and inventory management systems for full ticket resolutions.
Full suite of customer service analytics, such as first response rate, average handle time, etc.
Train AI with past messaging, email, and chat data.
Omnichannel capabilities with voice, SMS, website chat, and social media messaging.
Learn more about Zendesk for Netomi.
Certainly is a bot-building platform made especially to help e-commerce teams automate and personalize customer service conversations. The AI assistant can recommend products, upsell, guide users through checkout, and immediately resolve customer queries related to complaints, product returns, refunds, tracking, and tracking of orders. It also gathers zero-party data from conversations with visitors, which you can use to hyper-customize shopping experiences and increase customer lifetime value.
Certainly helps businesses of all sizes connect your AI chatbot to Zendesk in minutes for seamless live handover between chatbot and agents. That way your chatbot can open, update, and close tickets out-of-the-box. It also has multiple APIs and Webhooks options for reporting, data sharing, and more and no or low-code integration with third-party CRM, Product, and ERP tools.
It's also worth noting that Certainly is designed to be deployed fast with its pre-built integrations and templates so your team and execs can start to see its value as soon as possible. Though Certainly doesn't have many reviews across G2 and Capterra, it has a respectable overall rating of 4.4 out of 5 stars on Capterra.
Free trial: 14 days
Plans (pricing not available):
Essential
Standard
Enterprise
Features:
A ready-to-use database of 24.000 sentences and 1 billion variations.
A platform built for line-of-business employees, with no coding skills required to create and run a fully functional chatbot.
Out-of-the-box options are available for all Zendesk plans and tiers.
Optional custom onboarding, training, dedicated support and SLA.
IT Security approved and compliant with GDPR, HIPAA FSA & SOC2.
User intent and sentiment analysis drive product suggestions.
Pre-made templates and integrations to speed up time-to-value.
Seamless routing to relevant departments from chatbot to agent.
Learn more about Zendesk for Certainly.
DeepConverse leverages the latest in AI to take your support experience to the next level. It helps businesses deploy chatbots that can deflect tickets through multi-step resolution flows and through precise answers based on user intent.
DeepConverse chatbots can acquire new skills with sample end-user utterances and these new skills can be trained in less than 10 minutes. An intuitive drag-and-drop conversation builder helps in defining how the chatbot should respond, so non-technical users can leverage the customer service enhancing benefits of AI.
DeepConverse has a powerful AI-driven automation platform that evaluates not just the content of customer messages but also the intent. Plus, it integrates seamlessly with Zendesk. Using the DeepConverse/Zendesk integration, you can build chatbots that can give simple answers and execute multi-step conversations. Bots can hand over to human agents seamlessly when issues need further assistance. Or, when human agents are not available, a ticket can be filed.
Free trial: 14 days
Plans (pricing not available):
Basic
Professional
Enterprise
Features:
Multi-step conversations, with follow-up questions to get to the precise answer that your customer is looking for.
Instant support to almost all repetitive support queries.
Instant support to your customers on channels like WhatsApp, Facebook Messenger, SMS, and Ticket Forms in partnership with Zendesk.
Detailed analytics into chatbot performance that allows teams to easily adapt their chatbot to changing needs.
Conversational search-as-you-type for personalized FAQs.
Unified search experience draws from multiple content sources.
Learn more about Zendesk for DeepConverse.
Recently acquired by Laiye, an automation company, Mindsay enables companies to provide 1-to-1 customer care at scale through Conversational AI. The company was founded in 2016 to make chatbot-enabled conversations simple and efficient for non-technical users with its low and no-code platform. With its recent acquisition, Mindsay will fold in Laiye's robotic process automation (RPA) and intelligent document processing (IDP) capabilities.
Yet even before its acquisition, Mindsay was a great chatbot option for customer service teams in e-commerce, travel, delivery, and fintech. And Mindsay's AI chatbots seamlessly integrate with Zendesk's support solutions to allow human agents to easily enter and exit conversations via live chat and create tickets.
With the bot automatically handling the most common customer questions, agents can focus on quickly solving the complex issues that require a human touch. All information from the bot is logged as a ticket in Zendesk so that agents have everything they need to quickly resolve the issue at hand.
Free trial: not available
Pricing not available
Features:
Library of use cases: From basic FAQs to complex actions, Mindsay's use case library solves common pain points for many industries.
Low-code interface: Its platform is designed to allow both developers and business users to easily build, maintain, and improve their bots.
Ability to connect: Its platform easily connects via API to any proprietary, industry-specific, or customer service system.
Instantly deploy your bot across any channel or platform with Mindsay and Zendesk's platform
AI-powered customer service process automation, including self-service.
Dynamic responses with images, videos, maps, and other multimedia.
Support for 110 languages.
Connect to any system with an API.
Learn more about Zendesk for Mindsay.
Solvemate is a chatbot for customer service automation that's designed for customer service, operations, and IT teams in retail, financial services, SaaS, travel, and telecommunications. Solvemate Contextual Conversation Engine™️ uses a powerful combination of natural language processing (NLP) and dynamic decision trees (DDT) to enable conversational AI and precisely understand your customers. Users can either type or click buttons – it has a dynamic system that combines the best of decision tree logic and natural language input.
Solvemate is context-aware by channel and individual users to solve highly personalized requests. You can also offer a multilingual service experience by creating a bot in any language. If necessary, a human agent is always just a click away and handovers to your existing CRM or ticketing system are seamless. And using Solvemate's automation builder, you can leverage streamline customer service processes such as routing tickets, answering common questions, or accomplishing other routine tasks.
With Zendesk, you can easily automate your customer conversations on their favorite channels like WhatsApp and Facebook Messenger in one service agent view – including Solvemate's chatbot. Customer data is also mapped to the appropriate fields in Zendesk, or the bot can create a new customer record if it does not already exist.
Free trial: 30 days
Pricing
Starter: €350/month
Essential: €800/month
Professional: €1600/month
Corporate: €3200/month
Features:
Be where your customers are – together with Zendesk, Solvemate allows your customer service team to communicate with your customers using their favorite channels, automatically. Communicate with your customers on Whatsapp, Facebook messenger, and more.
Automatically respond to your customers around the clock.
Reduce the number of new tickets created by up to 90 percent.
All languages supported.
Improves on its own and needs very little maintenance.
Automate answers to highly personalized requests.
Contextual Conversation Engine to understand and respond to customers' requests.
Combination of natural language processing (NLP) and dynamic decision trees (DDT).
Branded Solvemat widget for your website, mobile app, or messenger platform.
Learn more about Zendesk for Solvemate.
Zowie is a self-learning AI that uses data to learn how to respond to your customers' questions, meaning it leverages machine learning to improve its responses over time. Based on G2 reviews, Zowie has an impressive overall rating of 4.9 out of 5 stars. And it's especially popular among e-commerce companies focused on a variety of products including cosmetics, apparel, consumer goods, clothing, and more.
Zowie's automation tools learn to address customers' issues based on AI-powered learning, not keywords. Zowie pulls information from several data points including, historical conversations, knowledge bases and FAQs, and ongoing conversations. So the better your knowledge base and more extensive your customer service history, the better your Zowie implementation will be right out of the box.
You can plug Zowie into your existing customer support software, such as Zendesk, to deliver automated responses to repetitive questions. You can install Zowie as a Zendesk add-on and within 24 hours you can learn exactly how much of your customer service can be automated during a 1:1 call with Zowie experts.
Free trial: not available
Pricing not available
Features:
Works with your existing tech stack, super-low maintenance: No IT involvement needed. Managing automations takes a few clicks and 30 minutes a month, not a huge team working for hundreds of hours.
Seamlessly integrates with Zendesk.
AI-based, no keywords: Its automation tools learn to address customers' issues based on AI-powered learning, not keywords.
Scaling and growth: Zowie easily adapts to 56 languages and jumps across channels in one click. As your business grows, Zowie grows with you to handle increased traffic.
Intelligent ticket distribution to live agents when necessary.
Easy automation of FAQ answers.
A/B testing and service analytics.
Learn more about Zendesk for Zowie.
Using NLP, ultimate.AI's Intelligent Virtual Assistant enables global brands to automate customer conversations and repetitive processes, providing great support experiences around the clock via chat, email, and social. Built for your omnichannel CRM, Ultimate.ai deploys in-platform, ensuring a unified experience for your customers. And it's well-adopted among companies in the healthtech, telecom, travel, financial services, and e-commerce industries.
When you start with Ultimate, the software builds an AI model unique to your business using historical data from your existing software. This process enables Ultimate to help you determine what processes to automate and helps the AI learn to speak in your brand tone and voice.
Ultimate has a one-click integration with Zendesk and automates 30-70 percent of support requests across Zendesk channels. It gives customers a unified experience, with virtual agents that live as users within Zendesk. No third-party widgets.
Free trial: not available
Pricing not available
Features:
Process Automation: Built for organizations with complex needs. Automate Zendesk triggers and actions, connect back-office systems, and sync data across platforms.
Global Scalability: Pioneer of multilingual conversational AI, with live deployments from Icelandic to Mandarin. Its multilingual and omnichannel technology lets you deploy automation across all markets and channels.
Dialogue Builder: Easily build the ideal conversation flows for each customer's intent with the help of our conversational automation team.
Suggested Replies: Speed up the performance of your customer service agents by showing them AI-powered reply suggestions in real-time.
Backend API Connection: Automate processes entirely with integrations to the backend systems, needed to resolve common cases such as checking order statuses, downloading receipts and password resets.
NLP Analytics: Track AI results, agent metrics, case trends and keep a 360° view of your customer service performance.
Learn more about Zendesk for Ultimate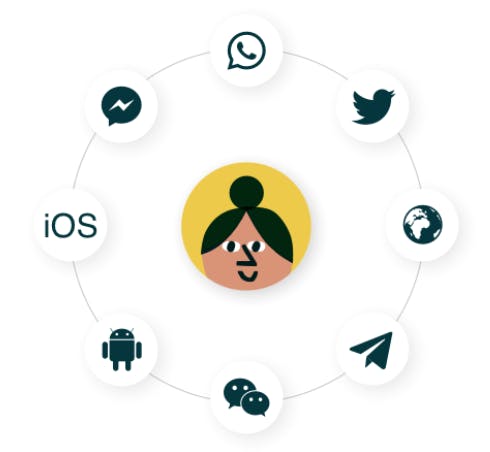 Meya bills itself as an automation platform consisting of three components called the Grid, the Orb, and the Console. The Grid is Meya's backend where you can code conversational workflows in a variety of languages. The Orb is essentially the pre-built chatbot that you can customize and configure to your needs and embed on your app, platform, or website. And the Console is where your team can design, create, and execute your customers' conversational experiences.
Meya enables businesses to build and host complex bots that connect to your backend services. Meya provides a fully functional web IDE that makes bot-building easy. The cloud code and managed database that comes with every bot allows you to make your bot powerful and delight your customers.
When integrated with Zendesk, you can add a human-in-the-loop agent to seamlessly make your teams more efficient and your customers happier. Your bot will listen to all incoming messages connected to Zendesk and respond when it knows the answer. The bot can be set to
pause when assigned to an agent, and unpause when unassigned.
Free trial: 14 days
Pricing
Pro: $799/month
Partner: $2500/month
Features:
Web IDE bot building studio.
Conversational framework.
Turnkey, scalable hosting.
Custom cloud code connects to your backend services to make your bots more powerful.
Isolated, managed database per user, request or bot-level.
Production and sandbox apps.
Voice assistant, analytics, and CRM integrations.
Visual conversation flow builder
Thankful is AI customer service software that can understand and fully resolve customer inquiries, across all written channels. Thankful's AI routes, assists, translates, and fully resolves up to 60 percent of customer queries across channels, giving customers the freedom to choose how they want to engage. Thankful's AI delivers personalized and brand-aligned service at scale with the ability to understand, respond to, and resolve over 50 common customer requests. On top of all that, Thankful can even automatically tag large volumes of tickets to help facilitate large-scale automation.
Thankful integrates with Zendesk, making it easy for you to deploy on any written channel. With Zendesk's platform, this partnership presents a unified customer profile across every channel along with any chat history. This provides your agents with complete customer context and ensures a smooth transition so that your customers never have to repeat themselves. And Thankful does all this without putting your customer's data at risk thanks to its advanced security protocols and certifications.
Free trial: not available
Pricing not available
Features:
Agent Assist: Delivers AI intuition to your human support staff through routing, translating, tagging, and recording tickets.
AI Agent: Automates for 50+ different ticket types, providing believable human-like responses to your customers.
Insight: Unlocks actionable business intelligence with real-time data, reports, and alerts to help your brand learn.
Promotes efficiency by saving time and agent resources with ticket prioritization and quick resolution.
Provides brand-like responses that align with your brand voice.
Customer sentiment analysis
Customer profiles with dozens of parameters including geography, LTV, and service history.
Learn more about Zendesk for Thankful.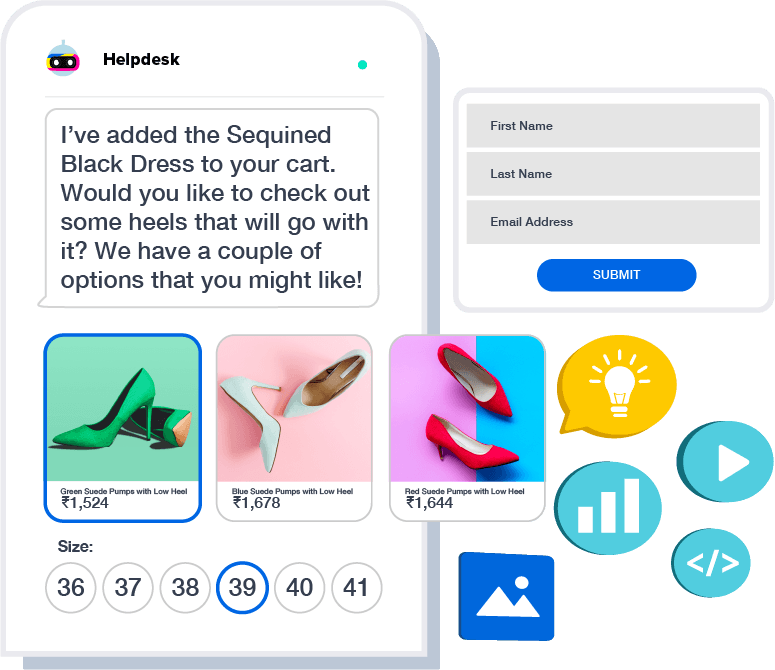 Haptik powers Intelligent Virtual Assistants (IVA) that transform the customer experience, while increasing sales and reducing costs. Haptik's platform is designed keeping in mind CX professionals specifically in the ecommerce, financial services, insurance, and telecom industries. And it carries a respectable rating on G2 of 4.5 out of 5 stars where it boasts an above-average rating for ease of use and quality of support but below average for ease of setup.
Haptik IVA serves as the first line of support for your brand and resolves over 80 percent of repetitive requests, thereby freeing up your support agents to focus on high-value, more complex customer issues—elevating user experience and driving CSAT and NPS at every stage of the customer journey. In addition to streamlining customer service, Haptik also helps service teams monitor conversations in real-time and extract actionable insights to reduce costs, drive revenue growth, and improve automated processes.
Free trial: not available
Plans (pricing not available)
Features:
24/7 on-demand support: Give your customers the support they expect by positioning Intelligent Virtual Assistants at the forefront of your customer service.
Uninterrupted user experiences: One-click customer handoff from AI to live agent in real-time, with the entire user history, chat transcripts, and customer data, within the same interface, without disrupting the user experience.
Personalized experiences that build connections: Bring a human touch to every conversation with engaging content that's timed and tailored to serve your customers' unique interests and needs.
Omnichannel support: Deliver exceptional support to your customers on their most preferred messaging channels such as Facebook (Facebook chatbot">with Facebook chatbots), WhatsApp, SMS, Twitter, and lots more.
Ticket automation: Customer support tickets created on the Haptik IVA automatically get synced with Zendesk's CRM system
Smart interactive elements: Improve engagement using interactive elements such as carousels, quick replies, share location, images, and more
Proactive messaging with Haptik's AI Agent Assist.
Natural Language Understanding (NLU) powered by proprietary ML algorithms.
Learn more about Zendesk for Haptik.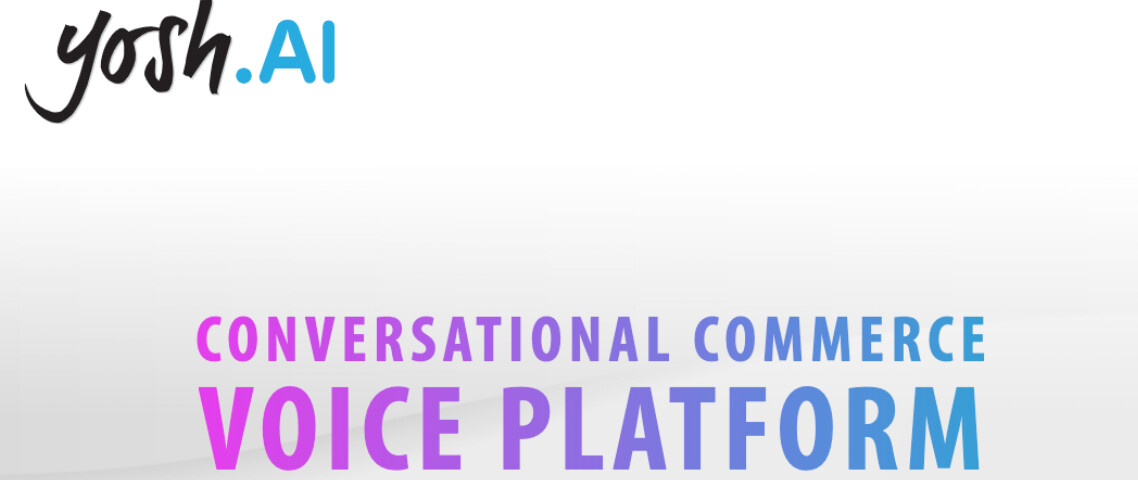 Yosh.AI is a deep tech company and Google Cloud Partner that uses AI for automating communication through custom-made virtual assistants. The solution is based on advanced AI technologies, mostly from Google speech recognition and NLP. Yosh.AI's stated mission is to "Empower e-commerce with AI solutions and drive user engagement and sales."
Designed for retailers, Yosh.AI virtual assistant can communicate in a conversational way with users using voice and text. The technology is designed to answer customer inquiries during the pre-purchase and post-purchase stages of their customer journey. Once developed and trained, virtual agents can be deployed on many communication channels including voice platforms like Google Assistant, Alexa, and even phone lines within the customer support center as well as text-based channels like Facebook Messenger.
Free trial: not available
Pricing not available
Features:
Engaging communication between the retailer and users.
Available on multiple channels.
Multilingual.
Information 24/7.
Increased conversion and loyalty.
The ability to search for products and stores.
The ability to search to check complaints and order status.
Visual search
Voice assistant
AI voice and chatbots
Intercom is a unique messaging platform designed for companies in the healthcare, financial service, education, e-commerce industries. The software made a name for itself with its Business Messenger where users can streamline customer support conversations by tracking and routing customer inquiries, reporting on service performance, and deploying customized ticketing workflows. However, in August 2018, Intercom announced its foray into chatbots with Custom Bots, a product that allows you to create web-based chatbots.
Intercom's Custom Bots integrate with your existing tools to help automate sales and support workflows so you can automatically resolve customer issues and qualify leads. Among other things, Custom Bots help collect customer information, proactively start conversations based on advanced targeting, and qualify leads more seamlessly than web forms. And to top it off, Intercom's Custom Bots can be built and deployed by non-technical users thanks to its no-code chatbot builder.
Plans (pricing not available)
Free trial: 14 days
Features
24/7 automated support
Automatic recognition of similar questions and answers from past conversations
Team inboxes
Ticketing workflows
Advanced reporting
Predictive answers based on what customers are typing
Support for 32 languages
Brand voice and tone customization
Learn more about Zendesk for Intercom.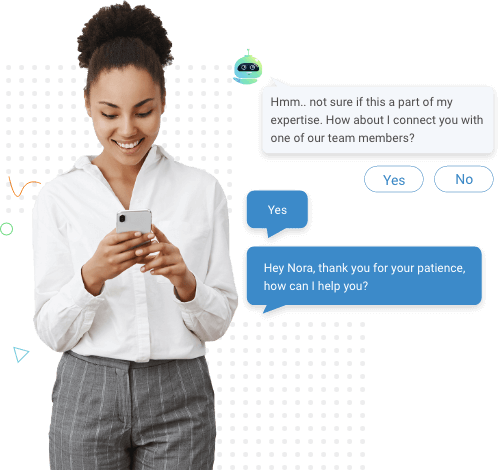 ProProfs offers live chat solutions with the option to add a chatbot to any plan for an additional $499 per year. Their software is catered towards service, sales, and human resources teams at small to large enterprises in a range of industries including ecommerce, automotive, healthcare, travel and more. In addition to the Proprofs Chatbot, all Proprofs plans include live chat, multiple chat sessions, chat widget customizations, operator and visitor typing status, canned responses, and chat transcripts.
Proprofs Chatbots are powered by artificial intelligence and are designed to help support sales teams and service agents. Their AI chatbots can provide automated answers and agent handoffs as well as collect lead information and book meetings, all without human intervention. Proprofs prioritizes ease of use over advanced functionality so while it's easy to build chatbots with no-code, more advanced features and sophisticated workflows may be out of reach.
Pricing Plans
Essentials: $10 user/month
Premium: $15 user/month
Chatbot add-on: $499
Free trial: 15 days
Features
Drag-and-drop chatbot builder
Ready-to-use chatbot templates
Customizable chat windows
Chatbot customization dashboard
Advanced reporting and analytics
Canned responses
Access chat via desktop, smartphone, or tablet
24/7 support
Learn more about Zendesk for Proprofs.
HubSpot is known for its CRM, customer service, and marketing tools it provides for teams of all sizes in a wide variety of industries, but less well-known for its chatbot. However, for basic needs—and especially for existing HubSpot users—HubSpot's chatbots are a great way to get started. Among other things, HubSpot's chatbots enable your sales teams to qualify leads and book meetings, your service team to facilitate self-service, and your marketing teams to scale one-to-one conversations.
Plus, since getting you up and running fast is core to all HubSpot products, its chatbot comes with goals-based templated conversation flows and canned responses. And its visual editor is easy to use for non-technical users.
Of course, it's worth noting that the more advanced features of HubSpot's chatbots are only available in the Professional and Enterprise plans. In the Free and Starter plan, all you can do is create tickets, qualify leads, and book meetings, with no custom branching logic. Professional and Enterprise plans add custom branching logic and advanced targeting. Still, even with all the features, HubSpot's chatbots are limited when it comes to the advanced functionality you'll find in many other AI chatbots.
Pricing Plans
Service Hub Starter: $45/month for 2 users, $23 month/user for additional users
Service Hub Professional: $360/month for 5 users, $72/month for additional users
Service Hub Enterprise: $1200/month for 10 users, $120/month for additional users
Free trial: 14 days
Features
Ticket creation
Lead qualification
Meeting booking bots
Custom branching logic
Advanced targeting
Native HubSpot CRM, marketing software, and service software integrations
Up to 100 inboxes and 5000 canned snippets
5000 templates
1000 personal and team meeting links
Learn more about Zendesk for HubSpot
Solvvy is an effortless next-gen chatbot and automation platform that powers brilliant customer experiences. With advanced Artificial Intelligence and Natural Language Processing (NLP) at its core, Solvvy delivers intelligent self-service to resolve customer issues quickly, accurately, and at scale.
Unlike traditional chatbots, Solvvy delivers personalized, on-brand experiences for customers across multiple channels. So wherever your customers encounter a Solvvy-powered chatbot—whether on Messenger, your website or anywhere else—the experience is consistent and genuinely on-brand.
Solvvy also provides great ROI with low maintenance costs, no engineers required, and learns and improves on its own over time from interactions with your customers. Solvvy provides omnichannel self-service to their customers and provides immediate resolutions of customer issues. For support teams in the ecommerce, SaaS, financial services, and health industries, Solvvy is an AI chatbot that's worth your consideration.
Free trial: 14 days
Pricing not available
Features
Solvvy's proprietary NLP technology interprets conversational language and end-user intents
Crawls Zendesk Guide or other KB to deliver fast and specific answers to customer inquiries, 24-7
Custom automations handle multi-step workflows once triggered by customer intent
Integrate directly with systems or collect data and smoothly hand off to agents
Advanced Reporting & Analytics: Self-Service Rates, Automated Ticket Categorization, Knowledge Base Gaps, KB Analytics, Query and User Breakdowns
Multi-channel handoffs to web, SMS, voice, or chat
Customer journey tracking
Analytics dashboard and data warehouse integrations
Learn more about Zendesk for Solvvy.
Boost.ai has built the world's most user-friendly conversational AI platform to let customer service teams automate customer service and has deployed more virtual agents than any other company in the world. And it shows with their latest recognition from G2 as a leader among companies providing Intelligent Virtual Assistants (IVAs).
Boost.ai has worked with over 200 companies, including more than 100 public organizations and numerous financial institutions such as banks, credit unions and insurance firms in Europe and North America. And on top of its virtual agent functionality for external customer service teams, Boost.ai also features support bots for internal teams like IT and HR.
They make it easy to build, launch and maintain a virtual agent. Drive down support costs and engage customers 24/7 with their user-friendly conversational AI platform that makes it possible to deliver quality customer experiences, at scale and without any limitations.
Free trial: 10 days
Pricing not available
Features
Self-learning AI transforms data from your website or chat logs into a fully-featured virtual agent in less than 10 days
Class-leading NLU and NLP for enhanced understanding. Successfully resolve over 90% of customer requests
Unlimited scalability with thousands of ready-to-go intents. Avoid a 'cold start' with purpose-built content for banking, insurance, telco, e-commerce, public sector and more.
Enterprise-grade feature set – analytics, SSO, user authentication, cloud/on-prem hosting, Virtual Agent Network™, and more
User-friendly, no-code conversation builder. Upskill existing support and service staff into AI trainers with our comprehensive e-learning certification program
Voice bots with conversational IVR
AI-assisted Smart Replies
SSO
What are the core functionalities of a chatbot platform?
There are four core functionalities to look for in a chatbot platform. Here are some questions to guide the way.
Compatible with multiple channels

Savvy businesses have known for years that customers want a choice of channels. That's why the power of an AI chatbot depends in large part on the channels in which it can be deployed. Ideally, you'll be able to leverage the power of chatbots across all the messaging channels your team depends on, including social media, your website, mobile app, and other messengers like Slack or Telegram. It's also important for your chatbot to work within the support, sales, and marketing tools your team depends on. That way, you can build once and deploy anywhere. In other words, you can use the best version of a rich bot experience across all your channels, even those with no native bot support. Also, by having tight integrations with the front and back end of your service channels, you can help AI-powered chatbots learn and improve themselves quickly.

Able to collect key lead and customer data

More context leads to better chatbots and more personalized conversational experiences. Look for a bot that can collect key customer information, pre-populate it into existing ticket fields, and pass through context and conversation history when an agent is needed. When a bot can capture information from your customers, it helps your agents understand the context of the problem more quickly, and removes the annoyance of customers having to repeat themselves.

Beyond passing on relevant information to agents, be sure your bot can also pass on context to a CRM or other software. This enables things like:

Understanding that Rose has a necklace in her cart and sending a message to a marketing automation tool, so she receives better-targeted email offers
Knowing that IT buyer Bob signed up for a demo, qualifying him as a lead in a sales CRM
Recognizing that Kim, a customer seeking support, needs to be intelligently routed to a specialist for her inquiry to be resolved as quickly as possible.

For these kinds of next-level use cases, our customizable messaging platform allows you to connect all your business systems to the conversation, from payment processors to third-party bots and AI.

Seamless bot-to-human handoffs

It's always important to have a way for customers to escalate a conversation to a real person. When a customer has a valid reason to speak to a human agent, but there's no option to do so, it's a frustrating experience that can lead to negative CSAT, or worse, churn.

Sometimes a bot simply can't handle a customer's question, or there is sensitive information that needs to be conveyed through an agent. Triggers, automations, and workflows provide support teams with a way to manage and prioritize incoming tickets that need agent help. This opens up possibilities like identifying VIP customers and routing them to a live salesperson for help—with conversation history.

But this doesn't all have to be manually enabled. With the right AI capabilities, chatbots can automatically recognize when an inquiry requires help from a live human.

Easy to integrate with your customer service platform

Bots are only as powerful as the systems backing them up. And AI chatbots are enhanced when the AI can collect, process, and learn from data in other systems. Be sure to thoroughly consider the customer service software you utilize underneath your chatbot. Remember, chatbots are only one part of your larger customer communication strategy, so your support platform is often even more important to consider before choosing your bot. Understanding who is reaching out and why, as well as how often they need help, along with ensuring their issue gets resolved when a bot can't help them, requires a robust back-end customer support platform.

A chatbot that connects to your support systems means it can pass on information to automate ticket creation and equip agents with conversation history when their expertise is needed. Even better, using artificial intelligence, your chatbot may even be able to deliver recommended answers, knowledge base articles, and more to your agent. So when an agent picks up a complex help request from a bot conversation, they will already be in your support platform, where they can respond to tickets with context at their fingertips. This connected experience also gives you a single view to track how your bot is impacting agent performance and your support metrics.

Zendesk provides agents with a real-time, conversation-focused interface to seamlessly track and manage conversations between agents and bots.
What are the benefits of AI chatbots?
The benefits of AI chatbots go beyond "increasing efficiency" and "cutting costs"—those are table stakes. Bots are at their most powerful when humans can work in tandem with them to solve key business challenges.
What are some use cases for AI chatbots?
Here are some simple yet effective use cases for chatbots.
Chatbots to answer FAQs

As previously mentioned, one of the most successful use cases for a bot is to automate basic, repetitive questions. These are the kinds of questions that your team can predict and agents can resolve in one-touch. Not only do customers prefer to use chatbots for simple issues, but this also gives agents' time back for high-stakes tasks and to offer more meaningful support.

Chatbots enhanced with artificial intelligence take this a step further. Not only can they answer common questions, but they can also intelligently route tickets when canned answers won't suffice. Also, by fielding customer inquiries 24/7, AI chatbots start to learn and can help your team find the most common FAQs.

More sensitive or complex issues such as technical questions or billing or payment questions usually don't make sense for a bot. But if a bank sees hundreds of calls about its routing number or an e-commerce company gets bogged down with questions about its return policy, those would be great inquiries to deflect to a bot. That way, agents don't have to waste time responding to the same questions over and over.

If your team already has FAQs inside its help center, these can be a great starting point for building your FAQ bot.

Chatbots to bolster self-service

We already know that most customers check online resources first if they run into trouble and want to take care of their own problems. With the help of artificial intelligence, chatbots can highlight your self-service options by recommending help pages to customers in the chat interface. Rather than finding your FAQ or support pages and then guessing which search queries will bring up the information they need, customers can ask questions that bots will then scan for keywords to lead them to the right page. And if customers end up on the wrong chatbot, AI on the backend can switch those users over to the properly equipped chatbot without disrupting the customer experience.

This convenience means each customer's path to resolution is easier. You can deploy AI-powered self-service bots inside your knowledge base to help customers find the right article faster or outside of it so customers don't have to leave their experience to self-serve.

Self-service bots are also simple and cost-effective to build, making them a good option for teams without large developer budgets and who are looking to get their chatbot up and running quickly.

Chatbots to help provide global support

One of the advantages of AI chatbots is that they can provide customers with answers in every time zone and language. A chatbot can ask your customers what language they prefer at the start of a conversation or determine what language a customer speaks by their input phrases.

This is especially beneficial for global brands. Suppose you're an enterprise company that operates internationally or is considering expanding. Bots can ease the transition to becoming a fully distributed global support team and keep customers across the world happy.

Chatbots to help with ticket spikes and fluctuations

Since chatbots never sleep, they can support your customers when your agents are off the clock—over the weekend, late-night, or on the holidays. And as customers' e-commerce habits fluctuate heavily due to seasonal trends, chatbots can mitigate the need for companies to constantly turnover seasonal workers to deal with high-volume times.

For instance, a chatbot can help serve customers on Black Friday or other high-traffic holidays. It could also take pressure off your support team after product updates or launches and during events. Consider Spartan Race, an extreme wellness platform that deployed a Zendesk chatbot to help its small team of agents tackle spikes in customer requests during races. Spartan Race has seen a 9.5 percent decrease in chat volume, extending its team's live chat availability by three hours every day.

On top of all that, AI-enhanced chatbots actually get smarter over time, improving the service they provide. For example, AI can recognize customer ratings based on its responses and then adjust accordingly if the rating is not favorable. Over time, as your chatbot has more and more interactions and receives more and more feedback, it becomes better and better at serving your customers. As a result, your live agents have more time to deal with complex customer queries, even during peak times.

Chatbots for sales

Beyond customer service use cases, chatbots can be used for prospecting, making them a helpful hand for your sales team. A chatbot can help with lead generation by capturing leads across multiple channels. It can also pass a prospective customer to the next step in the sales process, whether that's a human sales agent or an email and phone number capture.

For example, a bot can welcome website visitors and ask them if they want to get in touch with sales. Prospects can leave their contact information and a note about what they're interested in, and the bot can pass on the details to the right team. Taking it a step further, a chatbot can ask qualifying questions such as 'how large is your company?' or 'what is your job title?'

A bot can be integrated into your sales CRM like it's integrated into your customer service software. This similarly ensures seamless handoffs between bots and sales representatives, equipping sales teams with context and conversation history. Chatbots can also automatically schedule meetings when integrated with your calendar and conferencing apps.

Chatbots for marketing

A chatbot can also be a lead generation tool for your marketing team. Similar to sales chatbots, chatbots for marketing can scale your customer acquisition efforts by collecting key information and insights from potential customers. They can also be strategically placed on website pages to increase conversion rates.

Beyond conversions and lead capture, marketing teams can use chatbots as a tool for customer engagement. For example, we incorporated a chatbot in our State of Messaging report so customers can learn more about the stories behind the report.

Or, the mattress brand, Casper, created a chatbot for people who have trouble sleeping and want a late-night friend to talk to. Casper's bot's single purpose is to bring people closer to its brand. And since AI-powered chatbots can learn your brand voice, they can use a tone, personality, and language that's familiar to the rest of your brand properties.

Abandoned cart/discount chatbot

Shopping cart abandonment happens when online shoppers add items to their carts but leave purchasing. The worldwide shopping cart abandonment rate is nearly 70 percent, and this number has only been increasing over the years. Reasons that customers abandon their carts include unexpected shipping costs, a complicated checkout process, and lack of trust.

Chatbots can help mitigate these concerns. They can be a great way to answer any questions a customer might have to give them the confidence to purchase or upgrade their account. In fact, customers are three times more likely to make a purchase when you reach out with a chat. And even if that customer isn't ready to connect yet, providing a quick and convenient option to get in touch builds trust.

An abandoned cart chatbot can also offer customers with a loaded shopping cart a discount to provide an incentive to purchase. The chatbot would need access to key customer context that tells it when a customer has an item in its cart, triggering it to offer that customer a discount. But AI takes the abandoned cart workflow a step further with intelligent, personalized recommendations. So instead of just trying to save a sale, AI can also help increase the total value of your customers' carts.

Chatbots for internal support

Businesses can use chatbots to support employees, too. A chatbot is a handy addition to any internal support strategy, especially when paired with self-service.

Many IT and HR teams use a knowledge base to help mitigate repetitive questions they get and empower employees to self-serve. A chatbot can help scale your internal self-service efforts by serving employees help center articles, which can be particularly helpful during employee onboarding or company-wide changes. An IT or HR team might also use a bot to answer FAQs over convenient channels such as Slack or email. Similar to chatbots for external support, internal support chatbots ensure employees get fast help around the clock, making them useful for global companies and remote teams with employees in different time zones.
What chatbot software is right for you?
The right chatbot software for your business depends on your current support needs and available resources.
If you have a knowledge base, a great place to start is with a bot that suggests articles from your existing help center content and captures basic customer context for the fastest time to value. If you want a little more control, look for a bot builder with a visual interface. This enables you to design customized bot conversations without having to write any code.
If you need a bot that's more specialized to your business niche, make sure your customer service solution can seamlessly incorporate outside bots, whether you build it yourself or buy it from a third-party, for seamless bot-to-human handoffs. Also, keep your eye out for chatbots that are enhanced with artificial intelligence. AI enables chatbots to learn and improve over time as well as intelligently redirect users to agents or self-service content which lightens the load on your service team.
Answering these questions can help you find a chatbot solution that best fits your support team's needs.
What problem are you looking to solve—and what resources do you need to solve it?

If you're thinking of using a bot, make sure to first identify your company's problem area and what resources you have to solve it. Are you inundated with requests and inquiries? Could your agents be spending their time more efficiently? It's equally as important to understand the scope of the bot you might be implementing. Does it help with repetitive tasks? Or is it an expert on a certain product?

Is your chatbot flexible enough to work across different channels?

Customers expect to receive support over their preferred touchpoints—whether they're interacting with a human or a bot. They also expect options. As such, it's important for your chatbot to work across a range of messaging channels.

What level of context will your chatbot need?

A key component of any artificial intelligence solution is data because the more data you have, the faster your AI chatbot can learn and improve its service. In short, more context leads to better chatbots—and more personalized conversations.

How will you manage conversations between chatbots and agents?

Businesses need tools to both deploy chatbot conversations on the front end and manage them on the back end. This ensures agents can understand the intent behind every conversation and streamlines hand-offs between agents and chatbots.
Frequently asked questions on chatbots
What technology is used in an AI chatbot?
Two of the core technologies underlying AI chatbots are natural language processing (NLP) and machine learning (ML). NLP is a subfield of artificial intelligence, the goal of which is to understand the contents of a message, as well as its context so that the technology can extract insights and information. Based on the information extracted, actions can be performed.
For example, Answer Bot uses NLP to interpret customer (or employee) requests and route them to the proper service agent.
Like NLP, machine learning is also a subfield of AI. ML algorithms take sample data and build models which they use to predict or take action based on statistical analysis. As mentioned, AI chatbots get better over time and this is because they use machine learning on chat data to make decisions and predictions that get increasingly accurate as they get more "practice".
For instance, Answer Bot uses machine learning to learn from each customer interaction to get smarter and provide better answers over time.
What are the most powerful platforms to build artificial intelligence chatbots for your business?
Among the chatbot software listed above, the most powerful platforms for building AI chatbots include:
Zendesk
Boost.ai
Meya
Ultimate
MindSay
DeepConverse
Can you add a chatbot to a website?
Yes you can just about any chatbot on the market to your website. In fact, before mobile apps and social media, the only place companies used chatbots was on their website. And still today, your company website is an ideal place to deploy an AI chatbot.
How are AI chatbots and automation used in business?
AI chatbots and automation work together to do a lot of heavy lifting for businesses. Some of the most common uses cases of these technologies include:
Automatically helping customers find answers to FAQs.
Collecting lead submissions to help with lead generation.
Routing complex customer requests to live agents.
Providing personalized recommendations based on previous history.
Create pre-populated customer service tickets.
How do you install an AI chatbot?
How you install an AI chatbot will depend in large part on the chatbot software you're using and your level of technical proficiency. For non-technical users, many solutions offer visual chatbot builders, which you can configure with different rules, triggers, and automations. If you're installing the chatbot on your website, once you've configured the conversation flow for your purpose, you'll need to embed the code for your chatbot wherever you'd like it to appear. Of course, that's just a basic AI chatbot install. You can also integrate your chatbot with existing help center resources so the bot can automatically answer frequently asked questions and provide resources.
How do you integrate a chatbot into your website?
Typically, after you've built your chatbot on your platform of choice, you'll be provided with an embed code which you can copy and paste into the page(s) that you want the chatbot to appear on. Or, if you already have live chat software set up, that software may allow you to integrate chatbots into your website from within the existing live chat software.
More advanced users can also integrate a chatbot into their website by connecting to a specialized AI solution, such as IBM Watson.
What is the easiest way to implement an AI chatbot on your website?
The easiest way to implement an AI chatbot on your website is by using your existing live chat software's chatbots (if they're available) or using an out-of-the-box chatbot. With an out-of-the-box chatbot, like Zendesk's Answer Bot or HubSpot's chatbots, you simply configure that chatbot using a visual interface and then embed its code into your website pages.
Try our AI chatbot service for free
Zendesk makes it easy to enhance your customer support experience with a chatbot. Answer Bot can leverage your existing help center resources to guide customers to a resolution via self-service and collect customer context. And if you want a little more control, our click-to-build flow creator enables you to create rich, customized bot conversations without writing code. Most importantly, our customer service software is directly tied into our award-winning support platform that provides teams with a real-time, conversation-focused interface to seamlessly track and manage conversations between agents and bots. It also integrates with all the systems your team depends on, including third-party bots.
We have more to say about this.
There are many ways to provide great support with the best chatbot. Learn more!