Zendesk Email Tracking app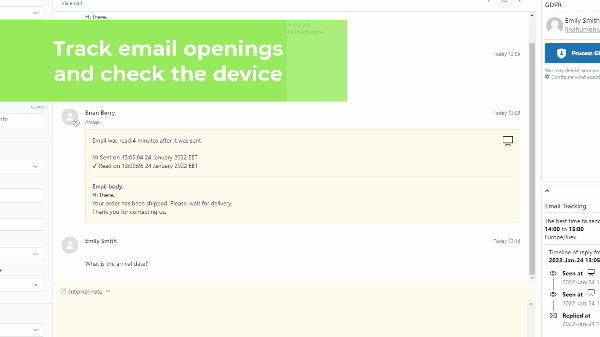 "Did the client open my email?" You will never have to ask that question again with read receipts from Email Tracking
See which clients are active email users and what fuels their engagement. Email Tracking for Zendesk Support is an application that offers tracking the exact time each email was opened. With the app, you can:
Track the delivery of sent emails
View read receipts with accurate information on when the email was opened
Link openings tracking
Get automated updates of internal custom fields when the client opens the email or you get a reply
Add 'unseen' and 'seen' tags to tickets to create separate views for identifying problem tickets
Analyze email performance with detailed and downloadable reports
Use a wide number of app's settings to meet your needs
Email Tracking is available both in desktop and mobile versions.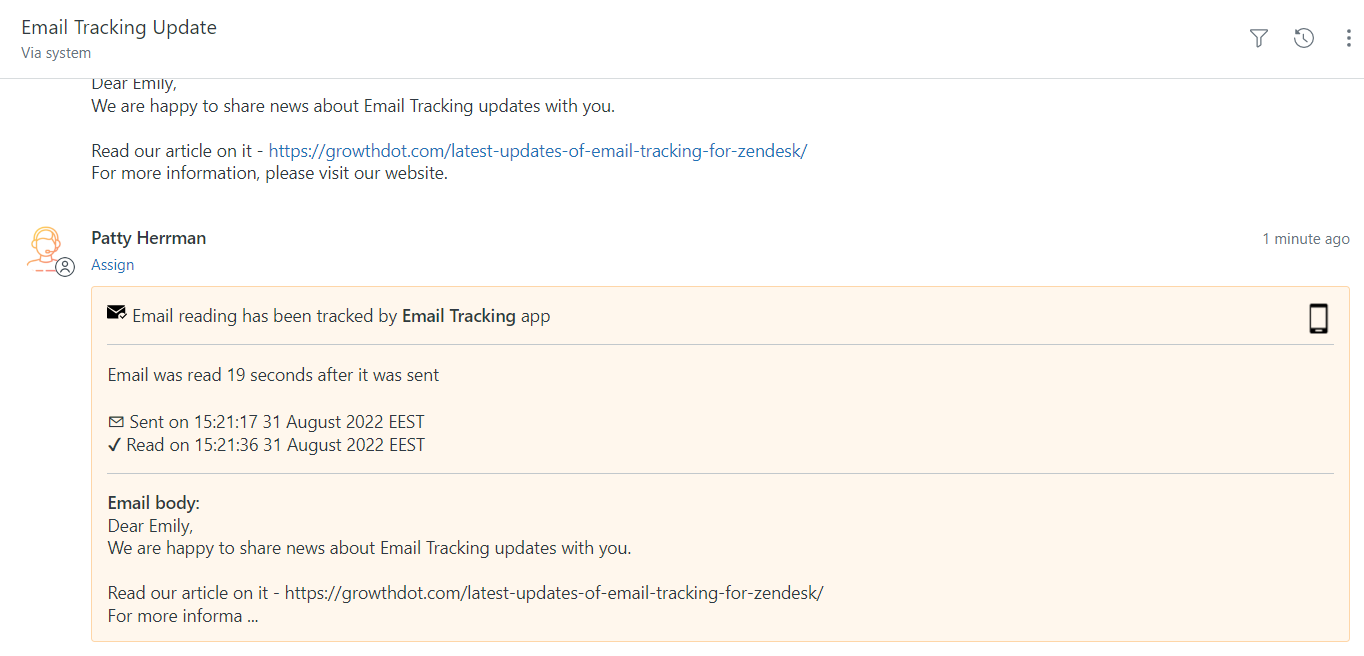 Enjoy automated Zendesk email tracking
Email Tracking does all the job for you! After you set up the application, just sit back, and analyze the data. See who you should give a call to prevent any issues or identify solid leads for your further follow-ups. Moreover, the tracking is available even directly from each Agent Workspace!
Track link openings (new!)
Now you can track what links were opened by recipients using an exclusive option available only in our email tracker app for Zendesk.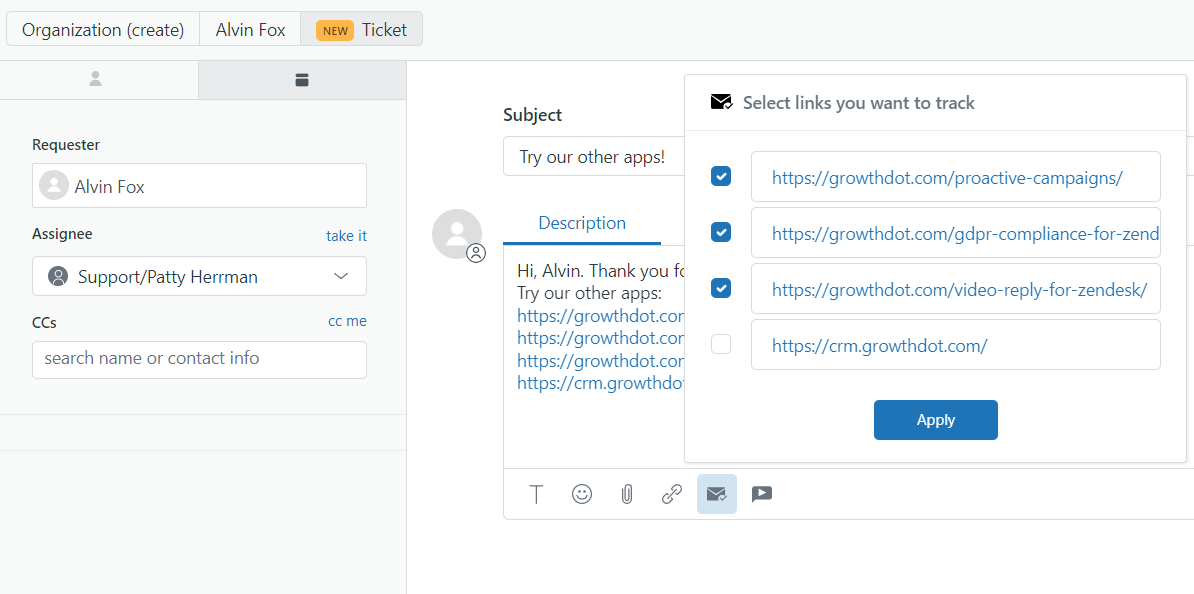 Select as many links as you need to follow and receive one more internal note with the one that was monitored. Also, check out the link statistics and compare agents' performance without using analytics tools.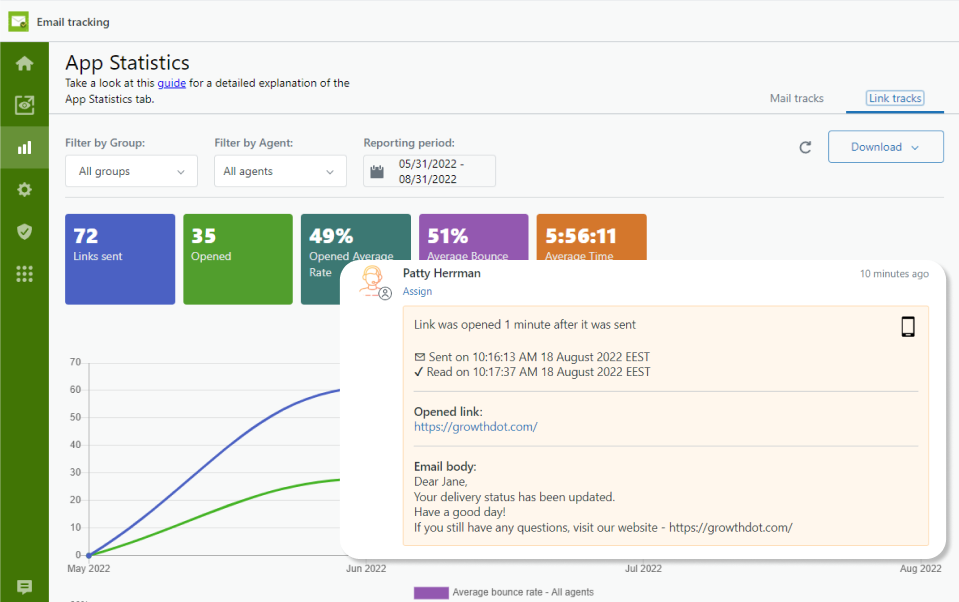 Additional ticket organization
Everything made so that you don't even have to enter the ticket to know if it's been seen or not! Email Tracking creates a custom field and a tag with 'seen' and 'unseen' values. So, you can simply create separate views for read and unread tickets and build business rules (triggers and automations) to work with your customers' information more accurately.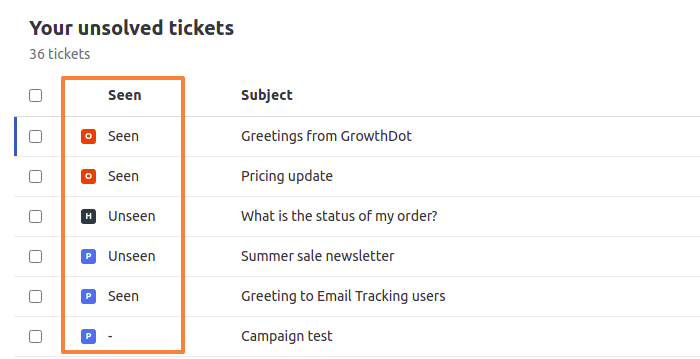 Real-time notifications
As soon as an email is opened, Email Tracking updates a custom field connected to the ticket and adds a note with corresponding information. With push notifications enabled, you'll be informed at the same second your email was opened.
Analyze performance in detail
Get a better understanding of how your replies perform with in-depth performance reports. For example, see what macros work better, what types of email users react to the most and check the overall bounce and open rates across the company, one or several agents at a time. The reports are downloadable to keep the data in different file formats on your PC.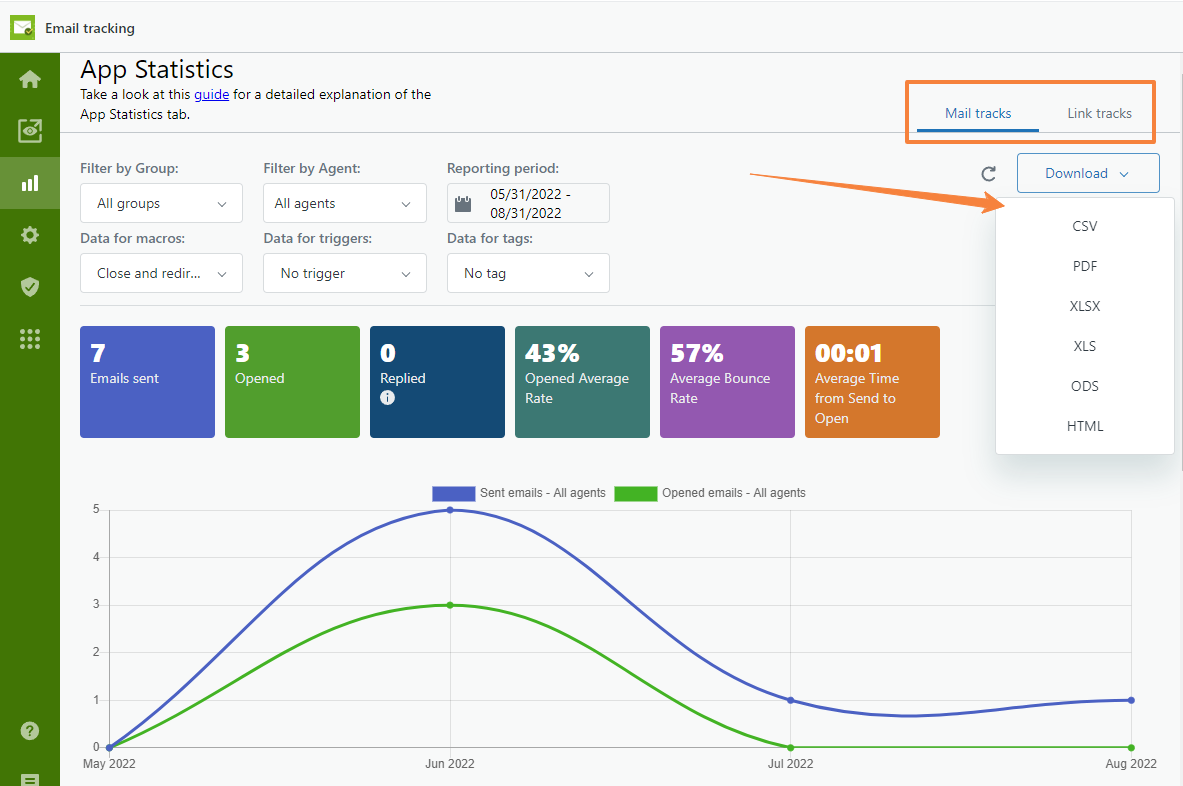 See full history of email opens
With Email Tracking, you are able to retain and see the whole ticket opens history, as the plugin tracks each time your emails were opened by the recipient. Follow the way how, when, and after which message the ticket was opened. The sidebar also shows if the ticket was read via desktop of mobile device, so it's even easier to optimize the messages now.
Send replies at the best times
Based on the open and reply rates, the plugin will suggest the best time for your agents to reach out to the customer directly in the ticket menu. Thus, you'll be able to react to customer inquiries exactly when they need it the most.
Comply with GDPR and CCPA
Click a single toggle, and Email Tracking will not track email opens for recipients who live in the European Union or California to comply with GDPR.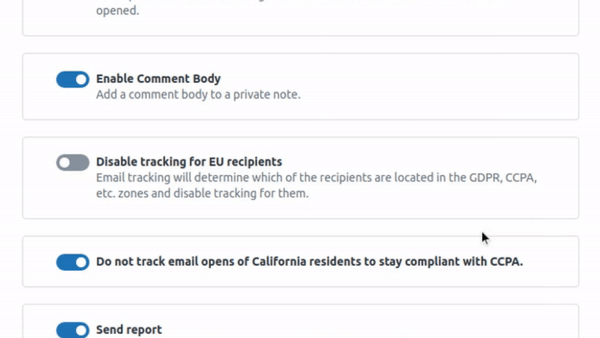 Transparent and Flat fee mail tracker
Simple and clear price with no hidden additional obligations, payments, or other tricks. There is also a free trial. Subscribe and cancel anytime.
You can also limit the number of agents using the application. Purchase the subscription only for those agents who require the apps functionality for everyday work. Find more details in the 'How to install' tab.
Private data security
We don't retain any data connected to your agents and customers, except: - Your Zendesk subdomain, and its URL - Agents IDs and their authorization tokens - Agents IPs to exclude their open events - Tracked Ticket ID - Custom field IDs required for this add-on
Stay under cover
If you're worried about how you can know for a fact that all opens are tracked correctly, you should not. When you log into your agent panel and start working with tickets, we automatically hide your IP address. You can also add more IP addresses to the blacklist so that you get 100% accurate Zendesk tracking.
One-click install
Provide Email Tracking with the access to your Zendesk account in just one click without filling out any additional forms. We use Zendesk OAuth authorization which is the most secure way to connect.
Friendly support
Our knowledgeable support managers will answer all your questions, show you a demo and help you with setting up the app if needed. Also, feel free to ask for assistance anytime, even if you already use Email Tracking.
Do you want to receive desktop notifications? If so, go ahead and test the app! You are also welcome to rate it and share your personal impressions. We are sure your experience with Email Tracking will be enjoyable.