Sync your customer data from your warehouse to Zendesk
Census is an integration platform that allows you to bring the customer data that is locked in your other tools or databases into Zendesk. With Census, you can bring that information to your fingertips without relying on engineering help.
No Engineering Favors Required : No more relying on engineers to generate data that you have to manually import and merge in Zendesk. By automating the entire data pipeline, Census puts the right data directly in your hands in Zendesk.
Automate Your Data Processes: Map fields and write queries to transform and unify your data, so it's ready to be used in Zendesk.
Work With Your Existing Warehouse: No need to migrate your data into Census and keep yet another system in sync. Census works on top of your existing warehouse, so you have all of your data in one place.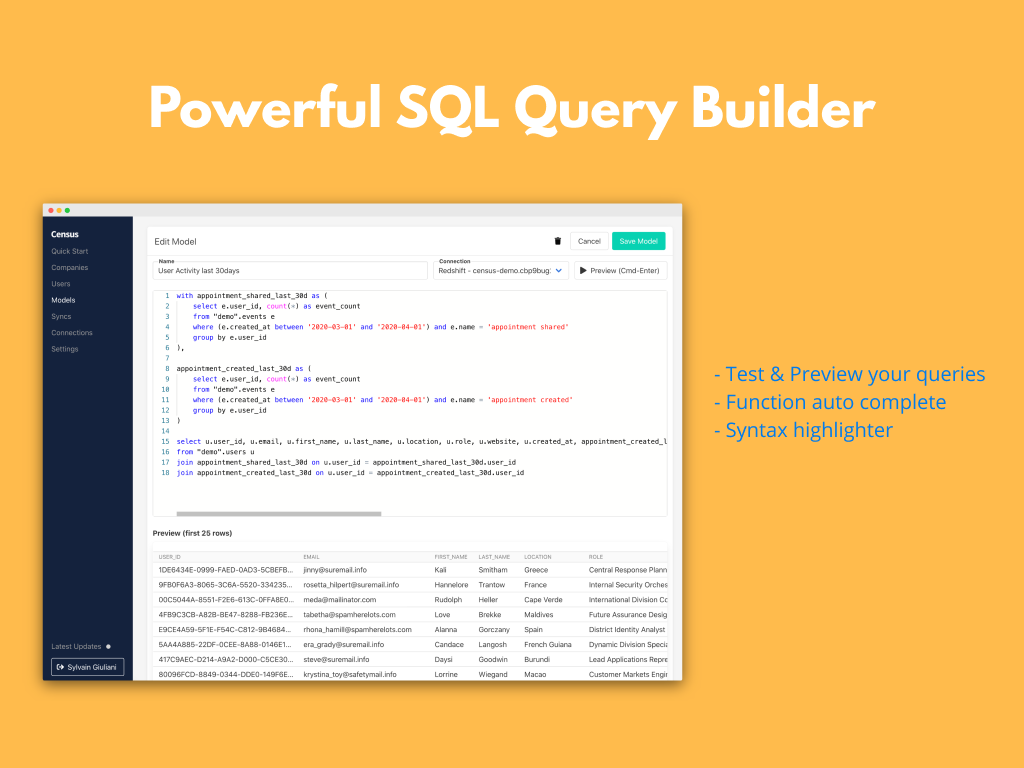 Get More out of your existing customer & product data
With more product & customer data in Zendesk, you can:
Decrease average time to resolution: With product data at their fingertips, your agents can resolve customer faster without having to switch between multiple apps to get a complete picture of customer activity.
Enhanced Reporting: With product data in Zendesk, you can create better reporting by segmenting your users by what product features they use (or don't) and identify patterns that help your prioritize knowledge base articles to write.
Improve ticket routing: Don't just rely on revenue to prioritize your ticket. Use product data to identify your most valuable customers and route them to the top of queue or escalate their issues.
Getting started is easy
Visit our website to start your free 30-day trial
Connect your warehouse. We support Redshift, Bigquery, Snowflake, and Postgres
Add Zendesk as a destination. Simply follow the secure OAuth process.
Create a new sync and select the data you want to have in Zendesk
Enable the sync and pick a schedule
Done!
Or if you want to see what Census can do for you, book a demo with us.