Email Template Builder
While Zendesk provides you with a basic email design, it's not easy to customize it to reflect your brand. Email Template Builder solves this problem: this app contains a variety of modern email templates and an intuitive interface that lets you customise the look and feel of your Zendesk emails with ease. And, best of all: you don't need any coding skills!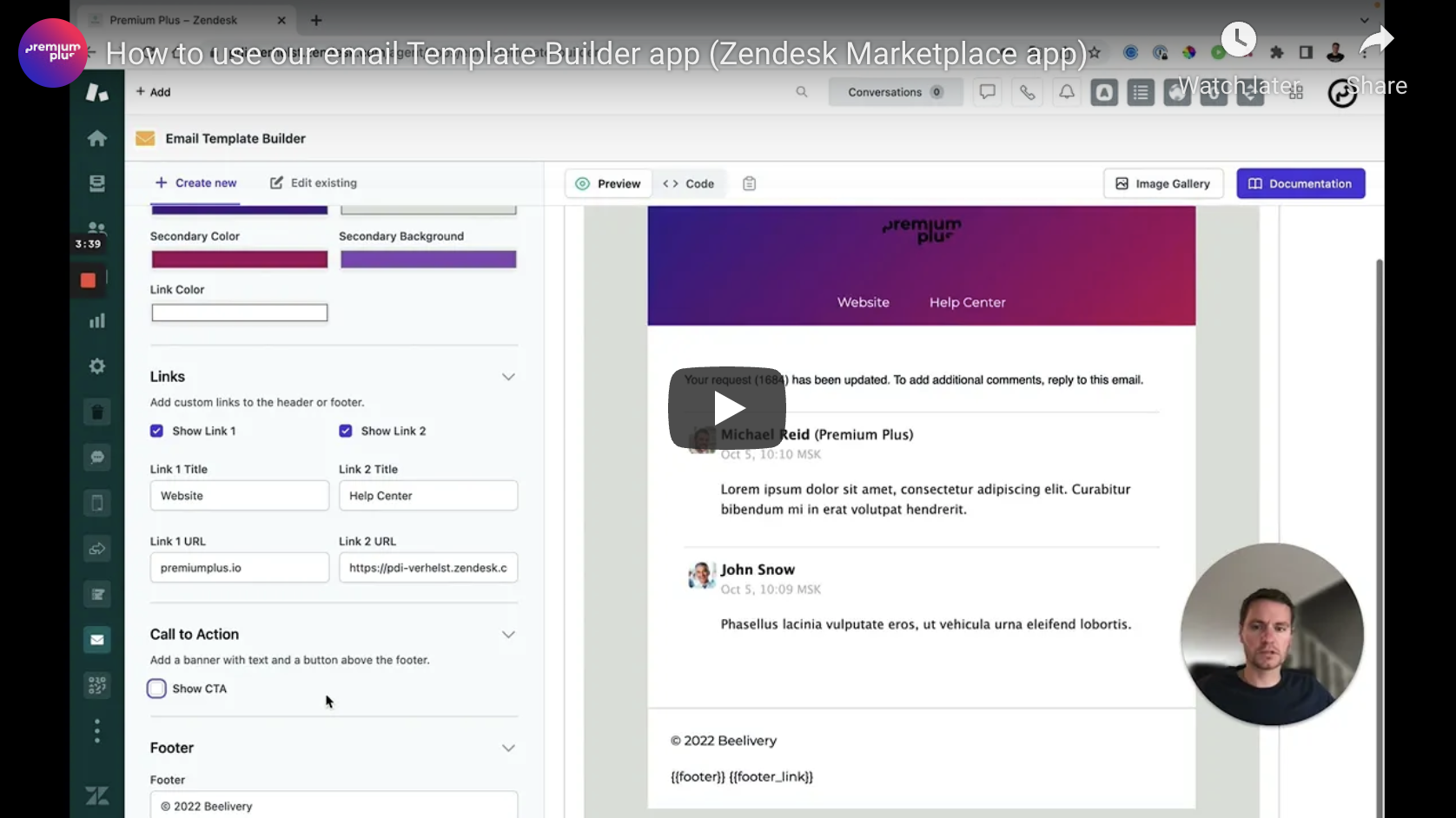 Try out our demo page now!
Check out our Email Builder Demo Page and try out our templates before you buy them!
This is what you get
10+ modern, zero-code email templates.
Customization options to change the logo, colour, images and background.
Access to all 10+ templates and their source code, so you can fully customize them if you wish. (You can even change your template to reflect seasons, promotions, etc.)
An easy-to-use interface that lets you customize the templates with ease. To start using your customized template, just copy and paste the code directly into your Zendesk Admin Panel.
Templates included in the app
Classic templates
You'll find four "classic" templates in this app. These templates look and feel like the native Zendesk experience, but they're fully responsive and let you add your logo and customise the footer text. These are the classic templates:
Simple: this template is closest to the look and feel of the native Zendesk experience, but with the option to add your own logo in the header and custom text in the footer.
Logo Left: you can add a call-to-action section to this template that can link to a promotion, a help center article, or anything you like. You can also add up to two links in the header and your logo on the left.
Logo centered: this one is the same as the 'Logo left' template, with a call-to-action section, two links in the header and the option to add a custom logo. The only difference: the logo is centered.
Stylish: this template contains a header with a subtitle, a coloured footer (which you can customize to reflect your brand's colours) and an option to add footer text.

Banner templates
These templates have a bold, coloured header and a call-to-action section at the bottom.
Banner Menu: change the colours of the header to match your brand's colours.
Banner Image: upload your own image to display in the header.

Business and commerce templates
The business and commerce templates reflect the designs of our our Help Center themes so you can easily align your Zendesk emails with the look and feel of your help center.
Capetown: with its playful style and exotic imagery, this is the perfect template for travel-related industries. Includes a big, customizable image header.
Gotham: a minimalist, dark template with a distinct look. A perfect match for truly unique brands. Includes the option to add an image in the footer.
Paris: a feminine, tender template, perfect for organisations focused on female end-users. Includes the option to add line-art images.
Stockholm: a professional, minimalist template that suits a variety of industries. Includes the option to add an image in the footer.
Sydney: a modern and bold template designed for service-focussed businesses. Includes a coloured header and a banner image in the footer.

Sports-themes templates
These sports-themed templates reflect the design of our own 'Sports Collection' help center themes, enabling you to align your Zendesk emails with the look and feel of your help center. They all feature a banner header (to which you can to add two links), and a call-to-action section.
Crawl: a swimming-inspired template with a big image header.
Dribble: a basketball-inspired template with rounded buttons.
Eleven: a football-inspired help center theme with far-reaching customisation options.
Punch: a boxing-inspired template with coloured background.

Image Gallery
The application supports uploading images to use as logo, header or footer images within the application. Applications are hosted via Cloudflare Images free of charge. Or you can use your existing logo and header images from your website or help center.
Multiple Templates
Need a new template for the holidays with a snowy header images and a custom call to action? Want a new email template to highlight your spring promotions or major product update? Our App now supports multiple templates. You can configure any template to your liking and save it for later use. Swap betweeen templates, test out a new design while keeping the old one active, all from within the app!.
Updates & support
Our apps and email templates are updated regularly to support new Zendesk features and capabilities. Have any questions about this app or any of the templates? Feel free to contact us.
Release Notes
2.0 Fall Release
Added support for more styling and color options
brand new UI and improved image uploader
Added Newspaper, Code Monkey and Antwerp theme ## 3.0 Winter Release
Added support for social links
Plenty of bug fixes -Increased speed in (up)loading in image gallery
Contact us for a custom email template
In need of a custom email template to meet a specific need? Just let us know your wishes and requirements and we'll build it for you.
About Premium Plus
Premium Plus is your guide to a better customer experience. As a Master Partner of Zendesk, Aircall, and Certainly, we provide you with the right processes, tools, and setup to deliver the best possible service to your customers in no time. Anytime and anywhere.
Find out more on our website →
---
Have any questions?
Feel free to contact us.