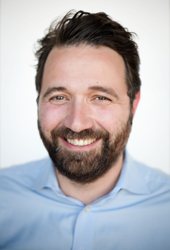 Mikkel Svane
CEO, Founder
After an inspirational trip to San Francisco in 1995
Mikkel
launched what was one of Denmark's first horizontal community portals. Less than a year later the portal was acquired by a Danish newspaper and Mikkel founded Caput, a software company specializing in standard software components for community building and social networks. Serving as its CEO until 2002 he became General Manager for the German service management consulting group Materna. His tenure there reunited him with former friends and colleagues Morten Primdahl and Alexander Aghassipour with whom he founded Zendesk and launched it in October 2007. Mikkel holds a BSc(Econ) in Market Economics from Denmark, is a frequent
Twitter
user and loves spending time with his wife and kids when not working with his awesome team and Zendesk customers.
Follow @mikkelsvane
Alan Black
SVP and CFO
Prior to Zendesk, Alan served as CEO of Intelliden, Inc., a technology company that he successfully sold to IBM in 2010. Previously, Alan was Managing Director for EMEA Operations in London for Openwave Systems, Inc., a company he took public as CFO in a highly successful initial public offering in 1999. Alan holds a bachelor's degree in business and a post-graduate diploma in public accountancy from McGill University.
Rick Rigoli
Executive Vice President
Rick has more than 20 years of high-tech financial experience, with both public and venture-backed companies. Prior to joining Zendesk, he was CFO at Brix Networks, sold to EXFO Electro-Optical Engineering in 2008 and VP of Finance and Administration of Yantra Corporation, sold to Sterling Commerce in 2005. Rick earned a Bachelor of Arts degree in economics and accounting from the College of the Holy Cross. He is a member of both the American Institute and Massachusetts Society of CPAs.
Adrian McDermott
SVP, Product Development
Adrian leads Zendesk's Product Management, Engineering and Operations teams. Prior to Zendesk he was CTO at Attributor and, as general manager, ran the video compliance business from first customer sales to business unit acquisition. Previously he was the VP of Engineering for Plumtree/BEA where he started as the first engineer hired by Plumtree and worked through the Plumtree IPO and subsequent acquisition by BEA. Prior to Plumtree Adrian worked as an itinerant software consultant in London, Hong Kong, Sydney and Guam. He has a 1st Class Honours Degree in Computer Science from De Montfort University.
Bill Macaitis
Chief Marketing Officer
Bill leads up our global marketing efforts and brings a focus of data driven, hyper-growth strategies. Prior to Zendesk, Bill served as SVP of Online Marketing & Operations for Salesforce.com where he helped grow revenues from $1B to $3B. Much of Bill's 18 year online career has been spent sharpening his marketing craft on the B2C side. At IGN Entertainment, he grew revenues from $11M to $100M which led to IGN being acquired by News Corp for $650M. Bill went on to serve as SVP of Online Marketing for Fox Interactive Media where he ran a centralized online marketing team for IGN, RottenTomatoes, Askmen, MySpace, Foxsports, American Idol and Foxnews generating over 171M monthly unique visitors.
Morten Primdahl
Chief Technology Officer, Founder
Morten brings to Zendesk a refined focus on the technical details. He's involved on all technical levels – from the application to the infrastructure components and databases. Prior to co-founding Zendesk, Morten consulted on a number of technology projects, ranging from helping startups establish a technical platform, to doing heavy duty consulting for online banking systems. Morten earned a master's degree in computer science from the IT University of Copenhagen.
Alexander Aghassipour
Chief Product Officer, Founder
Alexander leads our efforts to keep clean and elegant design a top priority for product strategy at Zendesk. Prior to founding Zendesk, he consulted with global corporations about design, global strategy, and recruiting. Alex also co-founded Araneum A/S, the largest Danish-owned digital media agency. Alex earned a master's degree in information technology from the Technical University of Denmark.
Toke Nygaard
Chief Creative Officer
As head of our Creative Department, Toke is constantly developing and building the Zendesk brand with his team and keeping our product shiny and Zen. Prior to Zendesk, he was a founding partner of one of the largest pioneering design communities, K10k. Toke was also co-founder and Creative Director at Cuban Council, the design agency responsible for the Facebook identity as well as clients such as NASA, Apple, Top Gear, Lifetime Channel, BBC and Francis Coppola. Having designed digital experiences for more than 17 years, Toke's quiet ambition is to build the greatest SaaS brand of all time.
Marcus Bragg
SVP, WW Sales & Customer Success
Marcus leads our global growth and success teams aligning sales, client success and business development teams to help our customers get the most out of their Zendesk. Prior to Zendesk, Marcus spent 15+ years helping companies with customer service and customer experience transformation projects. Starting his career at RightNow Technologies, Marcus was part of the executive team running sales and customer success teams and saw it from 3 people to 1,100, through a successful IPO and to the sale of the company to Oracle for $1.5 billion. At Oracle, Marcus ran the newly formed Service Automation business unit focused on all cloud and on-premise solutions to help customers improve customer experience and reduce cost.
Jim Cyb
Vice President, Americas Sales
Jim has more than 15 years' experience building marketing and sales functions at six separate start-ups, including the sales organization at Zendesk. He currently oversees customer acquisition and relationships, including account management, sales operations, account executives, lead qualification, and sales engineering, in North and South America. Jim holds a BS in mechanical engineering with high honors from the University of California, Santa Barbara.
Michael Hansen
VP and General Manager, APAC
Michael's
responsible for strategic growth in the Asia Pacific region. An IT sales veteran, Michael has more than 20 years experience in a variety of sales and marketing roles spanning the U.S., Europe, Asia and Australia. Prior to becoming Zendesk's first employee, Michael was selling help desk projects in Australia. Michael is an army officer who has studied at the Danish Technical University. He tends to be a fan favorite at Zendesk meetups, enjoys scuba diving all over the world, and loves his Ducatis.
Follow @MichaelFHansen
Matt Price
VP and General Manager, EMEA
Matt
is responsible for growing and supporting the Zendesk customer community in Europe, Middle East and Africa.
Since starting his career on the Borland tools helpdesk, Matt has held executive positions in sales, marketing and product in the US and Europe at high-growth software companies such as ATG, Wily Technology and Troux Technologies. He holds a BSc (Hons) in Computer Science from the University of Reading.
Matt is successfully using Zendesk to support his two teenage children: managing tickets for IT support, transport, funding and handling complaints on his dress sense.
Follow @mattpricex
Anne Raimondi
VP, People Operations
Anne runs People Operations at Zendesk, which basically means she's in charge of keeping people happy and working well together. She brings a non-traditional background to this role, having spent most of her career in product management and marketing. Anne joined Zendesk from TaskRabbit, where she was the chief revenue officer. Previously, she was a founding team member at Blue Nile, then joined eBay where she launched eBay Stores and headed product management for seller features. She also has served as vice president of product and marketing for Insider Pages (acquired by Citisearch / IAC), head of product and user experience at Zazzle, and vice president of marketing for SurveyMonkey. Anne enjoys serving as an angel investor and advisor for consumer Internet companies with beautifully simple products. On weekends, she can be found cheering her three kids on at swim meets, soccer games, and water polo tournaments.
John Geschke
SVP, General Counsel
John is responsible for managing all legal affairs. Prior to joining Zendesk, John was the General Counsel at Norwest Venture Partners, a venture capital and growth equity firm managing over $3.7 billion in capital. John also practiced law for nearly 14 years at Cooley LLP where as a Partner he focused on the representation of emerging technology companies with respect to corporate governance, public market finance, intellectual property strategy, mergers and acquisitions. John holds an A.B. from the Woodrow Wilson School of Public and International Affairs at Princeton University and a J.D. from Stanford Law School.
Mikkel Svane
Zendesk
After an inspirational trip to San Francisco in 1995
Mikkel
launched what was one of Denmark's first horizontal community portals. Less than a year later the portal was acquired by a Danish newspaper and Mikkel founded Caput, a software company specializing in standard software components for community building and social networks. Serving as its CEO until 2002 he became General Manager for the German service management consulting group Materna. His tenure there reunited him with former friends and colleagues Morten Primdahl and Alexander Aghassipour with whom he founded Zendesk and launched it in October 2007. Mikkel holds a BSc(Econ) in Market Economics from Denmark, is a frequent
Twitter
user and loves spending time with his wife and kids when not working with his awesome team and Zendesk customers.
Follow @mikkelsvane
Devdutt Yellurkar
Charles River Ventures
As a partner at Charles River Ventures since 2008, Devdutt Yellurkar's investment interests include Cloud applications and infrastructure. Previously he was Venture Partner at Rho Ventures and CEO and Co-Founder at Yantra Corporation, which was acquired by Sterling Commerce, a division of AT&T, in 2005.
Peter Fenton
Benchmark
Peter Fenton joined Benchmark in 2006 after spending seven years as a partner with Accel Partners, where his investment interests included software, digital media, and technology enabled services. Prior to joining the venture capital community, he spent several years working with Silicon Valley software and high-technology companies as an entrepreneur and strategy consultant.
Dana Stalder
Matrix Partners
Dana Stalder is a Silicon Valley based general partner at Matrix Partners, where he invests in early stage software and internet companies. Dana joined Matrix in 2008 from PayPal, where he was a senior vice president and managed all business operations, including product, sales, marketing and technology.
Betsey Nelson
Board Member
Betsey Nelson has over 20 years experience building great companies in Silicon Valley. She has served on the boards of emerging growth companies in both the consumer and b2b markets, including Ancestry.com, CNET Networks, eLance, LivingSocial, Pandora, SuccessFactors, and Yodlee. As CFO of Macromedia she helped scale the company during its crucial growth years, leading the company's key operational functions and strategic acquisitions.
Caryn Marooney
Facebook
Caryn Marooney is the Vice President of Technology Communications at Facebook where she oversees communications for all Facebook products. Prior to Facebook, Caryn co-founded OutCast Communications in 1997, one of Silicon Valley's premier technology communications firms. As co-founder, partner and CEO, Caryn was responsible for the planning and execution of communications for companies of every size, from early stage onward, including Amazon, Netflix, Salesforce.com and VMware. Caryn is originally from New York City and holds a bachelor's degree from Cornell University.
Michelle Wilson
Board Member
Michelle Wilson is a former Senior Vice President at Amazon.com. Michelle served as Amazon's General Counsel from 1999 to 2012 and also led the human resources department for two years. Prior to Amazon, Michelle was a partner at Perkins Coie LLP.