Customer Database Software
Customer database software
Tracking and managing customers is important for a business to grow and succeed. Customer database software helps with customer relationships and ultimately helps in driving sales.
A guide to the best customer database software
For any business, client data is worth its weight in gold — but only when you can organize it and use it. That's where customer relationship management software comes in. Whether you want to let your customers know about a new special you have on one of your products, or you want to secure a certain number of new clients within the month, it all starts with an organized system. In this article, we'll talk about what to look for in a customer information database and introduce our top 10 recommendations.
In this article we will cover:
What is client database software?
You could use spreadsheets to manually write down all of the information about each of your clients, but no one wants to do that. It may not even be feasible to do so. Client database software takes in everything you would want to record about a customer and syncs that to a profile in the system. Any time you correspond with that customer, the interaction is recorded. Customer information databases are also known as customer relationship management systems (CRM).
What are the features of customer database software?
You can find a wide range of features in CRM software systems, but they will all do a few main things.
Collect leads and information: One of the main purposes of a CRM is to collect customer details and interactions in a central location.
Manage a pipeline: With a customer information database, you can set up sales pipeline visualizations so agents can track leads along the journey.
Communicate with prospects and customers: A customer database tool lets you communicate with leads and customers from inside the platform.
Integrations: Systems can provide any number of native integrations along with API access for you to build your own integrations.
Analytics and reporting: Good customer database solutions will allow you to view and export a variety of reports.
Multiple users: Customer data programs support multiple users so sales managers and staff can each access the program with individual logins.
How do you create a customer service database?
Just because you have customers doesn't mean you have a customer database. To create a database, you need to systematically collect information about each customer and house it all in a central location. There are a few popular ways to build a client information database:
Collect information on existing customers and new leads through web forms
Pipe information from a company email address to the database
Collect information through web chat
Call leads directly and record customer data on the admin side or through transcripts
Many small businesses start with a basic spreadsheet of all their customers. The good news is that you can import your CSV files directly into modern CRM software systems. Once it's set up, you can begin to add new leads and more information on existing customers.
Benefits of customer service database software
The difference between managing customer information in spreadsheets and using a CRM is like the difference between walking and driving a sports car. Think of customer service software like adding a set of wheels to your sales operation. You can go much farther in the same amount of time when you have a customer data system on your side. Here are a few main benefits of customer database software:
View the status of your pipeline at a glance
Forecast sales with accurate data
Automatically update customer data through channels like web forms and chat
Gain insight from accurate reporting
Automate time-consuming tasks like follow-up emails
Collaborate with other team members in real time
Keep data, notes, documents, metrics, contact information, and records in one place
Best practices for CRM database software
Here's what to look for in a customer database software solution.
Speed
Modern programs should have a quick refresh rate, which is the time it takes for client data to be updated in the system. Fast systems allow agents to have current information even as they talk to customers in real time. The system should be fast enough to handle the volume of data you need to process, too.
Efficiency
Using a customer service database will help your team members improve their efficiency in growing customer relationships and closing sales. The customer database software should facilitate automatic and easy transfer of information within the platform and between integrated apps.
Manageable learning curve
Another thing to consider is how long it will take you and your staff to get up to speed with the new customer database program. There's a balance between the number of features and customization options available and what you'll use in day-to-day operations. If you need all the bells and whistles, make sure the program has a good demo and an education section that can help speed up adoption.
Seamless customer data management software
Your customers shouldn't experience anything different or unusual when you capture their information. In other words, the forms, widgets, and other communication channels you use through the CRM database software should blend into the design of your site seamlessly. Good tools can also harmonize customer satisfaction and lead generation efforts in one system.
10 Best customer database software systems for 2021
Zendesk




Zoho CRM




Hubspot CRM




Freshworks CRM




Salesforce



Bitrix24




Pipedrive CRM




Apptivo CRM




Keap CRM




Monday CRM



You can find a wide range of customer information database programs on the market today. Some are better for small businesses and startups, while others specialize in large companies. Here are our top 10 recommendations.
Zendesk offers a complete CRM and customer database management system for businesses of all sizes.
Every day, Zendesk's customer database software handles 4.6 million interactions between companies and their clients. And with our free library of customer experience resources, you can learn the best practices from over 50,000 organizations—including businesses in your field. So you can learn from the best and implement those practices immediately with your business.
Zendesk CRM database software is specifically designed to reduce friction, eliminate information silos, and increase efficiency. Gone are the days of wading through pages of outdated spreadsheets. With Zendesk, you can customize your reports, eliminate spreadsheets, and get insights into the health of your customer base. So you can easily learn how your current customer is working—and how you and your support team can make it even better.
If switching to customer data management software has you worried about an IT nightmare, there is no need to panic—because Zendesk software works right out of the box. There's no need for major interruptions or to call in IT to upgrade your system. Our software integrations work seamlessly with your other tools and expand easily to accommodate your business sales. So Zendesk is both easy to implement and designed to easily scale with your business.
Zendesk Sell is a full-service CRM. You can use it to build leads, automate outreach, boost your productivity, and close more deals. Features include call analytics, SMS message tracking, scripts, and more. You can also boost engagement even more with Reach. The best part is the CRM integrates with the rest of Zendesk, so you can use the full ticket system and help center capabilities at the same time.
Zendesk features
Sales pipeline builder
Email tracking with push notifications
Engagement automation
Mobile app for on-the-go access
Single sign-on
Team collaboration
Reporting and analytics
Omnichannel platform
Secure cloud solution
API and native app integrations
Notes and call scripts
Full customer support from Zendesk
Zoho's high-rated CRM works for a range of businesses.
Zoho offers a host of SaaS products, and its CRM was its original offering back in 2005. If you already use other apps in the Zoho ecosystem, adding the CRM is an easy transition. Zoho offers a full-service CRM solution that caters to businesses of all sizes, and it offers plenty of customization for setting up workflows.
SMBs can use Zoho CRM to manage leads, forecast sales, automate workflows, and manage documents that correspond to each lead. The dashboard is simple to use and helps sales staff focus on their tasks. The free version limits the customer database to 100,000 records, while higher tiers allow unlimited records. One neat feature is Zoho's AI assistant named Zia who can help sales staff search through CRM data.
Zoho features
Omnichannel solution
Analytics
Marketing automation
Sales pipeline automation
Customization
Sales process builder
Native + API integrations
Gamification
Sales process builder
Learn more about Zendesk app for Zoho
HubSpot CRM can be a good choice for small to midsize businesses.

Since its founding in 2004, HubSpot has grown to become a popular marketing and sales platform for many businesses. The platform helps separate departments work together with a single set of tools for marketing, customer service, sales, and content management. The HubSpot CRM is geared toward small and midsize businesses and has enough features for these types of organizations.
With HubSpot, you can organize your sales process and contact leads right in the customer database software. HubSpot's CRM has a free option, but it's limited to 15 calling minutes, 200 notifications, 5 email templates, and 5 documents per user per month. Higher plans boost limits and add features like sales analytics, call transcriptions, and sales playbooks.
HubSpot CRM features
Deal pipeline
Live chat
Sales analytics
Customization
Forecasting
Automation
Slack integration
Single sign-on
Learn more about the Zendesk app for HubSpot
Freshworks CRM attracts small businesses for its ease-of-use.
Freshworks CRM (formerly Freshsales) focuses on SMBs that want to keep things simple. It might not have as many customization options as some of its competitors, but customers appreciate that Freshworks is ready to go right out of the box. The clean interface promotes focus, and the program has plenty of features for tracking leads, engaging prospects, and managing the pipeline.
One nice feature is that Freshworks will automatically populate a lead's file with their social media account information when available. This can give you insight into what the lead is into. Freshworks also offers an AI assistant named Freddy that can highlight at-risk contacts and analyze sales data.
Freshworks features
Up to 5,000 active contacts
Contact lifecycle stages
Email, chat, web, and phone contacts
Behavioral segmentation
Contact scoring
Custom domains
Lead gen bot
Customization
Sales automation
The veteran CRM software can handle any size of business.
Salesforce created its first CRM product in 1999, back when you couldn't use the phone and the internet at the same time. Today, Salesforce provides top-of-the-line customer database software along with a host of back office apps for business. The CRM product is called Sales Cloud, and it offers everything you'd expect from an enterprise-level sales platform.
From contact management and marketing tools to sales reporting and customized workflows, businesses can get a lot of use out of Salesforce. In fact, almost everything is customizable, including the home screen. Some users may find it takes a lot of work to get up and running, which is why there are many online courses for using Salesforce.
Salesforce features
Contact management
Opportunity and lead management
Reports and dashboards
Mobile app
Email integration
Sales forecasting
Custom workflows
Data management
Learn more about the Salesforce app integration with Zendesk
Bitrix24 CRM is a free option for smaller teams.
Bitrix24 has been around since 2012. It offers a full business communication platform that includes CRM, file sharing, scheduling, project management, and more. The CRM is fairly extensive and offers a range of useful features. Bitrix24 has a free plan that is usually capped at 12 users, but the company lifted the cap to help businesses out during the COVID-19 pandemic. The free version still has other limits to storage, tasks, and communications.
Features include outreach automation, unlimited leads, a Kanban board view, and custom pipelines. Bitrix24 also offers a self-hosted option if you want to install its open source software on your own hardware. That is, if you're comfortable with handling upgrades, updates, and server maintenance yourself.
Bitrix24 features
Online storage
Client profiles
CRM access rights
Live chat software
API and native integrations
Reports and analytics
CRM marketing tools
Call tracking
Email integration
Pipedrive is an easy-to-use CRM focused on small businesses.
Pipedrive began in 2010 with a CRM system designed to make it easy for sales professionals to do their work. While other platforms like Zoho and HubSpot offer multiple types of tools, Pipedrive is only a CRM. This makes it simple to set up, and it integrates natively with a number of other apps to expand functionality. Pipedrive offers four main plans plus two add-ons for lead generation and web analytics.
The customer data software includes deal management, product catalog, customizable pipeline, email integration, and more. As with most CRM tools, you can automate a number of tasks to make the sales process more efficient. Overall, Pipedrive can be a useful tool for SMBs looking for a standalone CRM option.
Pipedrive features
Custom chatbot and web forms
Contact history tracking
Automate repetitive tasks
Reporting and insights
Mobile app
Activity reminders
Visual sales pipeline
Single sign on
Learn about the Zendesk app for Pipedrive
Apptivo provides a well-rounded CRM database software.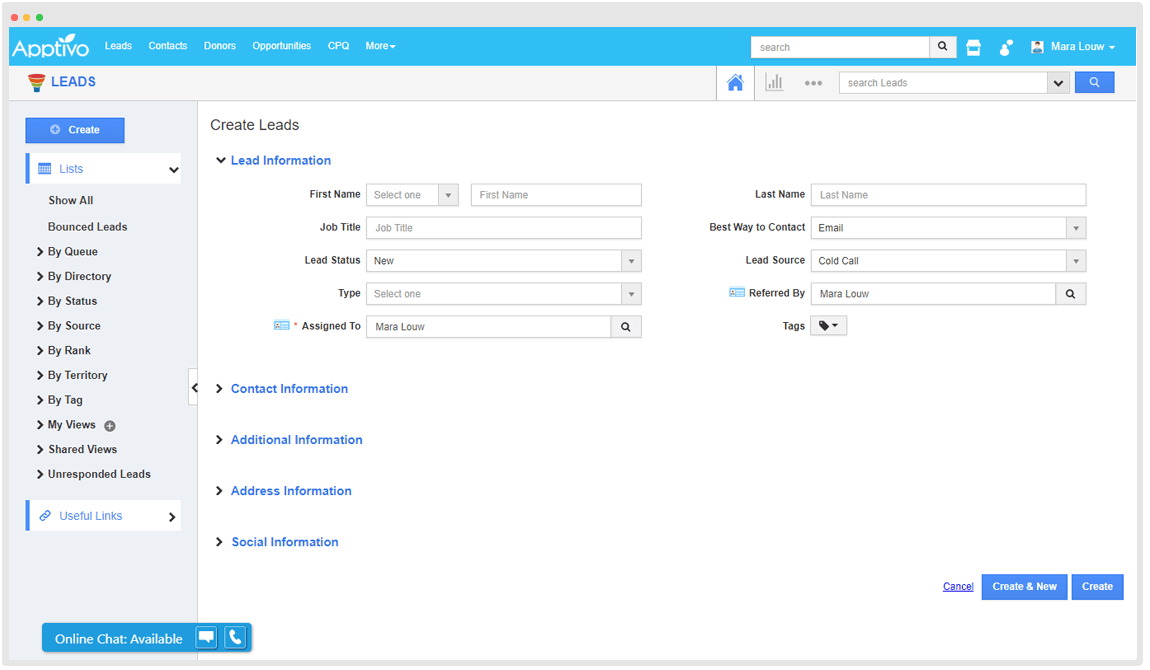 Founded in 2009, Apptivo has grown to provide a suite of apps centered around contact management, project management, invoicing, and communication. One thing that makes Apptivo different is that it offers a basic contact manager without a pipeline or invoicing. This option is a simple solution for small businesses that just need to track customer interaction.
Beyond that, Apptivo's customer service database can accommodate larger businesses and enterprise companies with customized workflows, multiple pipelines, email automation, and data management. The system can generate leads through a web form, a direct email, a CSV import, and manual entry. Apptivo also offers a variety of its own customer relationship management apps to boost functionality.
Apptivo features
Custom chatbot and web forms
Contact history tracking
Automate repetitive tasks
Reporting and insights
Mobile app
Activity reminders
Visual sales pipeline
Single sign on
Keap synchronizes CRM tools with marketing for SMBs.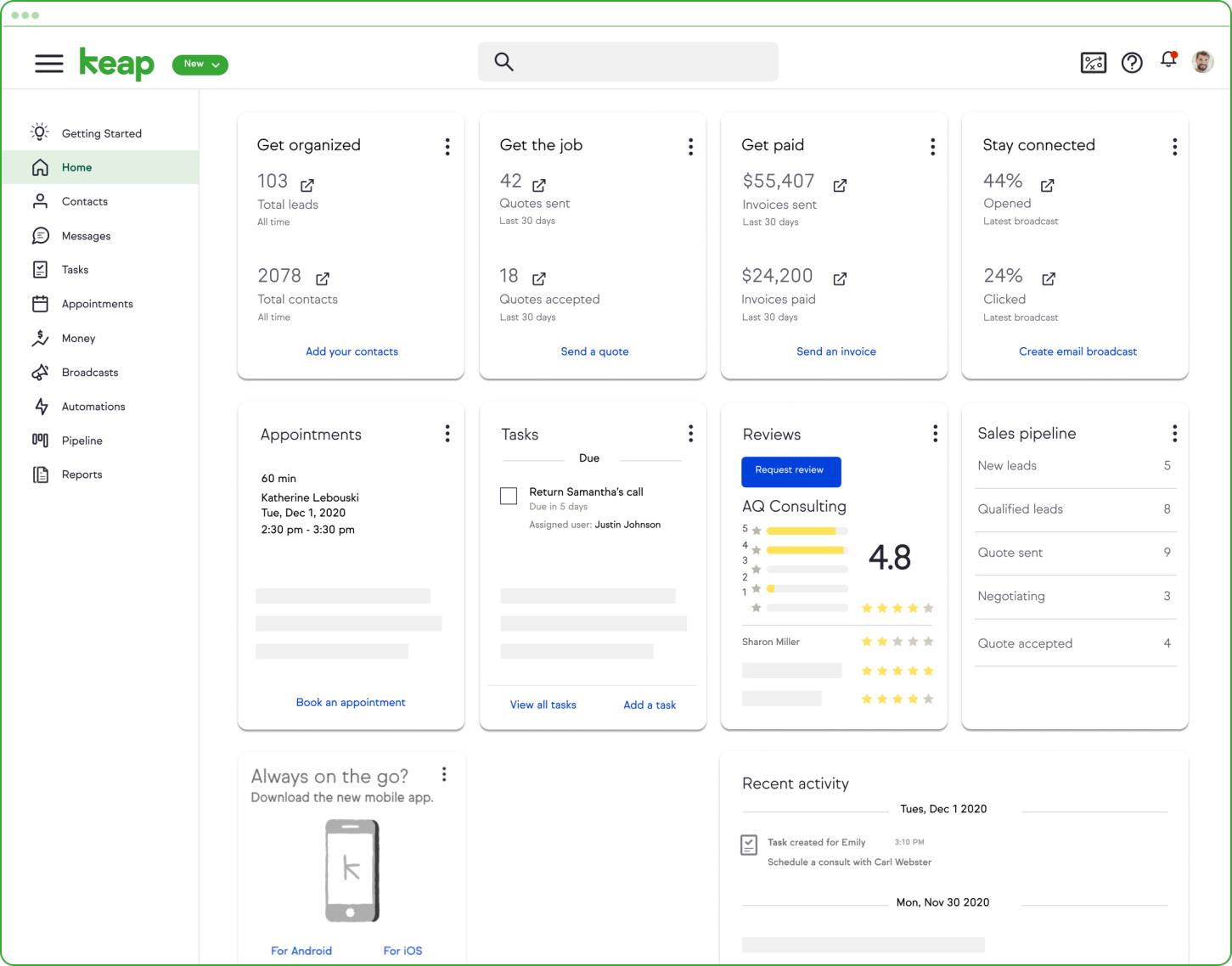 Keap (formerly Infusionsoft) is a suite of tools centered around CRM and marketing. The company is based on the idea that sales and marketing departments can perform well when they work closely together. Using one platform for both can make things more efficient. A Keap customer database software subscription includes access to CRM, marketing automation, payment processing, email marketing, and sales pipeline management.
Keap's entry level plan is specifically geared toward solopreneurs and new businesses. What used to be Infusionsoft is now known as Keap Max Classic, and it's the enterprise-level offering. Keap's user interface is attractive and features an easy drag-and-drop system for building workflows and pipelines.
Keap features
Visual sales pipeline
Automation for CRM and marketing
Payment processing
Mobile app
SMS messages and phone calls
Reporting and analytics
Email marketing
Appointment scheduling
Monday.com offers a basic CRM system oriented around team productivity.
Now, maybe you don't need a full-fledged customer database software tool to get the job done. If you just want some basic client database functionality in an easy-to-use platform, Monday could do the trick. The company is known more for its teamwork features, but the CRM system can be enough for SMBs to manage leads and customer information.
Monday.com provides customized forms for capturing leads on your website and landing pages, and you can use automation to save time on repetitive tasks. One nice thing is that the design of the sales pipeline, contact management, and deals boards are similar to the scheduling layout design. If you're familiar with using Monday for task management, you'll be able to find your way around the customer data platform side easily.
Monday features
Sales pipeline
Contact management
Lead capturing
Customer projects
Marketing activities
Order management
Customer support
Team tasks and projects
Learn about the Zendesk app for Monday.com
Summary of the top 10 customer information software programs
Here's how our top 10 picks stack up against one another at a glance:
| CRM | Conversation Routing | Live Chat Software | Native Integrations | Document Library | API |
| --- | --- | --- | --- | --- | --- |
| Zendesk | ✓ | ✓ | ✓ | ✓ | ✓ |
| Zoho | ✓ | ✓ | ✓ | ✓ | ✓ |
| HubSpot | ✓ | ✓ | ✓ | ✓ | ✓ |
| Freshworks | X | ✓ | ✓ | ✓ | ✓ |
| Salesforce | ✓ | ✓ | ✓ | ✓ | ✓ |
| Bitrix24 | ✓ | ✓ | ✓ | ✓ | ✓ |
| Pipedrive | ✓ | ✓ | ✓ | ✓ | ✓ |
| Apptivo | ✓ | X | ✓ | ✓ | ✓ |
| Keap | ✓ | X | ✓ | X | ✓ |
| Monday | X | X | ✓ | ✓ | ✓ |
Zendesk supports native integrations for Zoho, HubSpot, Salesforce, Pipedrive, and Monday. Zendesk also connects with Freshworks, Bitrix24, Apptivo, and Keap through the PieSync integration.
Free customer database software trial
The right CRM platform can mean the difference between barely making your sales goals or blasting them out of the water. With client database software, you can keep track of new customers and improve the customer experience overall, too.
So, say goodbye to aimless spreadsheets and hello to a well-organized customer database with Zendesk client database software. Your business will increase its speed and efficiency, and you'll have access to our free library of best practices from over 50,000 organizations. Get ready to manage your customers better. Start your free trial with Zendesk today.
We have more to say about this. Have a look below.
Keep exploring the world of customer database software, global customer processes, and database management. Like a kid in an (informational) candy store.