15 Best Sales Funnel Software and Sales Funnel Builders
Optimize your pipeline. Automate your sales funnel.
A guide to the best sales funnel software
Last updated July 12, 2023
From a potential customer's first interaction with your company, right up to the moment they buy, your company should be in control of every step. Sure, some customers can be convinced by outside factors you have nothing to do with. But you can't always rely on luck to convert leads into customers. A reliable funnel process can be improved, repeated, and scaled. Luck cannot.
In this guide, we'll discuss one of the most powerful software tools for boosting profits and productivity by building a repeatable, improvable sales funnel. We'll answer some of people's most common questions about sales funnel software. And we'll review 15 of the best sales funnel tools currently on the market.
What is sales funnel software?
Sales funnel software is a digital tool for building and monitoring your business' sales funnel and sales pipeline. It's probably one of the most useful and critical processes for your success. Without a robust sales funnel, businesses end up having to rely on guesswork. And that can translate into enormous and unnecessary risk. Sales funnel software offers easy-to-use tools for refining and watching your buyers' journey. You have real-time data about the success or failure of your marketing efforts. No guesswork needed.
A sales funnel is a series of steps starting at the top of the funnel that narrows to the final stage at the bottom of the funnel. You'll find different versions of the sales funnel using different labels and vocabulary. But a typical sales funnel will include steps with labels that look similar to this:
Awareness. A potential buyer finds your product.

Interest. The potential buyer expresses interest by reaching out or otherwise providing some information about themselves.

Desire. The potential buyer decides that they want your product.

Action. The potential buyer purchases your product, becoming a customer.
Not every business's sales funnel is going to look the same. As you consider what kind of sales funnel software to invest in, think about which steps are most important to your unique sales funnel. That way, you can choose your software based on which features are most valuable to you.
Why is the sales funnel important?
Most customers don't notice that a customer experience exists unless something goes poorly. Most of the time, it's only when the experience is bad that customers will have something to say. And nowadays, they have plenty of platforms to shout their displeasure from.
Having a sales funnel lets you plan out a smooth and repeatable buying process for your potential customers. They'll be more inclined to purchase from you again. Because even if a customer is happy with the product they receive, they're more likely to try the competition next time if they had a confusing, frustrating, or lengthy experience. Also, using sales funnel software helps you prevent errors and bad practices that create unhappy customers. They can drive other people away from your business with stories of their bad experience.
Which companies should use a funnel builder software?
Any business with an online store should be using sales funnel builder software. Every business, no matter its size or industry, wants each new customer to become a returning customer. This means ensuring that the customer's buying experience is simple and stress-free, without any periods of confusion or wasted time. Using sales funnel software streamlines your buyer's journey, building a strong customer base that can support and fuel your growth.
When should you opt for a sales funnel builder?
There's no hard-and-fast rule about when it's best to commit to a sales funnel builder. Maybe your business is brand new. Or maybe it's decades old, and you're looking to streamline your practices and give your bottom line a boost. You can begin incorporating sales funnel tools into your sales process whenever you feel ready for that boost.
An easy way of knowing you're ready is to sign up for a sales funnel software free download trial. Test driving a platform is probably the best way of knowing which platform is the right fit for your company.
Sales funnel software features
There are different kinds of sales funnel software. Some are more focused on email marketing, while others are built exclusively for creating landing pages and webforms. Below is a list of the most common sales funnel software features. It includes some that every platform should have no matter what step of the funnel it focuses on.
Lead generation. Lead generation software lets you collect, score, prioritize, and assign leads. You can quickly and efficiently move potential customers along your sales funnel.

Sales dashboard. A KPI sales dashboard is a clean and interactive one-stop screen for inspecting your sales funnel data. View daily pipeline metrics in graph or chart form and check your KPIs and upcoming sales activities.

Automation. Sales force automation (SFA) tools eliminate some of the more mundane and time-consuming administrative tasks that typically steal valuable hours away from your team. Automated sales funnel tools save time and energy that are better spent on revenue-generating activities.

Email marketing/management. Reach out to potential buyers with personalized email messaging that further generates interest in your product or service. Create emails quickly from templates, and track click and open rates so you can monitor the efficacy of your campaigns.

Integrations. Connect seamlessly with your other sales apps for maximum ease of use. Your sales funnel software should be able to share and use data across your favorite platforms. You won't get stuck constantly switching between browsers and manually moving data from one platform to the other.

Mobile access. Conduct business right from your iOS or Android mobile device wherever you go, even when you're offline or where service is patchy.

Customer relationship management. Your CRM software system is where all of your critical customer data is stored and analyzed. CRM funnel users manage all of their sales funnel building activities on a platform that's already connected to their most valuable and easily accessible customer data. So they can ensure the best customer experience possible.
What are the benefits of using funnel software?
Handle more leads. Sales is a numbers game, so you have to be able to handle large volumes of leads if you want to increase sales. Sales funnel software gives you the tools to create large and easily accessible contact lists and databases. By eliminating the amount of time and manpower that would normally go into locating useful customer information, your sales teams can handle larger volumes of leads. Which ultimately translates into more sales.

Save on costs. If you tried to operate a profitable sales funnel without investing in software, you could probably do it with the right people. But people are an investment, too, and they come with certain risks that software platforms do not. Sales funnel software lets you save on costs by allowing you to operate a streamlined sales funnel without bloating your staff with employees.

Build better marketing campaigns. Unlike billboards along the highway, online marketing tools can capture information about the people viewing it. Like where they live, what they've clicked, and how they found you. Track your marketing efforts to see which campaigns generated the most profitable responses. If you do, you'll be better able to refine your campaigns to attract even more profitable leads.

Improve customer retention. If you're like most people, you've probably read your fair share of product reviews before. You know that even if a customer likes your product, they can still deduct points for a frustrating or clunky buying experience. By building and maintaining a well-organized and responsive sales funnel, you can expedite and improve your buyer's journey. There will be no reason to turn to the competition. Sales funnel software lets you cut down on response time and deliver personalized messaging. All while building trust in your brand and customer loyalty.
15 best sales funnel builders and software (Free & Paid)
Zendesk Sell is a straightforward sales CRM for full funnel tracking. It offers an intuitive lead tracking system with tools for lead generation including landing page builders, web forms, automatic lead scoring, and more. And with more leads in your funnel, Zendesk's user-friendly contact management features provide simple processes pulling up customer information instantaneously.
Manage greater volumes of potential buyers with ease. Automatically generate accurate and real-time reporting so you always have a realistic measure of your business's overall health.
Building and maintaining your sales funnel on a CRM platform like Zendesk Sell gets you a host of easy-to-use features: email intelligence, customizable dashboard, prospecting tools, and mobile access.
Starting price: $19/month
Free trial: yes
Features:
Goal management

Lead management

Sales dashboard and analytics tools

Sales force automation

Data import/export

Campaign management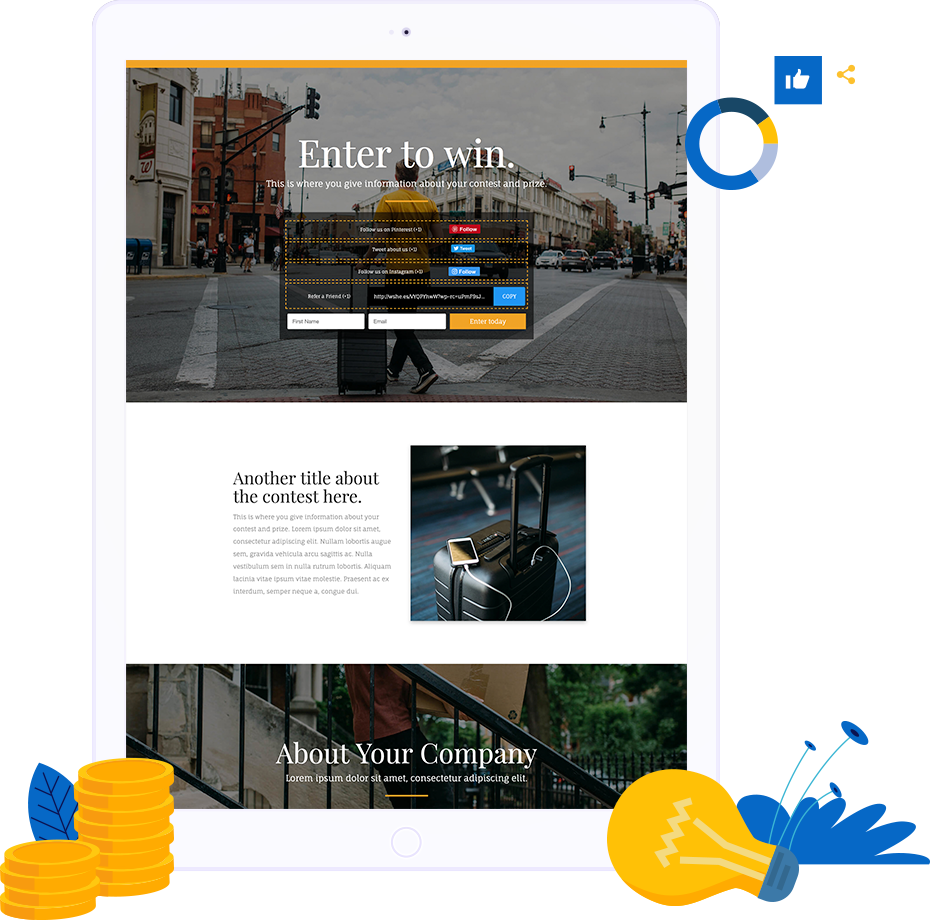 WishPond is a cloud-based marketing tool offering features like landing pages, online advertising, and lead management. Its Marketing Executive features acts as a guide to lead you through the steps of your marketing process. It offers continual advice on best practices for creating impactful campaigns.
Create attractive landing pages that speak to your target audience using the drag-and-drop editor, and get real-time analytics on how your campaigns are performing.
Starting price: free up to 200 contacts, then starting at $44.00/month paid annually or $69.00/month paid monthly
Free trial: yes
Features:
Customizable templates

AB testing

Drag & drop

Drip campaigns

Marketing automation
Kartra is another well-known marketing platform for online businesses. Build landing pages from pre-designed templates, create brand-appropriate checkout pages, and learn more about your customers with insightful surveys and quizzes. Kartra also offers useful sales funnel features like email automations that can send follow-up emails, track click rates, and assign tags for segmentation.
Katra also has a helpdesk that allows for multi-agent collaboration, canned responses, and funneling tickets by department.
Starting price: $79.00/month
Free trial: no
Features:
Data import/export

CRM

Prospecting tools

Email marketing

Form builder
This code-free landing page builder includes features for growing your email subscriber list and creating high-converting marketing pages. It also offers real-time tracking so users can easily catch up on how they're performing. The Drag & Drop Builder allows users to customize premade website templates, which includes a conversion kit for creating checkout forms, pop-ups, alert bars, and AB testing.
Starting price: $27/month
Free trial: yes
Features:
Pre-built templates

Form builder

Drag & drop

Online booking tools

Data import/export
ConvertFlow is a platform for building lead converting pages, pop-ups, and forms. Users like to use ConvertFlow for re-targeting CTAs and gaining insightful AB test reporting. Create announcements about upcoming sales or promotions using sticky bars and segment your potential customers with its survey creator. Or send out marketing materials based on fine contact details like location, website visit history, and their interests.
Starting price: free up to 5,000 website visitors per month, then $49.00/month
Free trial: yes
Features:
Campaign segmentation

Dashboard

Form builder

Behavioral targeting

Customer profiles
Drift is a digital tool using Conversational Marketing and Conversational Sales to accelerate conversion. It promises to shorten your sales cycle and provide personalized experiences for your customers, so you can strengthen your company's brand. Drift lets users create hyper-personalized messaging for website visitors, so you can catch potential customers at the moment of highest interest.
Starting price: information not provided by vendor
Free trial: yes
Features:
Mobile optimized emails

Data import/export

Customized CTAs

Proactive chat
MailChip is an online marketing tool that offers sales funnel software free download options for small businesses. Move website visitor traffic into your funnel with MailChimp's easily customized landing pages templates. It also hosts a user-friendly API to send trigger-based messages about account activity. MailChimp allows users to track their entire customer journey, so businesses can send customers highly targeted messaging that will resonate.
Starting price: free up to 12,000 emails per month and 2,000 subscribers, then $10/month
Free trial: yes
Features:
Behavior analytics

Campaign analytics

AB testing

Automated publishing

Channel management
ClickFunnels is a funnel builder and marketing tool for entrepreneurs who don't know how to code. It has a clearly-laid sales funnel process for adding contacts to your email list, building value in their eyes, collecting payment, upselling, and delivering your product. It covers the entire customer journey, and offers simple tools like a drag and drop webpage editor, marketing automation, dashboard, and lead generator.
Starting price: $97.00/month
Free trial: yes
Features:
Contact database

AB testing

Real time editing

Landing page/web forms

Drip campaigns
Demio is a webinar software program for creating memorable and lead-converting webinars. Demio promises to help users create seamless webinar experiences for marketing their products and services. Create registration pages for easy sign up, use chat and polls to get information directly from your audience, and see the numbers on webinar events to know who was the most engaged.
Starting price: $34.00/month
Free trial: yes
Features:
On-demand webinars

Screen sharing

Polls/voting

Event management

Customizable branding
Kajabi is mainly geared towards creators of online courses and content. But it also includes powerful marketing funnel tools like landing page builders, email marketing, and checkout pages. Administrators can also use Kajabi's platform to process payments, automate targeted marketing campaigns, and access multiple marketing tools from a single platform.
Starting price: $129.00/month billed monthly, $103.00/month when billed annually
Free trial: yes
Features:
Promotions management

Customizable templates

Video support

Website management

Email marketing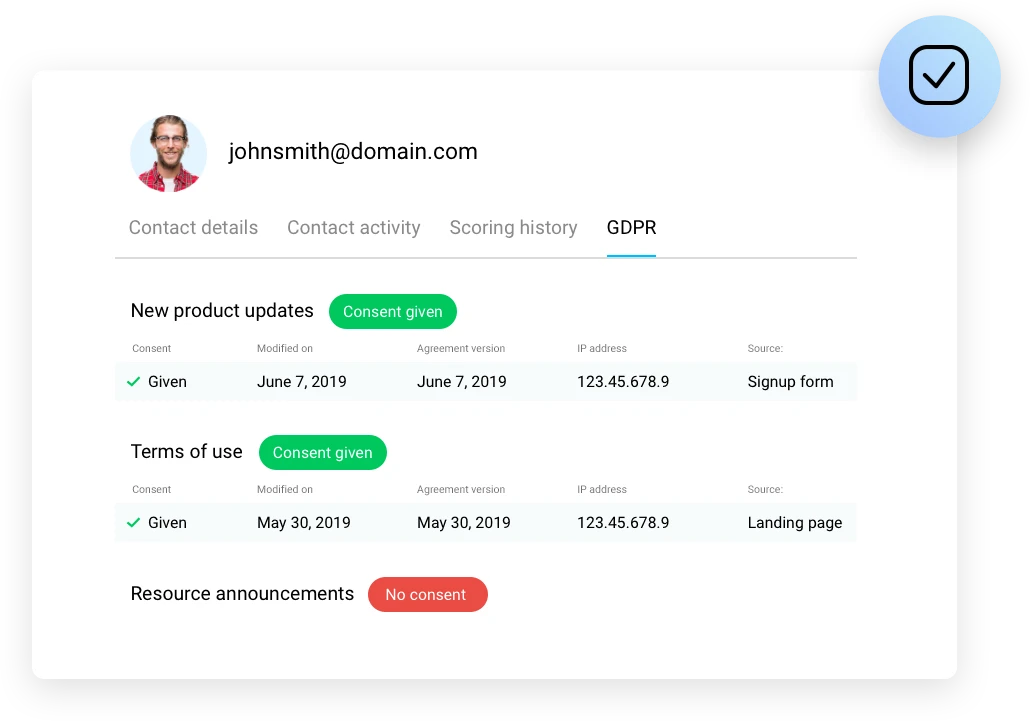 GetResponse is an email marketing tool offering a sales funnel builder feature for online sellers. Using data sourced directly from your online store, the GetResponse system automatically makes recommendations for upsells. And it sends reminders and offers about abandoned carts to reclaim revenue. Users also like GetResponse for its automation templates feature. It sends automatically-triggered welcome emails, recommends products based on purchasing history, and uses behavioral targeting to track and rate customer actions.
Starting price: $15.00/month
Free trial: yes
Features:
Drag & drop

Drip campaigns

Form builder

Customer surveys

Website visitor tracking
ConvertKit is a sales funnel tool and email marketing platform used by musicians, authors, coaches, podcasters, and more. It includes features for growing audiences, including landing pages and email sign up forms. ConverKit promises a clutter-free experience writing emails that resonate with audiences. Users can also create as many branded email templates as they want, use filters to determine who sees which emails, and schedule emails to be sent at a later date.
Starting price: $29.00/month
Free trial: yes
Features:
List management

Segmentation

AB testing

Mobile optimized emails

Event triggered actions
ActiveCampaign is an Customer Experience Automation platform for email automation and CRM. It offers tools for eCommerce, B2B, and B2C companies. It also allows users to shop for products by industry, including travel and hospitality, education, small business, fitness and nutrition, and more. ActiveCampaign offers useful features for reaching and engaging with customers, using precise targeting to attract their attention. It also has a 22 promise guarantee, including 2-year price lock and free online training.
Starting price: $9.00/month
Free trial: yes
Features:
Template management

Campaign planning

Segmentation

Social marketing

Website visitor tracking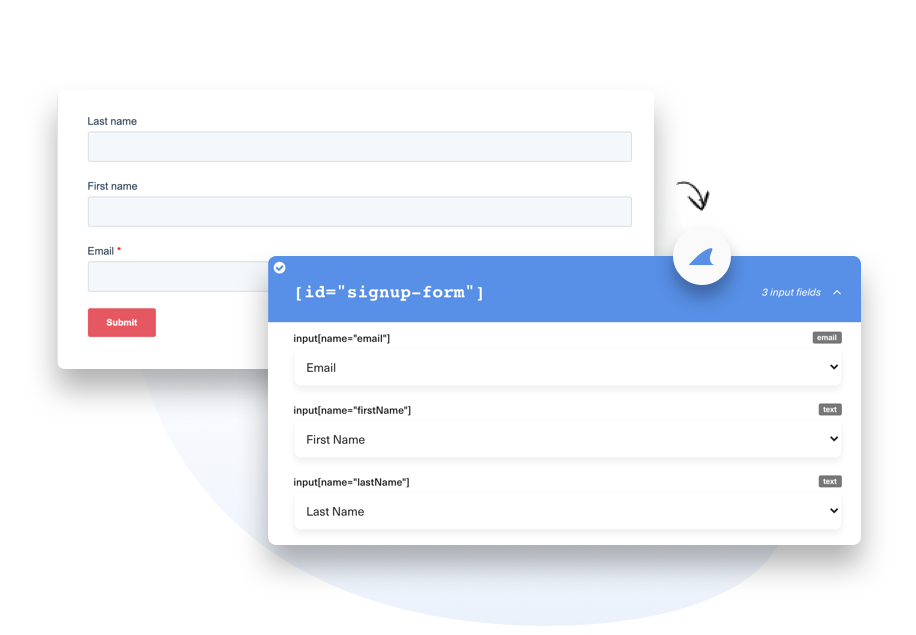 Word-of-mouth is still a great source of business opportunities. GrowSurf's platform for tech companies promises to maximize ROI by increasing new leads from referrals. It includes features like automatic link generator, automated reward fulfillment, and fraud detection. Users also enjoy that GrowSurf is fully whitelabeled, meaning that businesses using your referral program can make it match their brand's look and feel.
Starting price: $200/month
Free trial: yes
Features:
Referral templates

Social promotion

Reward management

Lead engagement

Contact management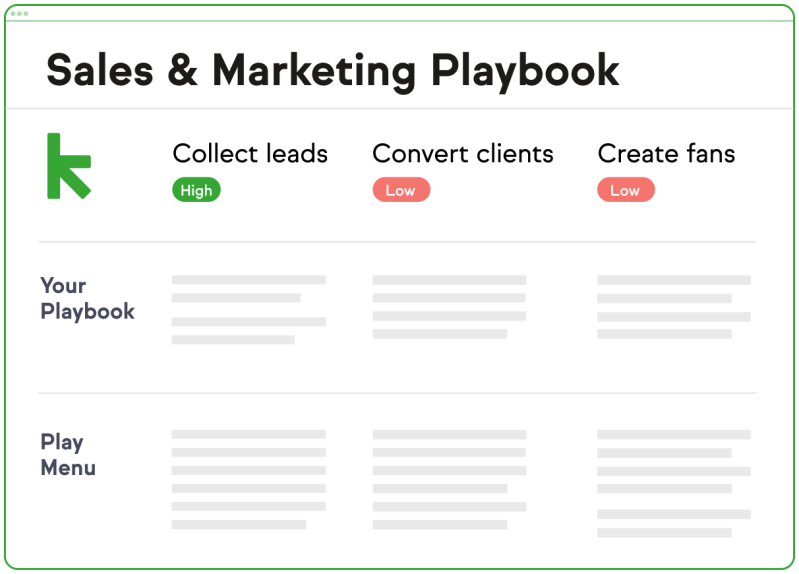 Formerly InfusionSoft, Keap is a cloud-based platform for operating a sales funnel in CRM. It promises to help capture and convert leads with improved efficiency, and includes features like appointment booking which allows clients to book time with you based on your availability. Users also enjoy the automated email follow-up feature for reaching out to customers when they fill out a form on your site. Additionally, Keap's Zapier integration provides access to 2,000 different business apps.
Starting price: $79.00/month
Free trial: yes
Features:
Relationship tracking

Customer surveys

Subscriber management

Form builder

Marketing automation
How to find a sales funnel builder that will meet all your expectations?
Finding the right sales funnel tool for your business doesn't have to be a stressful process. Take some time to research the different tools out there, and compare their features to the needs of your company. Talk to your teams about which automation tools they think would save them the most time and energy All while still helping them deliver an excellent standard of care to their customer base.
The best way to know if a platform is the right fit for your company is to try a tree trial. So you can test drive their features and get a feel for their interface. In your search for sales funnel builder software, keep your eye out for platforms offering a free trial. Test drive and purchase with greater confidence.
Frequently asked questions
A landing page is a single web page designed with one marketing goal in mind. And that's usually to get the visitor to submit an email or sign up for a demo. Sales funnel builder software, on the other hand, is meant to guide the customer through the entire buying experience, not just a single page.
Ready to try sales funnel software?
Zendesk is a fantastic tool for streamlined, lead-converting CRM sales funnel management. With powerful automation features and a user-friendly interface, Zendesk has tools to manage every step of your unique sales funnel, no in-depth IT skills needed.
Sign up today to experience seamless, free CRM system and sales funnel tools for 14 days.
Keep exploring the world of sales software.