Come together
Zendesk Gather provides a community forum for customers to connect and collaborate
Community forum features
Build a village
Zendesk Gather helps you create a community for your customers to connect and collaborate with each other. With Gather, you can always provide them with support whenever they need it.
For members
Help them help each other
Provide a space where members can interact with their peers, get their questions answered, and exchange feedback.
Find the right information
Powerful search
Easily filter help center searches for community posts and filter results by topic.
Seamless navigation
Ensure members can find the help they need by organizing the community into browsable topics.
Featured content
Present relevant content by pinning posts across your community.
Voting
Surface popular and accurate content by upvoting and downvoting posts and comments.
Similar posts
Suggest similar posts to avoid duplicate threads and answer questions with existing content.
Get involved
Start a new thread
Interact in the community using a WYSIWYG editor to easily format posts, drag-n-drop images, or insert links.
User profiles
Manage community activity and stats in one place with the option to create an alias.
Follow
Get notifications via email by following specific topics, posts, or other members.
Mentions
Tag members in threads to start conversations for better engagement and growth.
Social sharing
Share community content across Facebook, Twitter, or LinkedIn.
For admins
Go behind the scenes
Organize content like a pro so you can manage and grow your community with the right resources to boost member engagement.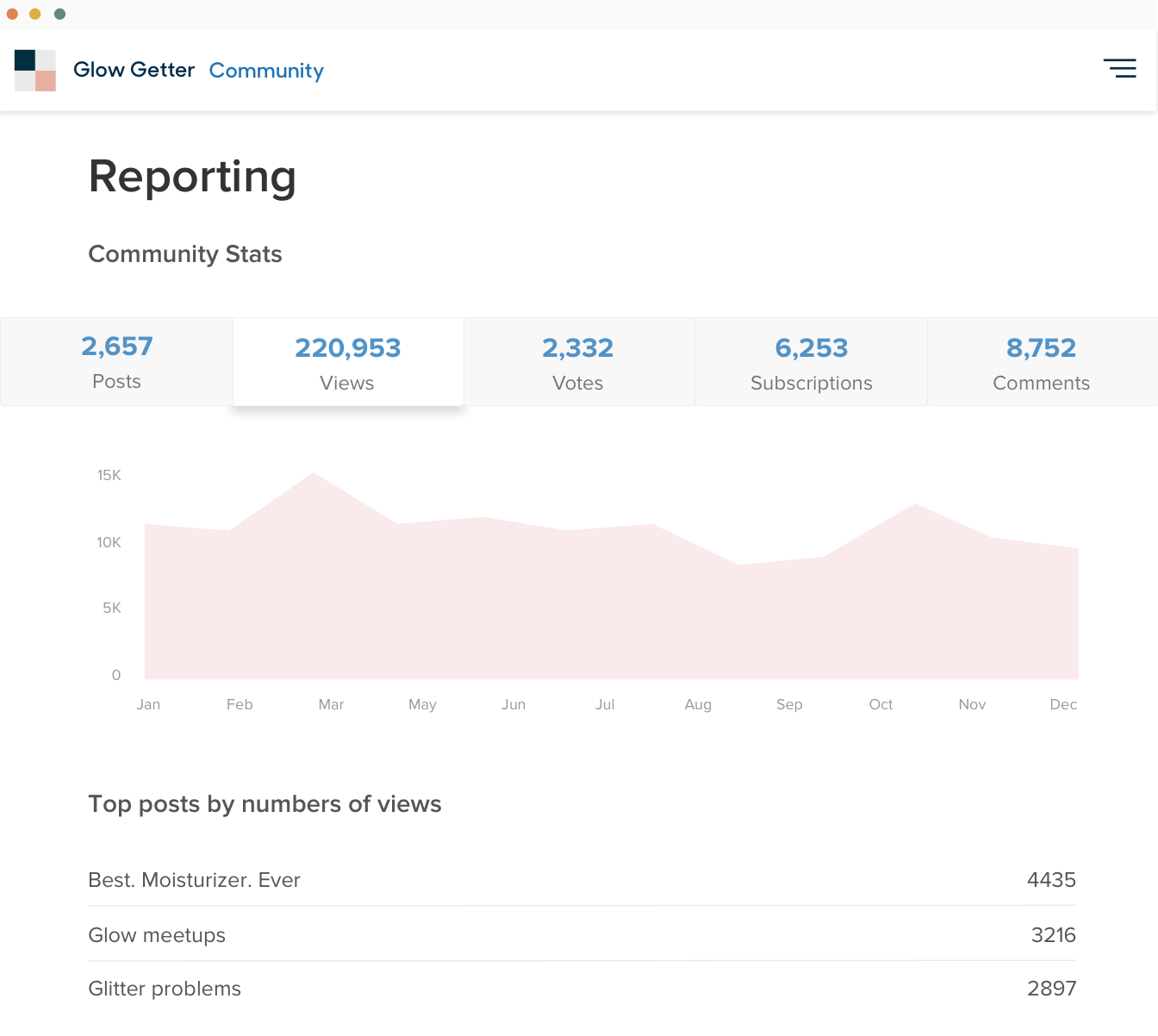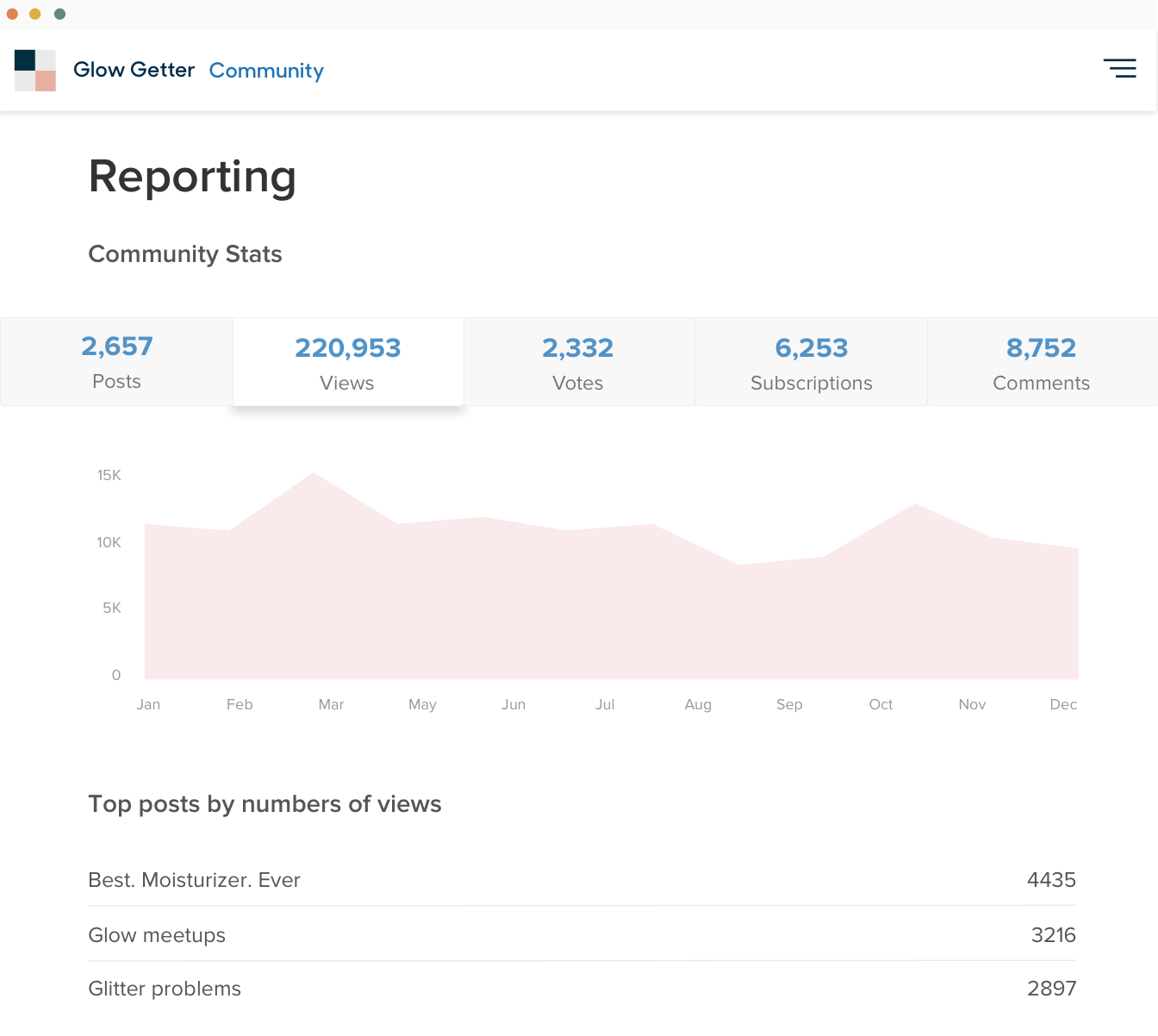 Stay on top of issues
Escalate posts
Escalate posts to your support agents when one-on-one help is needed.
Post status
Tag posts with their current status—including when a question is answered and when product requests are planned, not planned, or completed.
Community moderators
Empower members to become moderators by assigning varying levels of permissions—like the ability to flag, hide, edit, and move posts.
Scale with ease
Content moderation
Use keyword filters to immediately flag posts for review and approval prior to publishing.
Spam blocking
Automatically flag suspicious content for review and approval before publishing.
Community dashboard
Easily track key metrics such as posts, comments, views, votes, subscriptions, and answers with filters by brand and date ranges.
Google Analytics
Community managers can easily track relevant metrics such as pageviews, referrals, and bounce rates.
Make it your own
Customizable themes
Easily brand your community with out of the box themes or using HTML, CSS, and Javascript.
Multilingual
Localize your community in 40+ languages so you can serve members in their native language.
Control access
Choose who can access your community with the option to require registration or make it public.
APIs to customize
Design sophisticated customizations to enhance the customer experience.
Multi-brand
Create multiple communities for various audiences, regions, or brands. Each one is separate so you can set different permissions, create unique URLs, and customize themes to match.
SEO ready
Gather is optimized so search engines can understand your content and members can find answers no matter where they look for them.