9 top CRM software platforms in 2023
The right customer relationship management (CRM) software can help strengthen your customer relationships and build customer loyalty. Learn about the nine best CRM software platforms and how to pick the right one for your business.
The 9 best CRM software platforms and how to choose a CRM tool in 2023
Last updated October 30, 2023
Businesses are always looking for ways to improve their customer relationships. But with the countless customer relationship management (CRM) platforms available, it's hard to decide which one is right for you. We've made it easy by compiling a list of the best CRM software to consider.
Best CRM software platforms
Listed in no particular order, here are the nine top CRM systems—see what sets them apart from others on the market.
1. Zendesk Sell
2. HubSpot
5. Apptivo
6. Insightly
7. Salesforce
8. Copper
9. Zoho
CRM buying guide
When looking for a CRM solution, our buying guide can help you make the right choice for your business.
1. Zendesk Sell
Zendesk Sell offers a modern CRM system that's easy to set up and use, no matter the size of your business. It's packed with a ton of CRM tools that help your teams maximize revenue by boosting productivity, processes, and pipeline visibility.
Zendesk Sell even has a user-friendly mobile app that synchronizes with the desktop experience, so your sales team won't miss a beat out in the field.
The email intelligence tool allows for seamless tracking of all email communication and helps sales reps work more efficiently, thanks to real-time push notifications, activity reporting, and email template automation. Its power dialer allows reps to make calls without lifting a finger, logs and records every call, and provides access to scripts, notes, and out-of-the-box call analytics. Businesses can easily keep tabs on call count, duration, and results.
Sell also comes equipped with sales prospecting functionality that takes advantage of an untapped market of over 200 million professionals. Companies of all sizes use Sell to identify prospects and create targeted lists full of verified, robust, and accurate records.
Overall, the intuitive and customizable interface means less hair-pulling: Your team can quickly learn how to use all the powerful sales CRM features.
These features include:
Email tracking and automation

Activity reporting and analytics

Customizable sales dashboard

Out-of-the-box integrations

Contact and deal management
When you can fully manage your sales and marketing tools in one place and integrate them with a help desk, both you and your customers win.
2. HubSpot
HubSpot is a popular choice for businesses just getting started on their customer relationship management software journey.
With a clean dashboard centralizing all your important CRM tools, HubSpot makes your data easier to find than the "leave meeting" button after a five-hour Zoom call.
Like most CRM programs, HubSpot offers customization and features like conversation intelligence and email tracking.
More features:
Reporting dashboard

Company insights
3. Less Annoying
Did you come here wondering, What is CRM software? Less Annoying might be the sales CRM platform for you.
The name alone clearly shows that the key selling feature is simplicity, making it a solid choice for small businesses taking their first leap into the world of CRM.
Less Annoying also utilizes a straightforward search feature within its contact management system that makes it easy to track down contacts.
Other features:
Calendar and tasks

Simple pipeline management
4. Sales Creatio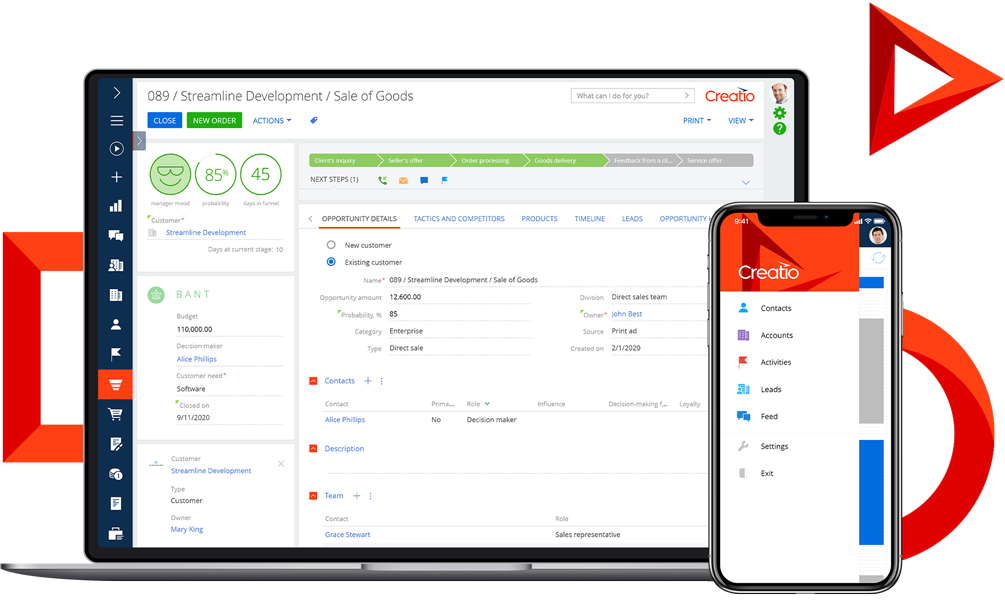 Built for midsize businesses and large corporations, Sales Creatio offers comprehensive CRM software, allowing you to manage sales, marketing, and services all from one spot.
Sales Creatio's claim to fame is its low-code technology that gives users a wide range of customization options—little to no coding know-how required. This is a great feature if your team happens to include anyone who self-identifies as technologically challenged.
Other features:
360-degree customer view

Field sales
5. Apptivo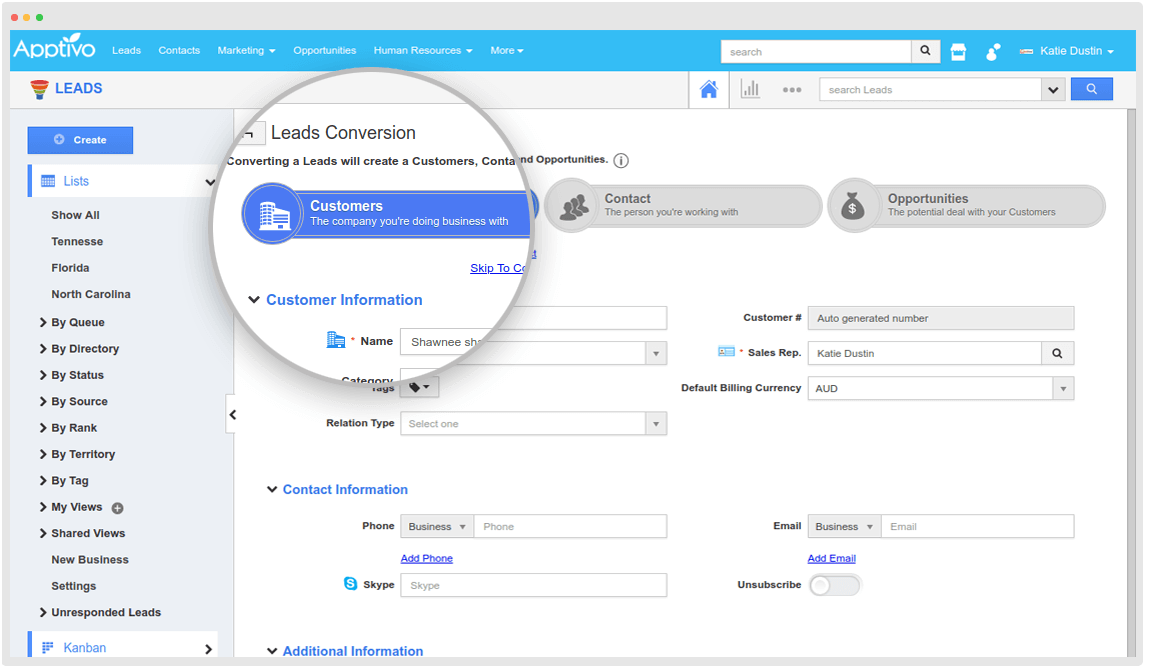 With an impressively compatible and fully online CRM system, Apptivo allows you to centralize all your customer care needs from any device while using any browser.
It boasts a targeted list of features yet still has over 65 integrated applications and a sturdy sales pipeline management system. That means there's never a wasted moment when tracking prospective customers.
More features:
Social news feed

IMAP email integration

Drag-and-drop email templates
6. Insightly
If you've got a gung-ho Google wizard on your team, Insightly may be one of your top CRM software options.
Insightly enables you to fully integrate all your customer-relations needs into a program you're already comfortable using—your existing Google App account. So, your team can spend less time learning new software.
If you do end up with questions, however, you might find Insightly's lack of 24/7 support frustrating, especially if your team is spread across multiple time zones.
Additional features:
Automatic address book

Fast search
7. Salesforce
Salesforce is a well-known CRM heavyweight.
Thanks to its artificial intelligence (AI) capabilities, Salesforce users can automate many tasks and streamline their workflow. It's a nifty way to free your team members from tedious data entry and help them focus more on sales.
With a long list of features (including commission management and call center management), Salesforce may have more bells and whistles than a small business needs.
Other features:
Quote-to-cash automation

Opportunity management
8. Copper
Like Insightly, Copper was built with Google users in mind.
People choose Copper for its G-Suite integration capabilities. Although its features aren't necessarily unique, users routinely cite Copper's easy user experience as its best quality.
More features:
Pipeline reporting

Google integration
9. Zoho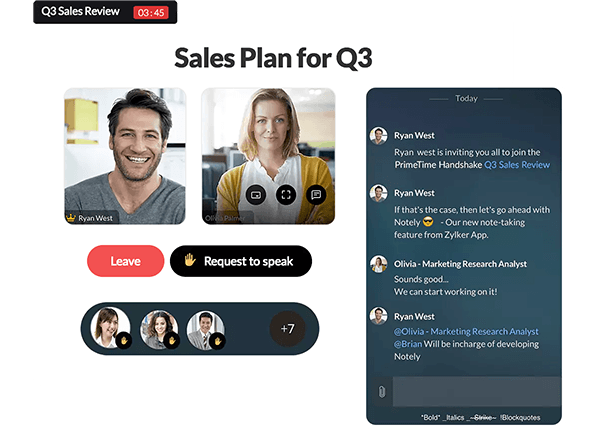 While many other CRMs are designed for either small or large companies, Zoho CRM is a great option for businesses of all sizes.
Zoho CRM comes with the features you'd expect from a top CRM software brand—it even boasts an AI companion named Zia. The folks at Zoho CRM know there are multitaskers among us, so they created Zia to lend an extra hand. Zia can answer your questions, fetch sales reports, and even take note dictation.
Additional features:
How to choose CRM software tools
When searching for a CRM solution that's right for you, consider some key factors before making a final decision. You have a variety of platforms to pick from, and each one comes with its own blend of features, functions, and packages. Think about what combination would be best for your company.
Time to value
Spending time and money to implement and learn a new and complicated system doesn't benefit your company. You want a CRM with fast time to value. You'll see lower ownership costs and be able to hit the ground running in no time when the product offers:
A user-friendly interface: With the help of an intuitive platform, you can start using the CRM in just a few hours and have it fully set up within days or weeks instead of months or years.

Customization: A wide array of out-of-the-box integrations and powerful APIs let you customize the software to fit your needs without the support of expensive outside consultants—saving you time and money.

Easy administration: Minimal admin needs means less money spent on expensive support and resources—and more time to focus on your customers.
Reporting features
Get a CRM with easy-to-understand analytics so you can improve your strategy and gain invaluable insights into your customers and business. You should be able to customize these features to meet your unique needs.
Accurate forecasting allows you to predict growth and revenue.

Pipeline analysis helps you see where your prospects are in the pipeline and spot any bottlenecks.

Advanced analytics provide historical data, pre-built dashboards, and collaboration tools so you can collect actionable insights.
More features to look for include activity reporting, performance metrics, and custom dashboards.
Simple setup
Some CRMs are hard to install and configure, and you might even need to hire someone to manage it for you. Choose a CRM that you can install easily so you can get up and running quickly.
No matter the size of your organization, finding a CRM with a simple setup is incredibly beneficial. Startups have hectic schedules, so learning a new system could fall by the wayside for them. Meanwhile, enterprise companies need something their employees can start using immediately so they don't skip a beat.
Team productivity features
The best CRMs offer features to help you maximize team productivity. These basic features include:
Email integration that improves efficiency with tools like alerts, templates, and automatic tracking.

Sales engagement tools to build targeted email lists with automated email sequences.

Task players that can streamline routine actions like customer outreach.
Other helpful features include call and text, smart contact lists, power dialers, bulk outreach, and sales triggers.
Customer experience features
Your team can use certain features to help improve the customer experience and, as a result, strengthen customer relationships. Keep an eye out for CRMs that offer:
A centralized platform that helps you manage leads, contacts, and account info in one location.

An app marketplace that lets you connect your favorite business apps.

A complete customer view that enables teams to share customer data and insights.
Additional CX features include API access, mobile apps, and subscriptions that help you track information on specific accounts.
Total cost of ownership
Of course, your company's budget always factors into implementing new business tools like a CRM. But if you calculate a CRM's total cost of ownership (TCO), you'll see that buying high-quality CRM software for sales is worth the investment.
When deciding on a CRM, you'll likely start by comparing the prices. But bear in mind the extra costs that you might not consider when just looking at the sticker price. You may need to pay for things like:
Implementation costs

Maintenance fees

Consultants

Add-ons
Some customer relationship management software offers a free version but charges for the functions you really want. Remember—you get what you pay for. Consider investing in a top-notch CRM that will pay for itself in the long run.
Integrates with your tech stack
It's important to pick a CRM with an open and flexible platform so it respects your current investments and works with your existing tech stack. By bringing together all your systems and customer data, you'll gain a complete customer view and a deeper understanding of your audience.
When you have a highly customizable CRM like Zendesk Sell, your team members have all the tools they need to do their jobs well in one place. It's developer-friendly, too, so building custom CRM applications or integrations is easy (and fast).
Mobile sales management
There's an app for everything, and CRM is no exception. Several CRM providers offer mobile access for smartphones and tablets, allowing sales teams and managers to keep tabs on their activities, goals, and tasks when they're away from their desks. This feature is especially helpful for field sales reps who don't want to sacrifice productivity when they're on the road.
Free trial
There's a reason car dealerships allow test drives—it's the same reason many CRM vendors offer free trials. Even with the relatively low cost of cloud CRMs, the time and effort it takes to implement new software can still present a risk if you end up disliking it.
As you shop for a CRM, take note of the platforms with free trials. Not only will a test run give you a good idea of how well the software meshes with your team and current apps, but it will also give you a free head-start on implementation.
Why consider Zendesk Sell?
Zendesk Sell is the all-in-one sales platform designed to help you sell smarter, not harder. Our developers understand that complex software can drive users away before they can experience the benefits of using it. That's why we've made it our mission to simplify the platform for everyone from startups to enterprise organizations.
Modern and easy to use
With a simple and modern design, Sell is fast to implement and easy to use. It offers a conversational interface built around daily sales activities and helps maximize revenue by enhancing productivity, processes, and pipeline visibility.
Centralized platform
Sell has everything sales reps need in one place—including prospecting, engagement, lead generation, and communication capabilities. This increases sales productivity and efficiency, resulting in better customer experiences and lower costs.
Mobile app
Field reps and remote reps can stay connected and sell on the go thanks to our industry-leading mobile app. Here are a few of the benefits:
It's available on iOS and Android.

It's fully synchronized with Sell desktop.

It allows you to view leads, deals, and contacts in map view with geolocation.

It's integrated with shortcuts and voice-activated speakers.

It geo-verifies customer visits when they log on to the mobile CRM application.
Zendesk family of products
You can integrate your existing systems with Zendesk Suite for unified data, easy collaboration, and seamless customer experiences. The family of products includes:
Chat

Explore

Messaging (coming soon)
Low total cost of ownership
Zendesk Sell offers a low total cost of ownership from setup through ongoing maintenance.
No hidden fees: We don't charge for the number of contacts or amount of storage in your CRM.

Simple implementation: We keep implementation easy to ensure your team has a successful rollout.

Low admin costs: Sell has almost no administrative or ongoing maintenance costs.
Give CRM software a try
Zendesk Sell is an intuitive-yet-robust sales CRM designed with customer relationships in mind. Our cloud-based CRM platform makes it easy for your team to access information anytime, anywhere.
It's simple: Customers are happier when they feel heard. Get the tools to personalize customer interactions and foster collaboration across departments—through every stage of the customer experience.
We aren't done yet. Check out these valuable links.
Keep exploring the wonderful world of CRM software, customer management systems, and other sales tools.