CRM software
Complete guide to the best CRM software
Effective CRM software makes sure customer relationships remain personal, even as they evolve.
What is CRM software?
CRM stands for Customer Relationship Management. And CRM software helps companies develop successful customer relationships by storing all customer information and CRM data in one centralized hub for easier access and analysis.
Tracking customer interactions—from first contact to successful conversion and beyond—boosts customer satisfaction rates. It also allows for smoother communication between sales, marketing, and customer service teams.
In this guide, we'll answer the most pressing questions about CRM software, and how it can help your business attract, nurture, and convert leads into sales. Then keep those customers happy.
The 9 best CRM software platforms
Zendesk Sell




HubSpot




Less Annoying




Sales Creatio




Apptivo



Insightly




Salesforce




Copper




Zoho



Zendesk Sell is a top sales CRM system for several reasons. The best may be the self-service portal, which lets customers easily help themselves before hassling your agents.
It's loaded with a variety of CRM tools (including a user-friendly mobile app), while simultaneously designed to be as user-friendly as possible.
Sell's email intelligence tool allows for seamless tracking of all email communication, along with real-time push notifications, activity reporting, and email template automation.
Its power dialer allows reps to make calls without lifting a finger, while it logs and records every call and provides access to scripts, notes, and out-of-the-box call analytics so businesses can keep tabs on call count, duration, and results.
It also comes equipped with sales prospecting functionality that takes advantage of an untapped market of over 200 million professionals. Businesses of all sizes use Sell to identify prospects and create targeted lists full of verified, robust, and current records.
Overall, the intuitive and customizable interface means less overall hair pulling while your team figures out how to use all of its amazing features—like its mobile and cloud applications, marketing automation system, and easy-to-use collaboration tools.
Its customizable sales CRM features include:
Email tracking and automation
Activity reporting
Sales dashboard and reporting
Mobile CRM
Automatic dialer with text capability
Call analytics
Out-of-the box integrations
Contact management
Prospect discovery and verification
Lead management
When you have the ability to fully manage your sales and marketing tools in one place and integrate with a help desk, customer service wins.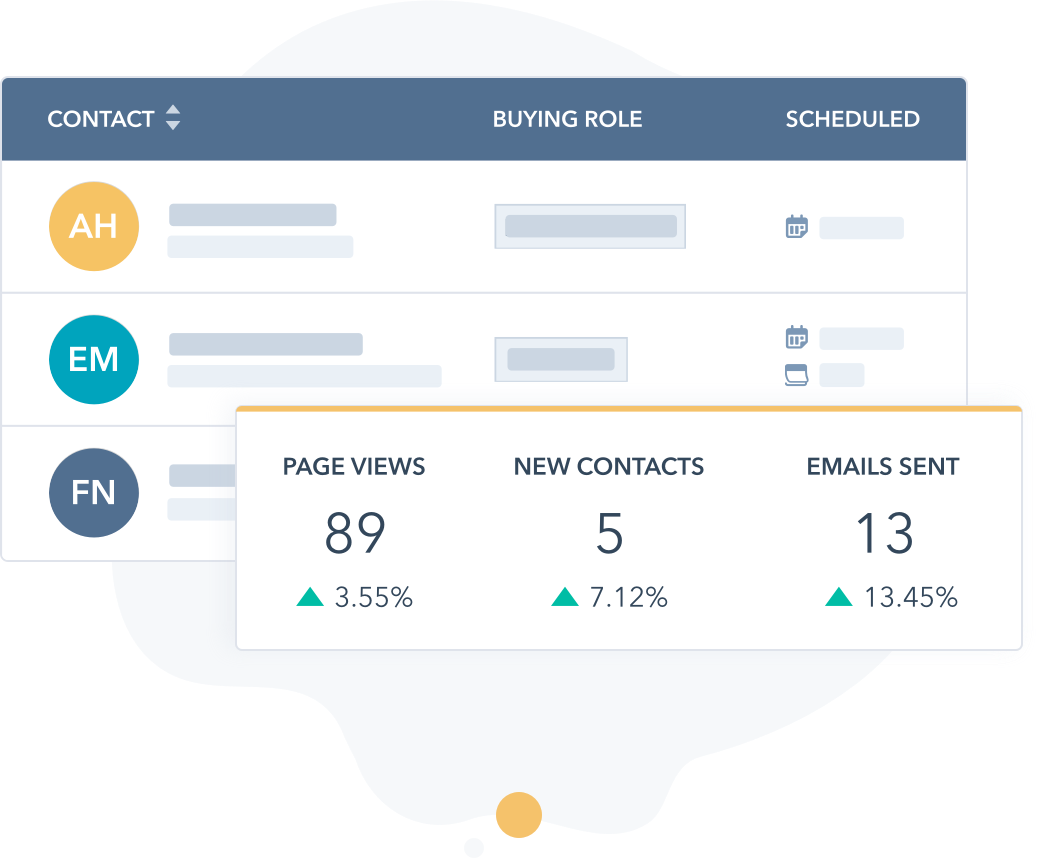 Hubspot is a popular choice for businesses just getting started on their customer relationship management software journey.
With a clean dashboard centralizing all of your most important CRM tools, Hubspot makes your data as easy to find as the "leave meeting" button after a five-hour Zoom call.
And, like most CRM programs, Hubspot does offer customization and features like conversation intelligence and email tracking.
More features:
Reporting dashboard
Company insights
Deal tracking
Pipeline management
If you came here wondering "what is a CRM system?" Less Annoying might be the sales CRM platform for you.
Based on its name alone, it's clear Less Annoying's key selling feature is its simplicity, making it a solid choice for small businesses taking their first leap into the world of CRM.
Less Annoying also utilizes a simple search feature within their contact management system that makes it easy to track down contacts.
Other features:
Calendar and tasks
Simple pipeline management
Customization
Mobile access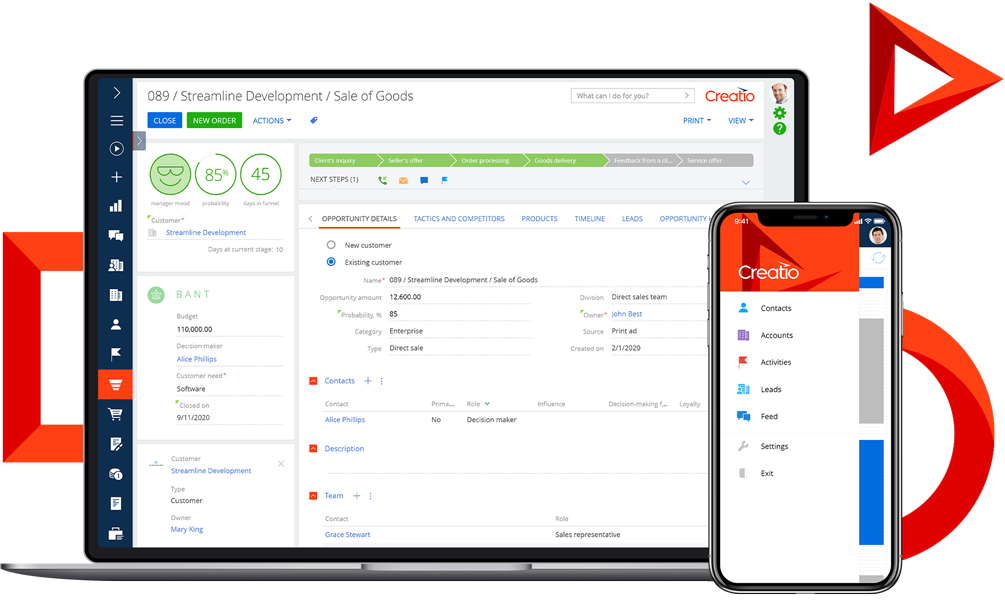 Built for midsize to large corporations, Sales Creatio offers the full scope of customer relationship management software, allowing you to manage sales, marketing, and services all from one spot.
Sales Creatio's claim to fame is its low-code technology, which allows for a wide range of customization options with little to no coding know-how, which is a great feature if your team happens to include anyone who self-identifies as technologically challenged.
Other features:
360-degree customer view
Field sales
Project management
Orders and invoices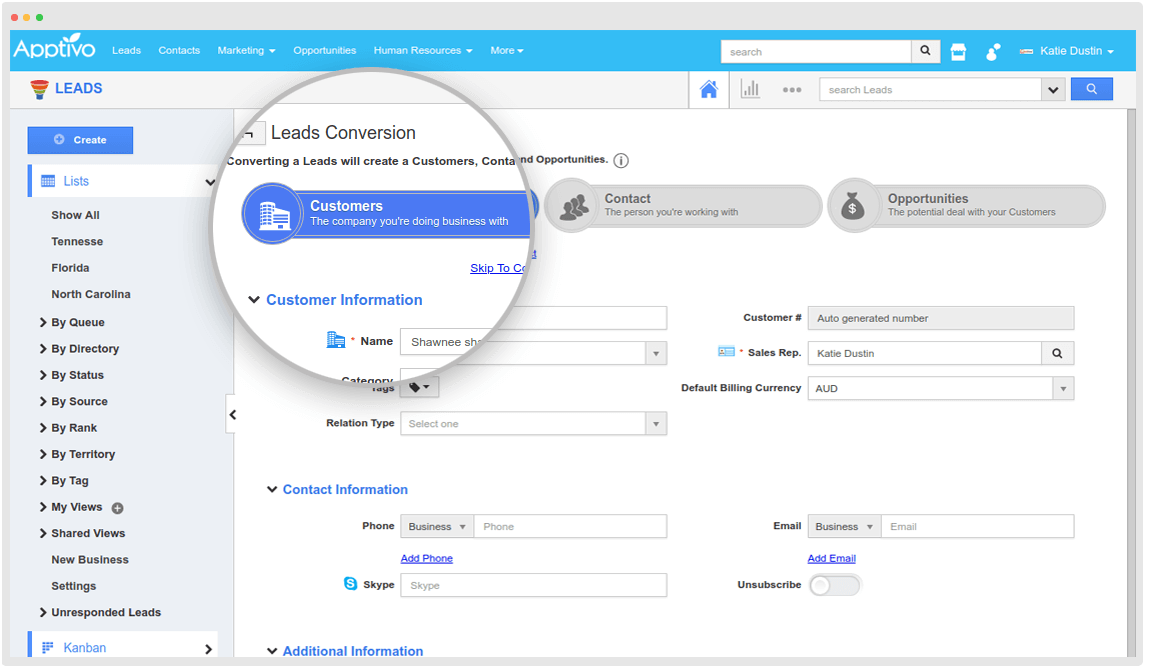 With an impressively compatible and fully Online CRM system, Apptivo allows you to centralize all of your customer care needs from any device, using any browser.
It boasts a targeted list of features yet still has 65+ integrated applications and a sturdy Sales Pipeline Management system. That means there's never a wasted moment when tracking prospective customers.
Other features:
Social news feed
IMAP email integration
Drag-and-drop email templates
Developer API
If you've got a gung-ho Google wizard on your team, Insightly may be one of your top CRM software options.
Using your existing Google App account, Insightly allows you to fully integrate all of your customer relations needs into a program you're already comfortable with. In short, your team can spend less time learning new software.
If you do end up with questions, however, you may find Insightly's lack of 24/7 support frustrating—especially if your team is spread out across multiple time zones.
Other features:
Automatic address book
Fast search
Web-to-contact forms
File sharing
Salesforce is a well-known heavyweight in the world of CRM technology.
Thanks to its artificial intelligence capabilities, users can automate a lot of the usual workflow. It's a nifty way to free your support teams from tedious data entry and help them focus more on sales.
With a long list of features (including Commission Management and Call Center Management), Salesforce sometimes has more bells and whistles than a small business needs.
Other features:
Quote-to-cash automation
Opportunity management
Sales forecasting
Document management
Like Insightly, Copper is a brand of CRM that was built with Google users in mind.
People choose Copper for its total G-Suite integration capabilities. Although its features aren't necessarily unique, users routinely cite Copper's easy user experience as its best quality.
Other features:
Pipeline reporting
Google integration
Project management
Task automation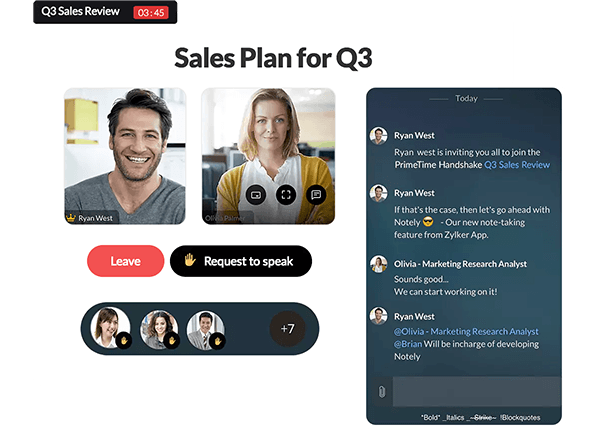 Unlike some of its competitors, which are usually best suited for use by either small or large companies, ZohoCRM is designed to handle your company's needs at any size.
ZohoCRM comes with all the features you'd expect from a top CRM software brand, and even boasts an AI companion named Zia. The folks at ZohoCRM know that there are multitaskers among us, so they created Zia to lend a hand to agents who are using both of theirs.
Zia can answer your questions, fetch sales reports, and even take note dictation.
Other features:
Workflow automation
Deal management
Process management
Journey orchestration
What are the key features of CRM software?
The top sales CRM software will have most (if not all) of the following features:
Contact management software that helps you go beyond simply storing the names and data of potential and current customers in a centralized contact database. This fundamental CRM feature also allows you to:
Categorize, group, and search contacts in order to customize your marketing and sales strategies
Track all interactions, emails, calls, and messages to ensure communication is smartly timed and personalized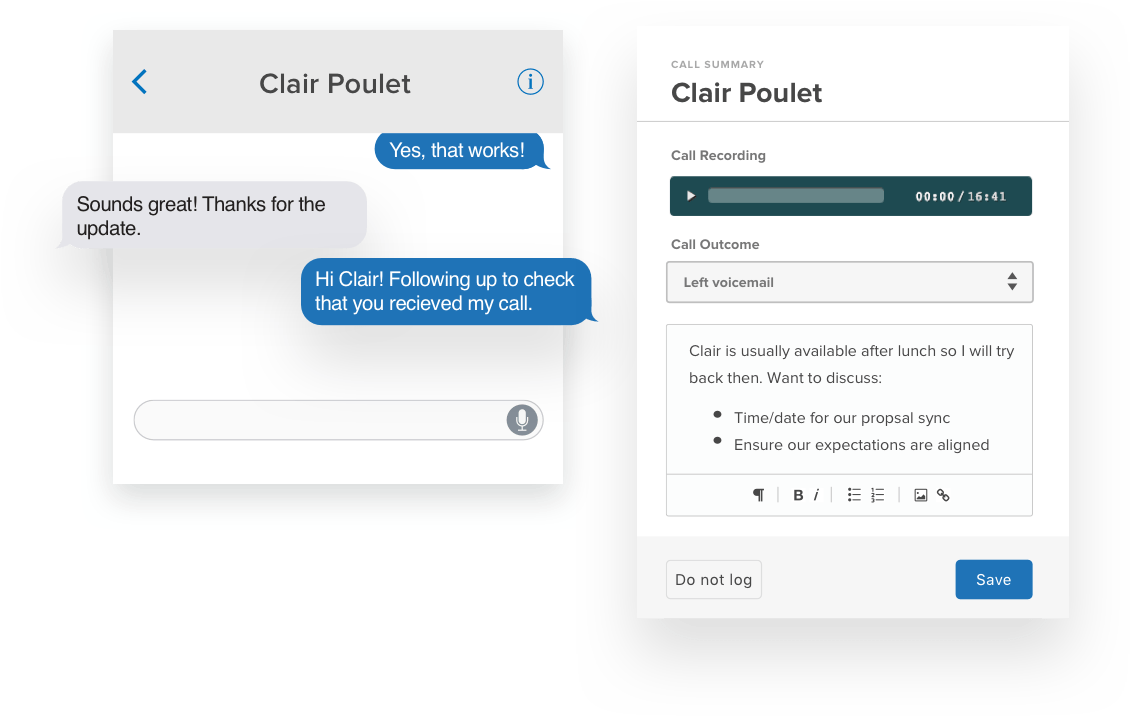 Pipeline coordination and automation
One of the most remarkable features of a well-integrated CRM system is its ability to increase sales pipeline productivity. When developing streamlined CRM sales process steps, CRM tools can:
Automate prospecting and lead generation
Streamline the identification of qualified leads through lead scoring tools
Curate personalized quotes based on detailed customer data
Track closing successes and failures
Supply valuable insights about why deals are ultimately won or lost
A user-friendly CRM dashboard
Your CRM dashboard is the real-time visual interface your team sees every day. So for CRM integration purposes, you want to ensure it's user-friendly and customizable.
Whatever your team goals, process, and structure, your CRM dashboard should provide the following CRM tools.
Activity tracking: Easily tracked calendars, notes, appointments, and tasks
Visually organized emails, calls, and messages
Analytics for top deals, new deals, closed deals, etc.
Tracking of revenue goals and pipeline information
Forecasted sales and sales performance metrics
A customizable dashboard guarantees you and your team aren't overwhelmed by data you don't need.
Data-driven CRM reports
One of the most powerful CRM tools is the collection, organization, and analysis of key sales and marketing metrics.
With the effortless generation of valuable CRM reports, you'll gain a comprehensive understanding of your sales and marketing operations.
They'll empower you to:
Quickly pinpoint the key factors driving successful customer interactions
Refine your sales processes
Locate the areas that need the most improvement.
Mobile and cloud CRM applications
Most CRM solutions now offer mobile CRM with cloud CRM applications that users can access from anywhere.
The latest trends actually show that teams who utilize mobile- and cloud-based CRM solutions are nearly three times more effective at hitting sales quotas than those using non-mobile CRM systems.
With more employees working from home than ever, companies today need easy remote access to customer data. Mobile and cloud tools give teams a data repository with unified processes, procedures, workflows and tracking, accessible at any time.
"Statistics from Forester have shown that 50% of teams improved their productivity by using a mobile CRM." - SuperOffice
What is the CRM process?
Essentially, your CRM process is the workflow you use to accelerate your traditional sales process and make your customer experience better than the competition's:
By making every customer interaction personal and meaningful, they'll be less likely to consider getting their needs met elsewhere.
It builds stronger customer relationships
A strong buyer/seller relationship is built on respect for each other's time and needs. CRM software helps you deliver faster, more personalized service to every customer, so fewer buyers are likely to fall through the cracks because of a negative experience with your company. A single hold-up might not seem like much to a salesperson, but for the person trying to buy it can feel like a huge oversight.
How CRM platforms improve processes
Many companies—especially small businesses—may believe that a simple contact database software is "good enough" for tracking customer contact. But nowadays companies are at a big disadvantage if they're not using CRM software—especially SMBs.
An effective customer manager software streamlines marketing and sales activities, both inbound and outbound. Not only does it manage evolving relationship marketing strategies, but it helps your company organize:
Every call, text, email, and spoken interaction with customers
Sales prospects, lead generation, and current customers
Information about internal teams, as well as vendors and competitors
The creation of sales pipelines and marketing campaigns
Access to pending deals and pricing
Real-time analytical data for customer-driven business decisions
That's what good CRM software does. And if your company isn't utilizing a CRM system, you're missing out on one of the most potent business tools developed in the last thirty years. In fact, 91 percent of North American firms with 10 or more employees already have CRM software systems in place.
Benefits of CRM software
The better you know your customers, the better you'll be able to serve them. CRM tools allow you to understand your customer base, respond faster to their questions and requests, and strategize for even better sales tactics in the future.
Here are some of the most impactful benefits of using CRM tools in your sales operations:
Sales pipeline automation
CRM automation tools should be intuitive, time-saving, and leave your salespeople with more capacity to focus on what they love—fostering successful customer relationships and closing deals.
For example, with the help of automated CRM processes, companies have been able to cut proposal times from days to hours, saving companies significant time and money.
In fact, some gurus have estimated that about one third of all sales tasks can be automated, and companies that incorporate sales automation have 53% higher conversion rates and 3.1% higher annual growth.
Customer analytics
Diving into customer data gives you a fresh perspective on who your customers are and why they behave the way they do. By analyzing the data you have, you can uncover a goldmine of insight that lets you better understand the people you're trying to sell to.
With the help of CRM analytics, you can segment contacts into different customer bases for better message targeting and perform accurate predictive modeling. Most importantly, you gain sharper insight into what customers love about your company—and what needs further improvement.
Sales productivity
One of the best ways to measure your sales productivity is to look at the numbers. CRM tools let you closely monitor your metrics so you can determine if your activities and tasks are actually paying off—or if they're just amounting to a lot of busy work.
With CRM, you can track everything from hours spent performing certain tasks, number of contact outreaches, win rate, emails sent and meetings scheduled, and more. This kind of visibility allows sales teams and managers to fine-tune their daily operations so they can accurately measure exactly how much time needs to be spent on which tasks in order to see the highest payoff.
Higher conversion rates
You know what steps you want your leads to take. With greater insight into their likes, dislikes, and behavior, you can craft messaging that's more likely to hit on their desires and guide them to the next step. In fact, CRM has been shown to boost conversion rates by 300%.
Customer satisfaction
​​A CRM system doesn't just create a centralized repository of customer data. A good one can also integrate with customer service platforms, and help you understand when customers need help.
Happy customers are loyal customers, and loyal customers recommend your business to their friends and network. Use sales CRM analytics to understand when and why customers are miffed. Adjust your process accordingly. Repeat!
Mobile access
It isn't just that nearly everyone today uses some kind of mobile device. According to Gartner, 30% of sales organizations are now issuing tablets as the primary device for their sales force. And in a survey of 1,940 salespeople using mobile CRM, 82% reported seeing an overall improvement in the quality of their CRM data.
Having mobile access means that data can be entered into the system the moment it becomes relevant—not when the salesperson finds themselves in front of their computer
More sales
Added together, all of these benefits amount to the ultimate benefit—more sales. On average, companies using CRM tools see a 29% increase in sales, which is not a number to ignore.
By using customer manager software to generate better qualified leads, easily track opportunities along your pipeline, and automate repetitive administrative activities, there's no question that CRM is a vital tool for seeing your bottom line grow—without a complete overhaul of your entire organization.
Why every business needs a CRM system
Businesses need CRM applications because the market isn't getting any less competitive. Customers today not only expect their purchases to deliver the promised results, they expect the buying process to be fast and convenient. Customer manager software helps you smooth out your processes so you can deliver a positive buying experience that will keep customers coming back to you, instead of the competition.
Here are some of the most common issues that customer manager software helps to solve to establish a faster and more convenient customer journey.
Disorganized workflow
Your workflow is a process designed to see a task through to completion. Every time there's a delay, the completion date gets pushed back, workers get frustrated, and goals get sidelined.
Workflows are typically organized into a step-by-step sequence of actions. The more complex the process, the more opportunities there are for something to fall through the cracks. Customer manager software provides tools for organizing your workflows no matter how complex, making them repeatable and simple to follow for everyone involved.
Information silos
Information silos happen when there's no clear avenue for sharing data between departments. This can lead to one team being left in a fog of confusion, while another drowns in a wealth of raw data. CRMs provide collaborative communication tools that let companies share the information they have with the departments who can make the best use of it.
Limited communication channels
Your customers have a preferred way of communicating. If you can't meet them on those channels, they may not think it's worth the trouble to interact with you at all. CRM applications provide omnichannel communication support, which allows sales and customer service reps to meet customers where they already are.
Additionally, CRM combines communication from across multiple channels. If you've interacted with a client through email, phone, and social media, all of those interactions can easily be viewed from a single point of entry. This saves you from having to search through every separate platform if you need to review that client's history with your company.
Shallow customer insights
You can't serve your customers if you don't truly understand what they want or how they behave. CRM solutions come equipped with tools for using social media to your advantage, allowing you to better understand what your customers like and what the newest trends are while they're still emerging.
Subpar remote productivity
Remote work has presented many benefits—as well as some obstacles. CRMs are a fantastic tool for ensuring that productivity doesn't drop the moment employees begin working away from the office. Cloud-based platforms allow teams to have access to their work tools from wherever their computer happens to be.
In fact, many CRMs are now beginning to offer mobile options as well, meaning you don't even need a desktop computer to access and use your CRM tools.
Obscure reporting and forecasting
Reports give you an idea of how well you've been performing, while sales forecasts provide a glimpse of how well you might perform in the future. But without the most accurate and up-to-date data, reports and forecasting can easily become vague or downright misleading.
CRMs provide reporting tools that let you configure your data into easy-to-ready visuals for presentations, goal-setting, and monitoring progress. Additionally, CRM sales forecasting features help companies predict future sales, so it's easier to plan for things like personnel changes and resource allocation.
How to choose CRM software tools
If you're searching for a CRM solution for your business, there are a few key factors to consider before making a final decision. You have a wide array of platforms to choose from, and each one comes with its own blend of features, functions, and packages.
Here are some of the different offerings you'll encounter when shopping for a CRM, and what they could mean for your company.
Customizable CRM (vs custom-made)
When it comes to CRM, "custom" and "customizable" aren't the same thing. A customizable CRM is like a car that's already constructed, and you get to select how some of the finer details look and function. These off-the-shelf solutions are designed to fit most business models from startup to enterprise-level. They provide enough customization options to let you mold the software to its optimal usability for your team, without starting from scratch.
Custom CRMs, on the other hand, are built from scratch. They're developed from the ground up with only the purchasing client's business in mind, with the company having a say in every feature that goes into it. Obviously, this means that custom CRM is much more cost-intensive, and takes much longer to start implementing.
Cloud CRM (vs on-premise)
Cloud CRM—or web-based CRM—is software that's hosted on your vendor's servers and accessed through an internet browser. This means that employees can access their customer manager software anywhere they have a computer and internet access. Additionally, rather than requiring a one-time purchase, cloud CRM tools typically come as a monthly or annual subscription, with all updates and maintenance services handled by the vendor as part of the payment plan.
On-premise CRM, on the other hand, typically involves a one-time purchase, and is directly installed onto your company's hardware on-site. Because there are no ongoing costs after the initial purchase, all upkeep and maintenance of the software must be handled by a dedicated IT team.
CRM integration (can it grow with your business with third-party integration?)
CRM integration allows companies to merge their CRM solution with the other business applications they may be using. These applications typically include platforms like calendars, email providers (like Google), accounting and payroll (such as Intuit programs), and signature-collecting programs (such as DocuSign).
The best CRMs offer a wide range of third-party integrations.This means that as your business grows and your needs expand, you still have a wealth of options for connecting your CRM to your other tech tools.
Free trial (can you try it?)
There's a reason car dealerships let you take their cars on a test drive—and it's the same reason many CRMs offer free trials. Even with the relatively low cost of cloud CRMs, the time and effort it takes to implement new software can still present a risk if you end up disliking it.
As you shop for CRM, take note of the platforms that offer a free trial. Not only will a test run give you a good idea of how well the software meshes with your team, it also gives you a free head-start on implementation.
Mobile sales management (is it mobile?)
There's an app for everything, and CRM is no exception. Several CRM providers offer mobile access for smartphones and tablets, allowing sales teams and managers to keep tabs on their activities, goals, and tasks when they're away from their desks. This feature is especially helpful to field sales reps who don't want to sacrifice productivity when they're on the road.
How to implement a CRM software system
Introducing new software can be tricky. Some people view them as optional accessories, which can hinder implementation—especially if they're comfortable with the "old way" of doing things.
One of the best ways to ensure successful implementation of your CRM system is to establish a CRM team. This is a group of people within your company who will handle the daily tasks of ensuring correct use of your new program.
Here are some of the roles that should be included in your CRM team:
Project manager → monitors the implementation process by checking in regularly with users, scheduling training sessions, tracking goal completion, and reporting progress to upper management.
Data analyst → handles the task of cleaning and migrating the most relevant data into the new system.
Developer → handles customizing the new software so it operates smoothly with the organization's current practices.
Test engineer → tests the system to identify any areas that need further development.
Keep in mind that some staff members will be more hesitant to explore your CRM's full range of capability right away. To help ease them into it, assign "CRM champion" status to the most proficient software users on your staff. These individuals can help recognize and aid other team members who may be struggling.
"74% of respondents say that CRM solutions give them better access to customer data, allowing for more personalized service." - Findstack
CRM software use cases
Let's look at a few examples of how companies are using customer manager software to speed up their sales cycles and boost productivity.
Example A — scheduling automation
Salesperson A has just acquired a hot lead who wants to move fast. The lead wants to schedule a meeting to talk specifics, so they send an email asking for Salesperson A's availability.
Rather than suffer through a long and tedious back-and-forth email chain during which they swap available times, Salesperson A uses their CRM scheduling automation tool to send the lead a link directly to their calendar. The lead browses through the salesperson's available time slots, selects their preferred time, and Salesperson A's calendar is automatically updated.
Example B — upselling opportunities
Salesperson B successfully closed a big deal after a complex (but streamlined) sales cycle. The new customer is pleased with their purchase, but since they're still a new user, they run into an issue that requires assistance. They contact customer support, and the agent quickly resolves the issue.
While they're on the phone, the customer support agent sees that Salesperson B left detailed notes about this particular customer in their customer manager software database. Apparently, the customer had once expressed interest in another product in their line, but had been hesitant to add too much into their initial purchase. The customer support agent takes the opportunity to mention the product in question, and the upsell goes through without a hitch.
Example C — sales and marketing collaboration
After implementing their CRM application, Sales Manager C noticed that a lot of their sales team's time was spent educating leads on the most basic concepts of their product. They decided to collaborate with their marketing team to share the most commonly asked questions, and together they created a series of educational content.
After distributing these materials across their platforms—and using their CRM software to capture lead details—Sales Manager C sees that their sales team activity has changed. Their leads are more educated about their products, meaning the sales team has more time to process more qualified leads through their pipeline.
The history of CRM tools
Nearly every piece of software can be traced back to their non-computerized roots. In the case of CRM applications, those roots look like rolodexes, address books, and binders full of notes. While those tools are obviously better than nothing, they don't hold a candle to their modern counterparts in terms of speed, convenience, and functionality.
The origins
The origins of CRM date back to the 1970s, when businesses started toying with the idea of using a more customer-centric approach to selling. This new approach required having faster access to more complete records of customer data. But CRM didn't just pop up as a solution—it evolved through the contributions of different innovators, including:
Kate and Robert Kestenbaum's database marketing concept
Pat Sullivan and Mike Muhney's customer evaluation system, ACT!
Tom Siebel's first CRM product, Siebel Customer Relationship Management
Modern CRM platforms
The CRM solutions of today are a far cry from the ACT! digital rolodex of the 1980s. Innovations in technology, automation, and selling techniques have inspired a wealth of customer relationship management solutions. As a result, different types of CRM have evolved to serve more specialized needs.
What are the three types of CRM?
Each type of customer manager software serves a unique purpose and provides a specific benefit to your customers.
Collaborative CRMs provide tools that help businesses maintain and share the most up-to-date and accurate customer information across departments.

Purpose → to break down information silos that slow down productivity.
Best for → companies with large sales, marketing, and customer service departments working in multiple locations or handling huge volumes of customer data.
Customer benefit → customers won't have to repeat their issues, even if speaking to a different person with every interaction.
Operational CRMs offer tools and sales force automation tools for streamlining daily workflows, ensuring that business operations aren't hindered by poor or sloppy organization.

Purpose → to create a smoother approach to operations and make more time for human connections during the customer journey.
Best for → companies with complex sales processes who are seeing qualified leads drop out of their pipeline.
Customer benefit → customers experience a more personalized, confusion-free buying experience from the moment they're aware of your company.
Analytical CRMs help companies gain deeper insight into their customer needs and buying habits so they can refine their processes for even better results in the future.

Purpose → to analyze customer data in a way that reveals and predicts their behavior, allowing every department to improve and monitor their performance.
Best for → companies with large amounts of data who want to better understand their customer base.
Customer benefit → customers will experience only those touchpoints that are relevant to their individual needs — almost as if you're reading their minds.
CRM vs ERP?
Enterprise resource planning—ERP—is a complementary software program to CRM. Both are designed to help businesses grow their bottom line and strategize for growth. But there are few key differences in their features and functions.
CRM applications focus on customer-facing operations, while ERP functions behind the scenes to keep all of the other moving parts running smoothly. The ERP areas of focus typically include:
Finances
Accounts payable and receivable
Payroll
Inventory
Supply chain management
Human resources
Most companies at some point will need both a CRM and ERP—or a combined platform of both—to responsibly handle customer and financial data.
"As more companies have moved their CRM to the cloud, they've been able to take advantage of the cloud ROI multiplier effect [1.7 times more ROI] for greater effect." - Nucleus Research
Why pick Zendesk Sell?
Sell is the all-in-one Zendesk CRM sales solution designed with simplicity in mind. The developers at Zendesk understand that software complexity can drive users away before they get to experience the benefits of using it. That's why they've made it their mission to simplify their platform for total ease-of-use for everyone from start-ups to enterprise organizations.
Industry-leading lead management
Invest in the leads who can bring the most value to your company with Zendesk's robust lead management features. Filter out unqualified leads to focus your resources where they'll have the most profitable impact, and create a perfectly tailored strategy for engaging leads as they move through your sales funnel.
Sales automation
Still spending countless hours sifting through spreadsheets? Zendesk Sell offers tons of automation features to help you speed up your processes and ensure better accuracy in your data. Repetitive administrative tasks steal precious time away from revenue-generating tasks and pose a higher risk for error, but with Zendesk you can free up your schedule and build strong relationships with your clients.
Robust CRM analytics, forecasting, and reporting
Your gut is great at telling you what to have for dinner—but not so great for forecasting future sales. Take the guesswork out of the equation with Zendesk's data analytics features. With faster and more accurate visibility into your performance, you'll be in a better position to course-correct in the present, and make smart decisions for the future.
Conversations into conversions
Zendesk Sell offers a rich selection of communication channels, so you can meet leads where they're most likely to respond. Engage with prospective clients with greater insight into their likes and dislikes, and watch your conversion rates tick upward as your targeted messaging resonates with pinpoint precision.
Rich, open APIs to plug into any tech stack
Use Zendesk's Application Programming Interface to bulk-important valuable resources, pull data to external sources, create new apps, and more. Tailor your customer manager software to suit your exact needs, and connect with any tech platform for a seamless data integration experience.
Centralized, real-time dashboard
Always know where you stand with relation to your goals. Zendesk's real-time, customizable dashboard gives you an at-a-glance view of your performance every day, so you're never left wondering how close or far you are from hitting your target. And with mobile access, your dashboard can go anywhere you do!
Give CRM software a try
Sell, the Zendesk CRM, is an intuitive-yet-powerful sales CRM, designed with customer relationships in mind. Our cloud-based CRM platform makes accessing information easy for your entire team—anytime and anywhere.
It's simple: customers are happier when they feel heard. Get the tools to personalize customer interactions and foster collaboration across departments—through every stage of the customer experience.
We have more information about this. Have a look below.
There's a lot more where this came from. Keep exploring the world of CRM.