Online
Best online CRM software | Web-based CRM guide + reviews 2023
Keep your sales team connected to their CRM data no matter where they are.
A guide to the best online CRM software
Online CRM systems were taking off even before the pandemic pushed many people to remote work. Now that the office-based model is no longer the universal standard, web-based software is more popular than ever.
In this guide, we'll review some of the reasons why it's the go-to for many businesses and sales teams looking to boost productivity and streamline their sales processes. We'll also explore some of the best web-based CRM solutions currently on the market. Lastly, we'll dive into how to choose the best online CRM platform for your business.
What is an online CRM?
An online CRM—also referred to as a web-based, cloud-based, browser-based, or SaaS CRM—is a customer relationship management platform that's hosted by an ASP (application service provider). Unlike traditional on-premise software, online CRMs don't require installation on-site. They also typically involve a recurring payment plan as opposed to a hefty one-time purchase.
Whether hosted online (AKA a cloud CRM)or installed on-site, the function of CRMs don't change. The most common CRM definition describes it as a software tool for managing and maximizing your customer relationships. Most CRM software, however, is designed to do a lot more.
CRM is a powerful tool that acts as a contact manager, lead generator, activity tracker, and sales tracking app. Basically, it helps businesses reach peak efficiency so they can make more sales and maximize customer retention and satisfaction.
Why do businesses need online CRM software?
Businesses initially needed CRMs to manage their contacts. It replaced the clunky rolodexes of the past. But it has since grown to streamline dozens of other sales-related activities. And just as the wide-spread use of computers revolutionized customer management, online-based software is changing the way CRMs operates.
A web-based CRM is a critical tool for businesses who need a way of keeping all of their customer data organized and accessible. Without it, they risk missing sales opportunities or letting potential customers fall through the cracks.
What are the benefits of online CRM software?
There's a whole range of benefits to be had from using customer relationship management software. These include but aren't limited to:
Increased customer retention
Shorter sales cycles
Streamlined sales process
Higher conversion rates
Greater team collaboration
Improved efficiency in day-to-day operations
More accurate sales forecasting
The right CRM program can do all of this and more for your company. But native online solutions come with some additional advantages that you can't get with on-premise software:
Faster implementation. On-premise software can take days or weeks to install and start running. But with CRM online, you can subscribe and start using it on the same day.
Flexible access. With a web-based sales CRM, your team can access their CRM data no matter where they are. On-site software can be difficult to reach when you're working remotely, whereas online CRMs go wherever there's internet. The best CRM providers even have mobile apps that can access your data in areas with no service at all.
Steadfast security. Web-based sales CRM providers have entire teams of tech experts dedicated to keeping your data safe from crashes and breaches. Plus, with frequent backups, you don't have to worry about losing data even if something happens to the hardware you're working with.
Hands-free maintenance and updates. With on-premise software, you need to have a dedicated IT team on hand to manage any issues that arise. Web-based CRM usage, on the other hand, requires no maintenance or updates on your part. The cost of fixing issues and managing updates is included in your subscription package, and the vendor takes care of all the labor involved.
Cost-effective. The up-front costs of on-premise software makes it inaccessible to many small businesses. There's the cost of infrastructure, installation, security, and more. But depending on the size of your sales operation, you can get started for around $20 a month. Both small businesses and enterprise-level operations can benefit.
Risk-free test drive. Many web-based CRM providers offer free trials that let potential customers test drive their platform. This allows CRM buyers to make a more informed decision when considering which platform is best for them. With on-premise software, there's really no returning it or exchanging it for another one.
What are the features of web based CRM?
Online sales CRMs usually have all the same features as their on-premise counterparts. The most common are:
Contact management: The original feature of all CRMs, contact management is an address book that lets you organize, segment, and access your contact data. Having all of your customer information organized in one place helps you cater to their needs and create targeted CRM campaigns and marketing content.
Lead management: Lead tracking software helps sales teams identify and track high-quality leads as they move through your pipeline so you can spend your efforts on the prospects who are most likely to buy.
Sales forecasting: Accurately predict future sales so you know where to focus your efforts and plan for growth with sales forecasting software.
Reporting & dashboards: View your metrics and goals with visuals that are easy on the eye and up-to-date. Dashboards give you a full view of how close you are to hitting your quotas. They also help managers see where further attention is needed.
Email productivity: Target specific audiences with your messaging so you can send out materials that resonate with them. Deliver emails precisely when you want to with email automation, even if you're busy with other tasks. You can also monitor open and click rates to gauge the effectiveness of your campaign with email analytics.
Sales force automation (SFA): Free up your sales force with automation that takes over repetitive administrative tasks. There are automations for emailing, scheduling, reporting, data entry, lead scoring, and more. Using automation SFA, sales reps can spend more hours with customer-facing activities, which results in more deals closed.
What are the types of online CRM systems?
There are three main categories of CRM: collaborative, analytical, and operational.
Collaborative CRMs are best for businesses that struggle to keep all of their different departments on the same page. They help different teams work towards a common goal by ensuring that everyone is operating from a single source of truth.
Analytical CRMs are best for businesses that already have a lot of customer data and don't know how to use it. It helps teams analyze their mountains of data so they can gain valuable insights into which approaches are working. And which approaches are falling short.
Operational CRMs are best for businesses that want a full view of their sales lifecycle so they can fine-tune their sales process. They include functionality to track and manage the entire customer journey, letting you construct a more efficient sales process that makes the most of your time and resources.
Top 15 online CRMs
Among the top CRM for small businesses, Sell is an one-stop online sales CRM solution. Its inclusive list of tools helps companies build enduring customer relationships and fool-proof sales processes. Plus, it has a highly intuitive interface that users can navigate easily, so businesses can start optimizing their sales process from day one.
Sell includes all of the core, intuitive and simple CRM functionality, including contact management, lead management, activity reporting, and automations. Plus, with its convenient mobile app, users can take their business on the go and never worry that they won't have access to their CRM data.
Features:
Calendar/reminder system
Email notifications
Sales software designed for sales reps
Social media integration
Self service portal
Internal chat integration
Source tracking
SugarCRM is an online CRM and marketing automation platform that focuses on using critical customer data to make accurate predictions. Its AI deep learning platform, SugarPredict, leverages key data from all points of your sales pipeline, letting companies forecast accurately and plan for improvements.
This online platform allows users to skip the traditional methods of reporting and track metrics in real-time. The software also creates automatic notifications when it detects opportunities with high potential for closing.
Features:
Self service portal
Opportunity management
Performance metrics
Knowledge management
Social media integration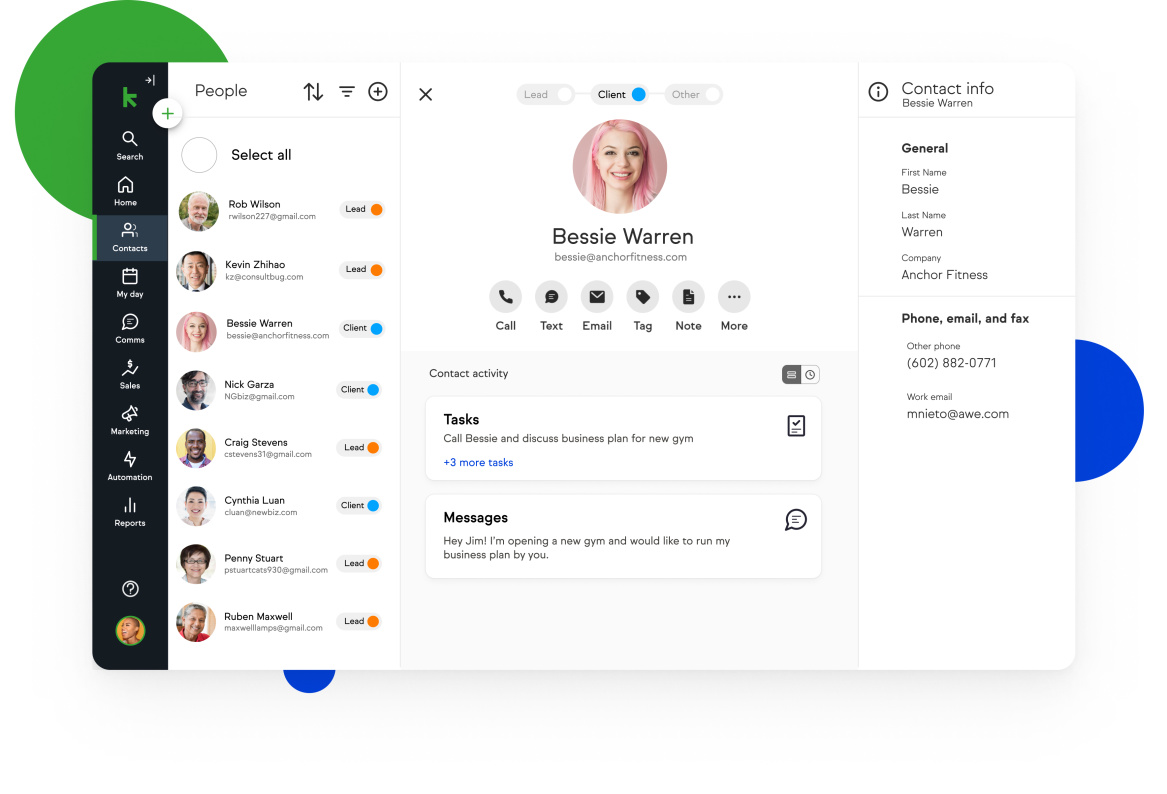 Formerly Infusionsoft, Keap is a web based sales CRM that combines the standard customer management ability with marketing and payments. It promises to help companies grow in three ways—by efficiently capturing more leads, automating follow-ups, and consolidating its tools in one easily accessible spot.
Perhaps most impressive is Keap's wide range of integrations. It offers 2,500+ native and third-party integrations, so users can connect to their favorite business tools. It also provides free data migration for users switching from another CRM.
Features:
Calendar/reminder system
Customer database
Customizable templates
Self service portal
Website visitor tracking
Claritysoft is a simple online CRM solution that offers marketing, sales, and service automation, as well as project management tools. With a clean, simple interface, it promises ultimate usability and navigation.
The sales automation tools help teams coordinate work so everyone is on the same page and focused on their tasks. It also has features like custom fields and modules, automatic forecast delivery, and a document library for sharing brochures and documents with your team.
Features:
Email marketing
Channel management
Field sales management
Pipeline management
Performance metrics
Salesforce is a popular online CRM platform used by companies of all sizes and from any industry. Along with all of the standard CRM solutions like contact and lead management, Salesforce Sales Cloud also offers more specialized tools such as file syncing and data management.
Salesforce is probably best known for its automation capabilities. Its Process Builder has a simple point-and-click interface that lets users create automated processes. It also offers a powerful mobile app that can update data even when the user is offline.
Features:
Forecasting
Goal management
Presentation tools
Dashboard
Sales trend analysis
Hubspot promises an online CRM sales platform that is both simple and powerful. It offers users a full view of their pipeline so they can track their leads from initial interest to purchase. And with detailed reporting on sales activity and performance, teams are never left wondering how close they are to hitting their quotas.
One of Hubspot's most popular tools is its meeting scheduler, which easily lets contacts book meetings and connect them to their Google or Outlook calendars. Hubspot also offers social media integration, allowing users to publish content directly onto their social channels and start building relationships.
Features:
Customer database
Online form builder
Sales email templates
Email signature generator
Chatbot builder
Pipeliner CRM is an online CRM solution and account management tool. Its Account Health feature gives users an overall view of their account health status, allowing them to quickly scan critical indicators like last contact dates. Users can also see which contacts have a future scheduled activity with someone on their team.
Pipeliner's key account management contains four critical functions: org charts, white space, account matrix, and relationship maps. Using these functions, sales teams can work to reduce churn within their pipelines and build stronger customer relationships.
Features:
Visual buying center
Pipeline management
Project engine
Social media integration
Task management
Designed with Google Workspace users in mind, Copper CRM helps businesses build lasting relationships. It lets users work directly from their Google inbox, so they can update deals, track leads, and look up past interactions without having to switch browsers.
Copper's automation features allow sales teams to ditch repetitive tasks. Users can automate sending nurturing email sequences to their leads, sharing email templates between members, and managing bookings hands-free. It also has solutions for project management, reporting, and pipeline building.
Features:
Email marketing
Self service portal
Segmentation
Goal management
Lead nurturing
FreeAgent CRM is a hosted customer relationship management platform offering tools for sales, marketing, project management, and customer service. It promises to help teams boost their sales cycle by letting them instantly follow up with hot leads, log and organize emails, and create customizable workspaces.
From Kanban boards to custom workflows, FreeAgent's process management allow businesses to standardize their sales process. It also offers full funnel visibility, so sales teams can track every digital interaction with their leads so nothing falls through the cracks.
Features:
Task & activity management
Collaboration tools
Calendar/reminder system
App action trigger automations
Time based reporting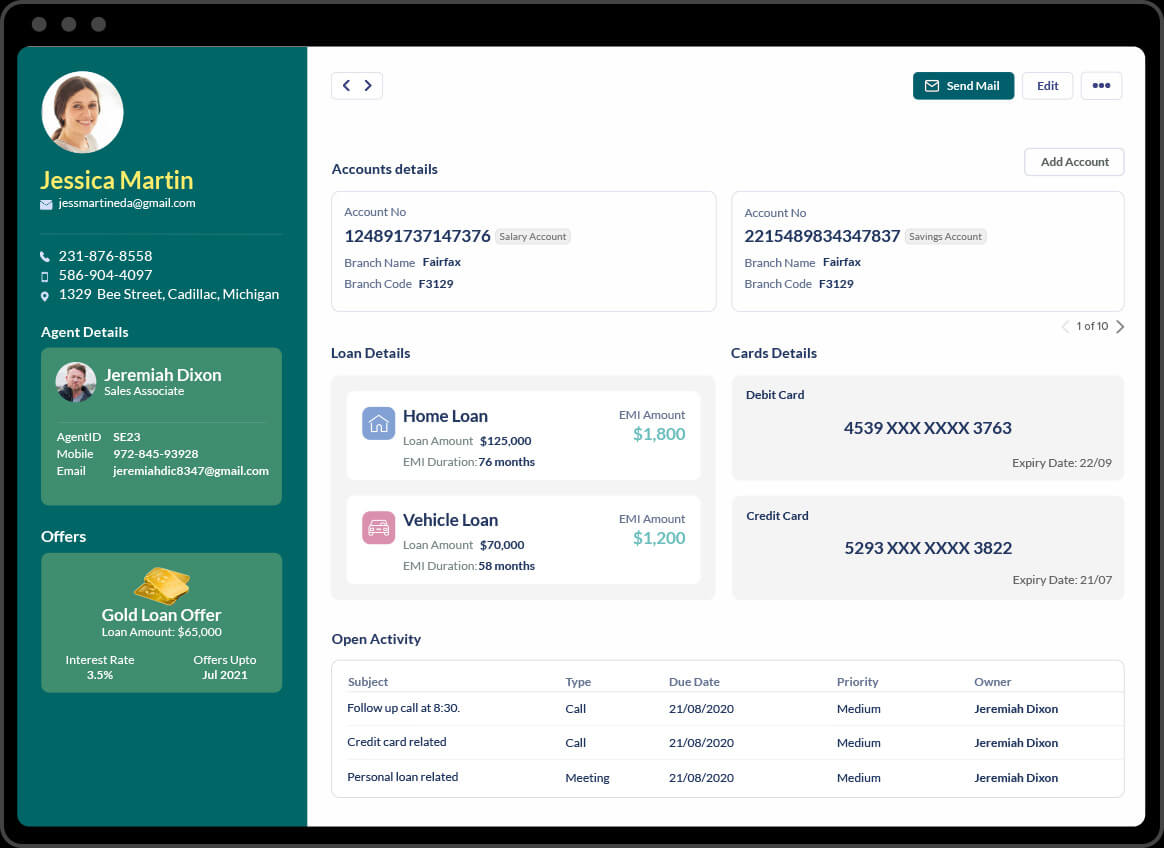 Designed for businesses of any size, Zoho CRM is one of the most popular online CRM sales solutions on the market. It offers a CRM, plus more specialized tools like journey orchestration, predictive sales, and sales enablement.
Zoho's newest feature is its design studio, Canvas. This no-code design tool lets users decide on the aesthetics of their interface, ensuring higher adoption rates. Sales teams can drag-and-drop their favorite looks and select their brand colors, or work from pre-designed templates created by Zoho's in-house designers.
Features:
Performance management
Marketing automation
Activity dashboard
Omnichannel communication
Prospecting tools
Nutshell is a web based sales CRM platform for B2B businesses planning for growth. Along with all of the classic CRM features, it also offers free data migration assistance, marketing automation, and native integration with Google Workspace and Microsoft Office.
Nutshell promises to help businesses sell faster even if they don't have a formalized sales process. Its platform maximizes team collaboration, so everyone can stay up-to-date with the latest activities and goals. Additionally, its automation minimizes tiresome data entry duties, and performs automatic scans of the internet to find valuable information about your contacts.
Features:
Reporting/analytics
Pipeline management
Email templates
Internal chat integration
Drip campaigns
This user-friendly online CRM sales tool promises to let teams sell with confidence while also saving them loads of time with automations. With lead routing, users can automatically route contacts to the best qualified salesperson so they can follow up while the lead is still hot. It also offers powerful email tools for tracking email activity, including real-time open and click statistics.
One of Nutshell's standout features is its relationship linking function. This allows users to link emails, customers, and records to existing customers, building a web of contacts so teams see exactly who their leads know and where they come from.
Features:
Event trigger actions
Task management
Social media integration
Mobile optimized emails
Segmentation
Nimble offers all of the standard CRM features like contact management, custom pipeline management, activity tracking, and more. It offers a prospecting Google Chrome extension called Nimble Prospector, which helps users discover leads and on any social site or website.
Nimble's user-friendly dashboard provides businesses with valuable insights, allowing them to track their priorities and view pipelines at a glance. Plus with automatic syncing, sales teams are saved from repetitive administrative tasks so they can devote more time to connecting with prospects in a meaningful way.
Features:
Email templates
Marketing automation
Customer database
Opportunity management
Social prospecting
Formerly Freshworks CRM, Freshsales is a CRM online tool that fuses sales and marketing capabilities. Along with its standard CRM functions, its standout feature is its CPQ, which standards for configure, price, quote. This powerful add-on lets users maintain an up-to-date catalog and generate accurate documents like invoices, onboarding documents, quotes, and more.
Additionally, Freshsales includes a powerful artificial intelligence assistant named Freddy AI. This virtual assistant helps teams monitor and track website visitors, separate hot leads and cold leads, and qualify leads through website chatbots.
Features:
Alerts/notifications
Collaboration tools
Lead nurturing
Sales pipeline management
Cloud telephony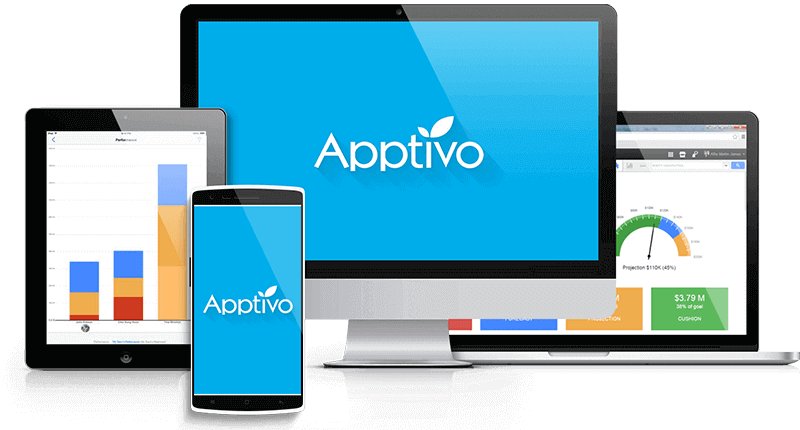 Apptivo is a simple CRM online solution for storing contacts, logging communication history, and tracking sales. It caters mostly to industries like real estate, travel and hospitality, retail and wholesale, and manufacturing.
Apptivo has a powerful sales planning app that lets users define a tight strategy for optimizing sales. Set target sales, see your overall quota for the entire organization, and track revenue generation by viewing a breakdown of each salesperson's pipeline. Apptivo also has an all-in-one mobile app for iOS and Android.
Features:
Lead generation
Quotes/estimates
Email marketing
Distribution management
Field service
How to choose the best web based CRM?
The key to choosing the right web-based sales CRM for your business is to be familiar with your CRM requirements. Here are a few questions to ask about your business before starting your CRM journey:
How big is your sales team? Many online CRM packages are priced according to the number of users. Make sure to check pricing tiers to see if the size of your sales team pushes any options out of your price range.
What is your main goal for implementing a CRM? Are you looking to gain more insights into your customer behavior? Streamline your sales process? Automate more administrative tasks? Look at how you're currently operating and consider where you want to put your primary focus, and which secondary or tertiary goals may exist right behind it.
Are you willing to test drive a platform? Once you've found an online CRM tool that ticks all of the boxes, it's important to try it on for size. Until you experience a platform first-hand you won't know for sure if it's a right fit. The best online CRM providers will offer a short-term free trial so you can test out its features and interface.
Frequently asked questions
How much does an online CRM software cost?
Cost and pricing plans for online sales CRM vary. The packages are usually priced based on the number of users. Otherwise, they may be priced per feature. Make sure to carefully examine the pricing packages, because every vendor will include different features in each of their packages.
Many vendors offer billing per month or per year, with substantial savings if you opt for annual billing. Some packages can start as low as $15 per month, and range into the hundreds.
Does online CRM software offer lead automation?
Many providers do offer automation for lead management. These typically include features like lead magnets, lead nurturing, scoring, and distribution. These allow sales teams to gather, segment, and engage with more leads with very little effort. The automations take care of tasks like sending emails with content, gathering information from web forms, and assigning ranked scores to determine likelihood of purchasing.
What do you need to deploy a web-based CRM platform?
If you have a solid internet connection and a computer or mobile device, you're ready to get started with online CRM. Most platforms can be downloaded on both Mac and PC computers, and on iOS and Android mobile devices.
When you're shopping around, double check to make sure the platform can be deployed on the hardware your team is using. Since one of the major benefits of web based CRM is that it's accessible anywhere, you need to know everyone on your team can actually use it on their hardware.
Ready to give online CRM software a whirl?
Zendesk Sell is a sleek, user-friendly online CRM and sales pipeline software platform. It was designed to help sales teams simplify their sales process and keep sales reps building meaningful relationships and closing deals.
Test drive a free CRM system for 14 days to experience simple, sophisticated CRM.