Table of contents
In this guide, we'll answer some of the most basic questions surrounding email automation, like what it is, how to use it, and which are the best email automation platforms for maximizing your customer outreach efforts.
We'll also provide some email automation examples and templates, so you can get an idea of what automated email looks like in action.
What is email automation?
Email automation is the process of automatically sending marketing and sales emails to subscribers. All based on the actions—or inactions—of the people receiving them. Rules are pre-set about which emails get sent, when to send them, and what personalized information to include. So marketing and sales teams can reach leads with personalized messaging at the right moment—all while doing less work.
For example, let's say you run an ecommerce marketing team. Every visitor to your site is greeted with a webform popup offering a 10% discount on their first purchase when they subscribe to your email list. Every time you get a new subscriber, you manually enter their name into the salutation and send it off with the promo code.
The problem is, there's no way you can drop everything to send an email every time a new subscriber fills in your webform. It may take hours or even days to respond, depending on your workload. By then, the lead's interest may have faded, or they've already moved on to a competitor who was more responsive.
The goal of automating emails is to eliminate the need to manually personalize and send marketing, sales, and prospecting emails. This ultimately leads to higher conversion rates and a more streamlined workflow for your team. Along with a leg-up on any competitors who are still sending emails the old fashioned way.
Sales email automation tools
A sales email automation tool is a software platform that's sort of like a secretary for your sales team. You write your sales emails, drop them on the secretary's desk with a schedule of when they need to go out (and under what circumstances), and then go about your other tasks. While you're busy closing deals and building relationships with clients, the secretary is putting names and personal details into each message. Then sending emails and follow-ups to leads at the right moment and taking notes about what actions the leads have taken.
The thing is, even a human secretary wouldn't be able to keep up with sales force automation tools. This type of software is better than humans at handling large volumes of emails. Sending emails at the exact right moment and capturing information about how the recipient responded is impossible without it. Plus, computers don't take lunch breaks or vacations. The result? You make more sales by doing less work.
Marketing email automation
No matter how much people may complain about emails clogging up their inboxes, the fact is that email marketing works. With a return of $36 for every $1 spent, email marketing remains unmatched in its ability to draw leads into the sales funnel. But even that incredible ROI can be improved upon — which is exactly what marketing email automation is for.
At the top of the funnel, people are still on the fence about purchasing. It's also likely that they're checking out your competition and comparing prices and reviews to see which business will bring them more value. But no matter how well your marketing materials show off the quality of your product or your affordable prices, if those materials aren't seen at the right time, they may as well not exist.
It also allows your marketers to boost their email productivity by putting the task of sending and personalizing messages on autopilot. As long as you set up the correct triggers and rules, the leads at the top of your funnel will be less likely to fall out of it due to disinterest or lack of engagement.
Email automation examples and case studies
With each email automation example, we'll explain the scenario and triggers of the sales emails. This is to better illustrate the importance of the speed, ease, and timing your email flow.
Example #1: the welcome email
Let's revisit the case from earlier with our theoretical ecommerce business. After just two weeks, the subscriber list has grown by 200 emails. Yet strangely, very few of them opened the email and clicked through to the website. And only one took advantage of the 10% off promotional code. To add to that frustration, the owner realizes that now they have too many contacts to manage. It's becoming difficult to keep them organized with spreadsheets alone.
The owner decides to kill two birds with one stone. They enroll in a free CRM trial, which includes contact management and the ability to automate emails. Using their new customer relationship management platform, they set up the welcome automation trigger.
In this case, the trigger is when a new website visitor fills in and submits the webform in exchange for the 10% promotional code. The owner also adds a personalization tag into the welcome email, so that the subscriber's name automatically appears in the salutation.
Before automating emails, only 20 of the 200 new subscribers opened the email. Using this open rate formula:
email open rate = number of emails opened / number of emails sent * 100
the welcome sales email open rate before using email automation is at 10%. And of the 20 who opened the email, two clicked through to the website.
Triggered emails have about 70% higher open rates than traditional emails, and 152% higher click through rates. Let's apply these real-world statistics to our scenario to illustrate how the simple act of using email automation software could help improve responses.
Email open rate before automating: 10% (5% below food and beverage industry benchmarks)
Email open rate after automating: 17%
Email click through rate before automating: 1%
Email click through rate after automating: 2.5%
Without changing the sales email subject line or messaging, the owner has already risen above industry benchmarks for open rates. The key is to send the email at the instant you know the lead's interest is highest. Like the exact moment they submitted the form.
To further optimize these numbers, the owner could use their new CRM's sales email templates to craft a more compelling call to action. And find more opportunities to personalize their messaging.
Example #1: the follow-up email
Sales follow up emails are a vital tool for rekindling interest in leads who need a little nudge to take the next step. For this example, let's imagine a larger B2B setting. Our theoretical business sells a wide range of industrial machinery. The sales process is very complex, which means the sales reps have very little time for personalizing and sending emails.
One of the company's salespeople recently attended a trade show where they spoke with dozens of new contacts. While on location, they used their mobile CRM app to collect contact details about each new lead. With a promise to send more information about the specific products that will help them solve their problems.
Before the salesperson has stepped foot back in the office, the email automation tool has already sent personalized follow-up emails. But it's a busy time of year, and the first round of follow up emails doesn't get many bites. The company decides to set up a chain of five follow up emails Each one set to be delivered once a week for five weeks. If the lead doesn't take any action, their contact details are put aside for several months. After which time they'll try again with a new round of outreach.
Now let's imagine that one of the leads who does bite. They noticed the first two follow up emails, but were too busy to schedule a meeting. During the third week, however, the lead's schedule has slowed down a bit. And they finally decide to take up the call to action and schedule a meeting with the sales rep.
Using the sales automation scheduling link in the email, they click through to an automated scheduler and select an available time slot in the sales rep's schedule. This sets off another trigger — to stop the chain of email follow ups. This is a great way to show courtesy to interested leads, since it would be annoying to see another follow up email the week after they've already taken the next step.
What was the salesperson doing that whole time? Not emailing, that's for sure. The time saved by not sending hundreds of emails might have been spent developing a stronger pitch, mentoring a new salesperson. Or doing any number of other tasks that improve the company's selling power.
Automated email follow up
Many salespeople don't follow up with leads either because they're wary of seeming too pushy. Or they're too busy to send the appropriate number of follow ups. But not following up with leads can cost you. Statistics show that 80% of sales are made between the 5th and 12th follow up. That means that if you give up after four follow ups, you're cutting yourself off from potential earnings.
When it comes to sealing the deal, persistence is key. But persistence takes energy, as well as an "I-don't-care-if-I'm-bothering-them" kind of approach. Automated email follow ups allow salespeople to be persistent without spending the energy or worrying about being pushy. Plus, if you're courteous and strategic about how many emails you're sending and when, you'll never have to worry again about coming across as too assertive.
Automated email template
There's no one-size-fits all approach to writing a follow up email. Still, email templates are excellent jumping off points to help you establish a clear, conversational flow to your messaging. Plus, they're a helpful aid in seeing how many opportunities there are for personalizing your emails, which is key to building stronger customer relationships.
Here's a simple automated email template for reaching out to contacts who need a little nudge to take the next step:
Email subject line: Excited to help you reach your goals
Email body:
Hello [name],

It was a pleasure chatting with you at [event] on [date] and learning about your business software needs at [company name]. Based on our conversation, it seems that you've been having issues with [pain point], which is causing some troubles with [impact on productivity].

As promised, I've attached the latest catalog of our offerings, as well as a case study that closely resembles your issues with [pain point].

I'd be happy to discuss the best way of meeting your [business objective]. Are you available for a 30 minute chat sometime this week?

[signature]
10 best email automation software platforms
Email automation is built into a lot of platforms. But each system offers different features that make it unique in the market. When you're looking for software to automate emails, make sure you're choosing one with the features you need now. As well as the option to scale for your needs later.
Here are our top 10 picks for 2022. Keep in mind that some of these are solely designed for automating emails. While some are larger CRM software platforms that include email and other sales force automation systems.
Zendesk
Drip
Mailchimp
Sendinblue
Omnisend
EmailOctopus
EngageBay
ConvertKit
GetResponse
ActiveCampaign
Zendesk is a state-of-the-art cloud-based platform designed for the full spectrum of sales CRM services. Consistently rated as a customer management software leader, Zendesk prioritizes user-friendly software, friendly support, and wide-spread integration with other existing services. It's also easily customizable to fit your company's needs and includes a massive range of features, including multi-channel access across all company employees.
With Zendesk Sell you can send personalized emails at scale with a simple tap using a variety of workflows for the perfect fit for any sales process. Lead sequences, pre-built templates, and merge tags all help sales teams stay on top of their pipelines and drive relationship-driven conversion.
When it comes to personalization, automation, and pipeline alignment, Zendesk is the one of the most effective and affordable choices for your businesses of any size.
Features:
Sales Management
Customizable sales dashboard
Lead tracking
360 degree feedback
Pipeline and sales tracker
Built-in click-to-dial call and recording
Customer segmentation
Customer analytics
Contact management software
Knowledge base
Lead generation software
Forecasting
Mobile user support
Free trial/subscription: 14 day free trial
Lowest pricing tier: $19/month per user (billed annually)
Drip is an email and SMS marketing platform targeted towards growing ecommerce brands. With multi-channel marketing campaigns and built-in analytics, Drip uses email and ad automation to increase company marketing and communication. Drip focuses on personalization and ability to classify and segment contacts and customers based on preferences and buying habits for easier targeting.
Features
Social media automation
Pre-built workflows and playbooks
Cross-channel marketing
Customer segmentation and personalization
One-click integrations
In-app insights
Smart A/B testing
Free trial/subscription: 14 day free trial
Lowest pricing tier: $19/month
Integration with Zendesk?: Yes
Mailchimp is one of the oldest and most established platforms for email marketing and automation. It has the simplest set up for start-up companies, and also includes tools like data segmentation, templates, and personalization options. <>/p
Mailchimp offers unlimited free use to small companies with under 2,000 contacts focused primarily on email automation and click rate analytics.
Features
Automated email campaigns
Lead capture forms
Ad creation
Predictive insights for contact personalization
Unique and custom customer journeys through branching
A/B testing for high-converting messages
Website and landing page builder
Free trial/subscription: free up to 2,000 contracts and 12,000 emails/month
Lowest pricing tier: $30 for 2,500 contacts and unlimited emails
Integration with Zendesk?: Yes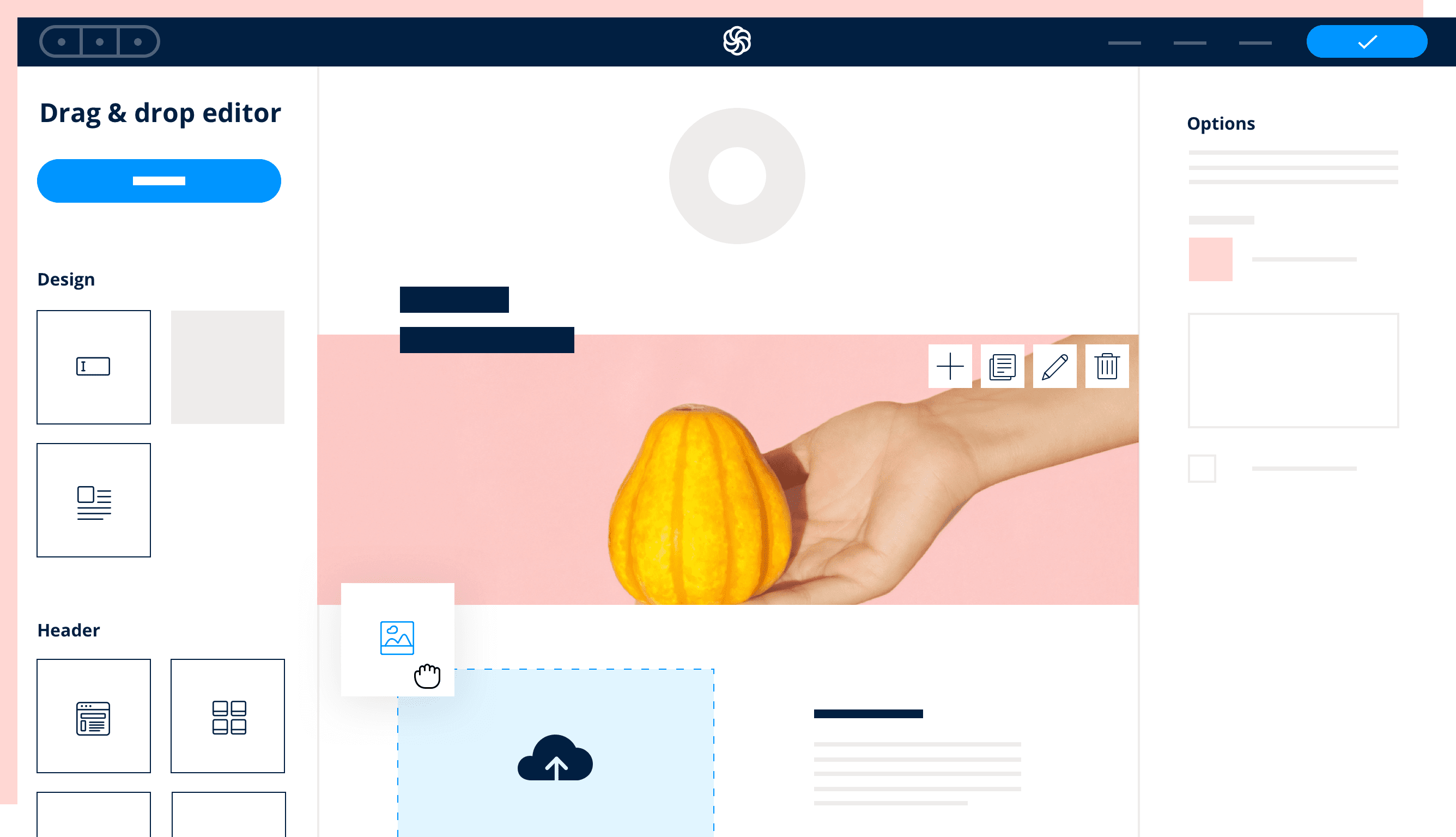 Sendinblue is a comprehensive platform covering multiple communication types including email, SMS, Facebook, Chat bots, CRM, and VOIP. Sendinblue's goal is to use simple features (like clear templates) to automate the majority of your technological communication. All so you can better meet your customers.
This platform also integrates with social media so that you can track all social media ad analytics in one place. And then remarket accordingly to make the most out of new leads.
Features
Shared inbox
Over 60 email templates
Built-in CRM
Built-in SMS and Chat
Contact grouping and segmentation
Social media ads
Free trial/subscription: free for up to 300 emails per day for 2,000 contacts
Lowest pricing tier: $25/month for up to 10,000 emails for 2,000 contacts
Integration with Zendesk?: Yes
Learn more about using Zapier to integrate Sendinblue with Zendesk.
Omnisend is a straight-forward platform for ecommerce email marketing, SMS, and automation. With a massive library of customizable templates built for personalized marketing, Omnisend lets you target individuals and follow unique customer journeys. It also includes pre-built automations for a series of pipeline steps from cart abandonment to first purchase that help guide buyers.
Features
Large library of customizable templates
Pre-built workflows
Automations library
Segmented targeting
Pop-up and customer form creation
Reports and analytics for campaigns
Free trial/subscription: Free for up to 15,000 emails per month or 2,000 per day
Lowest pricing tier: $16/month when paid annually, additional costs for SMS services
Integration with Zendesk: Yes
Learn more about using Zapier to integrate Omnisend with Zendesk.
EmailOctopus is a platform focused on email marketing that works to create simpler and more intuitive marketing automation and optimization. They offer a slew of templates and a drag and drop editor, along with a landing page builder for brand consistency.
Along with customer analytics, EmailOctopus also includes lead generation software to grow your customer base along with your marketing efforts.
Features
Landing page creation
Marketing automation
Lead generation form
Customizable templates
Drag-and-drop editing suite
Data analysis and targeting
Free trial/subscription: free for up to 2,500 subscribers and under 10,000 emails per month
Lowest pricing tier: $20/month
Learn more about using Zapier to integrate EmailOctopus with Zendesk.
EngageBay is a CRM platform designed to integrate marketing, sales, and support teams. Their goal is to create a single platform for all marketing and sales activities. EngageBay's automations are included in their Marketing Bay section, and include features such as email sequences, template builders, marketing automation, and simple customization.
Features
Email marketing
Automated email and sequences
Landing pages
Web forms
SMS marketing
Site messaging
Contact segmentation
Email templates
Appointment scheduling
Free trial/subscription: free for 15 users up to 500 contacts and 1,000 emails
Lowest pricing tier: $8.99/month when paid biennially
Learn more about using Zapier to integrate EngageBay with Zendesk.
ConvertKit is an email automation tool and marketing platform for freelancers and smaller companies. It uses a clean interface to create simple designs and professional presentations on everything from marketing emails, to landing pages, to pop-up forms. With a focus on creators, ConvertKit's templates are geared towards artistic branding and elegance.
Features
Automated sales funnel for subscribers
Personalized email marketing campaigns
Professional landing page builds
Professional sign-up form builds
Tagging systems
Data management
Contact segmentation
Free trial/subscription: free up to 1,000 subscribers
Lowest pricing tier: $29/month.
Learn more about using Zapier to integrate ConvertKit with Zendesk.
GetResponse, as the name suggests, is all about using email to generate customer interaction. Focusing on inbound solutions, its many features include automation, templates, segmentation, and personalization to best target each individual consumer. GetResponse also includes a marketing funnel geared towards brand growth and custom targeting.
Features
Automated welcome emails and follow ups
One-click integration with social media platforms
Visitor tracking and analytics
Landing page builder
Ad creator for social media and website placement
Educational email series
Free trial/subscription: 30-day free trial
Lowest pricing tier: $15/month
Learn more about the GetResponse integration with Zendesk.
ActiveCampaign is an affordable email and marketing platform geared towards smaller businesses and independent creators. This platform seeks to give smaller companies essential automated emailing features. Along with a few more advanced functions such as geotracking, managed delivery, and multi-user deliverability.
ActiveCampaign also offers CRM options, which is a huge plus for keeping contacts organized and easily accessible.
Features
Segmentation and customization
Personalize emails by contact
A/B testing for best-conversion tracking
Landing page builder
Custom email funnels
Over 125 email templates
Geotracking
Free trial/subscription: 14 day free trial
Lowest pricing tier: $9/month
Learn more about the ActiveCampaign integration with Zendesk.
FAQs
How do I set up email automation?
If you don't know how to automate emails, no worries. The first step is easy — select platform. Every system will have its own way of setting up your rules and triggers, but the process should be similar across platforms. For every email you wish to send, whether it's to welcome a new subscriber, remind someone of an abandoned cart, or follow up with a contact to set a meeting. Or even thank a subscriber for their purchase. You simply assign a trigger to that email.
One of the best ways to maximize returns from a system that automates emails is to have a CRM that lets you segment your contacts list. This way, you can send triggered emails to specific groups of contacts who share similar interests. This establishes a positive relationship between seller and buyer, as your email recipients will only ever see emails that pertain to their needs. Rather than general one-size-fits all messages that can feel hollow and impersonal.
What is email automation flow?
It's a series of emails — like the one described in the follow-up example earlier. You can set rules for your email flows so that messages are sent at specific intervals. Or stop sending once a specific action is taken.
For example, you can set a flow to trigger after a user has abandoned their online shopping cart with items in it. The system will automatically send a series of emails to alert the potential customer about their abandoned cart. Then it'll automatically stop the series once the user has completed their purchase.
Why do we need email automation?
Talent these days is hard to find and keep, which means that business should seize any chance they can to automate routine tasks. These tools ease your marketing and sales teams' workloads, while also ensuring that your messaging is hitting your targets precisely when it will have the most impact. If you want to boost your email open and click through rates while also saving massive amounts of time and energy, a good email automation tool will do the trick.
Give it a try!
Zendesk Sell's email features help you stay productive. Find the right contacts for each account, build targeted prospect lists and automate your outreach. Join the ranks of more than 5,000 leading companies and see what Sell can do for your business