Sales forecasting software
Sales forecasting software and tools guide (+ reviews)
Strategize with greater accuracy and consistency using sales forecasting tools.
A guide to the best sales forecasting software
Your sales forecast is a prediction of how much revenue you'll generate in a given timeframe. And the more accurate your forecasts, the better. But knowing how to improve forecasting accuracy can be tricky. That's where sales forecasting software comes in.
In this comprehensive guide, we'll cover the most essential questions surrounding sales forecasting tools. We'll also give you some tips on selecting the best sales forecasting solution for your business, so you can make the most of this incredible time-saving tool.
What is sales forecasting software?
A sales forecast is a prediction of future revenue. Sales forecasting software is a computerized tool for getting the most accurate prediction of those sales. A more accurate prediction means better planning, fewer workflow, staffing, inventory, or shipping issues, and happier customers.
Of course, there's no way to tell the future with 100% accuracy. But software gets closer to 100% than people.
Made-up predictions based on guesswork have potential to cause major problems down the road. You can end up with too much stock because you predicted you'd sell more than you actually did, and now your inventory has nowhere to go. You can avoid stocking and shipping issues by having accurate data — and not flimsy guesswork — on which to base predictions.
And the key to accurate predictions is a clean, simple forecasting tool.
Why is sales forecasting important?
Predicting future sales is a necessity for a healthy business. It also helps you get a high-level view of sales performance. After all, you need to know how many units of a product to have on hand if you want to sell them. But if you estimate too many sales, you end up spending more money than you make back. If you underestimate, you won't have enough product on hand to meet demand.
An accurate sales forecast, on the other hand, lets you meet demand, avoid costly miscalculations, and use your resources wisely. With a clear idea of how your finances will look in the future, you can better strategize for big decisions like hiring new staff, budgeting, or introducing a new territory.
And for larger companies, the sales forecast is something investors look at closely to gauge a business's success and stability.
How does sales forecasting software work?
Forecasting tools use a combination of historical data and current trends to create accurate predictions. It examines past sales patterns and current sales pipelines, taking into account several factors like:
Average length of a sales cycle
Opportunity value
Deal health
Individual sales rep performance
Other factors that can also influence future sales figures There are internal factors that may influence a revenue prediction, such as:
Hiring and firing of staff
Promotions
Internal policy changes
Pricing & discounts
Changes in territory
Product assortment
Then, there are external factors to consider, such as:
Current market trends
Competition
Economic conditions
Supply chain issues
Seasonality
Policy and legislation changes
Changes within the industry
You can decide which factors the forecast tool examines. Then, by taking the chosen variables into account, as well as past sales history figures, you can more accurately predict future revenue.
You can run a forecast manually using sales forecast templates. But let's be honest — software is just better at calculations and recognizing patterns than people are.
Who uses sales forecasting software?
Managers look at sales reps' forecast reports to get an idea of how much revenue will be generated by each individual. At the same time, directors will look at the team's forecasts as a whole. And look at the big picture is the VP of Sales, who looks at organization-wide predictions. Those numbers can then be shared across leadership roles, stockholders, and board members.
Outside of the sales realm, finance teams should also be using forecasting tools to check in on the overall health of the company. HR has a piece in the game, too. They need to prepare for personnel changes if forecasts reveal that you can expand your sales goals, which might require hiring more staff.
What are different types of sales forecasting tools?
There are SaaS tools exclusively dedicated to sales forecasting. They often expand on their software suites with other financial planning and supply planning products, since predicted revenue and supply are very closely tied.
But there are other sales technology software platforms that offer forecasting as a feature. Customer relationship management platforms, for instance, often include forecasting functions in their lineup of features. This is useful for linking your forecasting reports and sales tracking functions onto a single platform.
What are the features of sales forecasting software?
Sales forecasting software is designed to make a historically complicated and time-consuming job much simpler. Its features eliminate the need to stare at spreadsheets for hours on end, tediously inputting data and formulas.
Here are some of the key features to look for when searching for your solution:
Reporting. The sales forecasting software automatically creates reports based on your business's rules. You can run reports on projected revenue, forecast accuracy, and final forecasts.
Sales dashboard. See your reports in graph form with easy-to-view visualization tools. Dashboards can be customized to reflect only the data that's relevant to your workflow, so you're not overwhelmed with data.
Pipeline management. Track the opportunities in your pipeline, identify bottlenecks, and keep accurate records on opportunities.
Integrations for data import. In order to work with historical data, your software needs to have your internal sales figures close on hand. Integrations allow your software to connect with the other apps you might be using to record sales, including Excel or accounting applications.
Sales force automation. Automation tools and AI are quickly taking over manual tasks and making lives easier. Sales automation features, like data capture and report generation, save enormous amounts of time and energy, so you can still get accurate projections without all the manual work.
Benefits of sales forecasting software
Improved trust in data. A person plugging figures into a spreadsheet is much more likely to make a small error. Unfortunately, small errors can calculate into costly mistakes down the road. With sales forecasting software, the tools do the data entry and calculations for you, ensuring that your data is consistent, accurate, and free from human error.
Save time. Not only is manual data entry error-prone, it's painstakingly slow. Using a spreadsheet, someone might have to work for days to run a complete forecast. With software, it takes mere seconds.
Smoother sales process. Having an idea of what to expect lets you plan better for the future, so you can allocate resources more wisely. An accurate prediction lets you set realistic sales metrics goals, so you don't wind up overstressing or underutilizing your sales teams' skills. Reaching a sales quota is easier if your quota is based on data, and not just a gut-feeling.
More strategic planning. Automating the sales forecast process is vital for planning for the future, especially if you want your business to grow. Knowing how many sales are likely to come in lets you better move your resources, budget, manage risk, and justify expenditures.
Clear view of company's health. Consistent forecasting gives you an idea of the overall health of your business. Better still, it does this in real-time, so you can act quickly if predictions and actual sales aren't matching up.
Best sales forecasting tools in 2022
Sell is the Zendesk CRM for sales; it's an intuitive platform with sales forecasting features for businesses of all sizes. And it was crafted to be as simple to use as possible so users can more swiftly adapt to its features. Users have found that this platform has greatly boosted their productivity, allowing them to spend more time on sales and less time on tedious, time-consumer tasks—like sales forecasting.
Sell's automation allows users to generate reports with the stroke of a key, saving endless hours that would have been spent plugging numbers into spreadsheets. It includes a sales dashboard and reports for fast access to projections, as well as visualization tools for comparing predicted revenue to actual sales.
This platform is an especially good tool for any business looking to simplify their sales processes as a whole.
Relevant features:
Sales CRM software
Reporting & sales analytics
Customizable sales activity and performance dashboard
Sales force automation
Mobile CRM access
Aviso is a sales forecasting tool that promises 98% accuracy. It employs a unified forecasting approach that combines human judgment with its advanced predictive sales forecasting AI feature, and also offers personalized representative coaching.
Users especially appreciate the WinScore Insights feature. This useful function uses artificial intelligence to generate statistical probabilities of every opportunity, helping sales reps and managers adjust their behavior to close deals faster.
Aviso also offers software products for remote sales collaboration and advanced revenue operations.
Relevant features:
Deal level forecasting
Hierarchy management
Ensemble models
Graphic data presentation
Like Zendesk, Pipedrive is a CRM platform that provides forecasting features. Pipedrive describes its forecasting functions like having your own personal sales manager. It offers a customizable Forecast View that users can check on periodically for faster course correction and planning.
The Insights Revenue Forecast — available only with the Professional and Enterprise plans — is an especially powerful tool for estimating future revenue. Pipedrive users also appreciate its extensive number of integrations, which makes it easier for them to connect to their other digital business tools.
Relevant features:
Dashboard
Predictive sales analytics
Drag-and-drop updating
Sales trend analysis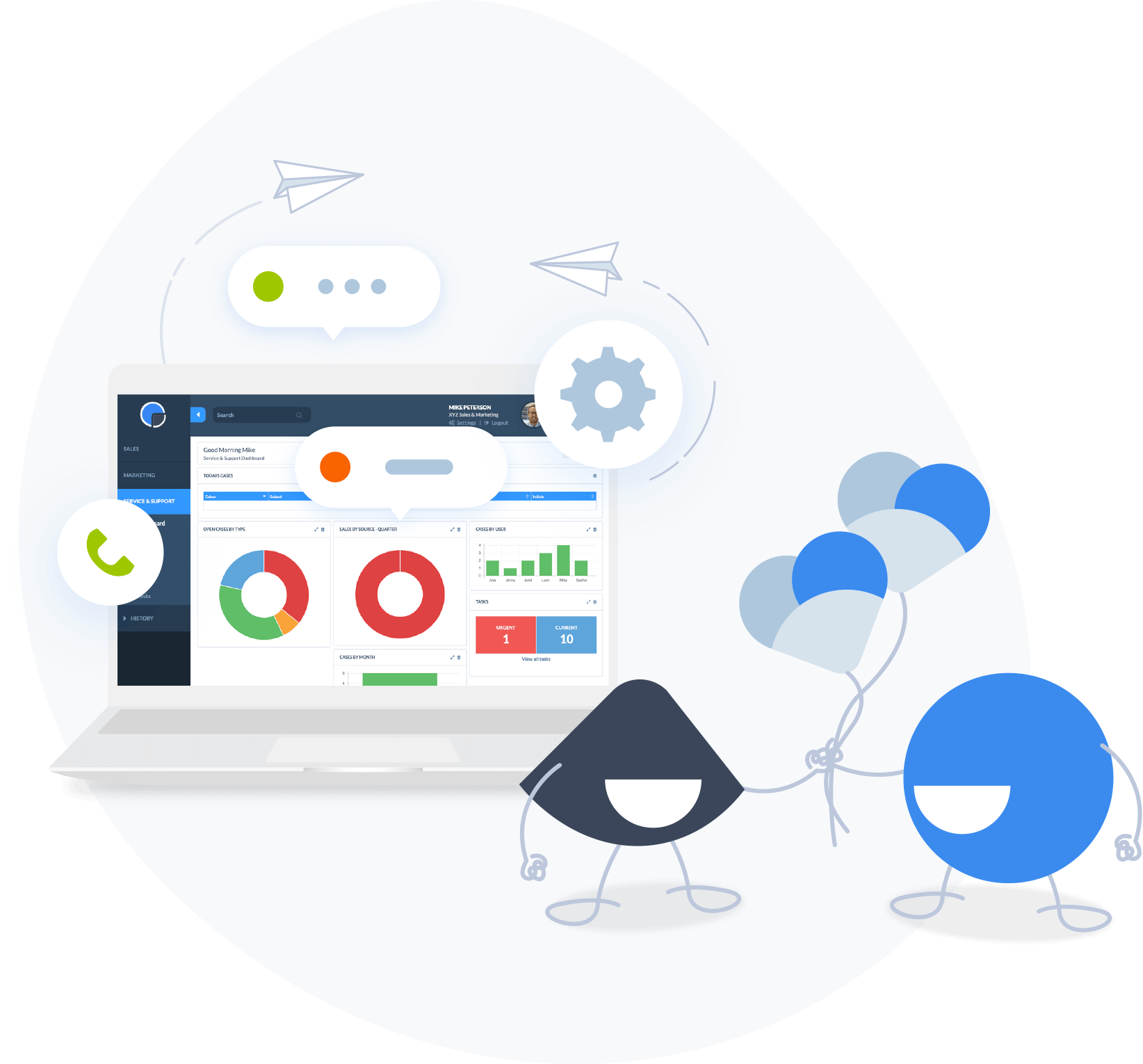 Another CRM platform, Really Simple Systems CRM also has solid forecasting capabilities for small businesses. It features two popular report writers: the Forecast Report Writer and the Listing Report Writer. The Forecast Report Writer feature runs sales forecasts and manages pipelines, while the Listing Report Writer is used for ad-hoc reports and standard scheduled reports.
The simple drag and drop function lets users customize reports and customer profiles. You can also create easily viewable snapshots of your key metrics on custom chart widgets.
Really Simple Systems is a wide-ranging sales technology suite that includes features for sales, marketing, and customer service.
Relevant features:
Dashboard
Custom widgets
Pipeline management
Customer report builders
Avercast is a robust revenue forecasting and demand planning tool that boasts over 200 algorithms for generating accurate forecasts.
Avercast offers a whole host of specialized forecasting products, including demand forecasting, inventory planning, capacity planning, and supplier connection. With 40 years of experience in supply chain software, Avercast is a leader in the industry when it comes to helping businesses plan with precision for the future.
Relevant features:
Correction analysis
Sales trend analysis
Exception reporting
Planned vs actual tracking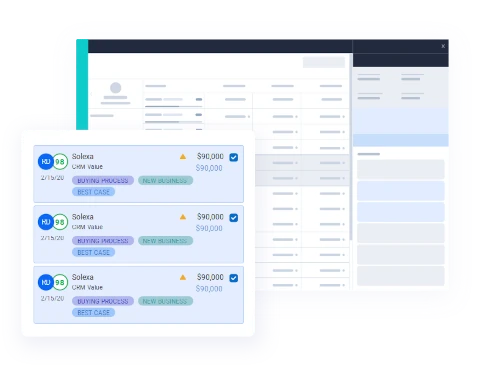 InsightSquared is a current industry favorite in the world of sales forecasting solutions. Its AI-powered forecasting lets users ditch the spreadsheets and simplify the process of making predictions.
This user-friendly platform allows users to be hyper-specific with their reports. They can segment reports by region, product, line of business, and then view them within any time frame they wish to get a close-up view of purchasing patterns.
Other popular features offered on this platform are its RevOps dashboard, interactive reporting, and conversational intelligence for gaining deeper insights into customer relationships.
Relevant features:
Ad hoc reporting
Sales performance metrics
Data visualization
Trend/problem indicators
Intuendi is an AI-powered inventory optimization and sales forecasting software tool. Users appreciate this platform for its omni-channel demand planning, which helps them correctly stock even when managing inventory across multiple channels. It also offers tools for simulating multiple scenarios so users can better plan for replenishment.
Intuendi can run thousands of forecasts quickly. It also has functions for taking into account causal factors — things like stock shortages, stockouts, promotions, and similar events that happen frequently in business.
Relevant features:
Correlation analysis
Dashboard
Graphical data presentation
Historical reporting
Product introduction planning
Dynamic modeling
Salesforce, like Zendesk and Pipedrive, is a larger technology suite that includes products for sales, customer service, and marketing. Sales Cloud is its sales tool, which includes tools for pipeline management and forecasting.
Using out-of-the-box KPIs and quick filters, this platform promises real-time visibility of your sales pipelines so users can zero in on the most promising opportunities. It also allows users to transform 1-on-1 status updates into coaching sessions, so the team is constantly learning with real-time customer data.
Relevant features:
CRM
Predictive AI
Process automations
Reporting dashboards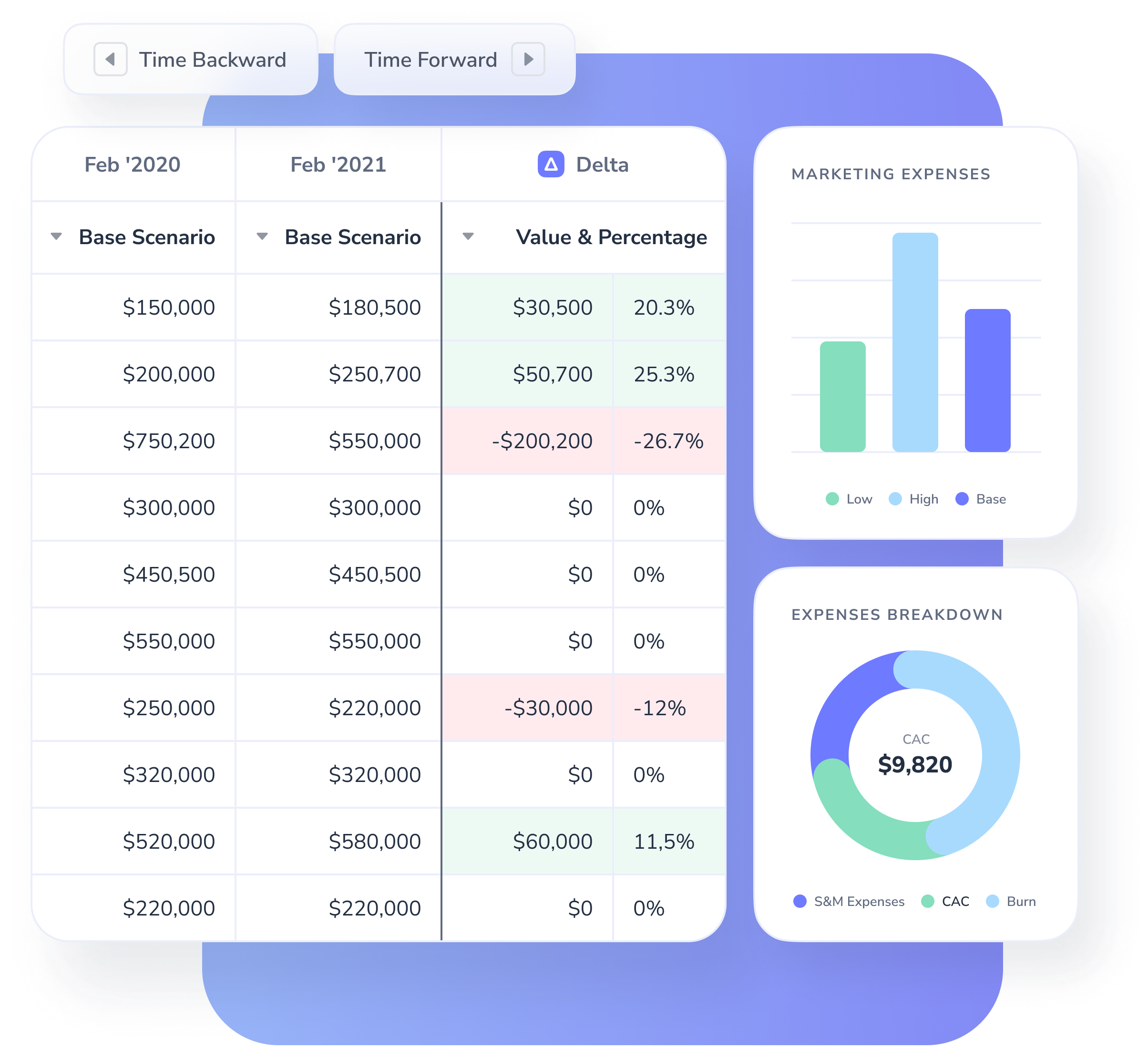 OnPlan is a financial modeling tool and sales forecasting solution that's best for businesses from all industries with 25-500 employees. It allows users to create "What if" scenarios, so they can model their way through different circumstances for a better understanding of their leverage points.
Additionally, OnPlan features a powerful BVA tool — or Budget vs. Actual. Users also enjoy the tracking ability, which gives them insights into the actions other team members took on certain accounts in the past.
Relevant features:
Audit trail
Benchmarking
Dashboard
Milestone tracking
Pre-made dashboards
Financial reporting
Clari is a forecasting tool for B2B sales leaders who want to shorten their sales cycles and get better forecasting accuracy. See real-time visualizations for your business's revenue health indicators, track changes to your forecast, and use predictive forecasting to get a better view of where you'll land every quarter.
Clai promises to help teams attain greater productivity. It also has products for pipeline inspection, account engagement, CRM automation, and revenue intelligence.
Relevant features:
Dynamic modeling
Sales trend analysis
Statistical analysis
Interaction tracking
Graphic data presentation
ForecastX is a sales forecasting solution that uses Excel to let users create instant forecast reports. It has tools for managing inventory levels, optimizing safety stock, and measuring the impact of certain events.
ForecastX uses what it calls PROCAST — a best-fit-algorithm that lets users create accurate statistical forecasts so they can plan with great assurity. It also offers collaboration features for working as a team, so you can keep external stakeholders updated consistently.
Relevant features:
Modeling & simulation
Performance metrics
Correlation analysis
Exception reporting
Statistical analysis
Workday Adaptive Planning offers enterprise financial and sales planning for large businesses. This platform allows users to forecast and plan around any chosen milestone, including academic calendars and revenue recognition schedules.
Adaptive Planning includes features of financial accountability, including budgeting, committee management, cash management, and access controls and permissions. Like some of the other vendors in this list, Workday Adaptive Planning comes with a pretty big price tag, meaning it's best for corporate to large-enterprise businesses.
Relevant features:
Consolidation/roll-up
Correlation analysis
"What if" scenarios
Accounts payable
Customizable dashboard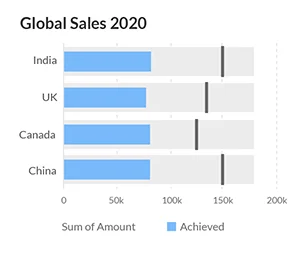 Zoho CRM is a sales CRM software platform for SMBs and enterprise businesses. It offers integration with 500+ business apps, and also has digital tools for sales funnel management, workflow automations, and customer support and services.
Zoho's software lets users break down their forecasts for a closer look at specific performances, including for sales teams, individual representatives, and territories. Summaries help identify the highest performing salespeople and pinpoint the strengths of each team based on how well they met their targets.
Additionally, Zoho users also appreciate having their forecasting tools directly integrated into their CRM. This allows them to make even better use of the insights gained from their revenue predictions.
Relevant features:
Dashboards
Automations
Sales analytics
Sales performance management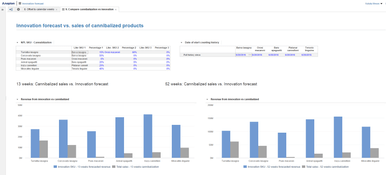 Anaplan is a connected planning and sales forecasting solution for managing more control over business performance. With solutions for budgeting, operational planning, supply planning, and sales incentives, Anaplan is an all-in-one finance and supply management tool for large and quickly scaling businesses.
Anaplan users are especially pleased with its adaptability, which allows them to build reports based on existing excel models. The platform has a strong focus on the collaborative big picture of how sales, finance, HR, and operations work together to plan together for growth.
Relevant features:
Dashboard
Ad hoc analysis & reporting
Modeling & simulation
KPI monitoring
Qualitative & quantitative analysis
Prophix is a financial management software platform that offers solutions for budgeting & planning, financial consolidation, and reporting & analytics. It promises agile forecasting that lets companies act fast to keep up with the ever-shifting tides of running business.
Prophix allows users to create a multitude of reports with a simple click, including multi-year forecasts, driver-based forecasts, and rolling forecasts. It also offers automation features for handling data retrieval and entry.
Prophix users can either operate their software on its web interface, or using Microsoft 365Ⓡ and ExcelⓇ.
Relevant features:
Audit trail
Competitive analysis
"What if" scenarios
Asset lifecycle management
Correlation analysis
Dashboard
How to choose the right sales forecasting solution?
Find a provider who offers free trials. There's no better way to know if a software platform is right for you than to simply use it. Dive deep into research, and read sales forecasting software reviews. Then, make a list of the best-looking options, and see which ones among them offer free trials that let you test out their platform and experience their interface.
Talk to your team. Sales, managers, and executives all have a stake in sales projections. So it's important to get their ideas on what might work best for them. Gather some key information, like average sales cycle length, current sales goals, average deal size, and sales team size. Having these figures close at hand will help you weed out software providers whose platforms aren't designed for your specific needs.
Consider a larger sales technology suite that includes CRM. Having a single technology suite and CRM helps you store and analyze your data from a centralized point of entry. CRM software is a great home base for many sales tracking software applications, and most CRM vendors offer powerful sales forecasting tools in their arsenal of features.
FAQs
What is the timeline for implementation?
Installing your sales forecasting tool and getting it up and running can be done in a few hours. But that doesn't mean it will be working perfectly for you from the moment you install it.
To make the most of your software so that it's giving you the most accurate predictions possible, you need a few things: a structured sales process, sales quotas, a robust customer relationship management system, and a sales forecasting method. Plus, look for software providers who offer training and an extensive knowledge base.
What are some other forecasting metrics that can be analyzed using sales forecasting software?
Depending on the complexity of your forecasting method and maturity of your business, you can go really deep with your metrics. Other metrics you can analyze during sales forecasting are:
Historical conversions
CRM score
Sales activity data
Sales linearity
Next quarter pipeline
Deal slippage
Can you make your forecast responsive to additional factors?
Many software platforms offer the capability to add additional factors to their predictions. The most obvious factors are historical performance and seasonal trends, but other factors to consider might be current industry disruptions, changes in legislation, political unrest, and supply chain disruptions.
There are a lot of factors at play that can affect the accuracy of your predictions. As you refine your forecasting methodology, you'll gain a better understanding of which factors have the biggest impact on your figures.
Ready to replace guesswork with facts?
Your instinct has probably led you to some real triumphs in your past. But there are too many internal and external factors out of your control—and your sight—to trust all of your planning decisions to instinct alone.
Sell is an all-in-one sales CRM solution that has powerful but clean forecasting tools for making accurate predictions. You can test drive their user-friendly interface with its free 14-day trial, and get a feel for how stress-free forecasting can be.