Sales forecasting software
The 10 best sales forecasting tools (+features and benefits)
Strategize with greater accuracy and consistency using sales forecasting tools.
Your sales forecast is a prediction of how much revenue you'll generate in a given timeframe. And the more accurate your forecasts, the better. But knowing how to improve forecasting accuracy can be tricky. That's where sales forecasting software comes in.
In this comprehensive guide, we'll cover the most essential questions surrounding sales forecasting tools. We'll also give you some tips on selecting the best sales forecasting solution for your business, so you can make the most of this incredible time-saving tool.
Sales forecasting is important. Here's why.
Forecasting tools are tools for sales teams that use a combination of historical data and current trends to create accurate predictions. These tools examine past sales patterns and current sales pipelines, taking into account several factors like:
Average length of a sales cycle
Opportunity value
Deal health
Individual sales rep performance
Predicting future sales is a necessity for a healthy business. It also helps you get a high-level view of sales performance. After all, you need to know how many units of a product to have on hand if you want to sell them. But if you end up overestimating your future sales, you may spend more money than you make back. If you underestimate, you won't have enough product on hand to meet demand.
With an accurate sales forecast, you can prevent both of these costly mistakes. Smart forecasting lets you anticipate demand, avoid expensive miscalculations, and use your resources wisely. With a clear idea of how your finances will look in the future, you can better strategize for big decisions like hiring new staff, budgeting, or introducing a new territory.
And for larger companies, the sales forecast is something investors look at closely to gauge a business's success and stability.
The benefits of sales forecasting software
Improved trust in data. With sales forecasting software, the tools do the data entry and calculations for you, ensuring that your data is consistent, accurate, and free from human error.
Save time. Not only is manual data entry error-prone, it's painstakingly slow. Using a spreadsheet, your sales leaders might have to work for days to run a complete forecast. With software, churning out accurate numbers takes mere seconds.
Smoother sales process. Accurate predictions let you set realistic sales metrics goals, so you don't wind up overstressing or underutilizing your sales teams' skills.
More strategic planning. Knowing how many sales are likely to come in lets you better allocate your resources and budget, as well as manage risks and justify expenditures.
Clear view of company's health. Consistent forecasting gives you an idea of the overall health of your business. Better still, it does it in real time, so you can act quickly if predictions and actual sales aren't matching up.
Types of sales forecasting tools
Broadly speaking, there are two kinds of sales forecasting: qualitative and quantitative.
Qualitative forecasting uses non-measurable data to make more generalized predictions. These predictions are valuable, but you wouldn't necessarily use them to forecast anything specific (like next quarter's budget).
For instance, a common qualitative forecasting tool is in-house expertise. If a company is planning a specific activity and a member of the staff has a lot of experience in that activity, their opinions might be taken into account without actually crunching any numbers.
Sales forecasting software, on the other hand, focuses almost exclusively on quantitative forecasting, or using measurable data to make a calculated prediction. For example, if your company is trying to predict average sales for the upcoming winter quarter, you can examine data from past winter quarters. By using historical metrics concerning sales, product percentages, timelines, and buyer behavior, your forecasting software can predict future numbers with increased accuracy.
There's nothing wrong with qualitative forecasting and you should absolutely use it, but quantitative forecasting is where you find the most accurate data and, therefore, the most accurate predictions.
Features to look for
Sales forecasting software is designed to make a historically complicated and time-consuming job much simpler. Its features eliminate the need to stare at spreadsheets for hours on end, tediously inputting data and formulas.
Here are some of the key features to look for when searching for your ideal forecasting software:
Reporting. The sales forecasting software automatically creates reports based on your business's rules. You can run reports on projected revenue, forecast accuracy, and final forecasts.
Sales dashboard. See your reports in graph form with easy-to-view visualization tools. Dashboards can be customized to reflect only the data that's relevant to your workflow, so you're not overwhelmed.
Pipeline management. Track the opportunities in your pipeline, identify bottlenecks, and keep accurate records on opportunities.
Integrations for data import. In order to work with historical data, your software needs to have your internal sales figures close at hand. Integrations allow your software to connect with the other apps you might be using to record sales, including Excel or accounting applications.
Sales force automation. Automation tools and AI are quickly taking over manual tasks and making lives easier. Sales automation features, like data capture and report generation, save enormous amounts of time and energy, so you can still get accurate projections without all the manual work.
10 Best sales forecasting options today
| Software | Starting price | Free trial | Reporting and analytics | Sales force automations | Sales forecasting dashboards | Data visualization | Sales CRM |
| --- | --- | --- | --- | --- | --- | --- | --- |
| Zendesk Sell | $49/user/month | ✓ | ✓ | ✓ | ✓ | ✓ | ✓ |
| Aviso | Contact for a quote | ✓ | ✓ | X | ✓ | ✓ | X |
| Pipedrive | $14.90/user/month | ✓ | ✓ | ✓ | ✓ | ✓ | ✓ |
| Avercast | Contact for a quote | ✓ | ✓ | X | ✓ | ✓ | X |
| InsightSquared | Contact for a quote | ✓ | ✓ | X | ✓ | ✓ | X |
| Salesforce Sales Cloud | $25/user/month | ✓ | ✓ | ✓ | ✓ | ✓ | ✓ |
| OnPlan | Contact for a quote | ✓ | ✓ | X | ✓ | ✓ | X |
| Clari | Contact for a quote | ✓ | ✓ | X | X | ✓ | X |
| ForecastX | $99/user/month | ✓ | ✓ | X | X | X | X |
| Anaplan | Contact for a quote | ✓ | ✓ | X | ✓ | X | X |
Sell is the Zendesk CRM for sales: it's an intuitive platform with sales forecasting that's customizable for businesses of all sizes. This comprehensive CRM platform is, above all, user friendly. Its easy-to-navigate sales dashboards and analytics tools are primed for a frictionless onboarding process and quick adoption. With Sell's vast catalog of features, sales teams boost productivity by spending more time on sales and less time on tedious, time-consuming tasks—like manually logging calls and other sales tasks.
Sell's automation allows users to generate reports with the stroke of a key, saving endless hours that would have been spent plugging numbers into spreadsheets. It includes numerous sales dashboards (both out-of-the-box and customizable) and reports for fast access to projections, as well as visualization tools for comparing predicted revenue to actual sales.
This platform is an industry-leading tool for any business looking to simplify their sales processes as a whole.
Features:
Sales CRM software
Reporting & sales analytics
Customizable sales activity and performance dashboard
Sales force automation
Mobile CRM access
Pricing:
Free trial: Available
Starting price: $19/user/month
Aviso is a sales forecasting tool that promises 98% accuracy. It employs a unified forecasting approach that combines human judgment with its advanced predictive sales forecasting AI feature. It also offers personalized representative coaching.
Users especially appreciate the WinScore Insights feature. This useful function harnesses the power of artificial intelligence to generate statistical probabilities of every opportunity, helping sales reps and managers adjust their behavior to close deals faster.
Aviso also offers software products for remote sales collaboration and advanced revenue operations. While a great addition to your tech stack, Aviso does not come with CRM capabilities, so if you don't already have a CRM you may face alignment issues. You may also need to take additional steps to integrate non-CRM software with your sales data.
Features:
Deal level forecasting
Hierarchy management
Ensemble models
Graphic data presentation
Reporting and analytics
Forecasting AI capabilities
Integratable support software
Pricing:
Free trial: Available
Starting price: Contact Aviso for a quote
Like Zendesk, Pipedrive is a CRM platform that provides forecasting features. Pipedrive describes its forecasting functions like having your own personal sales manager. It offers a customizable Forecast View that users can check on periodically for faster course correction and planning.
The Insights Revenue Forecast — available only with the Professional and Enterprise plans — is advertised as an especially powerful tool for estimating future revenue. Pipedrive users also appreciate its extensive number of integrations, which makes it easier for them to connect to their other digital business tools.
Note: While Pipedrive's starting price is lower than the majority of forecasting tools on the market, the basic plan only offers limited features. Additionally, if you are already a CRM user with a different company (e.g. Zendesk or Salesforce), it might make more sense to keep your forecasting software in-house for easier integration and cost efficiency.
Features:
Dashboard
Predictive sales analytics
Drag-and-drop updating
Sales trend analysis
Pricing:
Free trial: Available
Starting price: $14.90/user/month
Avercast is a robust revenue forecasting and demand planning tool that boasts over 200 algorithms for generating accurate forecasts. It's simple to use and presents your sales data in easy-to-read graphs and charts in the Excel format. Avercast reports are easily customizable, allowing users to quickly create comparative forecasts.
Avercast offers a whole host of specialized forecasting products, including demand forecasting, inventory planning, capacity planning, and supplier connection. With 40 years of experience in supply chain software, Avercast is a leader in the industry when it comes to helping businesses plan with precision for the future.
As non-CRM software, Avercast works best when integrated with a strong sales CRM. By combining Avercast's advanced algorithms with sales automations, you can ensure that your forecasts are as accurate as possible and include the most up-to-date data.
Features:
Correction analysis
Sales trend analysis
Exception reporting
Planned vs actual tracking
Built-in algorithms
Integratable
Pricing:
Free trial: Available
Starting price: Contact Avercast for a quote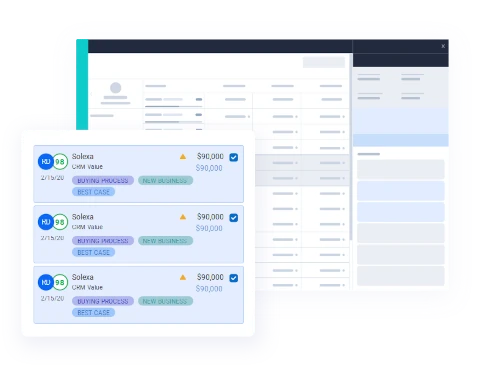 InsightSquared is a current industry favorite in the world of sales forecasting solutions. Its AI-powered forecasting lets users ditch the spreadsheets and simplify the process of making predictions.
This user-friendly platform allows users to be hyper-specific with their reports. They can segment reports by region, product, line of business, and then view them within any time frame they wish to get a close-up view of purchasing patterns. Users can also look at individual client behaviors and repeat purchases to create case-by-case forecasts.
Other popular features offered on this platform are its RevOps dashboard, interactive reporting, and conversational intelligence for gaining deeper insights into customer relationships. As with any non-CRM software, we recommend pairing InsightSquared with a robust Sales CRM for maximum data and forecasting efficiency.
Features:
Ad hoc reporting
Sales performance metrics
Data visualization
Trend/problem indicators
Reporting and analytics
Easy integration
Pricing:
Free trial: Available
Starting price: Contact InsightSquared for a quote
Salesforce, like Zendesk and Pipedrive, is a larger technology suite that includes products for sales, customer service, and marketing. Sales Cloud is Salesforce's sales tool, which includes solutions for pipeline management and forecasting.
Using out-of-the-box KPIs and quick filters, this platform promises real-time visibility of your sales pipelines so users can zero in on the most promising opportunities. It also allows users to transform 1-on-1 status updates into coaching sessions, so the team is constantly learning with real-time customer data.
Similarly to Zendesk and Pipedrive, Salesforce comes with a variety of support software for your entire tech stack. If you're already a Salesforce customer, it can make a lot of sense to keep your software in-house. However, if you don't have a CRM yet, note that many of Salesforce's favorite features only come in their more advanced (and expensive) packages — not in the basic $25 one.
Features:
CRM
Predictive AI
Process automations
Reporting dashboards
Pricing:
Free trial: Available
Starting price: $25/user/month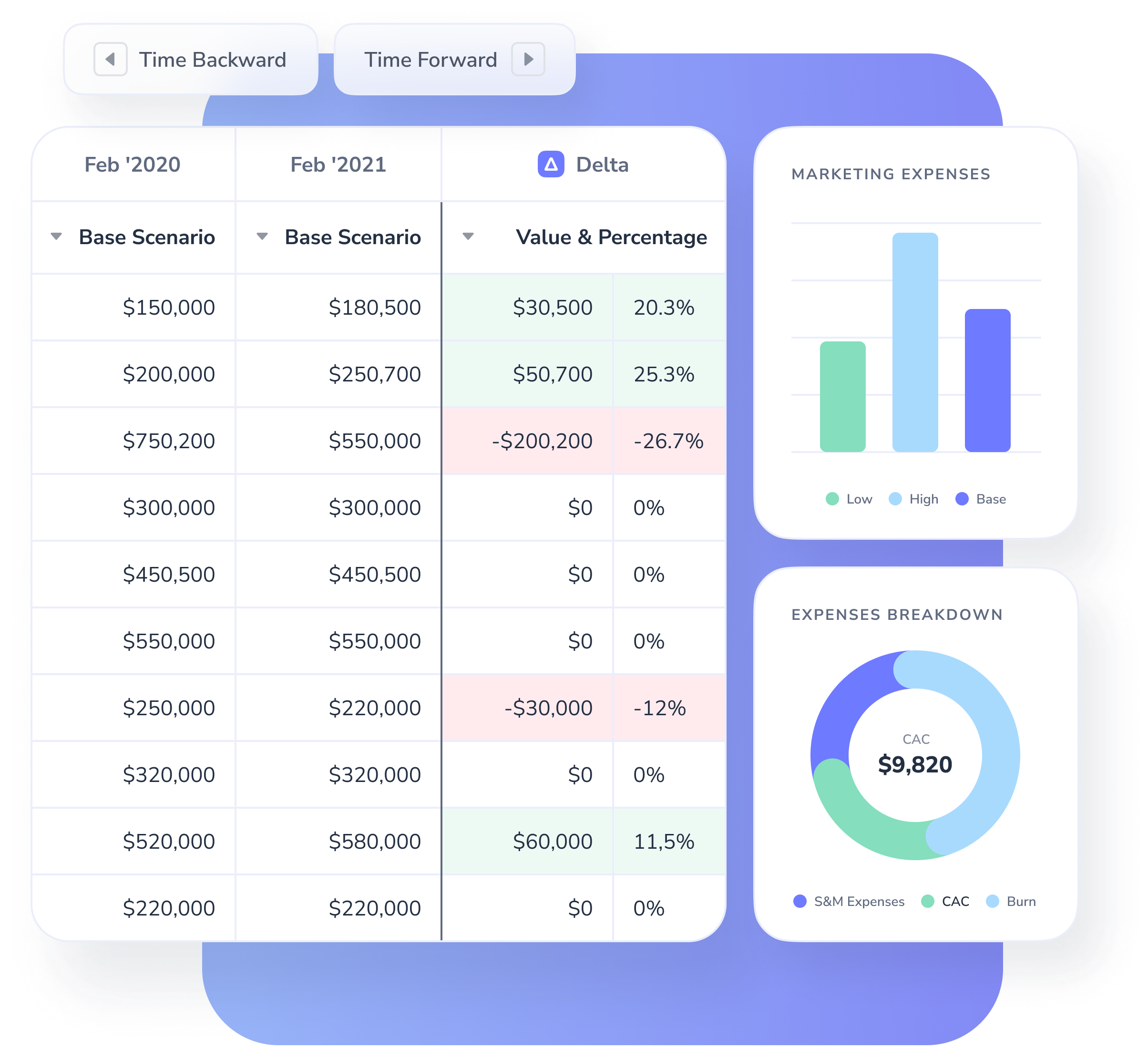 OnPlan is a financial modeling tool and sales forecasting solution that's best for businesses from all industries with 25-500 employees. It allows users to create "What if" scenarios, so they can model their way through different circumstances for a better understanding of their leverage points.
Additionally, OnPlan features a powerful BVA tool — or Budget vs. Actual. Users also enjoy the tracking ability, which gives them insights into the actions other team members took on certain accounts in the past.
OnPlan is simple to use, easily integratable with larger CRM software, and presents data in clear models and graphics. Their pricing depends on the size of your company, so your account will scale with you as you grow. This is especially ideal for startups who aren't quite financially ready to commit to a full tech stack.
Features:
Audit trail
Benchmarking
Dashboard
Milestone tracking
Pre-made dashboards
Financial reporting
Pricing:
Free trial: Available
Starting price: Contact OnPlan for a quote
Clari is a forecasting tool for B2B sales leaders who want to shorten their sales cycles and get better forecasting accuracy. See real-time visualizations for your business's revenue health indicators, track changes to your forecast, and use predictive forecasting to get a better view of where you'll land every quarter.
Clari promises to help teams attain greater productivity. It also has products for pipeline inspection, account engagement, CRM automation, and revenue intelligence. Clari, as the name suggests, focuses on clear and accurate predictions presented in simple formats. Their software comes equipped with strong graphics and template options for easy reporting and communication.
For the best accuracy with Clari, we suggest pairing it with a CRM and sales automation platform for consistent cross-departmental data transparency without silos.
Features:
Dynamic modeling
Sales trend analysis
Statistical analysis
Interaction tracking
Graphic data presentation
Reporting and analytics
Forecasting dashboard
Pricing:
Free trial: Available
Starting price: Contact Clari for a quote
ForecastX is a sales forecasting solution that uses Excel to let users create instant forecast reports. It has tools for managing inventory levels, optimizing safety stock, and measuring the impact of certain events.
ForecastX uses what it calls PROCAST — a best-fit-algorithm that lets users create accurate statistical forecasts so they can plan with great assurity. It also offers collaboration features for working as a team, so you can keep external stakeholders and internal sales teams updated consistently.
Similarly to Avercast, ForecastX takes an algorithmic approach to data and forecasting with less of an emphasis on graphic presentation. Pairing ForecastX with a CRM complete with reporting templates is a great way to combine the power of ForecastX's accuracy and complex numbering with a clean, consistent presentation.
Features:
Modeling & simulation
Performance metrics
Correlation analysis
Exception reporting
Statistical analysis
Built-in algorithms
Reporting and analytics
Pricing:
Free trial: Available
Starting price: $99/user/month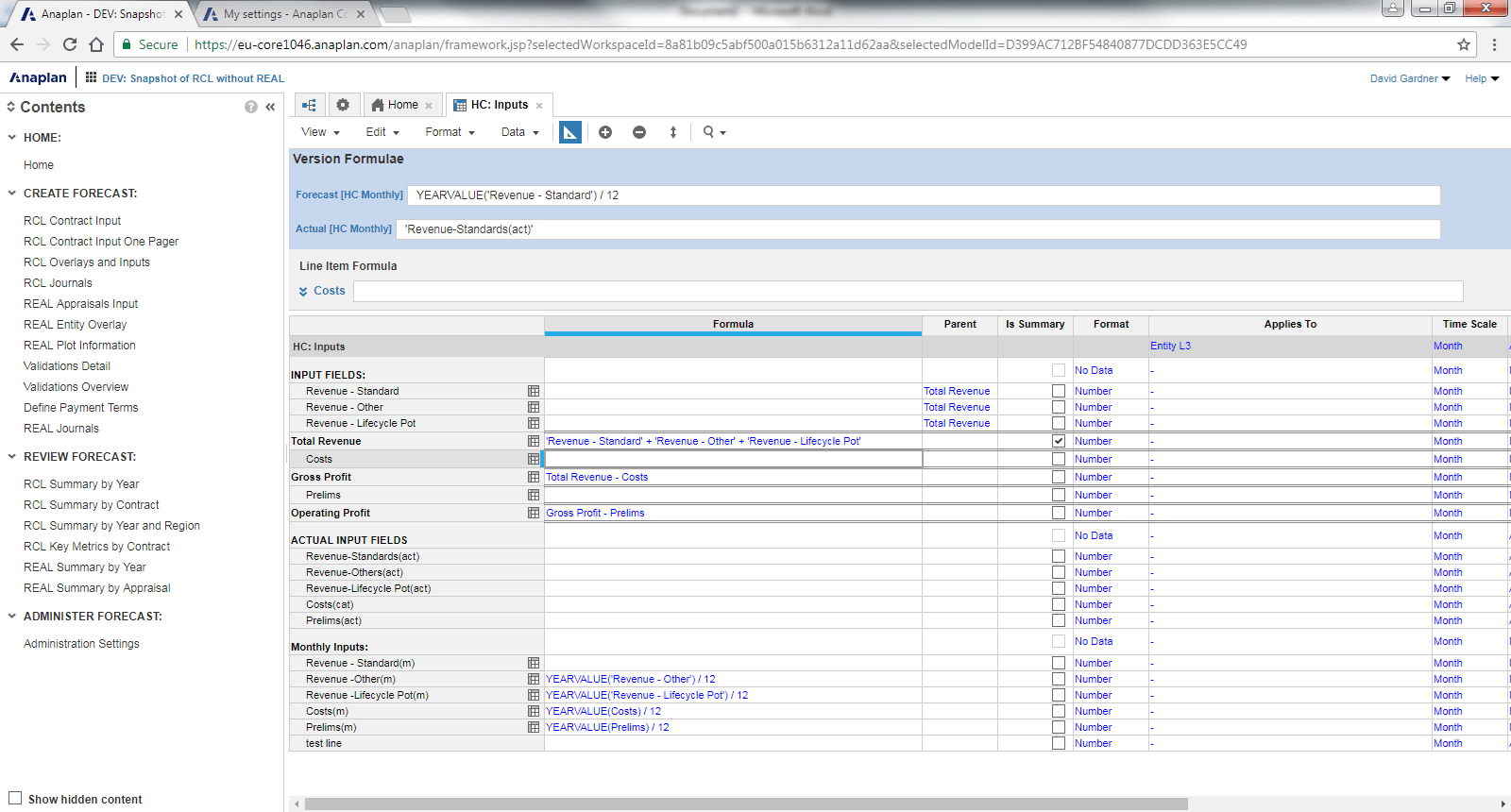 Anaplan is a connected planning and sales forecasting solution for managing more control over business performance. With solutions for budgeting, operational planning, supply planning, and sales incentives, Anaplan is an all-in-one finance and supply management tool for large and quickly scaling businesses.
Anaplan users are especially pleased with its adaptability, which allows them to build reports based on existing excel models. The platform has a strong focus on the collaborative big picture of how sales, finance, HR, and operations work together to plan together for growth.
Anaplan is one of the few non-CRM softwares to focus on big-picture solutions, but it does not come with the communication capabilities of a CRM or the graphics capabilities of some of its competitors. Companies just starting their tech stack may struggle with data presentation if they don't have a graphics team.
Features:
Dashboard
Ad hoc analysis & reporting
Modeling & simulation
KPI monitoring
Qualitative & quantitative analysis
Pricing:
Free trial: Available
Starting price: Contact Anaplan for a quote
FAQs
What is the best forecasting method for sales?
No method of sales analytics is one-size-fits-all, but in general, quantitative forecasting with reliable software is your best bet for accuracy. Forecasting software lets you collect years of data in an accessible, centralized place and generate complex reports without relying on error-prone human calculations.
What is CRM in sales forecasting?
CRM stands for customer relationship management. Sales CRMs help sales teams manage all sales and relationships while tackling reporting, lead generation, communication, and automation. When used correctly, CRMs are a treasure trove of customer data. When that data is combined with a sales forecasting tool, it gives companies a valuable look at their potential futures.
What is the timeline for implementation?
Every company will get new software up and running at a different pace; your timeline will depend heavily on the type of software and the size of your company. Ideally, however, you're able to select the product that slips into your tech stack with ease and makes sense to your sales team from the get-go. Zendesk typically implements in a matter of days or weeks (as opposed to months for some of our competitors).
Try sales forecasting for free
Qualitative forecasting instincts were all that sales leaders had to rely on for millennia. But in 2022, there are simply too many internal and external factors out of your control—and your sight—to trust all of your planning decisions to instinct alone.
Sell is an all-in-one sales CRM solution which includes powerful, robust forecasting tools that help you transform accurate predictions into lucrative decisions. Request a free trial today and get a feel for how stress-free forecasting can be.