Email Based Ticketing System
Email ticketing system
Empower your agents to delight your customers with an email ticketing system.
A guide to the best email ticket system
The volume of customer support tickets submitted through email or web forms increased by 10% in 2021 compared to 2020. And while that growth rate is modest compared to all other service channels, email remains the most popular service channel among customers by a wide margin.
That's why email ticketing systems remain a key tool for just about any organization that provides support to its customers. It's also why the market for email ticketing software is so inundated with options.
To help you make sense of all your ticketing options, we'll cover everything you need to know about ticketing systems, including summaries and comparisons of the top 13 best solutions out there.
What is an email ticketing system?
An email ticketing system is a tool designed to receive customer queries, transform those queries into tickets with predefined fields, and distribute the tickets based on predefined criteria. Email ticketing systems are most commonly used by support and service teams that have to handle a large volume of customer inquiries.
An email ticketing system is a business application that allows you to convert multiple customer emails into tickets. These tickets are then organized in a single place so that customer issues and requests can be easily tracked and managed from a single place.
How does an email ticketing system work?
When a customer submits a request, an email ticketing system pulls in key pieces of information from that request and populates the fields of a predefined support ticket. The system then routes that ticket based on the rules set by the business.
For instance, your business might create ticket categories like Billing Issues or Product Defects. And depending on the category selected, you could use the system to route the ticket to the staff member who's most qualified to handle the issue described.
A comparison chart of the best email support ticket systems
Software

Starting price
(/user/month)

Free trial/plan

Key Features

Zendesk

$49

Unified agent workspace for all channels
Advance ticket routing & queuing
Real-time dashboards & reporting
Easy-to-use interface & powerful integrations
Out-of-the-box email integration
Conditional ticket fields
Skills-based conversation routing
Pre-built analytics dashboards

SysAid

Not available

Self-service portal
Remote desktop
Ticketing automation
Incident management
Customizable interface

Zoho Desk

$20

Ticketing workflow builder
Multi-language support
iOS and Android mobile apps
Macro-based workflows
Help center

HubSpot Service Hub

$45

Native HubSpot CRM
Email reply tracking
Basic ticketing automation
Conversation routing

HelpCrunch

$12

Limited lead gen tools
Live chat customer support
Basic ticketing automation
Free migration assistance

TeamSupport

$49

No

Self-service ticket deflection
Root cause analysis
Web-based helpdesk interface
Shared inbox

HappyFox

$39

No

Self-service tools (knowledge base publisher and chatbot builder)
Easy ticketing system setup
Omnichannel ticketing management
Customizable ticketing queues
Customer feedback surveys

Jitbit

$29

Unlimited file attachment size
Custom ticket fields
Collision detection
iOS & Android apps
Time tracking

Hiver

$12

Gmail-based ticketing management
Unlimited shared email inboxes
Proactive collision monitoring
Agent collaboration tools

Help Scout

$20

Custom reporting
APIs and 50+ integrations
Live chat
Custom ticket properties
Limited to one knowledge base

Freshdesk

$15

Ticket prioritization and tracking
Collision avoidance
Multiple shared inboxes
Team collaboration tools
Custom email server

Intercom

Not available

Business Messenger
Ticketing workflows
Product tours
Reporting

Spiceworks

Free

Free software (with in-app ads)
Secure remote access
Network monitoring and asset management
Top 13 email ticketing systems
1. Zendesk
Zendesk was built to break through the silos that inevitably arise when customer service is delivered via email, web and mobile widgets, in-app chat, social messaging, text, and voice. By integrating email and other channels, Zendesk centralizes all tickets into a single workspace. This sets your team up for success by highlighting conversations that require attention, enabling simultaneous agent collaboration on multiple tickets, and eliminating information siloes.
In addition to more cost-effective and higher-quality email ticketing, Zendesk's software also features industry-leading live chat capabilities. This includes comprehensive customer journey views that help facilitate more contextually relevant service conversations.
On top of that, a native analytics hub means customer service managers can keep their teams on track with easy-to-reference dashboards.
Build trust with the Zendesk
No customer wants to feel like they're just another number to your support team. But the way many ticket management tools are designed, that's exactly what happens. Zendesk is different.
Zendesk consolidates the most relevant customer information and surfaces it automatically helping your agents provide more personalized service. Issues that erode trust, like a customer having to repeat themselves or being bounced around to different agents, are far easier to avoid when agents have the customer information they need when they need it.
Hit the ground running
In every tool, Zendesk offers strong out-of-the-box functionality combined with powerful extensibility and customization options. And the email ticketing software is no exception. When you choose Zendesk, you don't need to set up a mail server, and you get immediate access to unlimited email addresses.
Yet unlike other easy-to-implement but overly simple ticket systems, Zendesk can be endlessly customized and extended with other apps and integrations. Even large enterprises will find the range of integration and customization possibilities more than sufficient.
Pricing Plans:
Suite Team: $49 user/month
Suite Growth: $79 user/month
Suite Professional: $99 user/month
Suite Enterprise: $150 user/month
Free trial: 14 days
Features of Zendesk
Canned snippets
API and integrations
Email with unlimited addresses
Native automation
Tracking and measurement
Ticket routing, categorization, and tagging
Customization
Omnichannel support
Shared inbox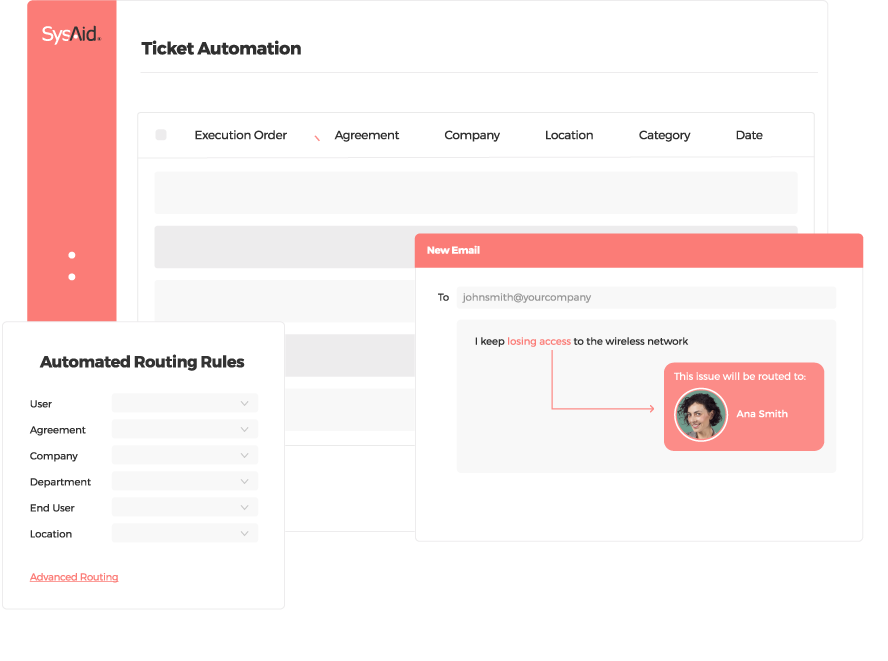 Through their IT Ticketing System Software product, SysAid provides email ticketing that works with your existing corporate email software. Customers can submit tickets via email that are routed to designated company email addresses. SysAid works by monitoring your email account for inbound messages and converting any received messages into tickets.
If multiple emails come in related to the same ticket, SysAid automatically logs those new emails as a note in the existing ticket. And in addition to its core functionality, SysAid has plenty of other key features such as a native knowledge base, a self-service portal, and flexible routing configurations. In fact, SysAid has so many other features, like asset management, that may make it feel a bit too much for many non-IT service operations.
SysAid does not publish its pricing and you'll have to request a custom quote to get it. However, according to PCMag, SysAid starts at $1,211 per year for five users.
Pricing not available
Features
Incident management
Fully customizable user interface
Self-service portal
SysAid Remote Desktop
Knowledge base
Asset management
Ticket routing rules
Ticket escalation rules
Ticketing automation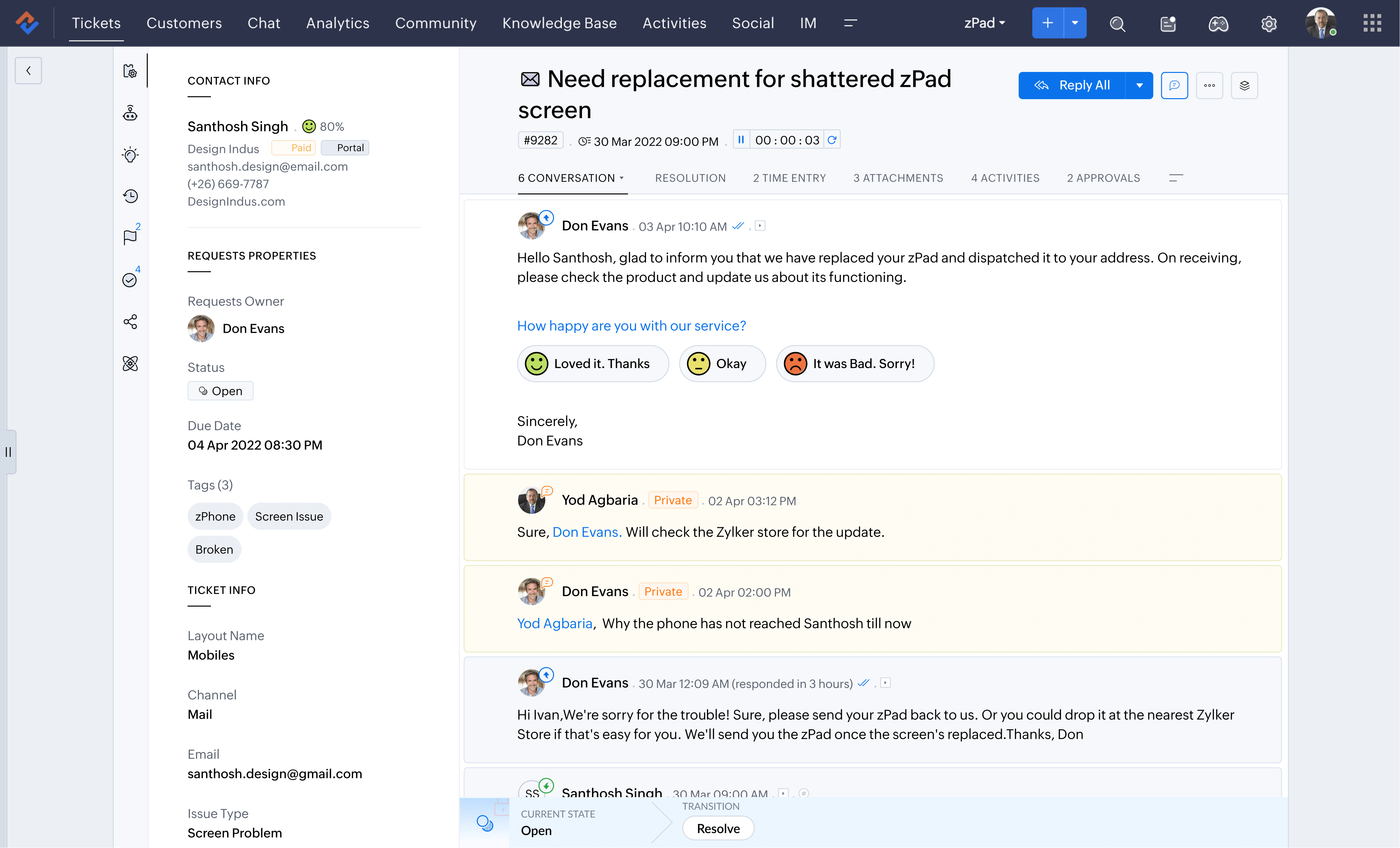 Zoho Desk claims to give users the simplicity of email, plus a little more in their ticketing system. It's designed to enable teams to easily prioritize and act on customer inquiries, measure progress, and facilitate a seamless conversation across time and service channels. Despite its simplicity, Zoho Desk is not light on features, with powerful tools like workflow builders, task automaters, and custom automatic ticket views.
Zoho Desk's email ticketing system tends to be a good fit for small but growing customer service teams. It's simple enough that anyone can get started with it, but extensible enough that it gives larger businesses enough technological horsepower. Plus, you can get a feel for Zoho Desk with their free plan, which comes with multi-language support, private knowledge base management, and an email ticketing system.
Pricing Plans:
Standard: $20 user/month
Professional: $35 user/month
Enterprise: $50 user/month
Free trial: 15 days
Features
Mobile apps (iOS and Android)
Predefined SLAs
24×5 email-based customer support
Customer management
Macro-based workflows
Help center
Email ticketing
Learn more about the Zendesk app for Zoho Desk
HubSpot's all-in-one ticketing system is built on top of their widely used CRM through HubSpot's Service Hub plan. Service Hub's ticketing system includes all the basics such as ticket collaboration tools and ticket prioritization rules, as well as more advanced tools like customer service analytics and automatic ticket routing. Many different kinds and sizes of businesses can find a suitable plan from HubSpot because they have a large selection of service packages.
If you happen to already be using other HubSpot tools, it helps that the Service Hub interface will be familiar. And if you're using HubSpot's CRM, don't have to worry about importing customer data because (hopefully) it'll already be there.
You can try a paid version of HubSpot for free for fourteen days, or you can try HubSpot's free plan. While the free plan is limited in terms of features, it does include shared inboxes, email ticketing, and some basic reporting.
Pricing Plans
Service Hub Starter: $45/month for 2 users, $23 month/user for additional users
Service Hub Professional: $360/month for 5 users, $72/month for additional users
Service Hub Enterprise: $1200/month for 10 users, $120/month for additional users
Free trial: 14 days
Features
One shared inbox
Two ticket pipelines
Team email
Live chat
10 reporting dashboards
Email reply tracking
Conversation routing
Simple ticket automation
1000 custom properties
Learn more about Zendesk for HubSpot
HelpCrunch is equally geared towards helping support, sales, and marketing teams use email ticketing to engage their customers. And within its suite of sales and marketing tools, HelpCrunch provides email ticketing software through its Help Desk feature. In addition to shared inboxes, multi-channel support, and ticket management, HelpCrunch also includes advanced features like detailed customer profiles and team productivity analytics.
HelpCrunch's sales and marketing tools include email marketing campaign builders, lead generation solutions, and live chat. So if it's important to you to have your sales, marketing, and support teams use common software, HelpCrunch is worth a look. And fortunately, by signing up for a free 14-day trial, you and up to four other team members can try a HelpCrunch Pro Plan.
Pricing Plans
Basic: $12 user/month
Pro: $20 user/month
Enterprise: Custom pricing
Free trial: 14 days
Features
3 auto-messages
Basic automation and full customization
Live chat customer support
1 widget
3 lead gen popups
Knowledge base management
Help desk
Ticketing management
With its email-based ticketing management software, TeamSupport pulls support emails into a web-based help desk interface. From that interface, agents can do everything they need to manage customer conversation without having to sift through an overflowing email inbox. As a full-fledged helpdesk, TeamSupport has plenty of customizability in terms of configuring ticketing rules for routing, escalation, and resolution.
TeamSupport is particularly well-suited for companies that sell technology to businesses, or B2B tech companies. One of TeamSupport's key selling points, on top of its email ticketing system, is its thoughtful mix of additional features including root cause analytics, external and internal knowledge base publishing, and community forum builders.
Pricing Plans
Essential: $49 per user/month
Success: $59 user/month
Professional: $79 per user/month
Enterprise: $99 per user/month
TeamSupport CS Platform: $149 per user/month
Free trial: Not available
Features
Ticket automation and workflows
Advanced ticket routing
Web, mobile and social messaging
Shared inbox
One knowledge base
Basic reporting
SLA management
Ticket collaboration features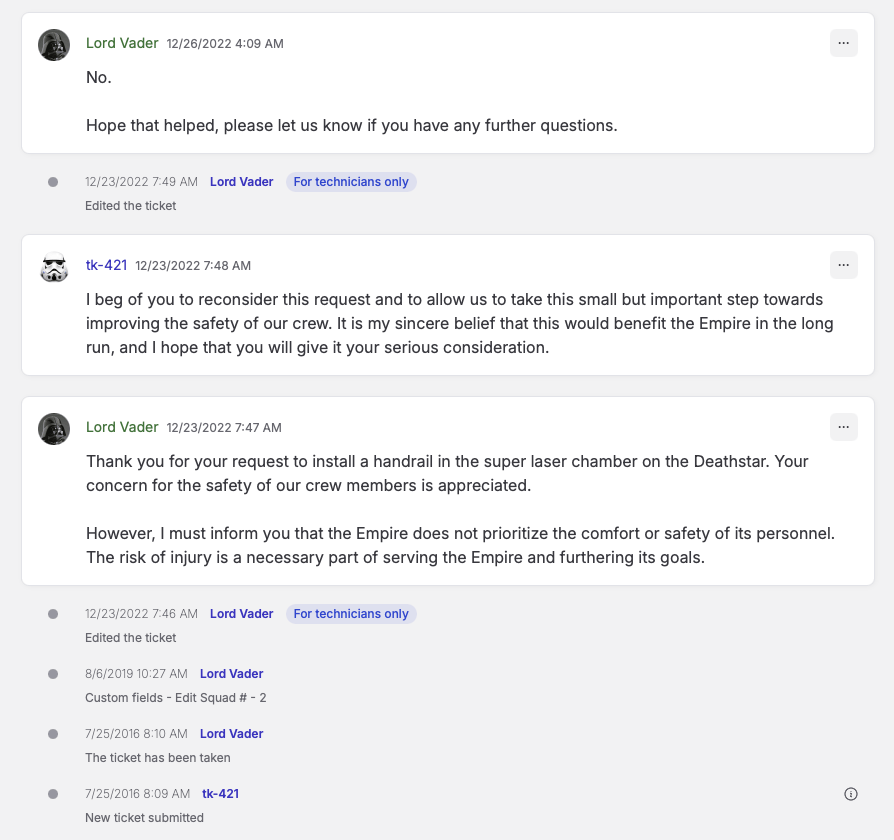 JitBit, as its website explains, is an "email first help desk" that supports email protocols IMAP, POP3, SMTP, native MS Exchange, and more. While this powerful software does support live chat, knowledge bases, chatbots, and integrations, JitBit's main selling point is its email-based capabilities. Its interface is built around a shared inbox that's simple yet powerfully enhanced by advanced reporting tools, sophisticated ticket organization capabilities, and intuitive ticket filters.
Another stand-out feature of JitBit is its "Ideas" forum, where customers can propose and vote on feature suggestions. And the software is highly extensible with pre-built integrations to more than 500 applications including time trackers, project management software, developer tools, and much more.
Pricing Plans
Freelancer: $20/month
Startup: $69/month
Company: $129/month
Enterprise: $249/month
Free trial: 21 days
Features
1 agent included
Unlimited attachment storage space
iOS & Android apps
Custom domain
Web-based interface
Ticket tags and categories
Email integration
Time tracking
Anti-spam
Custom ticket fields
Collision detection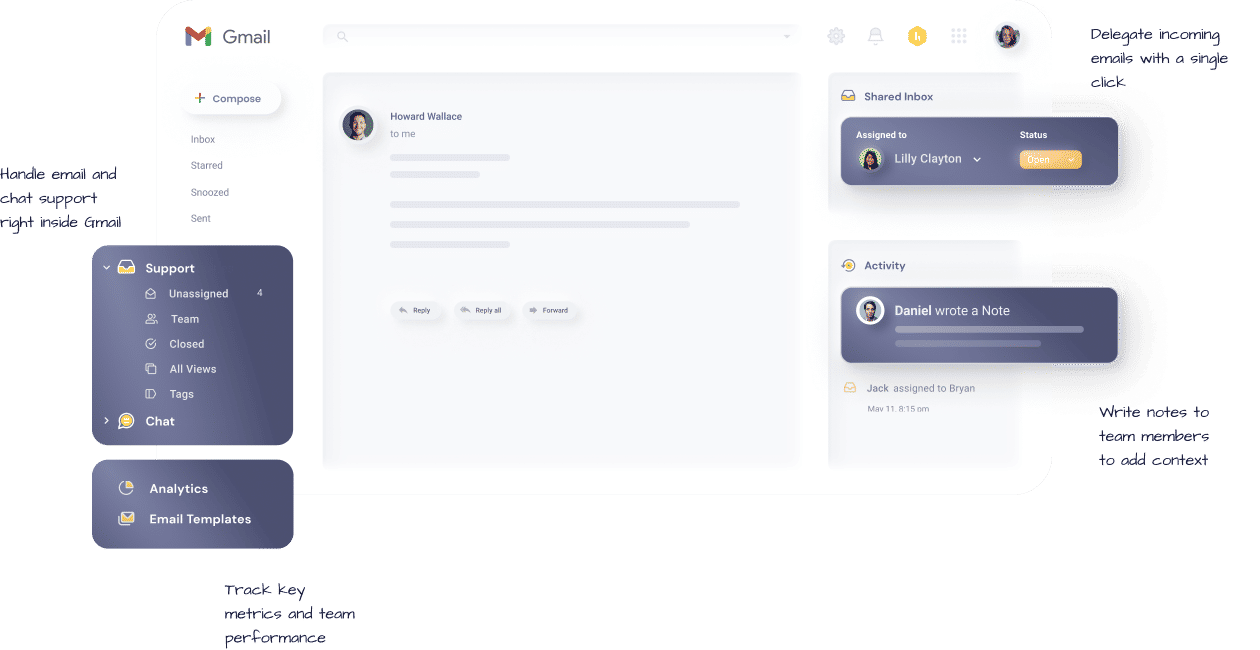 If you're a fan of the Gmail interface, Hiver's email ticketing system is definitely worth a look. According to their website, Hiver "enhances your Gmail" by providing all the essential email ticketing features within your existing Gmail dashboard. That means you can delegate emails, tag tickets, automate email workflows, and much more in the email tools you already use.
Hiver is mainly used by companies in the industries of education, IT, financial services, nonprofit, travel, manufacturing, and logistics. And their 24/7 customer service is highly rated by their customers who have awarded Hiver a 9.3 rating on their Quality of Support on G2. To see if Hiver might be a fit for your company, you can try it free for 14 days, no credit card required.
Pricing Plans
Lite: $12 user/month
Pro: $37 user/month
Elite $57 user/month
Free trial: 14 days
Features
Unlimited shared inboxes
10 user max
Chat
Ticket tags
Email notes and templates
Shared drafts
Collision monitoring
iOS and Android mobile apps
In addition to its email ticketing system, all HappyFox plans also include help desk features like SLA management, self-service tools, embeddable widgets, and a Help Desk mobile app. All this to say, if you choose HappyFox, you'll be getting significantly more features than you need to run email ticketing software.
This additional functionality is suitable for large teams, or growing smaller teams, in any industry but might be overwhelming for simple operations. Based on G2 customer ratings, HappyFox's ease of use, quality of support, and ease of setup scores are all above the average for help desk software. If you want to try HappyFox, you'll need to purchase (at least) a monthly plan since they don't offer free plans or free trials.
Pricing Plans
Mighty: $39 user/month
Fantastic: $59 user/month
Enterprise: $79 user/month
Enterprise Plus: $99 user/month
Free trial: Not available
Features
Knowledge base
SLA management
Smart automation
Basic reporting
Custom email domain mapping
Learn more about Zendesk for HappyFox
Freshdesk's email-based ticketing software converts customer queries into tickets that agents can track, prioritize, reply to, and collaborate on. It's available through the Freshdesk Support Desk product and all plans come with knowledge base publishing, team collaboration tools, email and social ticketing, and rules-based ticket routing.
If you choose to add on to Support Desk, you can also access omnichannel functionality that includes chatbot builders, social messaging, advanced analytics, SLA rules, and more. One perk of Freshdesk is the Freshworks Academy, which is a customer success initiative from Freshdesk that helps train new agents on the system.
Freshdesk plans range from their basic, free plan to enterprise-grade plans sufficient for larger organizations. To try one of their paid plans, you can do a free trial for 21 days.
Pricing Plans:
Growth: $15 user/month
Pro: $49 user/month
Elite: $79 user/month
Free trial: 21 days
Features
Automations
Proactive collision avoidance
Customizable fields
Helpdesk performance analytics
Email-based ticket routing
Multiple shared inboxes
Team collaboration tools
Time tracking
Custom email server
If you're looking for an email ticketing solution embedded in an enterprise-ready helpdesk tool, HelpScout is certainly worth a look. HelpScout customers include leading names in technology and recruiting. But you don't have to be a large enterprise to benefit from HelpScout's capabilities.
The HelpScout solution is intuitive enough that small teams with limited technical resources can implement a simple, powerful email ticketing workflow enhanced by valuable features like knowledge management, robust reporting, and more. And through HelpScout's shared inbox, your team can organize tickets, automate workflows, and collaborate effectively.
To try Help Scout, you can sign up for a 15-day free trial of any of their three plans.
Pricing Plans
Standard: $20 per user/month
Plus: $35 per user/month
Company: $60 per user/month
Free trial: 15 days
Features of HelpScout Standard
2 shared inboxes
1 knowledge base
Up to 25 users
Custom properties
API and 50+ integrations
Custom reports
Live chat
For companies in e-commerce, healthcare, financial services, and education, Intercom began solely as a messaging app designed to help solve simple, quick customer issues. But as their customer base grew, Intercom recognized the need for ticketing capabilities and rolled them out in November of 2020.
Now, through its well-known Business Messenger, companies can collect, track, and route customer inquiries, analyze service performance, and deploy sophisticated ticketing workflows. And while the messenger is core to Intercom's platform, you can use Intercom to enable customers to submit tickets via email too.
Intercom doesn't publish pricing on packages but your cost will be based on the number of users and people reached. To try Intercom, you can sign up for a 14-day trial of their Starter plan.
Plans (pricing not available)
Free trial: 14 days
Features
Help articles
Team inboxes
Ticketing workflows
SLA rules
Targeted messaging
Support bots
Product tours
Reporting
Learn more about Intercom for Zendesk
Spiceworks offers a cloud-based help desk solution built for IT teams that includes an email-based ticket solution. With Spiceworks, end-users submit tickets via the help desk portal, email, or through the Spiceworks mobile app. And since it's built for IT teams, Spiceworks includes features important to IT teams such as secure remote access, asset management, and network monitoring.
While the Spiceworks software is relatively highly rated on G2 with an average of 4.5 stars, it's considered below average compared to competitors in terms of ease of use and quality of support. Perhaps most appealing is the fact that Spiceworks is a completely free email ticketing system. Rather than charging licensing fees to generate revenue, Spiceworks relies on an ad-based revenue model to monetize its software.
Pricing: All plans are free
Features
Unlimited tickets and users
Custom alerts
Custom ticket attributes
Rules-based ticketing
Community of IT progressions
Asset tracking
Secure remote support
Network connectivity monitoring
What are the key features of email ticketing software?
What are the biggest advantages of deploying an email ticketing system?
Seamless internal collaboration
Without email-based ticketing software, agents must rely on basic email functionality to organize, prioritize, respond to, and track customer issues. This makes it difficult to not just keep track of tickets coming in but also to know which tickets have been resolved, which are in process, and which haven't been addressed.
Well-deployed email ticketing systems solve all these problems. They make it easy for agents to get the information they need, when, and where they need it.
Sets a foundation for customer service
There's a reason that every helpdesk solution you find has some version of an email ticketing system. Email-based ticketing software creates a solid foundation that you can build upon with more service options such as chatbots and knowledge bases, as well as new service channels, like messaging and voice.
With the right email ticketing system at the core of your operations, you can easily and gradually build your operation into a center of customer service excellence.
Improved customer service performance
One of the underrated, and often underutilized advantages of ticketing systems is the opportunities they create for ongoing customer service improvement. Without email ticketing software, it's hard to analyze customer queries because email clients aren't meant for analysis.
But by consolidating your customer queries in a ticketing system and structuring the data from those queries, as well as your agents' responses, response time, and resolutions, you can quickly see your team's strengths and weaknesses. As a result, managers have a much more solid footing on which they can implement new policies, training, and incentive structures.
What are the best practices for using an email ticketing system?
Define your SLA
Your service-level agreement (SLA) documents the details of the service you will provide to your customer. SLAs can be legally binding or an informal promise. They can also apply differently to various individuals or groups of customers. Typically, SLAs detail things like maximum first-response time, agent availability, business hours, exceptions, length of service, and more.
Whether your SLA is formal or informal, defining one is an important step because it sets customer expectations and clarifies priorities for your agents.
Commit to investing in an optimal workflow
The core value of your ticketing software lies in its capability to distribute information to your agents and customers in a timely manner. But, except for very simple operations, there are myriad different workflow configurations you could use to organize your people, processes, and technology.
So to maximize the value of your ticket software, you must invest time and resources to create the optimal workflow. Chances are, your workflow won't be perfect the first, second, or even third time you roll it out. But by investing in continuous improvement, you'll move closer to an optimal workflow that better serves your customers and your agents.
Build out self-service content and distribution
Not all support tickets should go directly to an agent. Live agents are by far the most expensive way to serve customers. Plus, 70 percent of customers in 2022 indicated they expect a company to have a self-service portal or content available to them. Building out self-service content such as FAQs, knowledge base articles, and community forums will greatly reduce the stress on your agents and your ticketing system.
But creating great self-service content is only half the battle. To truly enhance the customer experience, you need to configure your to distribute self-service content automatically. That way, you can use chatbots, text messages, or automated emails to deliver answers to frequently asked questions to customer support requests.
What factors should you consider before investing in an email ticketing system?
Your goals for the system
There are a lot of options when it comes to email ticketing systems. To avoid analysis paralysis when shopping for a solution for your company, start by documenting and quantifying your goals for the system. What do you hope to accomplish? How will you measure success? And what new processes do you need your system to facilitate?
Even if you don't flesh out every detail in your answers to these questions, simply considering them will help you filter out systems that won't help you achieve your goals. Plus, you'll be better able to choose a system that fits your needs rather than getting distracted by unneeded features.
Total cost of deployment and maintenance
It's all too common for email ticketing software buyers to focus exclusively on licensing costs. And while licensing costs can be significant, the cost of deploying and maintaining software is often even greater. So before you sign any long-term contracts, make sure you investigate and project potential deployment and maintenance costs.
And if you plan on implementing lots of integrations, find out what it takes to deploy those integrations. Oftentimes, vendors may sell you on the idea of their wide range of integrations but when it comes time to use those integrations, the deployment is a time-consuming process and may require expert outside help.
Compatibility with current/future service strategy
In business, it's easy to emphasize the short-term at the expense of the long-term. But with email ticketing systems, there's no need to. If you're cognizant of how a given ticketing system meets your needs now and potential needs in the future, you'll be able to find a system that suits both.
Of course, you can't predict all your future needs. New products and services will be introduced, business strategy will change, and so much more. And that's why, in addition to looking for native compatibility, you consider the extensibility and customization of your ticketing system of choice.
Frequently asked questions
Why is an email ticketing system important?
An email ticketing system is important because it makes it possible for customer support teams to operate at scale. Simply put, even a carefully configured email client cannot suit the needs of a support team that has large volumes of customer requests to track, prioritize, and respond to.
Email ticketing systems provide broader functionality that enables support teams to systematically handle service requests with automations, defined workflows, ticket deflection, and much more.
Why are email ticketing systems better for customer support?
Email ticketing software is better for customer support because it consolidates key information from customers and provides an environment where agents can collaborate on customer requests. Using the ticketing system, agents can see customer requests based on any number of predefined filters such as department, priority, ticket status.
Not only that, ticketing systems help support teams track performance and improve over time.
Try email ticketing system for free
Zendesk's email ticketing software is a core part of Zendesk's industry-leading support software. Try it today to resolve tickets faster, measure and improve service operations, and facilitate more meaningful agent collaboration.
We have more to say about this. Have a look below.
There's a lot more where this came from. Keep exploring the world of email based ticketing system, global help desk software, and customer service.