IVR Software
A buyer's guide on IVR
Answer questions, route calls, serve your customers—automatically.
A guide to the best IVR system
Your customers want service fast. And if recent trends are any indication, they're going to want it faster next year too.
Fortunately, the automation of interactive voice response systems (IVR) helps you keep up with dizzying customer expectations. In fact, when it's implemented well, IVR telephony can help you get out in front of your customers.
And given customers' continued preference for using the phone to resolve support issues, an interactive voice response solution is a must-have for any organization with high call volumes.
That said, it's easy to go wrong with IVR. (If you've ever been frustrated by an automated phone system, you know.) So it's best to take it slow with IVR, do your research, and find the best solution for your needs.
To that end, on this page, you'll find everything you need to know about IVR, including its benefits and features, what to look out for, how to set it up, and much, much more.
What is an IVR system?
An interactive voice response system (IVR) is a phone software that greets callers with a menu of options and performs actions based on the caller's answers. Callers interact with IVR systems using their voice or their phone's touch-tone pad. Depending on the configuration, IVR may gather caller information, route calls based on caller inputs, provide information, and/or collect payments.
What is the purpose of interactive voice response?
The purpose of interactive voice response is to enable inbound contact centers and outbound calling centers to automate certain call center functions including:
Answering frequently asked questions.
Routing calls based on preset business rules.
Processing orders, payments, and providing account information.
Collecting, consolidating, and verifying customer information.
How does an IVR system work?
An IVR system works by taking an input (such as a voice response or touch-tone), processing that input, and performing an action. The action the IVR performs in response to different inputs is determined by the business.
What are the applications of IVR systems?
The most common application of an IVR system is in a call center that processes high call volumes. Both inbound and outbound calling centers dedicated to customer service, sales, market research, and surveying may use IVR systems to help streamline call routing. IVR is also often used by financial institutions to enable telephone banking. And in some cases, medical organizations may use an IVR call center to provide anonymous information, such as test results, to patients.
How much does an IVR cost?
Because the cost of an IVR system depends on the features and provider you select, the number of users and phone lines, and whether the IVR system is hosted or on-premise, it's hard to say exactly how much IVR costs. However, for a hosted IVR solution, you'll generally need to pay a one-time fee for development costs of $3000 or more, ongoing fees for usage of around $0.10 per minute, and subscription fees ranging from $20 to $60 or more per month.
What type of IVR phone system will I need?
The type of IVR phone system you need depends on the nature of your business and what you plan to use the system for. Some IVR phone systems are designed for inbound or outbound calling. Some are designed for both. In any event, your IVR phone system type should be capable of handling the kinds of calls your agents will make, whether those are inbound and/or outbound calls.
What are the benefits of IVR?
Faster, more efficient call routing for service and sales
As the size of an organization goes up, its internal structure tends to get more complicated. Combine that with high call volume and a call center without IVR will quickly find its call queue expanding. This results in longer issue resolution times, the one thing customers want the least according to our 2021 Zendesk Customer Experience Trends Report.
By routing and prioritizing inbound calls to service and sales call centers, IVR takes a massive load of work off of your agents' plates. This enables agents to focus on answering the customer inquiries most relevant to each agent's skill set. And because IVR is a program, it's not vulnerable to human error. As a result, incoming calls get to the right agent as quickly as possible, reducing your agent's workload and streamlining the customer experience.
Always-on customer service
For most companies, it's just too costly to hire and retain enough staff to cover the phones 24 hours a day. But it can be very frustrating for customers when they have no recourse, even for simple inquiries. IVR fills that gap and lets customers know that you're considering their needs.
For instance, imagine your credit card is stolen and you need to cancel it. If your credit card company doesn't have an IVR phone system, you have to wait until they open, which could take days if it's a weekend or holiday. But with the help of IVR, you can easily cancel your credit card without needing human assistance.
Of course, it's not just credit card companies that benefit from always-on service. Retailers, software companies, service providers, and more can provide 24/7 customer self-service through IVR.
Improves omnichannel service experience
Using IVR, you can collect important customer information in the same way you would with an online form. And once that information is collected, you can configure your IVR system to share that data with your automatic call distribution (ACD) system, CRM, helpdesk, analytics software, payment processor, and just about any other tool.
Through this seamless data-sharing capability, IVR systems help you improve your customer's service and sales experiences. Rather than being forced to make customers repeat themselves, your agents can have all the information your customers have already provided wherever and whenever they need it.
Top IVR features to consider
Data collection and integration
Customer data is what fuels an effective, connected customer experience. So when the right rep can access the right data at the right time, they're far better equipped to solve your customers' problems quickly and with minimal customer effort. That's why IVR's data collection and integration features are so important.
IVR is essentially the first line of defense. It collects whatever customer data you need, uses that data to route and/or prioritize calls, and shares it with the applications that need it. As a rule, make sure any IVR system you consider has data collection and integration features that enhance (not hinder) your ability to use customer data.
Call routing and prioritization
Making sure callers get to the agent best-equipped to answer their query is fundamental to a functioning IVR system. So unless you plan to set up a system fully dedicated to customer self-service, call routing features are a must-have.
Another important feature related to call routing is call prioritization. Call prioritization features enable you to configure your IVR to prioritize certain callers over others based on business rules.
For instance, let's say a large queue forms and you have 10 customers waiting to get their call through. With call prioritization rules, your IVR system could select your most valuable customers and move them up in the queue. In this way, a feature like call prioritization—while not strictly necessary—can help your agents focus their limited time on the most valuable caller.
Pre-recorded answers
If you plan to include answers to frequently asked questions, business hours, or surveys, you'll need the ability to record answers. Fortunately, most IVR systems on the market provide this capability as one of their core functionality. However, some solutions will limit the number of pre-recorded responses that you can include. So when you're researching solutions, make sure you're checking to ensure your pre-recorded answer options aren't too limited.
Voice recognition
Traditionally, IVR systems were predominantly touch-tone-based rather than voice-activated. And even when voice recognition started to become more widely available, it had its issues. But voice recognition software has come a very long way in the fairly recent past.
And if your IVR configuration allows it, using voice-based IVR can make it much easier for your customers to engage with your system. Plus, if you do use voice recognition, you can combine it with touch-tone responses so your customers can choose what works best for them.
Integrations
Fundamentally, IVR systems are pretty simple: they take an input, run it against business rules, and then perform an action. But as simple as that sounds, integrations can make IVR systems do some pretty powerful things, all without requiring a human. One of the more powerful actions an IVR can perform is to collect payments and process orders. But to do that, you need an IVR system that can integrate safely and securely with your order processing system.
You can also integrate with CRMs, helpdesks, analytics software, and more to consolidate and share data. So whichever IVR system you choose, make sure it has the integrations you need to deploy your IVR with the rest of your tools.
What are different types of IVR systems?
When you consider IVR systems, it's important to realize that there are two different types: inbound and outbound IVR. As the names suggest, inbound IVR helps you handle calls that your contact center or business receives. When most people and companies talk about IVR, they're referring to inbound IVR.
Outbound IVR is different in that it helps you make automated calls to customers based on pre-defined business rules. A classic use case of outbound IVR is payment collection. In this case, your IVR system is set up to automatically call customers at predefined times to prompt them to make a payment. You can also use outbound IVR to send customer reminders while also giving them the option to connect to an agent.
Many businesses may benefit from both inbound and outbound IVR or just one or the other. In any event, it's important to check that any solution you consider has the type of IVR system you're looking for.
How do you set up your IVR?
To set up your IVR, you'll first need an account and phone number with your IVR system provider. Depending on your provider, there may be other prerequisites. But generally, the process of setting up IVR includes the following steps:
Set up a single or multi-level IVR menu and select your business hours.
Record a custom greeting or create one with a text-to-speech auto-receptionist.
Configure the rules that route your calls e.g. press 1 for Customer Service.
Test out your IVR.
Keep in mind that this is a high-level overview of the IVR system setup. Depending on your solution, you can do many more custom IVR configurations.
Which is the best IVR system for your business?
Zendesk




GoToConnect




NiceCXOne




Five9




VoIP.ms



Twilio Flex




Aircall




CloudTalk




Ringover




Workiz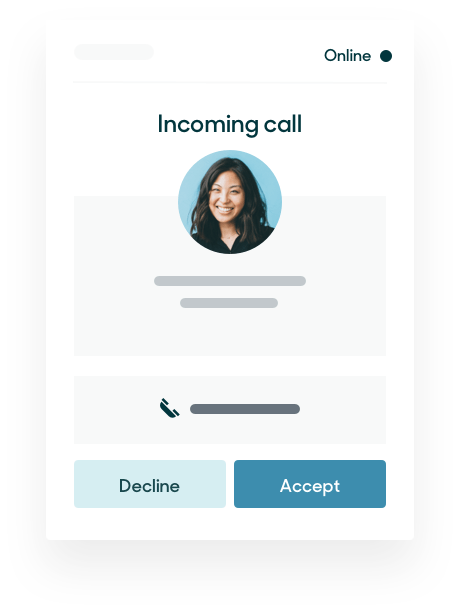 Deliver better service with IVR Software
With multi-level IVR technology from Zendesk, you can route customers to the right agent or department, record responses to FAQs, convert calls to a text conversation, perform basic service actions, and more.
Easily create a menu with options that callers can choose through keypresses and route to agent groups, voicemail, external numbers or even additional IVR menus. Simultaneously simple and powerful, the Zendesk IVR system is designed to give you the functionality, flexibility, and ease of use you need.
Streamlined, cost-effective call routing
Connect your customers to the right agents in your call center to limit wait time and boost efficiency. Even better, you'll only pay for the minutes you use with Zendesk's IVR system. That way, your team can provide effective service without running up a bill.
Do more with less
Deflect common questions with pre-recorded greetings for FAQs like opening hours or promotions, saving time for your customers and agents. Or offer to switch an incoming phone call to a text conversation so your agents can serve multiple customers at once.
Set-up in minutes
Create an IVR system right in the Zendesk browser. Upload or record greetings, build menus and easily make changes to customize your customers' experiences. And since it's all in your browser, you can manage IVR from the office, your home, or anywhere else in the world.
Pricing
Suite Team: $49 per agent, per month
Suite Growth: $79 per agent, per month
Suite Professional: $99 per agent, per month
Features (Professional plan)
After-hours, overflow, and group call routing
Queue size and wait time
Call recording
Mute, hold, and warm transfer
Failover call forwarding
Customize greetings
Call monitoring and barging
Call quality notifications
Local and toll-free numbers
Business hours
Conferencing
Multi-level IVR
Request a callback
GoToConnect's IVR enables you to create recorded menus and prompts to introduce your customers and callers to your call center. GoToConnect provides options to customers so they can opt for self-service on simple issues or get connected to an agent for more nuanced problems.
Underlying every aspect of the design of this IVR system is a focus on getting your customers quickly connected to the ideal service rep. However, you'll want to make sure you get the right plan for your IVR needs. The basic plan only allows for one call queue and one recorded greeting. And only the premium plan includes IVR-triggered callbacks.
Pricing
Basic: $24 user/month
Standard: $29 user/month
Premium: $39 user/month
Features (Premium plan)
Auto-queue callback
Pre-recorded agent messages
SMS queues
Intelligent call routing
Auto attendants
Premium integrations
International calling for 50+ countries
Learn more about Zendesk for GoToConnect.
For NiceCXone, IVR is one of many capabilities of its cloud IVR platform designed to create the "perfect" customer experience. Its IVR systems improve routing and speed up issue resolution without human interference, resulting in lower costs and better service. Also included with NiceCXone's IVR is a tightly integrated ACD.
NiceCXone makes updating business rules easy too, with its no-code graphic user interface for configuring new call flows. NiceCXone requires that you request a quote for pricing, but according to Capterra and SoftwareAdvice, their most affordable plans start at $100 per month.
Pricing not available Features

250+ APIs and 75 development partners
Omnichannel routing
Call recording
Workload forecasting
ACD integration
Visual design tool
Natural speech recognition
Real-time dashboards
Learn more about Zendesk for NiceCXone.
Equipped with visual IVR, a feature that sends customers an SMS link they can use to access a graphically displayed IVR menu, Five9 is a robust system for handling calls. In addition to the availability of visual IVR, Five9 provides plenty of complementary features, such as a dashboard that unifies service channel functions for simpler management.
In addition to its IVR functionality, Five9 offers everything you'd expect from a full-blown contact center solution. Pre-built CRM integrations, AI-driven agent assistance, and agent desktops are just a few features that make Five9 much more than "just" an IVR system.
Pricing not available
Features (Core bundle)
Popular integrations
Scripted responses
Customer analytics
IVR
Skills-based routing
Call recording
Inbound and outbound calling
Agent desktop
Learn more about Zendesk for Five9.
What VoIP.ms calls its "Digital Receptionist" is essentially an IVR. With help from your Digital Receptionist, VoIP.ms manages your incoming calls through a fully customizable voice-enabled response menu. Unlike most other solutions in this list, VoIP's IVR is designed to suit a digital PBX more than an inbound or outbound calling center.
In addition to IVR, VoIP includes several other essential business phone features designed to help you simplify internal corporate communications. It's worth noting that the price of VoIP.ms is completely usage-based, so you're charged by the minute as well as the type and location of the call.
Pricing
Outgoing rates:

Continental US: $0.01/minute
Hawaii: $0.016/minute
Alaska: $0.031/minute

Incoming rates:

Pay per minute plans: $0.85/month per DID number and $0.009/minute for incoming calls.
Unlimited plans: $4.25/month per DID number and $0.00/minute for incoming calls.
Toll free plans: $0.99/month per DID number and $0.019/minute for incoming calls.
Features
Caller ID filtering
Failover
Call waiting
Call queues
Call forwarding
Call recordings
3-way calling
If you (or more likely your developers) like to get your hands dirty and create your own fully customized IVR system, Twilio is worth a look. Twilio offers flexible API tools which you can use to integrate processes and data into every aspect of your IVR system setup. But even though the software is DIY, that doesn't mean Twilio doesn't offer a helping hand.
Twilio's AI-powered Autopilot platform helps you build self-service voice assistants. And in Twilio's Studio, you get a no-code, drag-and-drop builder for creating intelligent call flows. To top it all off, Twilio's open infrastructure ensures you can integrate all the apps you could hope to.
Pricing
Twilio Flex (per-hour pricing): $1 per active user hour
Twilio Flex (flat-rate): $150 per user per month
Features (Twilio Flex with Voice)
Call tracking
Intelligent voice assistance
Payment integrations
Text-to-speech
Omnichannel support
Global conferencing
Call transcription
Speech recognition
Learn more about Zendesk for Twilio Flex.
Geared towards sales or service organizations focused on improving their ability to cost-efficiently provide the best customer experience possible, Aircall's IVR system tightly integrates with any helpdesk or CRM. As a result, both outbound and inbound calling centers can use Aircall's IVR to trigger automatic greetings, automate call routing and self-service, and much more.
Aircall's pricing structure is refreshingly simple relative to other IVR systems. All you have to do is purchase one of their packages for a monthly or annual fee and you can make and receive unlimited calls within Canada and the United States. Plus, Aircall offers a 7-day free trial of their IVR system for new users.
Pricing
Essentials: $30 user/month
Professional: $50 user/month
Features (Essentials plan)
Unlimited calls within US & Canada
Call recording
Phone support
Send and receive SMS
Voicemail
CTI
Call queuing
Learn more about Zendesk for Aircall.
CloudTalk's IVR system makes it simple and easy to handle inbound calls while syncing caller contact information to ensure agents have the data they need to provide great customer service. On top of their intuitive IVR includes plenty of critical voice features like call queuing and recording.
Plus, CloudTalk is designed to make your agents more productive with call tagging, skill-based routing, call comments, and much more. It's worth noting that you'll need the Essential or Expert plan from CloudTalk to access their IVR; the Starter plan doesn't include it.
Pricing
Starter: $25 user/month
Essential: $30 user/month
Expert: $50 user/month
Features
Automatic call distribution (ACD)
Call flow designer
Ring groups
Skill-based routing
Call recording
Mobile app
Voicemail
International numbers
Business hours
Learn more about Zendesk for CloudTalk.
If you're looking for a friendly user interface through which you can offer your callers key-based and voice-activated call routing, Ringover is worth a look. With Ringover, you can easily record messages to provide business hours, answer FAQs, and much more. And the software comes with helpful visual builders for configuring sophisticated call workflows.
Ringover's flexibility means you can create simple or multi-level IVR menus, forward calls to external numbers, manage your call queues, and leverage data-based routing—all from a simple dashboard. With Ringover, you have two pre-made packages to choose from—both of which you can try for free—or you can opt for a custom plan.
Pricing
Smart: $29 user/month
Power: $59 user/month
Features (Smart plan)
Interactive voice recognition software
HD video calls
Custom greetings
Unlimited international calling (110 countries)
Call forwarding
Click-to-call chrome extension
Smart routing
Conference calling
Learn more about Zendesk for Ringover.
Professionals that provide service in the field have unique needs, and Workiz recognizes that with their purpose-built IVR system. With Workiz, you can use IVR-based call routing, manage call queues, log calls, and much more. Features like click-to-call make it convenient for techs in the field to call customers with nothing more than a click.
You should also know that in addition to their IVR phone system, Workiz also offers an all-in-one field service management software. But you will have to purchase that subscription separately from your phone system. In any case, though, Workiz does offer a free trial, so you can try it before you buy.
Pricing
Essentials: $59 per month
Call Tracking: $129 per month
Dispatch Pro: $229 per month
Features
Call flows
Smart transfer
Voicemail to job
Call masking
Tech call recordings
Custom greeting
Send/receive text messages
How to choose the right IVR software?
The right IVR software is the system that allows your business to handle calls at a low cost while improving service quality. But with so many options available, it can be hard to narrow down the best solution.
To help you make sense of what works the best for your business, stay focused on these three factors:
Ease of setup and configuration
The days after you purchase or start a free trial of an IVR software will make or break its adoption and integration into your business's workflow. Even an otherwise great IVR system that is frustrating and costly to set up may cause staff and executives to lose faith in the solution. But as with any new technology you adopt in your business, you need buy-in to make it function as it should.
This is why, when you're searching for IVR software, make sure you prioritize the solutions that make it easy to get up and running so you can see results quickly. The same goes for ongoing configuration. Since your IVR menus and rules will undoubtedly change over time, you want a system that makes it simple to tweak, test, and roll out changes as needed.
Functionality and cost balance
Just because one IVR phone system has more features than another doesn't mean it's the right one for your business. The key is finding the right balance between what functionality you need and the cost of that functionality. More traditional, touch-tone-based IVRs may be perfectly sufficient for your needs. So don't be swayed by one solution over another just because it has advanced features like visual IVR.
Rather, focus on the functionality that's going to enhance your team's existing workflows. If possible, opt for an IVR service provider that offers multiple packages at pricing tiers that correspond to varying levels of functionality. That way, you'll pay for only the features you need and if you ever want to upgrade, you can without having to change providers.
Compatibility and integration with other systems
Your IVR is your frontline in terms of collecting caller information. So if it's not capable of sharing that information with your existing systems, it's likely not the right solution for you. Whether you're considering IVR for your sales or service team, information sharing is key. It helps salespeople target relevant customers for sales, upsells and cross-sales. And it helps service reps provide great support without requiring customers to repeat themselves.
Before you commit to any IVR system, research what it takes to integrate it with your existing tools. Even if the system is technically compatible, find out how difficult the integration will be to set up. Plenty of solutions can integrate but the process for doing so may be time-consuming and costly. Ideally, you'll find an IVR system that integrates seamlessly.
Frequently asked questions on IVR
Why would a business use an IVR system?
Businesses of all kinds use IVR systems to handle large volumes of incoming and/or outgoing phone calls. By automating the process of collecting caller information, performing customer service actions, providing answers to common questions, and routing calls, IVR systems reduce the work involved in making or receiving phone calls.
Also, because IVR phone systems can be programmed to route calls based on predefined rules, they can make call routing more efficient than it would otherwise be.
What is an IVR call flow?
An IVR call flow is the steps a customer goes through to reach the person or information they are seeking. Call flows can also describe the path customers take to perform an action, like paying their balance. IVR calls flows are the journey your callers take to do what they need to do.
How can you get an IVR number?
You will be able to get your IVR number through the IVR system vendor you work with. If you already have a business phone number that you'd like to use as your IVR number, you'll need to port that number through your IVR system provider.
What is IVR feature testing?
IVR feature testing is how you determine that your IVR system is performing as it should. While IVRs can be a great benefit to you and your customers, poor implementation causes more problems than it solves. That's why IVR feature testing is so important. It's generally best practice to conduct IVR feature testing when:
A new IVR system has just been installed.
A new IVR feature or call flow has been added to your system.
Ahead of peak call volume times, like the holidays.
How do callers interact with an IVR?
Callers interact with an IVR using either their voice, their phone's touchscreen, or both, depending on how it's set up. With a visual IVR, which is a newer kind of IVR, callers can use an app or web browser on their phone to interact with IVR.
What is IVR in customer service?
IVR in customer service is typically deployed to handle inbound calls to a support number. IVR systems help customer service reps focus on serving customers with more complex issues by automating the simpler service tasks like processing orders, communicating business hours, or answering FAQs.
What IVR system is used in a call center?
On a fundamental level, IVR systems used in a call center aren't much different than those used for anything else. Customers call in to a call center, the IVR solicits information from them, and then it performs an action based on the information provided. However, IVR systems used in call centers tend to be more sophisticated, with complex call routing rules and hierarchies that must be configured and rigorously tested.
How does the contact center IVR work?
Contact center IVRs are generally part of a broader phone system or helpdesk platform. Since contact centers tend to deal with the largest call volumes, their IVR systems require more complex configurations. Also, contact center IVRs typically must be integrated with other systems like CRMs, payment systems, and helpdesk so agents can provide a seamless experience across multiple channels.
What is a smart IVR?
A smart IVR solution is simply a more "intelligent" upgrade from a typical IVR. With a smart IVR, you can automate more advanced tasks. Smart IVR solutions may be able to recognize inbound caller information and automatically route the call, facilitate payments, dynamically interact with callers, recognize the customer by name, and more.
What is the meaning of a hosted IVR solution?
A hosted IVR solution is stored and managed on your IVR system provider or a third-party's servers. A non-hosted IVR solution is on-premise, stored and managed on servers owned by your company. You may also hear hosted IVR solutions referred to as cloud-based or cloud IVR; the terms "hosted" and "cloud-based" are interchangeable.
Ready to try IVR software?
At Zendesk, we see the game-changing benefits of interactive voice response solutions all the time. But we've also seen the pitfalls. Vague prompts, too many menu options, or low-quality interactive voice recognition technology can all cause significant customer frustration.
That's why Zendesk has coupled its industry-leading interactive voice recognition software with the ability to personalize and offer varying levels of self-service.
The fact is, phone calls are here to stay. To team up with an IVR service provider that's committed to supporting your effective, affordable calling operations, try Zendesk today.
Tap into more knowledge
Keep exploring the world of phone support software and call centers.