Client Portal
Empowering customers with client portal software
Save your support team time and energy by encouraging self-sufficiency among your customers with a user-friendly client portal.
A guide to the best client portal software
Client portal software is the landing pad for your customers' entire service experience. It's a digital gateway where clients can access all the information they need during their customer journey.
With so much riding on your customer portal, you want to choose software that's going to provide positive experiences. To help make your decision easier, we put together a guide to client portals and some of the best software in the market.
What is client portal software?
Client portal software—also called a customer portal—is a secure and centralized hub where customers can manage their relationship with your company. It connects your business' self-service functions in a single, organized place that can live on your website and/or mobile app.
On a client portal, your customers can perform tasks like checking the status of their open support requests, following relevant knowledge base articles, and contributing to your community forum. When integrated with other systems, a client portal can also allow clients to view and make changes to their account information, such as changing their shipping address or canceling an appointment.
Why do you need a customer portal?
In the early days of the internet, email was the main line of communication between a company and its customers. While this can be an effective tool for outreach efforts, it doesn't give customers quick access to the things they want, like status updates to open customer service tickets or account information. So if a customer needs this information, they must reach out to the company, ultimately taking account executives and customer service agents away from other work.
Many companies now employ a customer portal solution, something that puts the power into the customer's hands. With an open-source customer portal, customers can log in anytime they want and get access to things they need without having to reach out directly to the company.
How do you use a client portal?
How you use your client portal is entirely dependent on your business and your customers' needs. There is no one-size-fits all when it comes to building a client portal for your clients, so it's up to you to determine how you want your clients to use and interact with it. However, there are still some standard ways to use your client portal to maximize its benefits, no matter your business or industry.
Create a map of the data you want included
Build a blueprint of the information you want to include in your client portal, as well as a basic layout for how that information will be found. You should also determine what to do with older data that your clients may no longer need access to.
Integrate it with your other business apps
Connecting your client portal system to your other business apps is crucial to maximizing efficiency. This allows you to upload, share, and store important data across platforms, ensuring that the information your clients are viewing is the most up-to-date and accurate.
Embed it onto your business's website
Your client portal must be easy to find in order for people to use it. Embed your client portal onto your company's website where clients can easily locate it, and grant the proper permissions so that anyone trying to login only has access to their information relevant to their account.
Make it match your branding
Your client portal needs to align with the look and feel of your company's branding. Matching colors and inserting your logo makes it clear to clients that the portal is managed by your company. Plus, it reinforces that the client portal is just another stop along the entire customer experience.
What are the benefits of client portal software?
Let's break down some key client portal benefits.
On-demand information
Customers expect high-quality support the moment they request it—especially if they're experiencing an issue with your product or service. With a well-implemented customer portal, you save customers from waiting on one of your agents to respond. Instead, you can offer them on-demand information so they can find what they need when they need it, including after-hours or on the weekends when agents aren't available.
In the Zendesk Customer Experience Trends Report 2022, we found that 83 percent of consumers will spend more money with businesses that allow them to find the information they need without having to contact customer service.
Example: After placing an order, a customer realizes they need to change the delivery address, but it's after business hours and service agents aren't online. The customer is able to locate and log in to the client portal and update the address.
More efficient support
It's unrealistic and inefficient to try to assign an agent to every single customer inquiry. It's unfair to your agents, and it's unsustainable if you're trying to maintain a high level of customer satisfaction. A customer portal greatly reduces the risk of your agents becoming overwhelmed.
Effective portals prevent a large number of customers who want to do simple things—like view status updates and find help articles—from directly reaching out to a business.
Example: A customer wants to know when they can expect their package to arrive after accidentally deleting a shipping email. When they log in to their customer portal, they can quickly find their purchases and tracking numbers—no need to contact customer support.
Increased security
How many people use an umbrella on a rainy day? Although the rain won't hurt you, it's nice to have some extra protection from the elements. Think of a client portal as an umbrella sheltering you from potential data breaches or leaks. An encrypted, secure portal can give you peace of mind that your sensitive information will weather the storm.
Example: Customers can set up two-factor authentication for their client portal accounts to add an extra layer of security beyond their password.
Greater flexibility
The best client portals are entrances to a comprehensive online support experience. This makes them far more flexible than email—or any other communication method, for that matter. With a customer portal, you have much higher limits on the size and type of files you can upload. Plus, you can centralize other customer interactions like ticket tracking, billing, messaging, and more.
Example: A customer receives a meal-kit delivery and notices one of the food containers is damaged. On the client portal, they submit a ticket reporting the issue and upload multiple pictures that show the damage.
Personalized service opportunities
A client portal allows businesses to deliver more personalized experiences. You're already collecting data about your customer's needs, preferences, and buying habits, so use your insights to make big and small gestures in the customer portal—everything from sending a happy birthday message to offering a discount code.
Example: After a customer purchases the same product multiple times, you greet them with a coupon for that product the next time they log in to the portal.
What should a customer portal include?
There are several high-level features you'll find in most modern customer portals. Here are five common features to look for and evaluate.
Brand customization
Cohesive branding is a must for customer retention and recognition. Customizable portal software enables you to offer self-service options without sacrificing your brand aesthetic. At a minimum, your client portal software should allow you to map the portal to your domain and control the design of the portal itself.
Secure file management
Cybersecurity has been a concern since the dawn of the internet. But today, that concern is top of mind for consumers and businesses alike. While customer portal software offers another layer of security, you still have to make sure your solution has sufficient security measures in place.
Billing capabilities
The best client portal software allows you to upload invoices for your customers to view (and pay). This prevents your customers from having to search for bills in a crowded email inbox. Instead, they can easily access payment information in a convenient location.
Self-service options
Client portals for customer support should guide users to the information they need without much effort. Self-service options—like knowledge bases, community forums, and chatbots—can be baked into your portal and provide a wealth of information for customers.
Collaboration tools
Just because a client portal gives your customers a place to self-serve doesn't mean your agents aren't still heavily involved. To ensure customer requests are addressed quickly and thoroughly, support agents need visibility into requests and the ability to share updates or request assistance from other team members. This is especially true when you're serving large organizations where your customer is more than one person.
For added convenience, your customer portal should be accessible via a mobile phone and an integrated chatbot.
How can you build a customer portal?
Building a customer portal requires having the right software. Many customer service software platforms include features for building a customer portal, and each one will have its own process for creating one that fits your brand.
Your first step will be to customize your portal with your company's logo and branding style. Whichever software program you decide to use will walk you through the steps of configuring and customizing your portal. But keep it simple — overloading your customer portal with images and branding materials will overwhelm your customers. First and foremost, your client portal should be easy to search and navigate.
Once you've customized your client portal and enabled ticket submission and chat options, the final step will be to integrate the portal with your website so it's easy to find. You can do this by placing a link or inserting a widget onto your website that will direct customers to the portal.
Top 15 client portal software
Your client portal software should help you build the exact customer experience you want to provide. We've rounded up some of the best options.
Zendesk




Huddle




Zoho Creator




Portal




HappyFox




MyDocSafe




SupportBee




Clinked



AzureDesk




Kahootz




Onehub




Nimbus Note




Accelo




MangoApps




MOXTRA



1. Zendesk
Zendesk's client portal empowers customers to find what they're looking for when they need it most. Our portal allows for quicker response times, transparent communication, and easily accessible information so businesses can build strong relationships with their customers.
Customers can check the status of their support requests, review updates to their knowledge base and community contributions, and subscribe to specific content—all from a single location. They can also create new requests directly on the portal.
Key features:
Brand customization
File management
Collaboration tools
Billing
Self-service options
Knowledge base
Ticket management
Community forums
2. Huddle
Huddle is geared towards complex client engagements where data security is a top priority. Its portal is centered around "Workspaces," where you can organize people, files, tasks, and conversations associated with a project in a single space. In this way, Huddle is both a client portal and a task management tool.
Since it's designed more like a document and task management tool, it's not as well suited to customer service teams with a high volume of tickets.
Price: Contact vendor for pricing.
Key features:
Custom branding
File management
Online document collaboration
Secure file sharing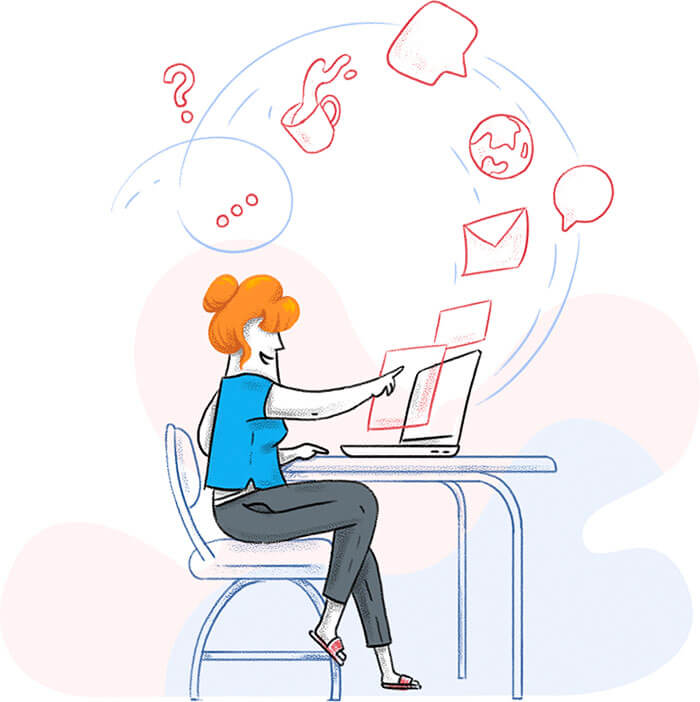 3. Zoho Creator
​​
Zoho Creator is an impressively flexible collaboration platform that anyone can use to build a variety of portals. Zoho is versatile enough to create portals for client help desks, customer support, project management, HR, and even order fulfillment.
Zoho Creator is so flexible because it provides a low-code platform to develop all kinds of applications, not just portals. But that means it's on the pricier side as far as client portal software goes.
Price: $37 per month for Premium ($27 per month if you pay yearly) or $40 per month (billed annually) for the Ultimate plan.
Key features:
Brand customization
File management
Collaboration tools
SDKs, APIs, and widgets
Billing
Self-service portal
Knowledge content management
Email ticketing
Discussion forums
4. Portal
Portal is intuitive customer portal software that provides modules for messaging, billing, files, e-signatures, forms, and knowledge bases. There's also a module for embedded dashboards that allows you to connect analytics software to your portal. It's simple to set up and use, but it doesn't include vital customer support functions like ticket routing.
Price: The Standard plan costs $59 per user per month, and the Professional plan costs $95 per user per month, with a 20 percent discount for annual subscriptions.
Key features:
Brand customization
Files and e-signatures
Messaging tools
Global and client-specific extensions
Customer payments
Self-service portal
Knowledge base management
5. HappyFox
HappyFox's client portal software offers a wide range of self-service options for customers, including support for ticket tracking, community forums, and knowledge bases. It also allows plenty of customization using HTML, CSS, and JavaScript.
Price: $39 to $99 per user per month.
Key features:
Brand customization
Secure file sharing
Customer billing
Self-service knowledge base
Content management
Ticket routing, categorization, and tagging
Community forums
Learn more about Zendesk for HappyFox.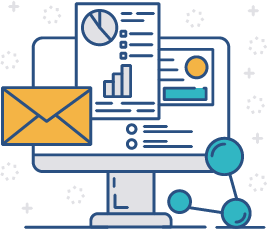 6. MyDocSafe
A basic program for onboarding clients and sharing files, MyDocSafe provides secure client portal software that also includes document management, billing, e-forms, ID verification, and automation. Using MyDocSafe, you can share files and documents for signing, and collect customer data with forms.
MyDocSafe's customizable workflows enable you to completely automate the onboarding process, too.
Price: $20 to $28 per user per month (when billed annually).
Key features:
Customizable workflows
Fully customizable portals
Full audit trails
Secure document management
Data security
Customer payments
Self-service options
Multi-party signing
7. SupportBee
In addition to its simple, intuitive ticketing system, SupportBee provides client portal software that's great for small teams. The company's customer portal allows clients to submit new support requests and check in on past ones. SupportBee's software is also unique in how it handles customer logins: Rather than requiring customers to remember usernames and passwords, agents can send private links that customers can use to access the portal.
Price: $20 per user per month, with a 13 percent discount for annual subscriptions.
Key features:
Portal customization
Domain mapping
Shareable private portal links
Secure file sharing
Billing
Self-service knowledge base
Ticket management
Discussion forums
8. Clinked
Designed for a variety of industries, Clinked consolidates communication between clients and internal teams in a secure, mobile portal. It doesn't natively provide ticket tracking, a knowledge base, or forum accessibility, but customers can make service requests through Clinked. It's also secure, mobile, and fully customizable.
Clinked is a good fit if you're looking for a portal that's focused on project collaboration. With real-time chat and document collaboration tools, it's a great option for centralized task management.
Price: $99 to $995 per month, with a 35 percent discount for those who purchase a two-year plan.
Key features:
Branded portals
Real-time file sharing
Document collaboration tools
Secure document management
Live chat
Mobile app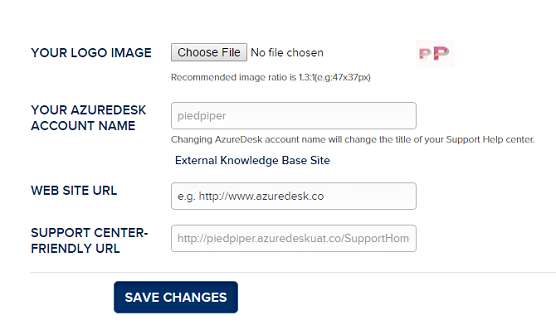 9. AzureDesk
AzureDesk is a robust help desk software solution that includes self-service customer portals as well as ticket routing, knowledge base management, and email-to-ticket conversion. Once you're registered with AzureDesk, you'll have an admin portal where you can add FAQs, knowledge base articles, and more to your customer support portal.
Using an AzureDesk portal, your customers can easily search your knowledge base and look up and make new requests. It's customizable, too, so you can give your client portal the look and feel of your brand.
Price: $33 per user per month when billed annually, and $50 per user per month when billed monthly.
Key features:
Domain mapping
Branding customization
FAQs
API
Secure file management
Payments
Knowledge base management
Ticket routing
Community forums
10. Kahootz
If it's secure enough for the UK Ministry of Defence, Kahootz is probably secure enough for you. And on top of high security, Kahootz provides intuitive, powerful customer portal software that includes forums, document management, surveys, content creation, and much more. Similar to Huddle, Kahootz is as much a project management tool as it is a client portal, but it doesn't provide ticket routing.
Price: Contact vendor for pricing.
Key features:
Portal customization
Customer surveys
Forums
Secure data sharing and file management
Content management
Document collaboration tools
Billing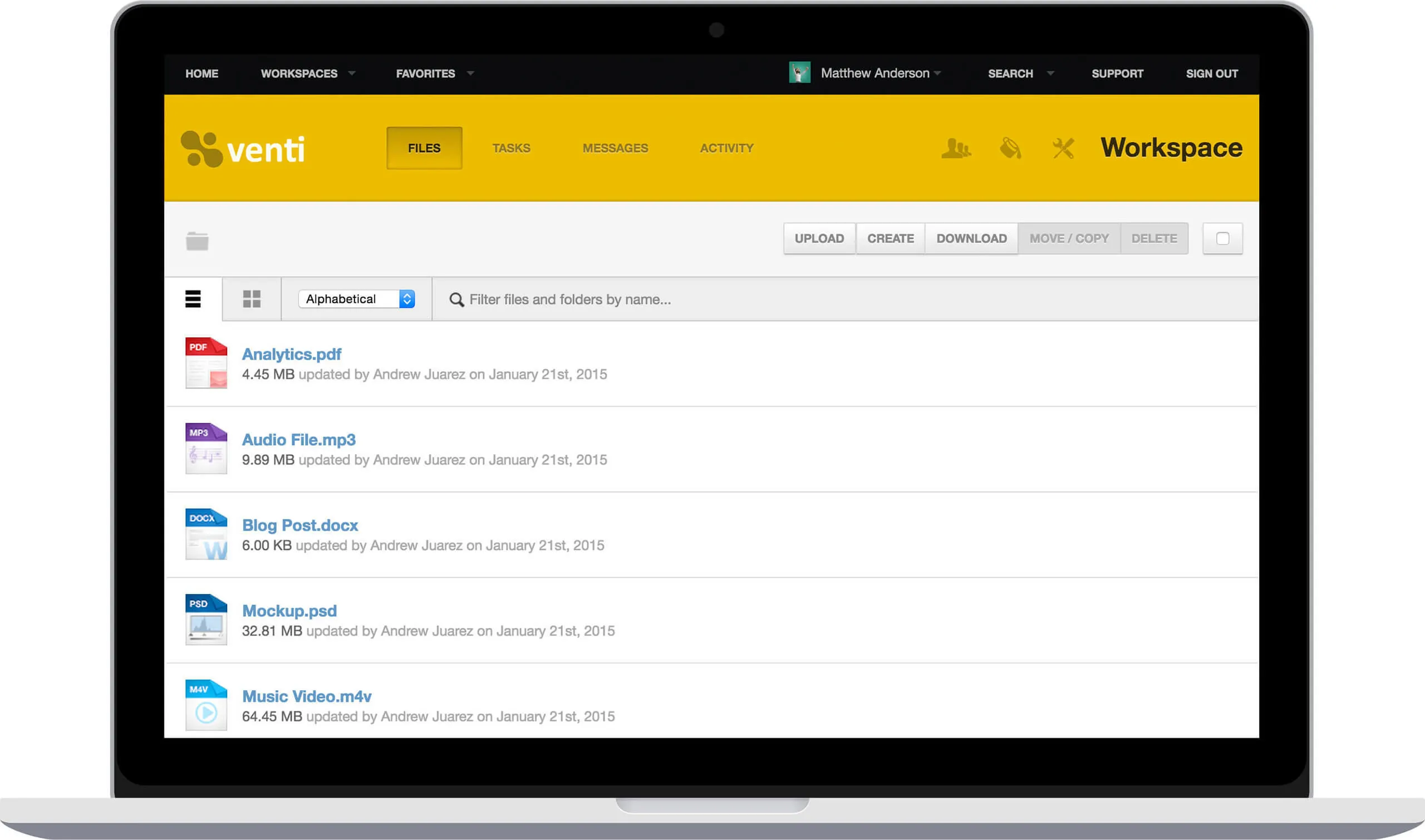 11. Onehub
Onehub is a virtual data room that improves how businesses interact with clients and facilitates collaboration between coworkers. With secure online data sharing, teams can exchange even the most sensitive information and set access permissions by labeling users with different roles (such as administrator, creator, and viewer).
This client portal can also be customized to suit your company's branding. And with cloud storage capability and drag-and-drop uploading, moving information around is a fast and easy process that can be done securely from anywhere. Bank-level encryption—along with role-based permissions, session timeouts, and two-factor authentication—keeps data safe.
Price: Plans range from $15 to $575 per month, with a 20 percent discount for annual subscriptions.
Key features:
Communication management
Employment activity monitoring
Secure file viewer
Version control
Discussions/forums
Offline access
Document classification
Full-text search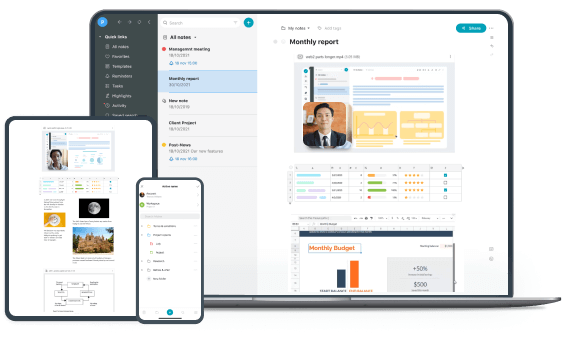 12. Nimbus Note
The Nimbus Web Platform includes several streamlining tools, including Nimbus Clipper for organization, Nimbus Clarity for optimizing communication, and Nimbus Note for creating client portals, databases, lists, and more. This platform lets you invite customers into your portal, capture useful feedback, and send videos or screenshots. Create guest accounts, set workplace access, and send invitations in a few clicks.
Price: Nimbus offers a free version, with paid accounts starting at $5 per month or $48 per year.
Key features:
Access controls/permissions
Document management
Meeting notes
Mobile access
Real-time editing
To-do list
Version control
Notes management
13. Accelo
Accelo is a cloud-based client work management platform with a high-quality client portal feature. Encourage customer self-sufficiency by inviting clients to your portal and granting them online access to all their relevant data, including account information, requests, quotes, invoices, retainers, and more.
With on-demand access to key information, clients and other stakeholders can track projects in real-time, submit requests, and review documents.
Price: $30 to $49 per month, with a 25 percent discount for annual subscriptions.
Key features:
Sign-off module
Portal permissions
Customization
Online invoicing
Search filter
24/7 client portal access
14. MangoApps
MangoApps is a digital hub for communication and collaboration. It helps ensure employees can always access the information they need to see projects to completion and provide top-notch support to clients. And with enterprise-level security, MangoApps promises that even the most sensitive information can make the rounds without risk.
Customize your widget-based dashboard to match your brand's look and feel. And thanks to a modern interface modeled after the most-used social media platforms, users can interact through emojis, comments, and groups. Plus, by using unified reporting and analytics, you can track and monitor activity to get full visibility into how people use the platform.
Price: Contact vendor for pricing.
Key features:
Learning management system
Interactive forms and tracker spreadsheets
Custom workflows
Surveys and polls
Employee directory
Learn more about the MangoApps integration with Zendesk.
15. Moxtra
Moxtra is a client interaction hub that helps you streamline how you communicate and share information with your customers. From securing purchase orders to opening accounts, Moxtra facilitates seamless interactions that help boost customer satisfaction.
Embed your client portal directly into your website, or configure your own private label app for mobile devices. Integrated workflow capabilities include secure messaging, virtual data rooms, video meetings, digital signatures, and more. Moxtra also uses Webhooks to ensure your client portal integrates with your existing tech stack.
Price: $100 to $480 per month, with discounts available for annual subscriptions. Custom plans are also available.
Key features:
Activity dashboard
Reporting/analytics
Template management
Customizable forms
Spotlight and visual annotations
A summary of the best customer portal software
| Customer portal software | Free trial? | Ticket management | Reporting and analytics | Activity tracking | Collaboration tools |
| --- | --- | --- | --- | --- | --- |
| Zendesk | ✔ | ✔ | ✔ | ✔ | ✔ |
| Huddle | ✔ | X | X | X | ✔ |
| Zoho Creator | ✔ | X | ✔ | X | ✔ |
| Portal | ✔ | X | ✔ | X | ✔ |
| HappyFox | ✔ | ✔ | ✔ | ✔ | ✔ |
| MyDocSafe | ✔ | X | X | X | X |
| SupportBee | ✔ | ✔ | ✔ | X | X |
| Clinked | ✔ | X | X | X | ✔ |
| AzureDesk | ✔ | ✔ | ✔ | ✔ | ✔ |
| Kahootz | ✔ | X | X | X | X |
| Onehub | ✔ | X | X | X | ✔ |
| Nimbus Note | ✔ | X | X | X | ✔ |
| Accelo | ✔ | X | ✔ | X | ✔ |
| MangoApps | ✔ | X | X | X | ✔ |
| MOXTRA | ✔ | X | ✔ | ✔ | X |
How to choose the right support portal for your business
Support portals vary widely—you must choose the right one for your particular needs. For example, the portal a professional service company needs will differ greatly from the one an e-commerce company or a B2B tech provider needs.
When evaluating any customer portal software, consider the following:
Security
Are client portals safe? Generally, yes. Compared to the alternative of exchanging emails or messages outside of a portal, client portals are much more secure. Still, a customer portal's security depends on the vendor; different customer portals have different levels of security.
Value
A client portal certainly adds value to your business, especially if most of your interactions with customers are online. Portals provide a place for your customers to track tickets, contribute to community forums, look up knowledge base articles, and more. Plus, when using a portal, your customers can find answers even when your customer service team isn't online.
Sharing capabilities
Sharing files and documents is an essential function of any client portal. If you find a customer portal software that doesn't allow file and document sharing, you should keep looking. Most vendors provide this option in their basic or free plans.
Languages
The best way to offer support to all your customers is to have a client portal that offers multiple language options. Examine your client base to determine which languages you need to prioritize before selecting your software.
Software review sites often feature comprehensive lists of supported languages, making it easy to weed out the providers that don't include the languages you need.
Accessibility
Because customer portals often contain sensitive information, users must access your portal via a secure login. Usually, this login page is embedded directly into your company's website, so customers can easily find and return to it.
Depending on how you configure your portal, customers may be able to sign in with a simple ID and password or with information like a unique account number. Alternatively, you can create an app specifically for your client portal, in which case the end user will install the app and access the client portal from their mobile device.
Try client portal software for free
Your customer portal is the launchpad for your customer journey. So your client portal software plays a crucial role in delivering memorable customer experiences throughout that journey. A scalable, easy-to-use customer service software solution can help you build and manage your portal so you consistently provide stellar support.
Try client portal software for free
Zendesk's help center gives your customers access to everything they need—including a client portal and other self-service options—in a single, organized location. They can see their entire support history, stay up-to-date on the progress of open tickets, and find answers to their own questions. Start empowering your customers with the right client portal software today.
Tap into more knowledge
There's plenty of information about secure client portals and self-service options. Read these resources to learn more.