FAQ Software
FAQ software: Create the best FAQ pages
Use FAQ tools, templates, and best practices to enhance the customer experience.
A guide to creating the best FAQ pages & templates with FAQ software
Providing quick answers to frequently asked questions is an often overlooked, yet relatively simple way to establish the foundation of an effective customer service team. But the questions customers ask plus where and when they ask differ from company to company.
So what makes one FAQ tool the ideal choice for a different organization might make it a terrible choice for yours. And even the best tool doesn't create your FAQs for you. You need best practices, templates, and great FAQ software to maximize an FAQ page's impact.
To ensure you choose and implement the ideal FAQ tool for your team and your customers, this page will cover everything you need to know about FAQ pages, templates, and more.
Feel free to skip around by clicking through the table of contents below:
What is FAQ software?
FAQ (frequently asked questions) software is a program that enables you to create, edit, publish, and distribute FAQs for self-service customer support. Depending on the software, you may be able to distribute FAQs on one or more web pages, via chatbots, and through live chat. Every company has questions they regularly get from customers. You can use an FAQ service to asynchronously share that knowledge with your customers to resolve their issues faster while saving your agents valuable time for more complex questions.
Why do companies need FAQ software?
FAQ software gives your organization the ability to easily and cost-effectively start offering your customers self-service options. This has the two-pronged benefit of reducing resolution times and improving CSAT scores while simultaneously reducing your agents' workload.
This explains why the best companies are far more likely to provide self-service or have a help center. According to our 2020 Customer Experience Trends Report, high-performing businesses are 76 percent more likely than average or low performers to provide self-service options.
Also, self-service is increasingly becoming the price of entry rather than a competitive differentiator. In 2020, only one third of companies surveyed offered any kind of self-service. Yet in 2021, over 60 percent of companies reported investing in self-service.
Benefits of having an FAQ page
Reduced average issue resolution time
Self-service options like FAQ reduce the time it takes for customers and agents to resolve issues. Agents can reuse FAQs to quickly answer a question and customers can use an FAQ page to resolve their own issue. In both cases, issue resolution time goes down, which is a big deal for how your customer perceives their experience. In the 2021 Zendesk Customer Experience Trends Report, 32 percent of respondents said resolving issues quickly was the most important aspect of a good customer experience.
More productive agents
By answering questions without involving an agent, FAQ pages effectively focus your agents on the issues they're most needed for. Plus, when common queries do get through the FAQ page, even newer agents can resolve them independently because they can use the FAQ pages as a resource themselves. In short, both experienced and inexperienced agents get more productive with FAQ pages.
Reduced cost of service
Involving a support representative is the most expensive way to solve a customer issue. It's far more cost-effective to provide resources like an FAQ page so customers can resolve their own issues. According to Gartner, when an issue is resolved through a live interaction, it is 80 to 100 times more expensive than if that issue had been resolved through self-service. So the more issues your FAQ solves without involving an agent, the more efficient your operation is.
When is an FAQ page appropriate?
An FAQ page is appropriate when your company representatives often receive the same, simple questions. Note that FAQ pages are not necessarily appropriate for complex questions, even if those questions are frequently asked. As a rule of thumb, your FAQ page should only answer questions that can be comprehensively answered in (at most) a few paragraphs.
What are the main elements of an FAQ template?
While your actual FAQ pages may be quite long, the list of main ingredients needed for an FAQ template is short. The main elements of an FAQ template include:
Questions and answers: An FAQ can't be an FAQ without common questions and clear answers.
Navigation structure: A short, simple list might be the only navigation you need for a brief FAQ covering a single, narrow topic. But an FAQ template for a longer page with multiple topics may require drop-down navigation, anchor links, or a table of contents.
Topics: Grouping FAQs by topic goes hand in hand with creating the page's navigation structure. Without clearly defined topics, it'll be difficult to make smart choices about navigation design.
Front-end design: Any content you create, including FAQs, is a reflection of your brand. So typography, colors, and other branding elements must be included in an FAQ template.
How to create a FAQ database?
The process of creating a great FAQ database generally includes six simple steps (which we'll list in this section). But just because creating FAQs is a simple process, doesn't mean it's easy. To ensure your FAQ completely answers as many questions as possible (in the next section) we'll include a list of best practices you can apply to each of the following steps.
Steps to creating an FAQ database:
Compile your customers' most frequently asked questions.
Group FAQs by topic.
Write answers to your FAQs and pull in any necessary external resources.
Create a navigation structure for your FAQ page.
Publish the FAQ database on your website.
Regularly update your FAQ.
FAQ best practices
Do your research on customers' FAQs
In most cases, very clear patterns emerge around the questions your customers ask. When you're creating an FAQ, your job is to find and exploit those patterns. So it's important to do a significant amount of research and analysis of your existing customer interaction.
The best place to start is with your support tickets. By looking for similar tickets and talking to support agents, you'll surely find plenty of frequently asked questions to answer.
Another research goldmine is Google Analytics, where you can see the search terms that prospects are using to search for your products or services. Hopefully, your marketing team is already compiling and analyzing this data so you can use their research to supplement yours.
Use a clear, logical organizational structure for your FAQs
Even if your questions and answers are on point, they'll get lost in the shuffle if they're not easy to navigate. So don't make your prospects and customers stroll through dozens of questions to find the one they're looking for. Instead, use navigation elements (such as a table of contents) with clear, logical labels. And if necessary, divide your FAQs up into separate pages organized by topic.
Because every FAQ page is different, there's no universal recipe for a well-organized FAQ. But by using logically grouped questions and navigation to avoid long blocks of text, you'll be ahead of the game.
Answer each FAQ completely and concisely
No one wants to read a novel to find the answer to their frequently asked questions, so make sure yours are short and easy to read. You should also avoid making customers wade through jargon and technical terms; always use the simplest language you can.
At the same time, don't prioritize conciseness at the expense of a comprehensive answer. If you can't completely answer a question with a few paragraphs, consider directing readers to an external resource such as a blog post, demo, or even a live consultation.
Make FAQ creation an ongoing process
As your company's offering evolves, so will your customers' questions and your agents' answers. So don't make the mistake of setting and forgetting your FAQs. Make it a priority to revisit your FAQs each quarter to see if there's anything that might need to be added, updated, or removed.
Even a single update can take a significant amount of manual work off your agents' plates by giving customers the resources they need to serve themselves.
10 best FAQ software & tools
Zendesk




Wix Answers




Slab




HappyFox




Zoho Desk



SupportBee




HelpScout




GrooveHQ




Helpjuice




CloudTutorial



1. Zendesk
To make the most of your FAQ opportunities, you need to know exactly what (and where) your customers are asking. That's where Zendesk comes in. Zendesk helps you tally which articles customers are visiting and commenting on most, giving you everything you need to decide what information to include in FAQs.
If you think that's great, combine Zendesk knowledge base software with Zendesk customer service analytics, and you can easily show management the impact self-service options have on your business.
Easily extend your FAQ tool
When implemented alongside Zendesk's powerful chatbot and ticketing system, your website, app, and support reps can easily reuse answers from your FAQ to resolve customer issues quickly and with minimal effort.
Customers browsing your website can look for what they need themselves or engage Zendesk's Answer bot for assisted self-service—all without the involvement of a live agent. And even when a support rep is needed, those agents can resolve issues even quicker with a robust knowledge base of FAQs to lean on.
All that adds up to faster and more efficient service with a healthy dose of happier customers.
Streamline internal customer service
Internal FAQ software isn't just great for customers; it's a powerful resource for your entire team. From new hires to experienced veterans, an internal knowledge base of FAQs minimizes the time your employees need to spend fumbling for information. Whether it's a question about employee benefits or holiday schedules, Zendesk's FAQs help employees easily find the answers to their questions so they can focus on their work.
To see what it's like to provide omnichannel self-service that's always on, try a free trial of Zendesk today.
Key features of Zendesk
You may be familiar with Wix for their famously easy-to-use website builder but they also provide FAQ software through their Wix Answers product and the Wix FAQ app. If you're using Wix's website builder already, you can download the Wix FAQ app for no additional charge to start adding FAQs to your site.
But if you're looking for more robust FAQ software, Wix Answers is the way to go. With Wix Answers' knowledge management solution, you'll create FAQs as one component of a knowledge base that can include step-by-step guides, chatbot integrations, analytics, and more. You can try Wix Answers for free for 14 days.
Key features of Wix Answers (Self-Service Plan)
Custom branding
Categorization
Knowledge management
Full-text search
Customer surveys
Analytics
A key component of creating an awesome FAQ is pulling in and sharing the knowledge and data of multiple teams and their tools. Slab is an FAQ solution that aims to solve that problem. It unifies all the tools your team uses to manage information, creating a "single source of truth."
Among many other features, you can use Slab's intuitive, clear interface to create, edit, and publish a knowledge base full of FAQs and comprehensive how-tos for your customers. And you can use it to make your team more effective by creating and defining processes and workflows. Plus you can get started with Slab's FAQ software for free to see if it's a good fit.
Key features of Slab (free plan)
Posts and topics
Internal collaboration
Templates
30 days of usage analytics
10 standard integrations
SSO
HappyFox's FAQ software is contained within each of its four help desk software plans. So unless you're also looking for a robust, full-featured helpdesk (and you have a minimum of 5 agents) you may want to skip this FAQ software. But if you're looking for lots of additional features like pre-composed chatbot replies, custom analytics dashboards, multi-language support, and more in addition to your FAQs, HappyFox is worth a look.
Among its many sophisticated capabilities, HappyFox features intelligent case deflection which directs customers to your FAQs when they're trying to submit a ticket for an issue that's better resolved with an FAQ. It also automatically curates your most popular FAQs. To find pricing for HappyFox, you'll need to request it through their website.
Key features of HappyFox (Mighty Plan)
Omnichannel ticket creation
Secure hosting
Migration assistance
Self-service knowledge base
Canned actions
SLA management
Dashboard
Client portal
Learn more about Zendesk for HappyFox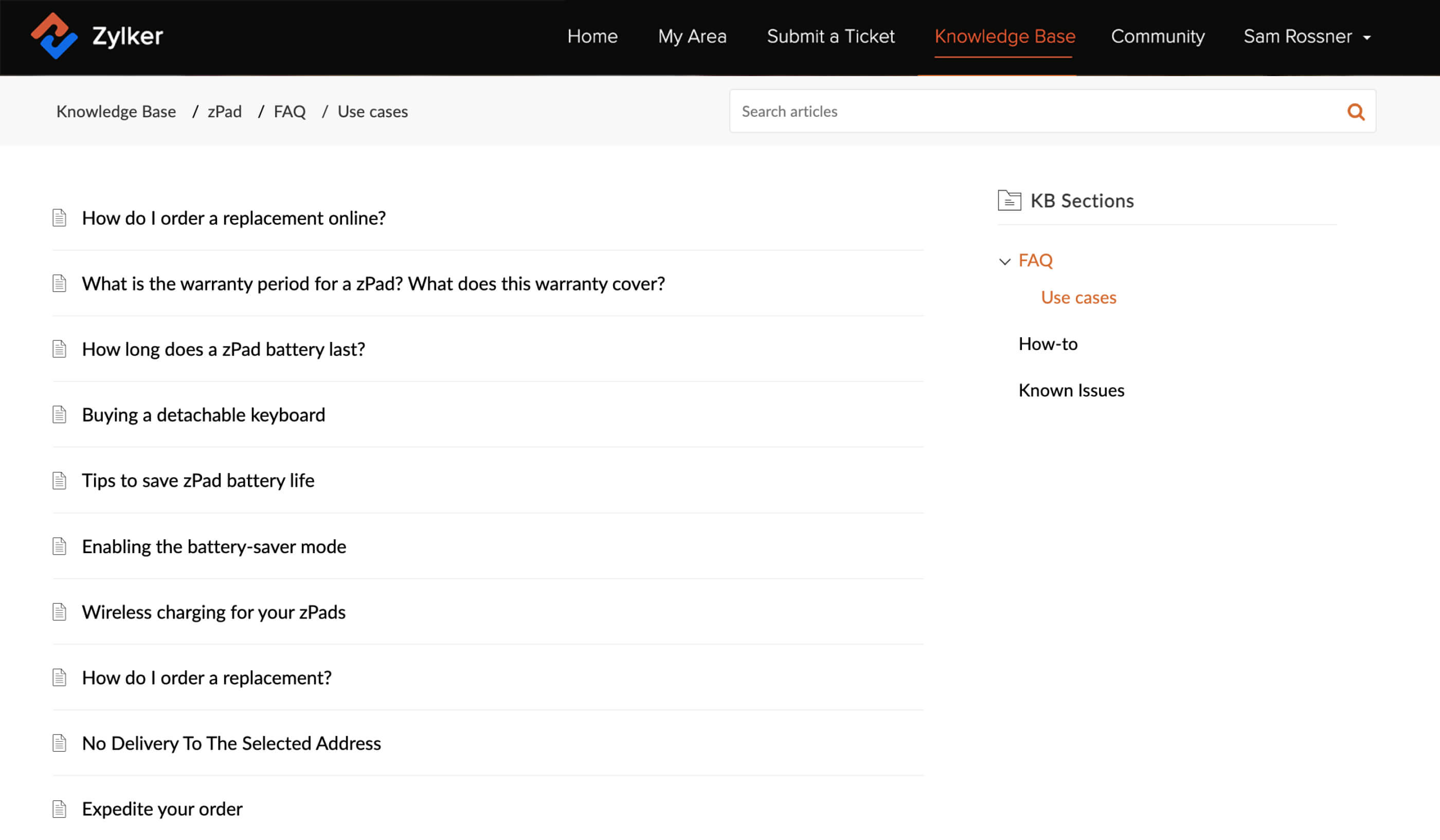 Like HappyFox, Zoho Desk provides a host of help desk features in addition to its FAQ software. However unlike HappyFox, while Zoho Desk can be an enterprise solution, it can also be a good fit for smaller businesses because its plans don't have high minimum agent counts. To access the FAQ tool, you'll need the Standard plan so you can create a public knowledge base.
If you go with the Standard plan, you'll be able to set up multiple branded portals for access to the knowledge base, as well as reporting, customer ratings, ticket management, and community channels. The Standard plan is billed at $14 per agent per month if you buy an annual plan and $20 if you go monthly and you can try any plan for 15 days.
Key features of Zoho Desk
Product-based ticketing
Predefined SLAs
Reports and dashboards
24×5 phone support
Customer happiness ratings
Social and community channels
Mobile apps
Workflow and assignment rules
Learn more about the Zendesk app for Zoho
In addition to its FAQ software, SupportBee offers a shared email inbox for your agents and a portal for your customers. SupportBee plans come in two tiers, Startup and Enterprise. Startup includes the inbox and knowledge base which you can use to access the FAQ tool free of more advanced features. Enterprise includes everything that Starter has, plus the customer portal and more advanced integrations.
SupportBee's FAQ software enables you to embed your knowledge base in your mobile app or website. But fully integrating SupportBee into your workflow may take some additional implementation through the API since SupportBee only has few native integrations relative to other FAQ software options.
Key features of SupportBee
Knowledge base snippets
Multiple knowledge base support
Full-text search
Rich text editor
PDF, image, and video file support
Embeddable help articles
Design and branding customization
HelpScout is a knowledge base that's designed for self-service, such as FAQs. Using HelpScout, you can quickly create, update, and publish FAQs with text, tables, videos, images, and intuitive search engine optimization features. And with Beacon, HelpScout's knowledge base and chat widget, your website visitors can search for FAQs from anywhere on your website rather than a single page.
Of course, as a full-featured knowledge base software solution, HelpScout goes well beyond FAQs. You can use it to create and host an optimized help center, track what your customers are searching for, and publish internal resources only visible to your team. Get started with a free trial of any one of HelpScout's three paid plans.
Key features of HelpScout (Standard Plan)
Automate workflows
API
Over 50 integrations
Reporting and analytics
Messaging
Live chat
3 mailboxes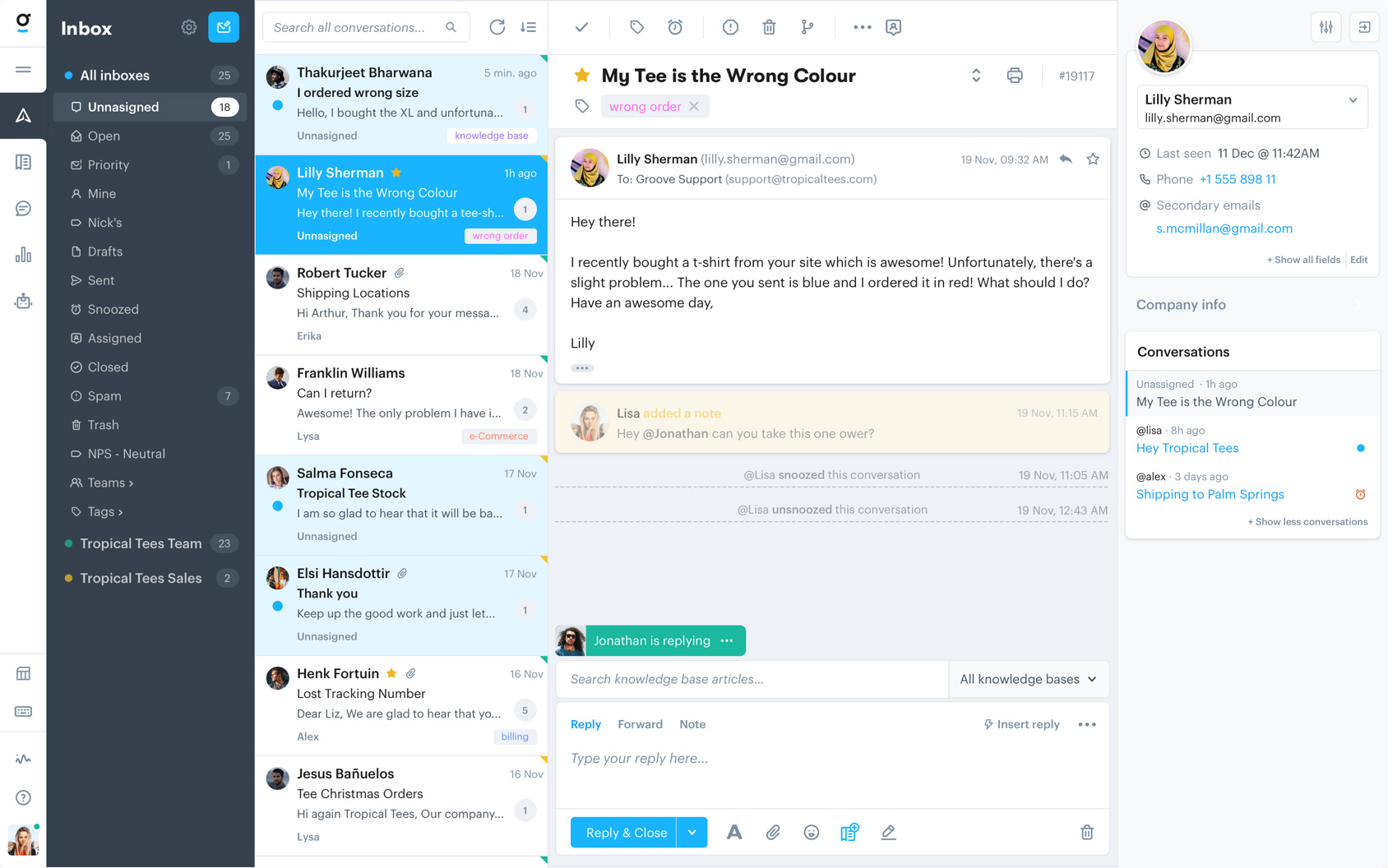 In addition to its ticketing system, Groove provides well-designed FAQ software that'll help streamline FAQ creation, publication, and distribution to both agents and customers. If you use GrooveHQ's ticketing system, the FAQ tool frees agents to pull answers straight from the knowledge base while live chatting or emailing with a customer.
One thing that GrooveHQ is lacking is in how it handles emails with lots of HTML. Many reviewers have said the system was on the slow side when processing HTML emails. Of course, if you don't need your FAQ software for handling tickets via email, that won't be a deal-breaker. You can do a free 15-day trial of any one of GrooveHQ's three paid plans.
Key features of GrooveHQ (Pro Plan)
25 Mailboxes
Live chat
Reports
Assignments
Rules
Customizable Knowledge Base
40+ Integrations
Helpjuice is one of the more expensive options on this list of FAQ software but it does offer a lot to teams who value a powerful yet intuitive knowledge base. Its native editor and publishing interface makes it easy to collaborate on FAQs, structure your pages, publish multiple versions of FAQs, and control permissions. And it has powerful analytics so you can make your FAQs even better and more relevant over time.
Like we said, Helpjuice is on the more expensive side and that's reflected in their Starter plan, which is priced at $120 monthly for up to four users. But you can get a feel for any paid tier of the software with a 14-day free trial.
Key features of Helpjuice (Starter Plan)
Content analytics
API
Branding customization
Knowledge base editor
Integrations
Multi-language support
Full-text search
In-app widget
Learn more about Zendesk for Helpjuice
As a standalone knowledge base, CloudTutorial's FAQ software is specifically designed to help your customers get the answers to their most frequently asked questions. Unlike many other options in this list, CloudTutorial has no chatbot, no ticketing, and no live chat. But it is a full-featured knowledge base with a clean interface, search, analytics, customization, and out-of-the-box SEO.
CloudTutorial works as well for mobile apps as it does for websites and it's available in three different plans for various team sizes—all with largely the same features. Plus, you can use CloudTutorial's FAQ software for both internal and external FAQ pages. To try it for yourself, start a 14-day trial through the CloudTutorial website.
Key features of CloudTutorial (Growth Plan)
Custom domain
Internal and external knowledge base
Custom redirects
Customizable HTML/CSS
Category and subcategory organization
Reporting
Summary of the top 10 FAQ software
Here's how our top 10 picks for FAQ software stack up against one another at a glance:
| FAQ Software | Categorization | Analytics | Integrations | Internal/External FAQs |
| --- | --- | --- | --- | --- |
| Zendesk | ✓ | ✓ | ✓ | ✓ |
| Wix Answers | ✓ | ✓ | ✓ | ✓ |
| Slab | ✓ | X | ✓ | ✓ |
| HappyFox | ✓ | ✓ | ✓ | ✓ |
| Zoho Desk | ✓ | ✓ | ✓ | ✓ |
| SupportBee | ✓ | X | ✓ | ✓ |
| HelpScout | ✓ | ✓ | ✓ | ✓ |
| GrooveHQ | ✓ | ✓ | ✓ | ✓ |
| HelpJuice | ✓ | ✓ | ✓ | ✓ |
| Cloud Tutorial | ✓ | ✓ | X | ✓ |
How to choose the right FAQ software?
The right FAQ software for your company is the one that makes it easy to create, edit, update, publish, and distribute FAQs. On its face, that sounds simple enough but that doesn't mean there isn't a lot to think about.
You'll want to make sure you have:
Insights and analytics to inform and prioritize FAQ creation.
An interface your support agents and customers are comfortable with.
Sufficient integrations with the channels (i.e. chatbots, website, mobile app) where you want to distribute your FAQs.
Flexibility and customization options that match your branding needs.
Seamless collaboration tools for FAQ creators.
Intuitive search and categorization features for your FAQs.
Many of the considerations in choosing the right FAQ software are subjective. What one team considers an intuitive interface might be a nightmare for a different team. So it's imperative that you take advantage of trials and get your hands on any FAQ tool you're considering for free. Nothing's worse than locking in on an FAQ software contract and then finding out your agents or customers (or both) are too confused by the software to make use of it.
Frequently asked questions
What general areas does a FAQ page cover?
The general areas of an FAQ page are highly dependent on the industry and the nature of a company's business. For example, an online retailer will generally include FAQs on return policies, shipping, payment methods, and/or reward programs. Alternatively, a software vendor might include FAQs on their free trial periods, licensing policies, security, data retention, and more.
Where should I put my FAQ section?
You should put your FAQ section where your customers most need it. As you might expect, this varies based on context. However, generally speaking, product and checkout pages—where customers might have pre-purchase questions—are often an ideal spot for FAQ sections.
That said, many FAQ software options provide an ever-present web and mobile app widget, which ensures your FAQ section can be everywhere. In that case, you don't have to worry about where your FAQ section is placed because your customers can access it anywhere.
What is open source FAQ software?
Open source FAQ software functions in the same way the closed-source FAQ software does. The critical difference lies in your ability to copy, modify, and otherwise manipulate the source code underlying your FAQ software. With open source FAQ software, the source code is publicly available for anyone to copy, modify, and redistribute. Conversely, closed-source FAQ software relies on proprietary source code. Zendesk offers open source FAQ software which means third party developers can build new integrations on our platform once you have signed up to use the platform.
What to look for in an open source FAQ software?
While open source FAQ software may have all the features of proprietary FAQ software, the cost of implementing those features varies widely. Depending on the nature of the software's underlying code, you may need specialized developers to implement it for you.
So if you're considering open source FAQ software, in addition to looking for features such as full-text search, analytics, and an intuitive interface, make sure you can allocate the necessary resources to fully implement the software.
Where do I look for frequently asked questions?
To find the best frequently asked questions to include in your knowledge base and/or on your website, start with your ticketing system. If you don't have a ticketing system, go to the place your customers go when they have questions about your products or services. In most cases, there will be a few questions that consistently show up more than others. These are your FAQs.
Beyond that, if you have FAQ software with analytics, you can mine those analytics for hints about what customers are searching for and where they're getting hung up. With those insights, you'll find several fruitful frequently asked questions.
How do you decide what questions to put in your FAQ?
Deciding and prioritizing which questions to add to your FAQ comes down to a few simple considerations:
Can this question be fully answered on the FAQ page?
How frequently is this question asked?
Is it okay for the answer to this FAQ to be public?
How much time will having this FAQ published save support reps?
If the question can be fully answered, it's a frequently asked question, and the information is not private, it's a good candidate for an FAQ. If that leaves too many FAQs, you can prioritize which questions to include by ranking each FAQ by how much time it will save your support reps.
How to use FAQ page analysis to improve your website?
FAQ page analysis is all about diving deeper into the questions your customers most frequently ask. Through this analysis, you'll gain insight into how your customers describe your product or service, how they ask questions about it, and where they consistently run into trouble. With that insight, you can modify your website to improve its ability to clearly communicate what your product or service does and doesn't offer.
In this way, you can use your FAQ page analysis to answer more of your prospects' and customers' questions, avoid confusion, and instill more confidence throughout the buying process.
Give FAQ software a whirl
Zendesk is an intuitive yet powerful FAQ tool that helps you organize and distribute your most frequently asked questions. With Zendesk, you can easily create and update an FAQ page to your specific needs and then distribute it wherever your customers and service agents might need it. Give it a try today.
Let's get this FAQ party started. Learn more below.
Knowledge is power. Be a self-service superhero by providing your customers with an FAQ section through a company knowledge base. Read on to learn how.