A guide to the best remote support software
Customers want answers to their questions and solutions to their problems. And they want them fast. But agents need help too—ideally from support software that provides a full spectrum of customer and employee experience functionality.
Zendesk was built to be that software by existing as a hub around which you can build a best-of-breed support tech stack.
While there are many more integrations that accomplish many more functions, on this page, we'll focus on Zendesk's best remote support software integrations. Then, we'll review the basics of remote support software, what it is, its benefits, and how to choose the right solution for your team.
Feel free to skip to any section you like by clicking on the table of contents below.
Comparison: 6 best remote help desk software platforms
Integrations

Starting price

Free trial/plan

Key features

Zoho Assist

$12/month

Up to 6 simultaneous sessions
Session recording and audit
Advanced reports
Custom domain mapping
Computer grouping

Splashtop

$47.90/month

Privilege and permissions control
Cloud and on-premise deployments available
Remote reboot and wake
Simultaneous multi-to-multi screen remote support

GoToAssist

$60/month

Mobile and desktop app with agent console
Multi-session support for up to 15 sessions
Remote diagnostics
Multi-monitor navigation

RemotePC

$14.62/month

Unlimited concurrent remote access
Whiteboarding support
Remote printing
PC, Mac, Linux compatible

Parallels Access

$49.99/year

Optimized screen resolution
iPad multitasking with Slide Over and Split View
Mobile microphone
Samsung S Pen Support

Teamviewer

$6.95/month

Session recording
24/7 access
Multi-monitor support
Custom branding
Permanent access for unattended devices
6 best remote support software solutions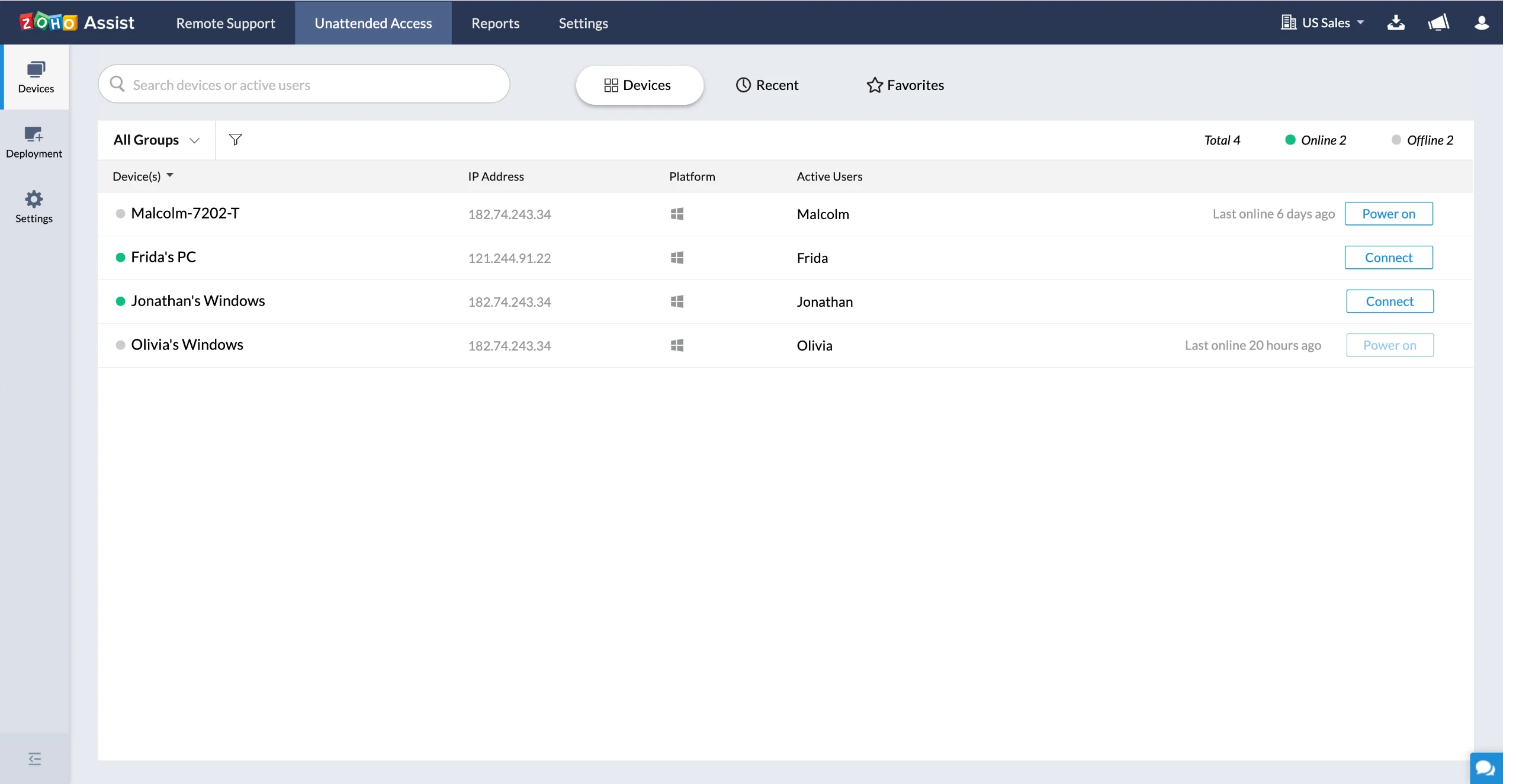 Zoho has become well-known for software that strikes the ideal balance between intuitiveness and configurability. Zoho Assist, Zoho's cloud-based remote support and remote access software is no exception. Along with Zendesk, you can leverage Zoho Assist to support customers over distance via web-based, on-demand remote sessions. Among other things, you can use Zoho Assist to configure unattended remote access and manage unattended, remote devices.
Put simply, you can use Zoho Assist with Zendesk to provide real-time support to customers via voice, video, chat, and remote access. And Zoho Assist is well-recognized in the industry. In 2022, Zoho Assist earned recognition from Gartner Peer Insights as the Customer's Choice for 2022.
Pricing packages for Zoho Assist come in two flavors, remote support, which is billed by technician and unattended access, which is billed based on the number of unattended computers. And in addition to the 15-day free trial, you can opt for a free Zoho Assist plan to get a feel for the software before you commit to it.
Free trial: 15 days
Pricing:
Remote Support Standard: $12/month
Remote Support Professional: $18/month
Remote Support Enterprise: $28/month
Unattended Access Standard: $10/month
Unattended Access Professional: $15/month
Features:
Up to 6 simultaneous sessions
Session recording and audit
Session notes
Advanced reports
Remote printing
Contact management
Custom domain mapping
Computer grouping
Learn more about Zendesk for Zoho Assist.
Boasting a rating of 4.9 out of 5 stars from 325 G2 reviews, Splashtop's remote desktop software allows you to centralize remote access management. The software caters to IT departments, MSPs, support agents, and OEMs in Education, Healthcare, Media and Entertainment, Accounting, Government, and Architecture and Design. And plans for Splashtop are packaged for individual users, small teams, and large enterprises.
All Splashtop software is hosted on AWS that provides a secure, firewalled computing and network environment with data encryption and DDoS mitigation measures in place. Other advanced security measures include multi-level password security, session idle timeout, two-factor verification, and device authentication.
On top of all that, Splashtop makes it easy to get started with customized deployment packages for mass deployments and migrations from other remote support solutions.
Free trial: 7 days
Pricing:
$47.90/month for 25 computers
$71.90/month for 50 computers
$95.90/month for 100 computers
Features
Privilege and permissions control
Cloud and on-premise deployments available
Session recording
Remote reboot and wake
Chat
Simultaneous multi-to-multi screen remote support
Learn more about Zendesk for Splashtop.
GoToAssist is one of many products, including GoTo Connect, Meeting, Webinar, Room, Contact, Assist, and many others, that the software company GoTo provides. And like GoTo's other software options, GoToAssist is a popular, reliable solution. GoToAssist remote sessions begin from your Zendesk ticketing system and your recording and notes automatically sync with your ticket when the session ends.
Whether you need to remotely control a Mac, PC, or Android device, GoToAssist lets you quickly transition from your ticket to a remote support session so you can see the issue clearly and resolve it fast. On G2, GoToAssist doesn't have the highest of ratings, with an average rating of 4.3 out of 5 stars. But its core remote support features have above-average ratings for the category.
Free trial: 7 days
Pricing: $69/month
Features
Mobile and desktop app with agent console
Multi-session support for up to 15 sessions
Slack integration
Remote diagnostics
Multi-monitor navigation
File transfer
Unattended computer access
Session recording and reporting
Learn more about Zendesk for GoToAssist.
Ideally, when you run a remote support session, the agent and customer's screen sync up in real-time. But oftentimes, there's lag that can make the interaction feel clunky. RemotePC changes that with near-real-time screen replication. And of course, it integrates seamlessly within the Zendesk ticketing flow so you can deliver consistent, efficient support to your customers.
As with other remote support solutions on this list, using RemotePC in Zendesk is simple. You create a remote session from Zendesk, which generates a link that you share directly with the customer. And RemotePC isn't just about the visuals—it also supports remote sound, which means your customers and agents see and hear the same thing at the same time. It's as if your agent is sitting side by side with your customer, helping them along.
RemotePC provides plans for all kinds of users including consumers, small businesses, enterprises, and managed service providers.
Free trial: 7 days (only for Team and Enterprise plans)
Pricing (for the first year)
Consumer: $29.62
Soho: $59.62
Team: $224.62
Enterprise: $449.62
Features
Unlimited concurrent remote access
Whiteboarding support
Remote printing
PC, Mac, Linux compatible
User management
On-demand remote support
Computer grouping
Learn more about Zendesk for RemotePC.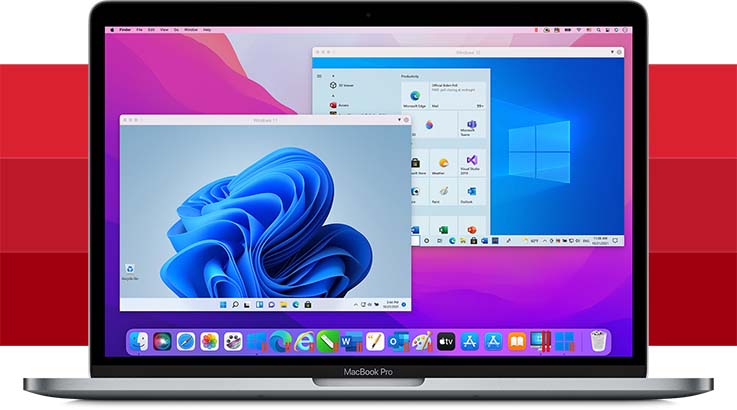 Parallels Access is a great option for remote device management, but it's worth noting this software is geared more towards individual users than others on this list. Parallels Access bills itself as a solution to access your personal computer for everywhere, which is a useful tool in its own right. Plus, because it's geared towards personal use, Parallels Access is simpler and more intuitive than other options with its seamless navigation and well-designed mobile and desktop apps.
Still, there are Parallels plans for business users, and this solution can be used for ad-hoc remote support needs for more than 100 computers. When someone needs support, you can use Parallels Access Remote Help feature to add their computer with just a few clicks and then share a link with them. To join the session, whomever you share the link with will need to download the Parallels Access Agent, confirm the connection, and then you can start helping them. Parallels Access Business edition included unlimited users and volume licensing discounts.
Free trial: 14 days
Pricing
Personal 1-Year Plan: $19.99
Personal 2-Year Plan: $34.99
Business 1-Year Plan: $49.99
Business 2-Year Plan: $89.99
Features
Optimized screen resolution
iPad multitasking with Slide Over and Split View
Remote computer access for files and apps
File sharing and management
Local file storage
Mobile microphone
Samsung S Pen Support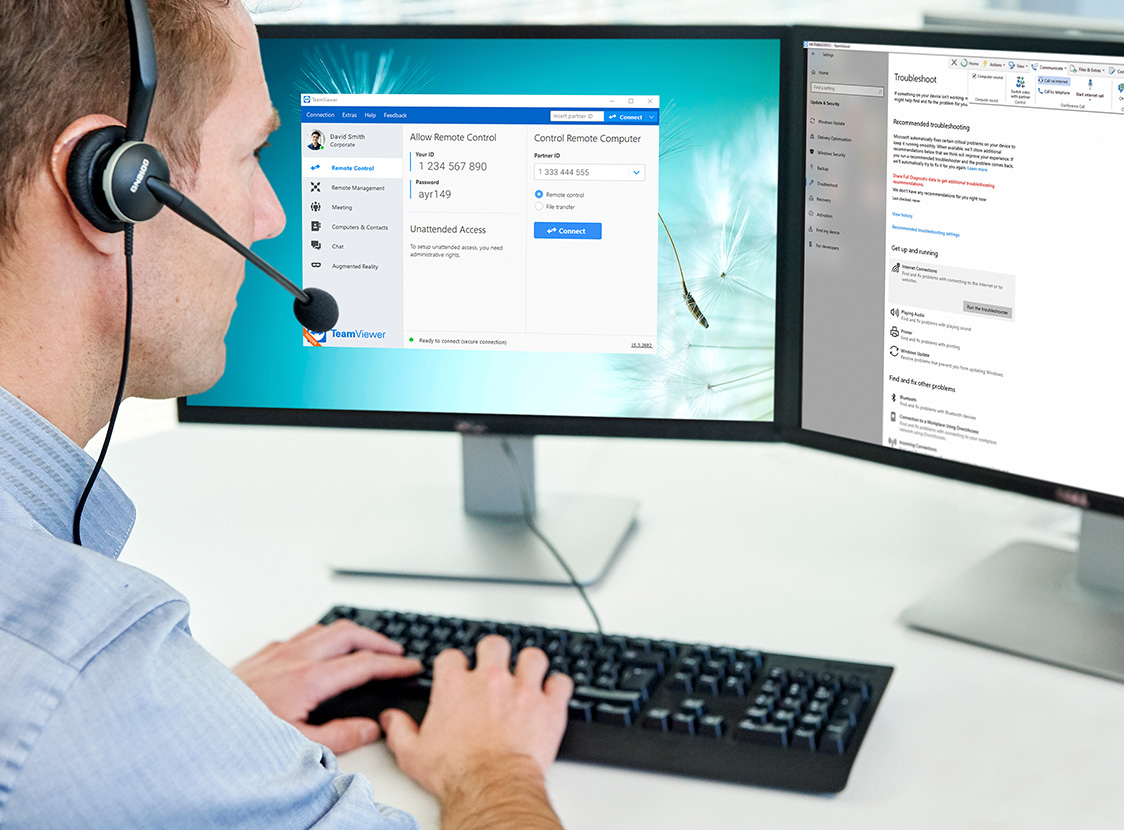 With the combo of Teamviewer and Zendesk, you can start remote support sessions right from a ticket in your Zendesk Support dashboard on Windows, Mac, Linux, Android, iOS, or Chrome. All you have to do is create a link, send it to your customer, and connect through the Teamviewer queue. Key features of Teamviewer include the ability to transfer files, record sessions, manage customers, and support multiple monitors.
TeamViewer is popular too; according to G2, the company has over 600,000 customers and the software's been installed on over 2.5 billion devices. And it has 2502 reviews on G2 with an average rating of 4.5 of 5 stars. Most of TeamViewer's users are in the IT and computer software industries working at small businesses. But that's not to say TeamViewer can't meet the needs of enterprise customers; the product uses high-security encryption, 2FA, and access controls to ensure your customers' data stays secure.
Free trial: 14 days
Pricing
TeamViewer Remote Access: $6.95 ⁄ month (billed annually)
TeamViewer Business: $34.90 ⁄ month (billed annually)
Features
Session recording
24/7 access
Chat
VoIP
File transfer
Multi-monitor support
Windows, macOS, Android, and iOS compatibility
Custom branding
Permanent access for unattended devices
Learn more about Zendesk for TeamViewer.
What are remote support services?
Remote support services typically refer to support agents who provide assistance to customers or employees by taking control of the customer or employee's device. Along with taking control of the user's device, the remote support agent will also communicate with the user via chat or voice. This type of service is enabled by remote support software which enables agents to control the user's device.
Benefits of using remote desktops used for customer support
Build stronger relationships with customers
Matt Hoffman, a Zendesk solutions consultant, explains that, compared to email, remote support is "a much warmer and inviting collaborative experience to take a look at something together." As a result, the customer feels like the agent is in the room with them. And it helps agents see how their assistance makes (or doesn't make) an impact firsthand.
Enables richer and more efficient communication
Going back and forth on email or even chat can be cumbersome and inefficient on more complex issues. Because it allows agents to see exactly what the customer is seeing, remote support is a much richer communication experience. Plus, sharing a screen means customers don't have to put in as much effort explaining their issue. And agents don't have to strain to try and figure out what the issue is—with remote support, it's right in front of them.
Speed up issue resolution and increase first contact resolution
Stronger relationships and more efficient communication add up to faster issue resolutions and more first contact resolution (FCR). And both can be major boons for your support team. A study by ICMI indicated that 75% of companies that reported FCR improvement over a 12-month period also saw an increase in customer satisfaction, and at least half confirmed improvements in operational costs and/or employee satisfaction. Not to mention: 73 percent of customers say that speedy resolutions sit at the very top of their priority list.
How to choose remote help desk software
Remote help desk software is powerful on its own. But that doesn't come close to the power and flexibility you achieve when you use a software platform that seamlessly integrates the best functionality from different software companies. By first starting with a flexible central software platform, you can build onto that platform with the solutions that best suit your needs.
Without a central platform, it'll be up to you to find a way to stitch all your software together. And, inevitably, you'll be forced into balancing your buying decisions on functionality and integrability, rather than just finding the best tool and connecting it to your existing platform.
So that's the first step in choosing remote help desk software: finding a central platform, like Zendesk. The next step is figuring out which remote help desk integration is right for you, and that boils down to these three factors.
Ease of use for your team
Good software is easy to use. If it's not, it doesn't matter how powerful it is. And remote help desk software is no exception. But when you think about ease of use, don't just look at the tool's interface. If possible, think through how you can deploy the tool within your existing tech stack and workflows. Consider how flexible the tool is and whether or not it can grow with you and your team. Some remote support software may be a great fit today, but lacking in the future.
Reliability and security
Remote helpdesk software helps your agents connect remotely to another device. And anytime one device is connected to another, there are security risks and connectivity issues. Your remote support tool should have basic security features such as multi-level password security, session idle timeout, device authentication, two-factor authentication, and more.
Also, it's a good idea—with any tool you're considering—to read reviews about the integration and see if connectivity issues are often mentioned. Better yet, see if you can use the software for a trial period and evaluate its reliability.
Functionality
The basic functionality of most remote desk support integrations are fairly similar. But like most things, the devil is in the details. Certain solutions offer, for example, support for running simultaneous support sessions, screen sharing with multiple screens, and/or remote diagnostic functionality while other solutions don't. While multi-screen functionality might not be important to one team, it may be essential to another. So don't make the mistake of glossing over the details of your potential solution's features. Also, as mentioned before, it's important that your remote support tool grows with you over time. So make sure the software doesn't just have the features you need today, but also the capabilities you'll need tomorrow.
Frequently asked questions
What are remote access applications?
A remote access application is software that allows you to use one computer to access and control one or more computers. Many remote access applications are mobile-friendly, so you can also use a tablet or mobile device to control a different mobile device, tablet, or computer.
What is remote desktop software?
Remote desktop software is very similar to a remote access application in that it enables an IT agent to use their computer to control a separate desktop. The distinction with remote desktop software is that it refers specifically to remote control of a desktop.
How does RDP software work?
Remote desktop, or RDP, software works by connecting one computer to another via the internet. The host device "hosts" the operating system while the client device displays the interface. Essentially, RDP turns one computer into the remote controller of another computer.
XERO rolls Zendesk out across the enterprise
Xero has extended Zendesk with a number of pre-integrated apps to help them fully flesh out a bespoke, 360-degree customer solution that all starts with Zendesk Support. Fork, which bumps up Zendesk's workflow capabilities, has been particularly useful for the IT team onboarding new employees. Another favorite app called Tickler lets agents add checklists to track and manage tasks from within a ticket.
As Xero introduces new products and services, it's been able to leverage Zendesk Support to build even stronger customer relationships.
Xero
Xero handles hypergrowth and high ticket volume with Zendesk
"Zendesk Support is world-class software, and we've been very happy since we implemented it at Xero."
Hadleigh Lynn
Try remote support software for free
Remote support software lets you connect with your customers or employees in a whole new way. But that new kind of connection doesn't exist in a vacuum.
Remote sessions may originate from queries submitted via email, social media, phone, or live chat. In fact, it may take multiple interactions on multiple channels before a remote desktop session takes place. This reality makes it imperative that your remote support software is well integrated with the other tools you use to serve your customers.
Zendesk ensures you can make the most out of your remote support software by providing both a suite of native customer service tools along with seamless integrations with the most powerful remote support software on the market.
We have more to say about this. Have a look below.
The benefits of remote helpdesk software are almost unlimited. Learn more about how it can help you give your customers the best support.