With the coronavirus outbreak, customer experience teams across the globe are having to rapidly adapt amid ticket spikes, customer cancellations, market volatility, and increased uncertainty. Each week, the world is changing, and business simply isn't business as usual. Most teams responding to customers are transitioning to a work from home environment, putting additional strain on their ability to respond to customers effectively. For many of us, that means learning and adjusting as we go.
Our Benchmark Snapshot summarizes how recent events have affected 22,000 companies powering their support operations using Zendesk, and we'll continue to offer insights to help your business navigate these unprecedented times and support your customers.
More volatility for support teams in 2020
Businesses of all types, from all over the world, are experiencing ongoing shifts in support request volume. Customer requests are up across the board: Benchmark data indicates a 16% increase in companies' average weekly ticket volume from the first three weeks of March, compared to the same period last year.
Findings also indicate more volatility in the number of requests week-over-week, compared to the same time frame in 2019. This means that companies, especially those within the sectors most affected, such as airlines and grocery companies, need to prepare for dramatic swings in ticket volume.
Requests spike in the US and Latin America as the outbreak spreads
What's more, there's a strong link between the rapid spread of COVID-19 across the globe and spikes in support requests happening in response, as customers react to news about the outbreak.
Overall tickets have increased in Latin America and North America, with the weekly requests that companies are facing up 16% and 7%, respectively, since March 1.
However, businesses are starting to see tickets stabilize across the Asia Pacific as the number of new cases declines. Average weekly tickets handled by companies on Zendesk spiked earlier in Asia, increasing by 26% from late February to reach a peak in the second week of March.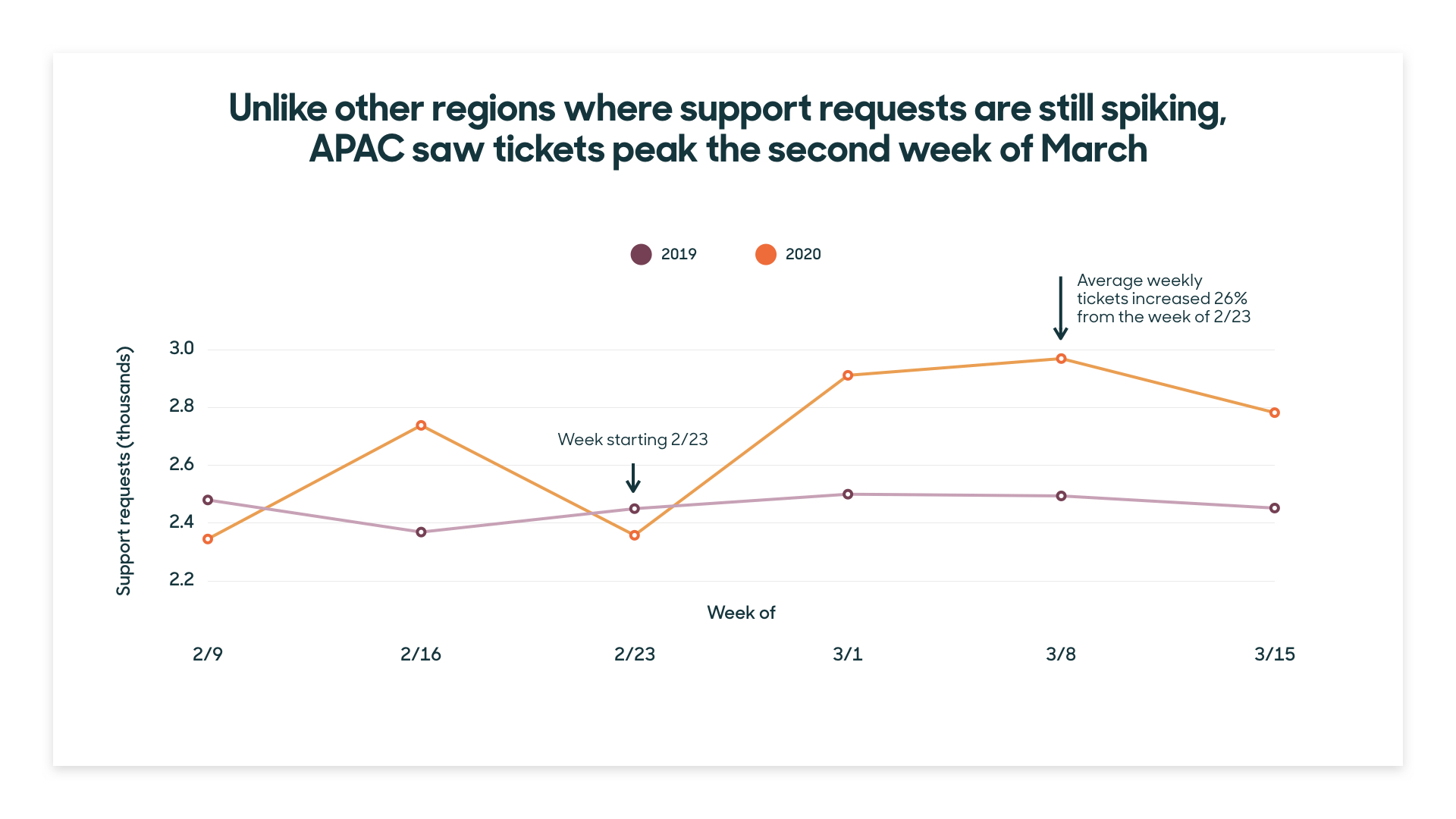 Looking at the average volume of requests companies are managing across individual countries, we see that companies in Italy have faced the biggest increase in average tickets, up 34% since the start of March. Companies in the US are likely to see ticket volumes further increase as well, as the crisis fully manifests itself.
Remote work companies, airlines, and ridesharing companies feel the impact most
Remote work and learning companies are seeing the most dramatic increase in support requests, with weekly requests up more than 3x over the first three weeks of March.
Airline companies have also seen a three-fold explosion in tickets since the beginning of March, and grocery brands have seen a 39% increase in requests.
Ridesharing and delivery companies have also felt the impact—ticket volume moved in the opposite direction as customer behavior changed in response to the virus. Ridesharing companies have seen an 18% drop in weekly tickets since the start of March, and tickets for delivery companies have dipped 6% over the same period.
Longer wait times on replies test the limits of customers' patience
Benchmark data also shows that customers are waiting longer on company replies across affected sectors, as ticket volume increases week-to-week.
Customers making requests to remote work and learning platforms are waiting 40% longer on average for a reply, and those contacting airlines are waiting 20% longer, based on data from the first week of March.
Longer waits on replies highlight the importance of adapting quickly to meet customer demand and safeguard customers' trust, especially for companies in the sectors hardest-hit by the outbreak.
Helpful resources
Recent events have created new challenges for companies and their customer experience teams, making it harder to keep up with what matters the most to their business—their customers and their team.
Technology plays a critical role in effectively coordinating responses to customers. To take some of the pain and pressure away and help your team continue to work effectively during these widespread service disruptions, we've compiled a list of resources, including our Remote Support Bundle, which enables distributed teams to stay connected while providing their customers with the support they need. For example, it comes with a Collaboration add-on, which enables support agents to communicate seamlessly with other teams over channels such as Slack, all without leaving Zendesk.
"We are focused on helping people around the world adapt to remote work with free resources—and we're also directly supporting organizations working on coronavirus research, response, or mitigation with free upgrades," said Ali Rayl, VP of Customer Experience at Slack. "Now more than ever, it's important that we continue working with partners like Zendesk on integrations that can help keep operations running smoothly."
Get access to the Remote Support Bundle and other helpful resources below:
Solutions, bundles, and programs:
Virtual events (Recordings can be accessed after event dates):
Blogs: